On the Road is a weekday feature spotlighting reader photo submissions.
From the exotic to the familiar, whether you're traveling or in your own backyard, we would love to see the world through your eyes.
This will not be the usual Albatrossity post – we have insects and butterflies, not birds!  I have been assured that birds will return next week, though I'm sure that some of you will be thrilled with this insect post. :-)

After that it's battleships (BretH) and lighthouses (Dangerman) and the last two days in Mendocino (JanieM).

Speaking of Mendocino, I miss your photos, Steve, surely you have more to share?
Albatrossity
No more baby birds for a while, and this week it's not even birds! AL's post yesterday about Pollinators is followed by more pollinators today. I have discovered that my camera rig (Olympus body affixed to an Olympus 150-400 zoom) is also great for insect photography. That lens is actually even longer (corresponding to a lens of 300-800 mm) in that setup, for reasons known only to physicists and wizards). So I can stand back at a great distance and, as long as my hands are steady, get images of insects who would be easily spooked by a close approach. Additionally, as is the case for birds in flight, this rig captures good images of insects in flight. So here is a summer collection, all taken with a camera/lens setup optimized for birds in flight! If you don't like insects, tune in again next week for more birds.
Near Manhattan KS
August 30, 2022
We have several kinds of fritillary butterflies around here in the summer; this might be the most common one. Great Spangled Fritillary (Speyeria cybele), nectaring on a thistle flower. If you want to know more about this species, or to find out if this beauty can be found in your area, the Butterflies and Moths of North America (BAMONA) site has range maps.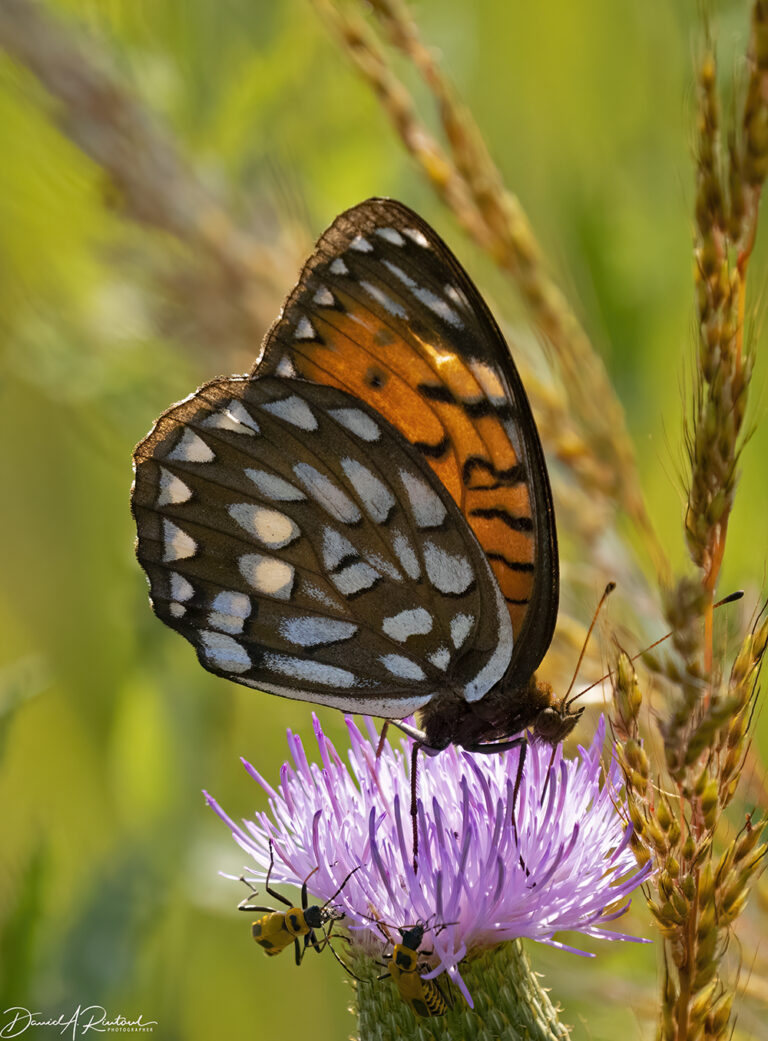 Near Manhattan KS
September 9, 2022
Another gorgeous large butterfly in this section of Flyover Country is the Regal Fritillary (Speyeria idalia). This is a tallgrass prairie specialist, and like that habitat, is much less abundant than it formerly was. It is on the threatened and/or endangered list throughout its diminished range. I was thrilled to find two of these in the same thistle patch that day!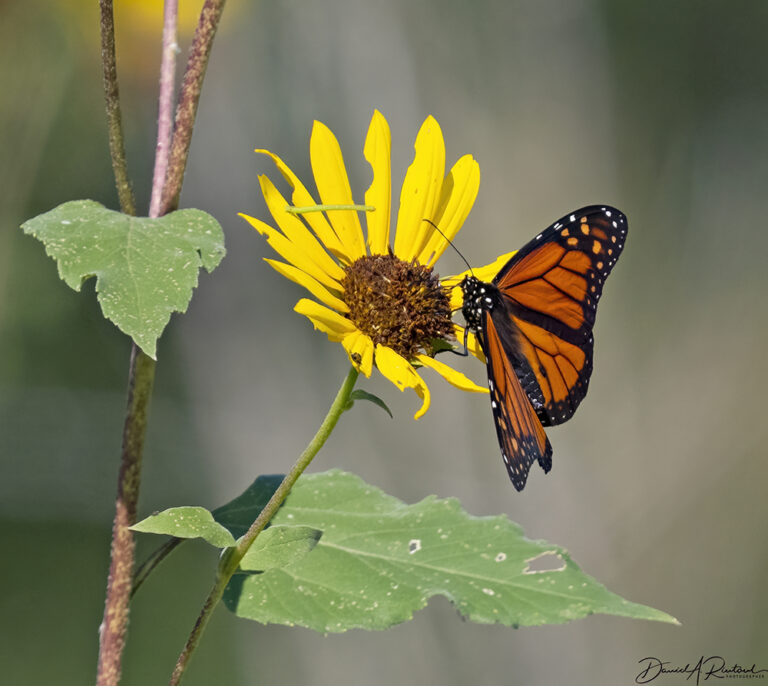 Near Manhattan KS
September 12, 2022
Another large (and very familiar) butterfly is the Monarch (Danaus plexippus). This September sighting is probably an individual heading back to Mexico for the winter, to a remote site that it (and its parent, grandparents, great grandparents and maybe further back) has never seen.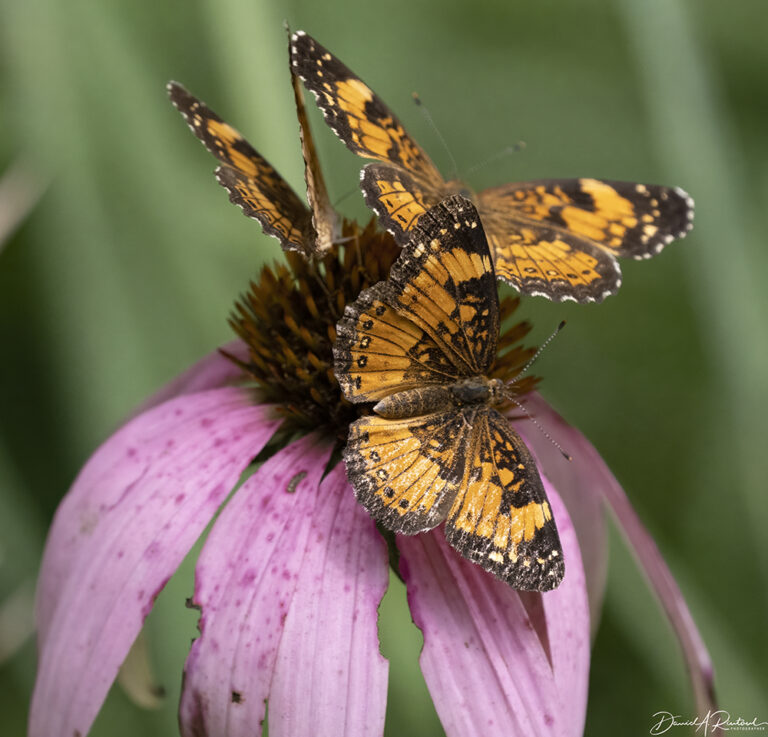 Konza Prairie
July 29, 2022
One of our less showy butterflies is the Silvery Checkerspot (Chlosyne nycteis), but they make up for that with sheer abundance. This patch of coneflowers had many checkerspots visiting, and the air was full of them.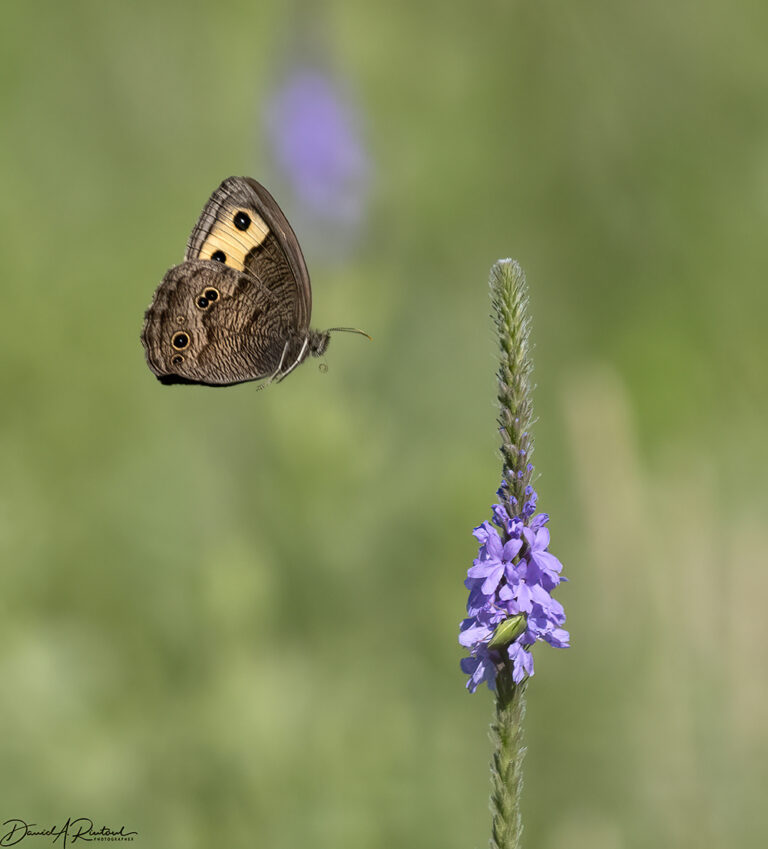 Near Manhattan KS
July 12, 2022
Butterfly in flight! Common Wood-nymph (Cercyonis pegala) approaching a verbena flower. I got lucky with this one, but I'll take it!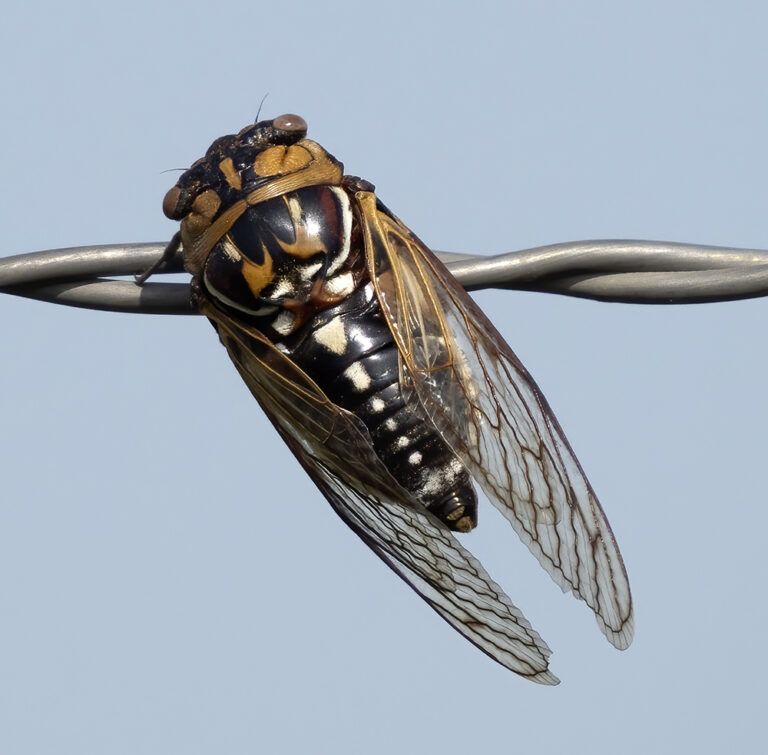 Konza Prairie
August 6, 2022
This insect is not in flight; in fact, it is not even alive. It's a Bush Cicada/Giant Grassland Cicada (Megatibicen dorsatus), impaled on a barbed wire fence. Probably the work of a Loggerhead Shrike, but I have learned that Scissor-tailed Flycatchers sometimes do this as well. I did not see a bird, but both of those species can be found in that area. This cicada can be found across the eastern US, but it is mostly east of the Rockies and west of the Mississippi River.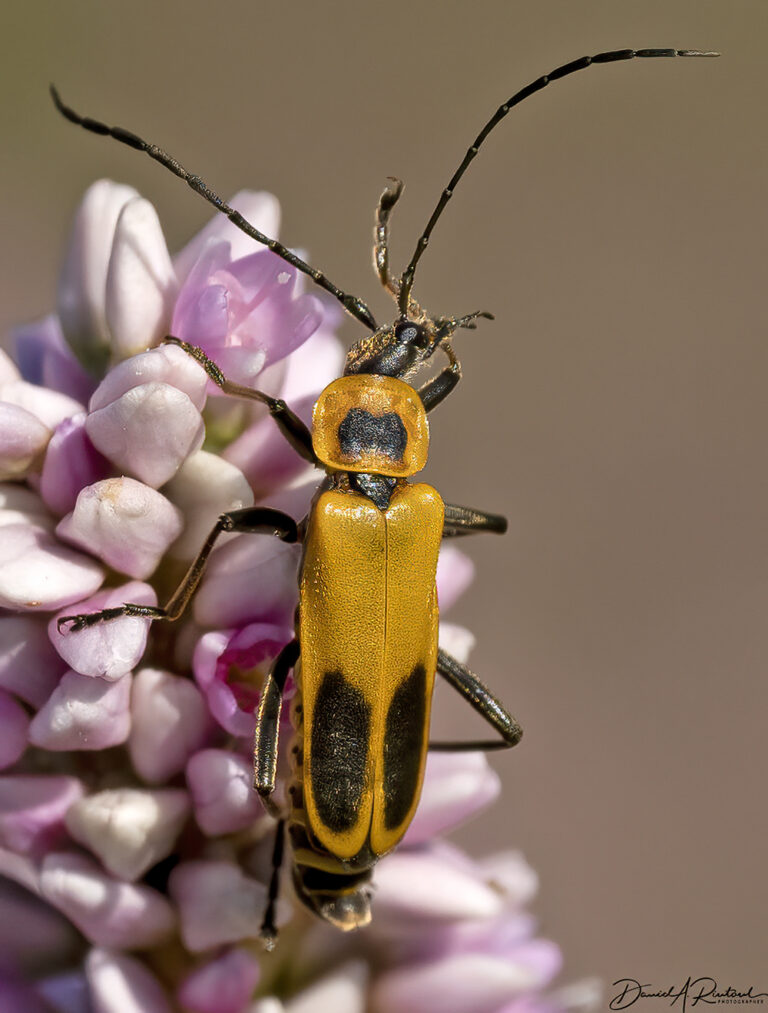 Near Manhattan KS
September 11, 2022
Another very common critter in this part of Flyover Country, as well as most of eastern North America wherever goldenrod is found, is the Goldenrod Soldier Beetle (Chauliognathus pensylvanicus). Just to be cantankerous, this one was perched not on goldenrod, but on smartweed. And yes, that specific epithet is not a typo. It was named at a time (1774) when spelling of Pennsylvania was variable. And the very explicit rules governing taxonomical names prohibit changing it to pennsylvanicus. Science can be weird.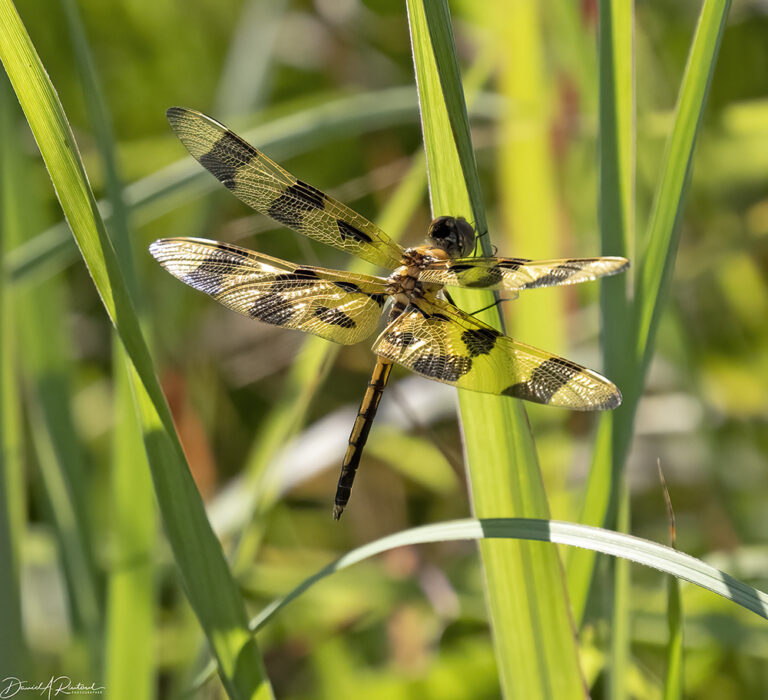 Near Manhattan KS
July 11, 2022
Next up is a dragonfly, which is also a group that some of my friends like to try to get in-flight pictures of. Not this time. This is a nice sedate Halloween Pennant (Celithemis eponina), also a species commonly seen across the eastern part of the continent (year-round in Florida). The group of dragonflies in the pennant category are named for their habit of perching at the top of plants and twigs, where they can wave in the breeze a lot. This one was free-lancing.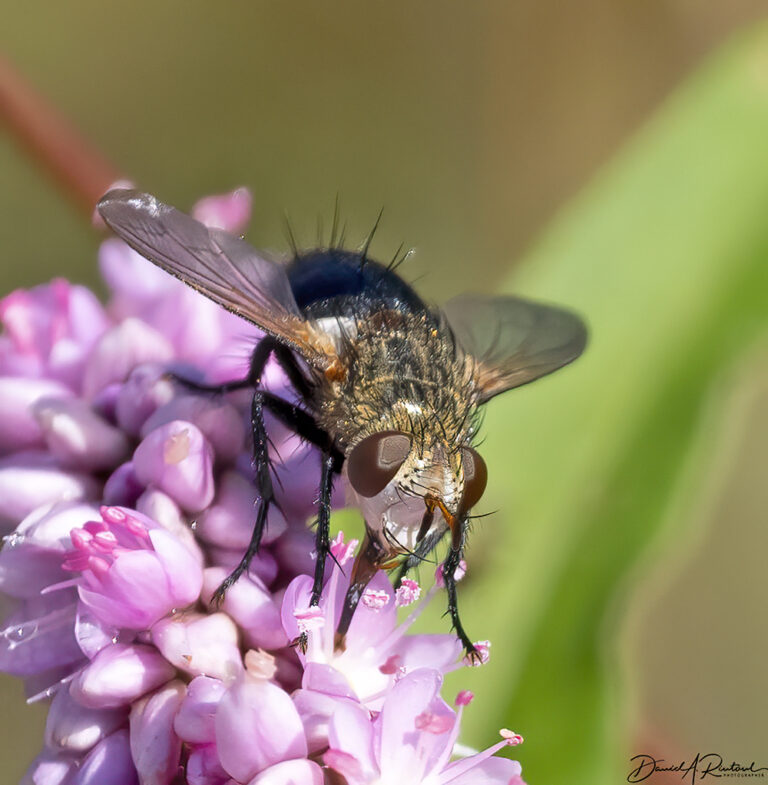 Near Manhattan KS
September 11, 2022
Another smartweed-loving insect is this tachinid fly. I have not tried to pin down the species of this one (there are over 1300 North American species in the family Tachinidae); expertise in IDing species in this group often requires a microscope, counting the number of bristles, etc.). All the flies in this family are parasitic, laying eggs on other insects or arthropods. Gardeners and lawn-lovers like to have some of these species around, since squash bugs and armyworms are among their victims.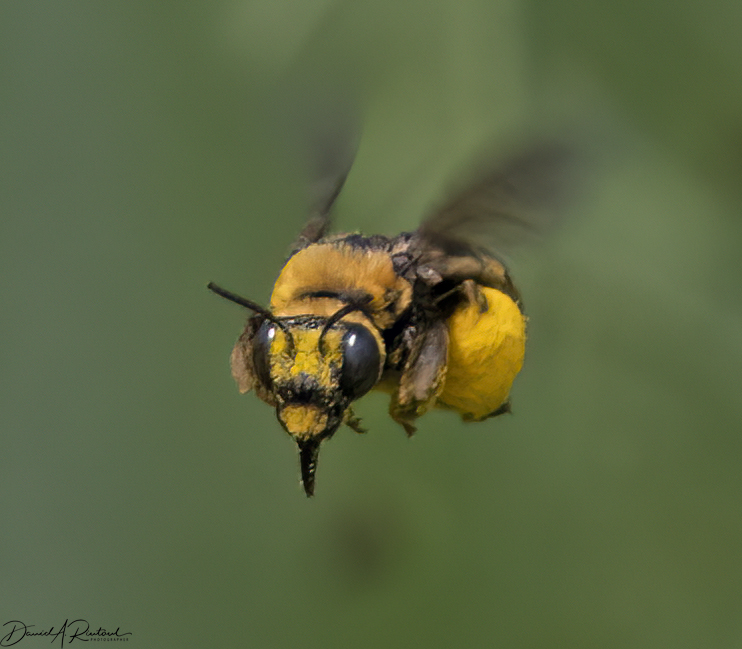 Near Manhattan KS
August 28, 2022
The final image for today is also unidentified down to species. It is a small bumblebee, loaded with sunflower pollen, that I caught in flight as it was approaching a blossom.