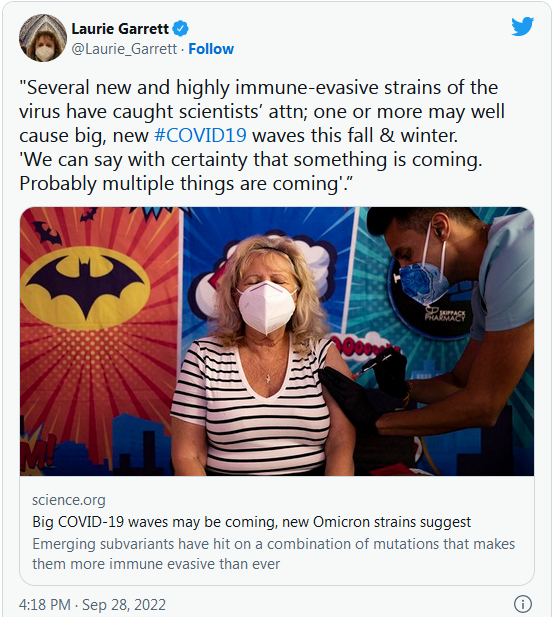 Not great…
Nearly 3 years into the pandemic, SARS-CoV-2 faces a formidable challenge: finding new ways around the immunity humans have built up through vaccines and countless infections. Worrisome new data show it is up to the challenge. Several new and highly immune-evasive strains of the virus have caught scientists' attention in recent weeks; one or more may well cause big, new COVID-19 waves this fall and winter.

"We can say with certainty that something is coming. Probably multiple things are coming," says Cornelius Roemer, who studies viral evolution at the University of Basel. Whether they will also lead to many hospitalizations and deaths is the big question.

"It's not surprising that we're seeing changes that yet again help the virus to evade immune responses," says molecular epidemiologist Emma Hodcroft of the University of Bern, who notes that SARS-CoV-2 faces "the same challenge that things like the common cold and influenza face every year—how to make a comeback."

The strains that look poised to drive the latest comeback are all subvariants of Omicron, which swept the globe over the past year. Several derived from BA.2, a strain that succeeded the initial BA.1 strain of Omicron but then was itself outcompeted in most places by BA.5, which has dominated in recent months. One of these, BA.2.75.2, seems to be spreading quickly in India, Singapore, and parts of Europe. Other new immune-evading strains have evolved from BA.5, including BQ.1.1, which has been spotted in multiple countries around the globe.

Despite their different origins, several of the new strains have chanced upon a similar combination of mutations to help scale the wall of immunity—a striking example of convergent evolution. They all have changes at half a dozen key points in the viral genome that influence how well neutralizing antibodies from vaccination or previous infection bind to the virus, says evolutionary biologist Jesse Bloom of the Fred Hutchinson Cancer Center…

Sheward and Murrell agree we should expect lots of infections in the next few months, as happened last winter when Omicron entered the scene. But they're less pessimistic than Cao, noting that many more people have recovered from an infection now or have received additional vaccine doses, including Omicron-specific boosters, whose rollout began this month. Those will boost overall antibody levels and will likely broaden the antibody repertoire, Sheward says: "I don't think we're quite back to square one."

"The choice to put BA.5 in the vaccine booster is still looking like a good one," Bloom adds. "The boosters are always going to be a step behind, but the good news is that the BA.5 booster is going to be one or two steps behind the virus' evolution, instead of five steps behind."

Just how brutal a comeback the coronavirus has managed will become clear once more people become infected with the new strains. The next wave may also provide better clues about what factors trigger or prevent severe disease, Murrell says: "I think we're going to learn a lot this winter."
Around 3.2 mln Americans received updated COVID boosters last week -CDC https://t.co/6BvlBxIPR6 pic.twitter.com/5awpTIykpd

— Reuters (@Reuters) September 30, 2022
#COVID19 questions scientists still can't answer

– Where did the #coronavirus come from?
– How is the virus evolving, will there be new variants?
– Can we develop vaccine that will protect against future variants?
– Why do some people develop #LongCovid?https://t.co/BY7RvQ22WN

— MicrobesInfect (@MicrobesInfect) September 28, 2022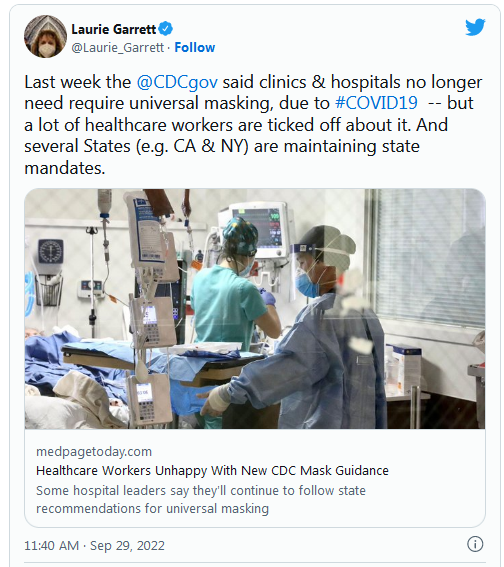 (link)
======
good article but of course 'rebellion' here actually means 'complaining online.' https://t.co/QXNVeI6jYl

— James Palmer (@BeijingPalmer) September 29, 2022
During the pandemic, the Chinese government's barrage of propaganda — online, on TV, on loudspeakers in neighborhoods — has become so overbearing that it occasionally borders on the absurd, citizens say. https://t.co/nEZ7csTzy4

— The New York Times (@nytimes) September 29, 2022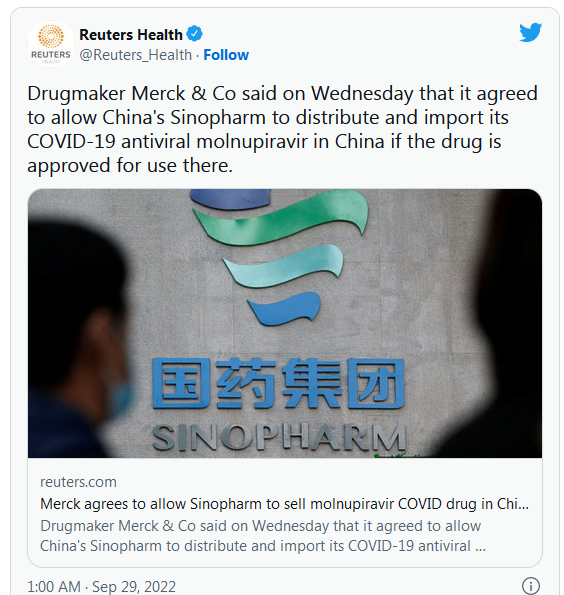 (link)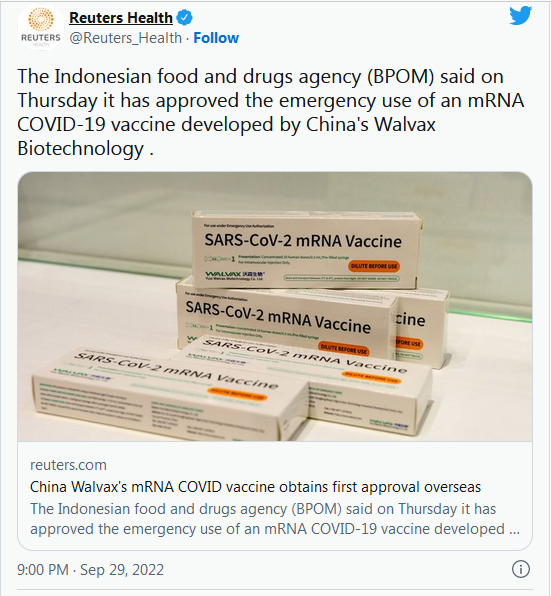 (link)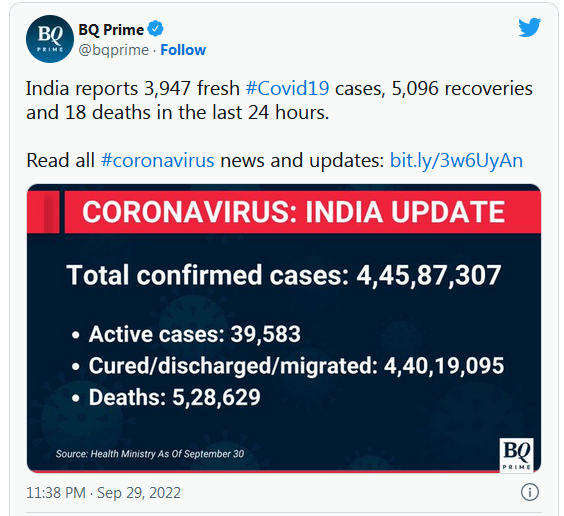 (link)
Starting on Oct. 11, the Japanese government will allow general travelers to enter almost as they did before the pandemic. The current requirement of signing up for package tours will be dropped. Here are six things to know.https://t.co/QU3XC67PId#COVID19 #coronavirus #vaccine

— Nikkei Asia (@NikkeiAsia) September 30, 2022
Tokyo reported 4,458 new coronavirus cases on Friday, down by 3,001 from a week before. https://t.co/xKERwL8jIO

— The Japan Times (@japantimes) September 30, 2022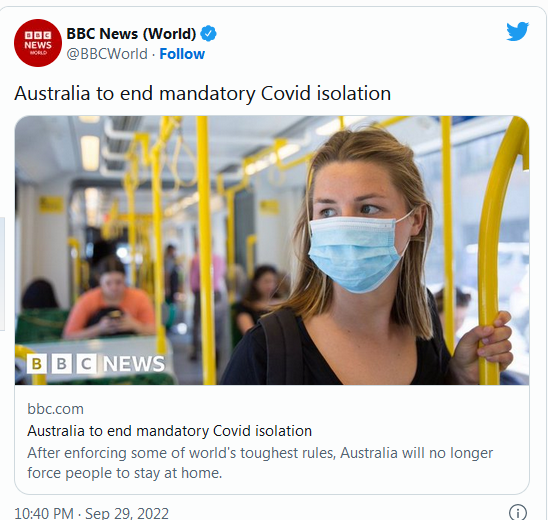 (link)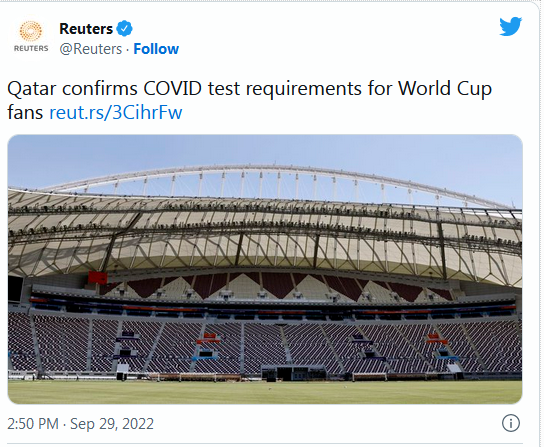 Fans attending the World Cup in Qatar must show proof of a negative COVID-19 test regardless of their vaccination status, organisers said in a statement on Thursday.

All visitors aged six and over must present a negative result from a PCR test taken within 48 hours before their departure or from a rapid antigen test taken in the 24 hours before arriving, the Supreme Committee for Delivery & Legacy said.

Results of the rapid antigen tests will only be accepted if they are from official medical centres and not self-administered. No further tests will be required in Qatar if visitors do not develop symptoms of COVID-19.

Visitors aged 18 and above will also be required to download a government-run contact tracing phone application called Ehteraz…

Fans will have to wear masks on public transport but vaccination is not mandatory for the unprecedented influx of 1.2 million visitors expected for the Nov. 20-Dec. 18 tournament…

Qatar has recorded more than 440,000 confirmed cases of COVID-19 and 692 deaths from the virus, according to data from the Ministry of Public Health.

The country has a population of 2.8 million, of which barely 380,000 are Qatari nationals. A total of 7,487,616 vaccine doses have been administered so far, the data states.
(IIRC, Qatar was drawing a lot of 'vaxx tourists' from Europe & Asia during the early days when getting a shot was much more difficult in some countries.)
======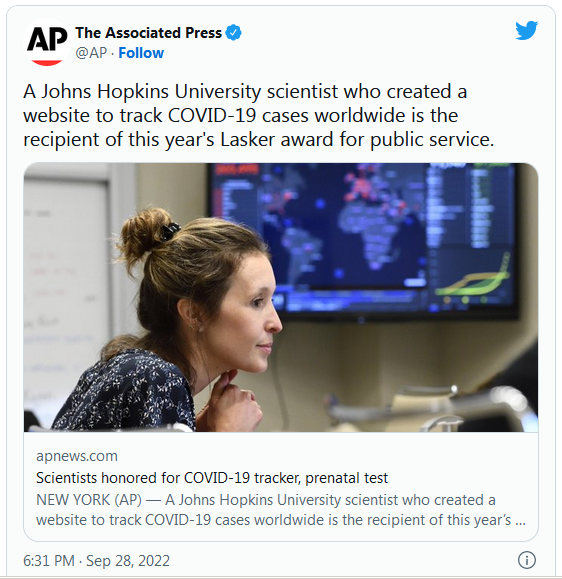 (link)
I wish people would have given prizes (Pulitzers!) to @alexismadrigal, @robinsonmeyer & the other people behind the Covid Tracking Project, coz damn, they too really stepped up when the need for data was desperate. https://t.co/5eUp6VXo3v

— Helen Branswell 🇺🇦 (@HelenBranswell) September 28, 2022
Can nasal vaccines change the course of the pandemic? While blocking transmission is a noble goal, some scientists say there still isn't enough evidence confirming mucosal vaccines will put the pandemic in the rear view mirror https://t.co/wCpR7IlDUo pic.twitter.com/OWF8ZQyZji

— delthia ricks 🔬 (@DelthiaRicks) September 29, 2022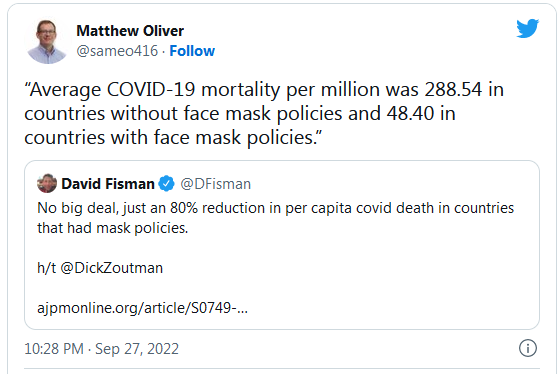 (link)
What can #LongCovid researchers learn from myalgic encephalomyelitis/chronic fatigue syndrome—ME/CFS. Experts say the condition offers lessons to help assess co-morbid medical conditions, especially a long-lasting disorder such as Long Covid https://t.co/1Gptun0kVP pic.twitter.com/p7tDECSxMK

— delthia ricks ?? (@DelthiaRicks) September 21, 2022
.@US_FDA releases wall charts aimed at helping people administering Covid vaccines to decipher the various vials.
Hand me the vial with the blue cap, please. No, the other blue cap. Can I have one of the gray caps? Not that gray cap, the other gray cap.https://t.co/HRemfmyGJ3 pic.twitter.com/Ew6B9IFLUV

— Helen Branswell 🇺🇦 (@HelenBranswell) September 28, 2022
======
NEW: When the #COVID19 Public Health Emergency ends, millions of people could lose Medicaid when key federal support for coverage during the pandemic expires. We highlight 10 key points about the unwinding of the Medicaid continuous enrollment requirement. https://t.co/Fl6PKcnNXx pic.twitter.com/MhnQQublsP

— KFF (Kaiser Family Foundation) (@KFF) September 29, 2022
We should have a national vaccination campaign that's just video clips of rightwingers promising that the new booster shot will turn you into a netrunner https://t.co/E2VCPCZzD0

— Hemry, Local Bartender (@BartenderHemry) September 26, 2022
Again: Sen. Massie is smarter than this, but he assumes his constituents are not: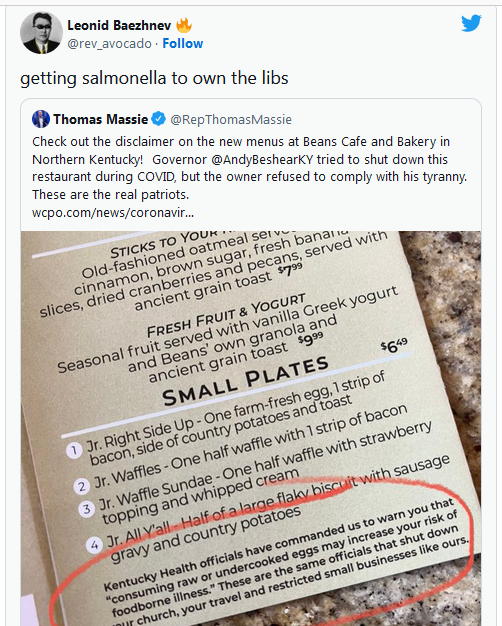 (link)
Reader Interactions