On the Road is a weekday feature spotlighting reader photo submissions.
From the exotic to the familiar, whether you're traveling or in your own backyard, we would love to see the world through your eyes.
Happy Monday, everybody.  Here in Illinois, summer turned into fall overnight, and we had some hard freezes last week.  I am not ready!  So I'm game to pretend we are just heading toward fall. Starting on Tuesday, we start the second half of the trip to Galapagos with lashonharangue!
Albatrossity
This week's batch of Flyover Country birds is eclectic, including both tiny warblers and beefy waterbirds. But all are hoping to fatten up in the times and land of plenty, then head south to avoid the cold, just like Ted Cruz. Hopefully they will all return in the spring, and just as hopefully, Mexico will keep Cruz the next time he heads to Cancun.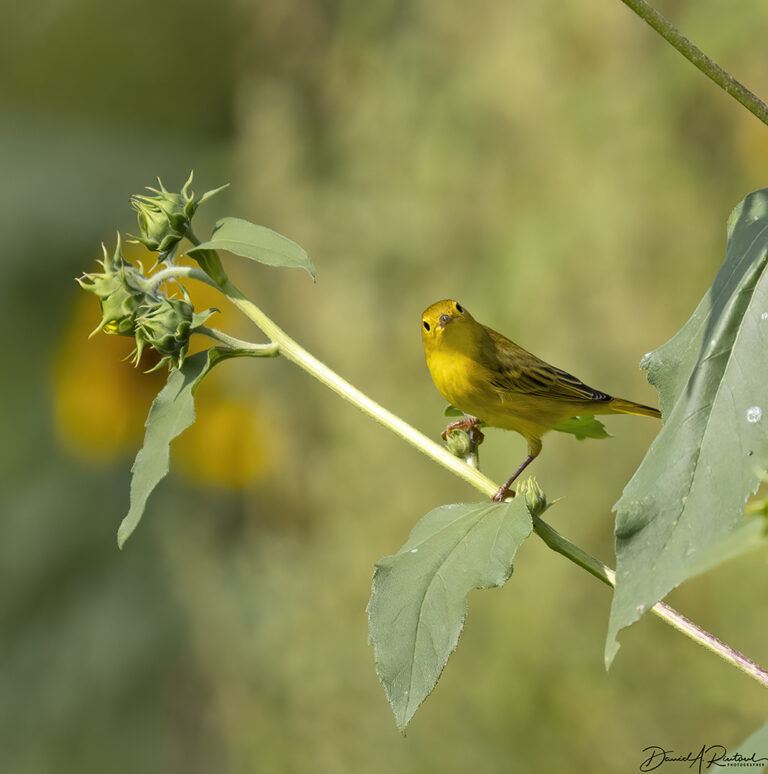 Near Manhattan KS
August 28, 2022
The Sunflower State of Kansas (see, we do have a "brand"!) is very yellow this summer; we've had a bumper crop of the state flower, and the winter finches are going to be hard to find because they will be able to feed just about anywhere. This Yellow Warbler (Setophaga petechia) was foraging in a nice patch of sunflowers, perhaps hoping to blend in a bit better than she really does.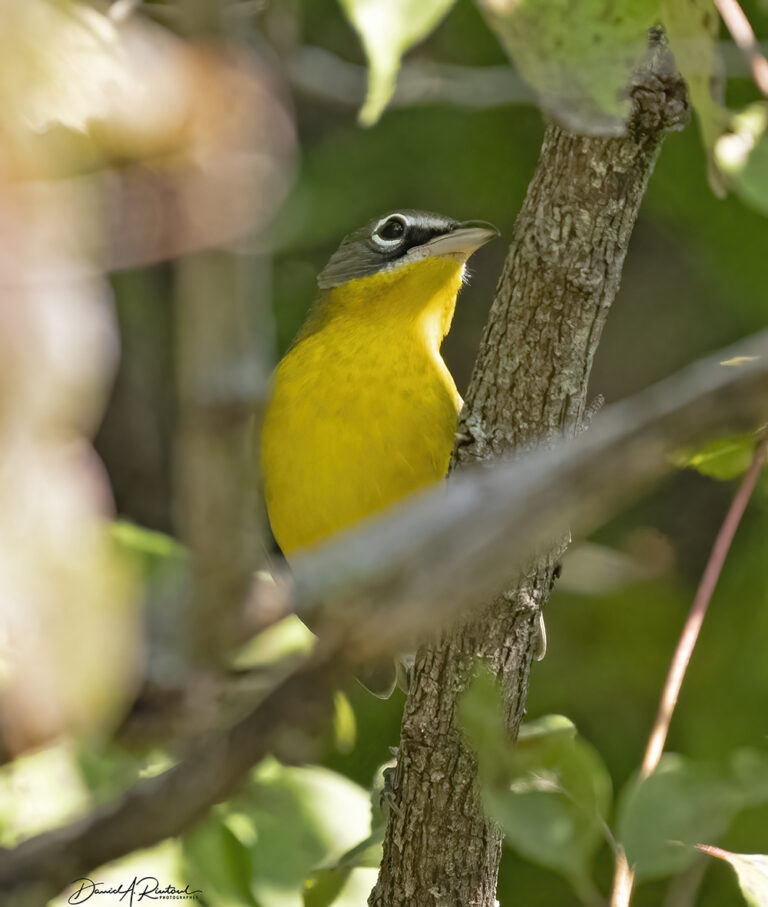 Near Manhattan KS
September 7, 2022
Another splash of yellow is provided by this Yellow-breasted Chat (Icteria virens). This is not a common bird in my patch of Flyover Country, but I've seen two or three this summer, which might be a record for me!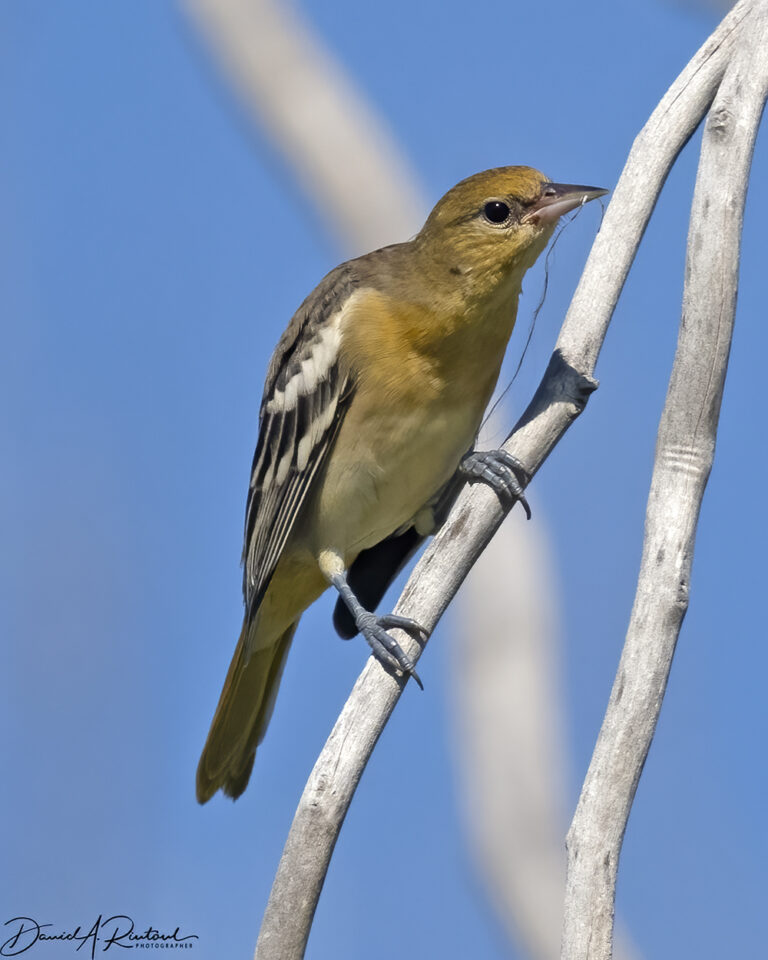 Near Manhattan KS
August 10, 2022
Pale yellow tones are the theme for the next two birds. This is a Baltimore Oriole (Icterus galbula), based on that wide white upper wingbar, who was hatched out earlier this summer (see those baby lips?). It seems to have a strand of grass in its bill, perhaps a byproduct of a successful hunt for a grasshopper or cricket in the nearby pasture.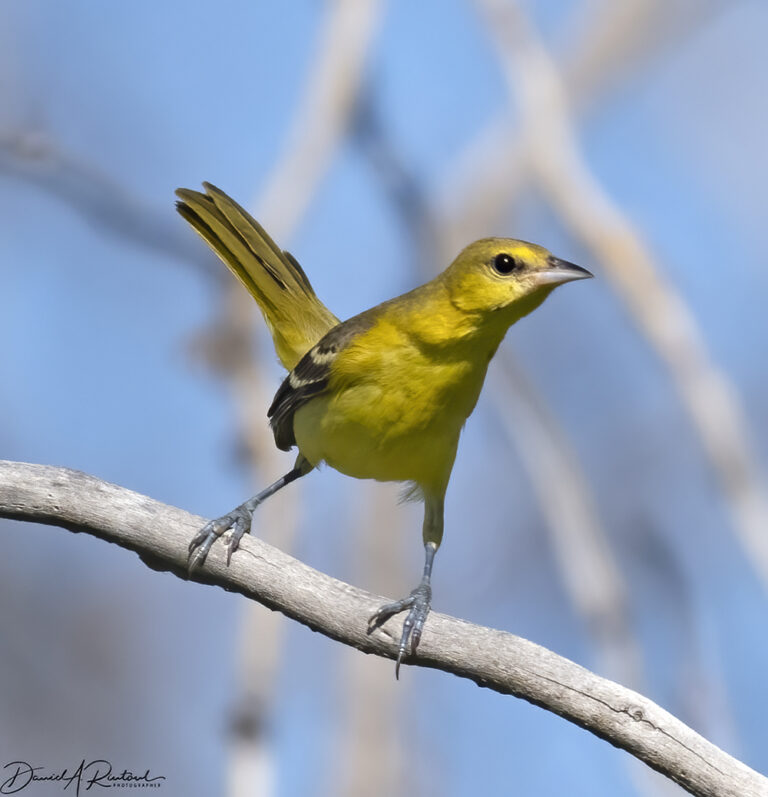 Near Manhattan KS
August 10, 2022
Lemon-yellow is the best description of this bird's color, and that skinny upper white wingbar (along with a slimmer build) tells us that it is an Orchard Oriole (Icterus spurius). Again, those fleshy yellow corners of the mouth are a clue that this is also a young bird, hatched this summer and heading south for the first time.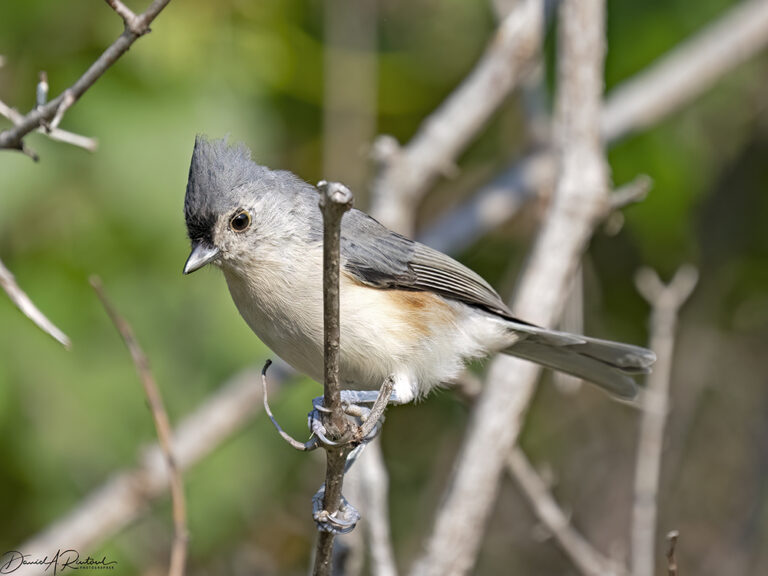 Near Manhattan KS
September 9, 2022
A favorite bird for lots of birders, the Tufted Titmouse (Baeolophus bicolor) is not a colorful bird. But it makes up for that in attitude, inquisitiveness, and general noise-making ability. Often, I am asked what bird is making some noise back in the woods, and most of the time I can answer that it is a titmouse. They make a lot of noises!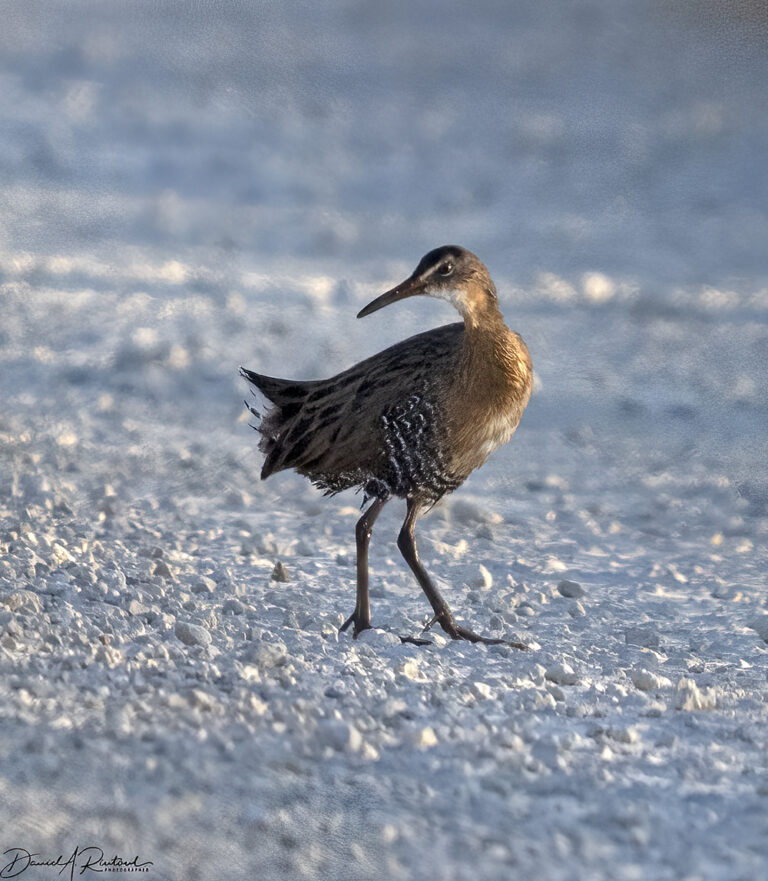 Quivira NWR
August 14, 2022
Now we turn to some of those waterbirds. First up is a Virginia Rail (Rallus limicola), which is much more often heard rather than seen. Rails are great skulkers, and this species is no exception, so I was really happy to see one stepping out in plain sight early one morning at Quivira National Wildlife Refuge.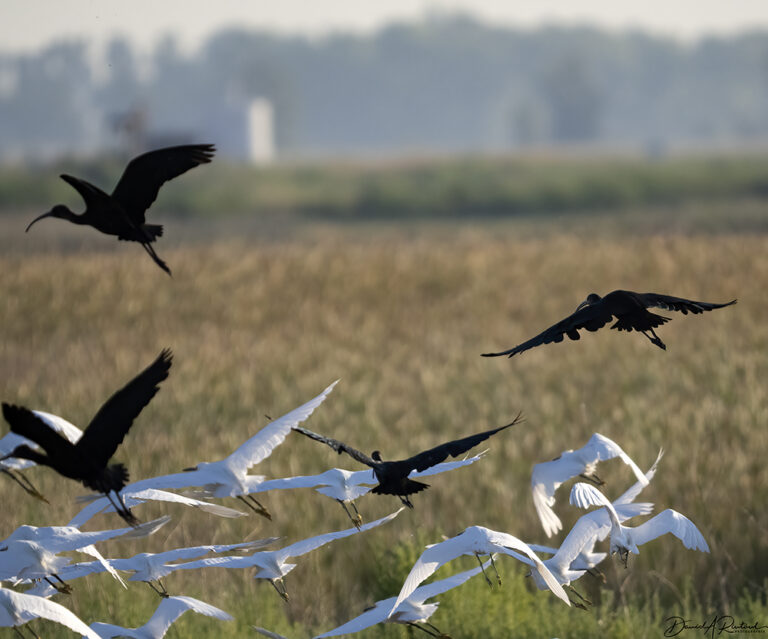 Quivira NWR
August 14, 2022
In the early 1980's Paul McCartney and Stevie Wonder recorded a duet entitled "Ebony and Ivory". It wasn't a particularly great song, and the symbolism is as subtle as a stroke, but somehow, I was reminded of it when I took this picture. Great Egrets (Ardea alba) and White-faced Ibis (Plegadis chihi), side by side and no doubt "living in perfect harmony".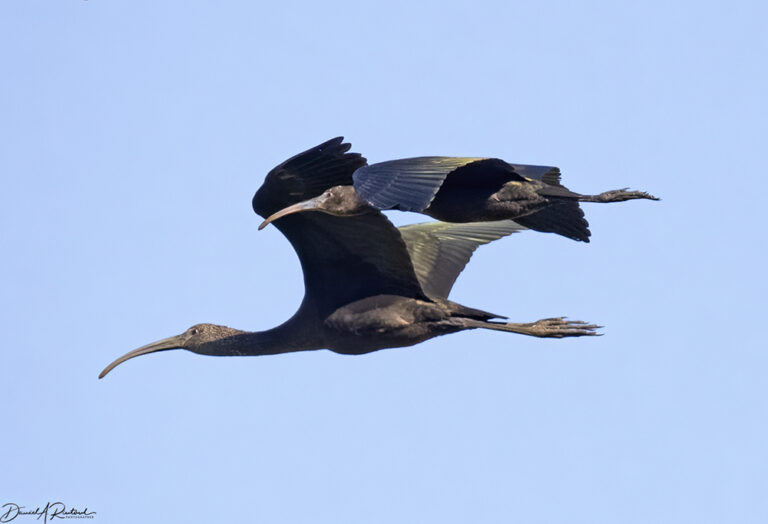 Near Manhattan KS
September 12, 2022
Another shot of White-faced Ibises (Ibii?) in flight. Unlike some other birds (e.g. hawks) where the female is significantly larger than the male, the reverse is true in this species. So that smaller bird in the foreground is probably a female, accompanied by the larger male in the background.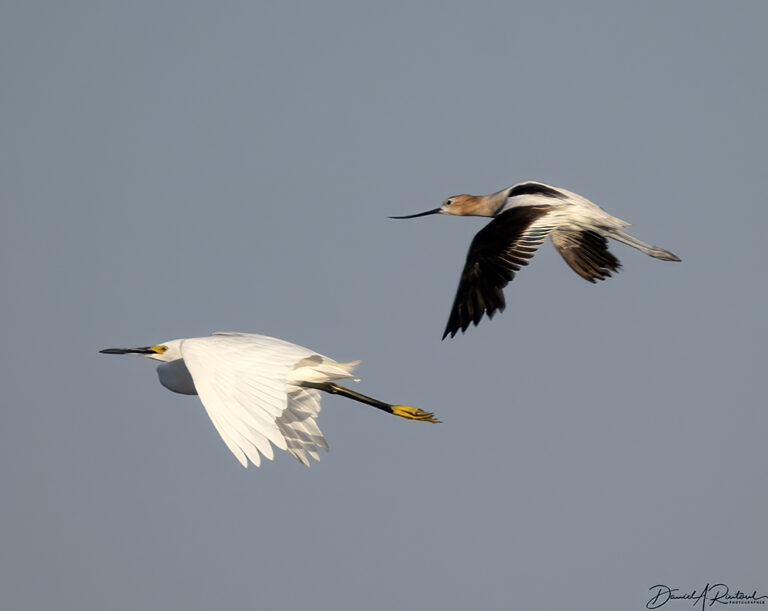 Quivira NWR
August 14, 2022
Our other white egret, the Snowy Egret (Egretta thula) is substantially smaller than the Great Egret seen above. In fact, as this picture shows, it is almost the same size as one of our larger shorebirds, the American Avocet (Recurvirostra americana).

Quivira NWR
August 14, 2022
The final image for today is a flock of American Avocets, in their grey and black and white basic plumage. I have always been a sucker for avocet reflection shots, and I probably always will be!