On the Road is a weekday feature spotlighting reader photo submissions.
From the exotic to the familiar, whether you're traveling or in your own backyard, we would love to see the world through your eyes.
lashonharangue
Still on Santa Cruz Island, we continued driving up the mountain toward the private tortoise reserve. The terrain became mostly large green fenced pastures, some with cattle. Driving down a dirt road we started to spot the tortoises. Apparently they can share the pastures with the cattle.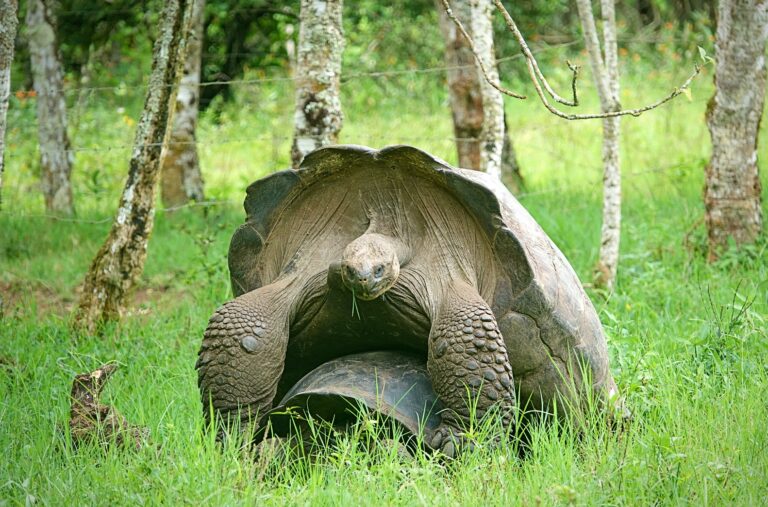 Santa Cruz
This photo might be better in BJ After Dark. Before we got to the reserve we all got off the bus to take some x-rated photos. As you can see the males are much bigger than the females.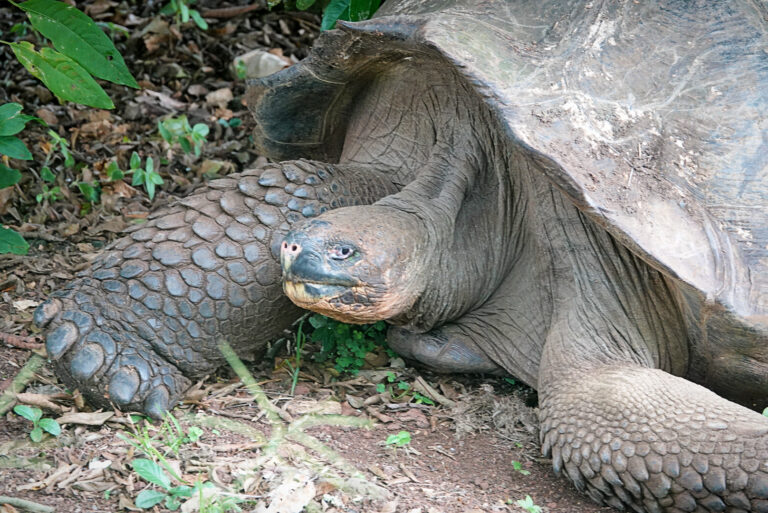 Santa Cruz
This tortoise was keeping cool under the vegetation. They apparently do a lot to modify the environment in order to keep cool and that keeps the land from becoming dense forest.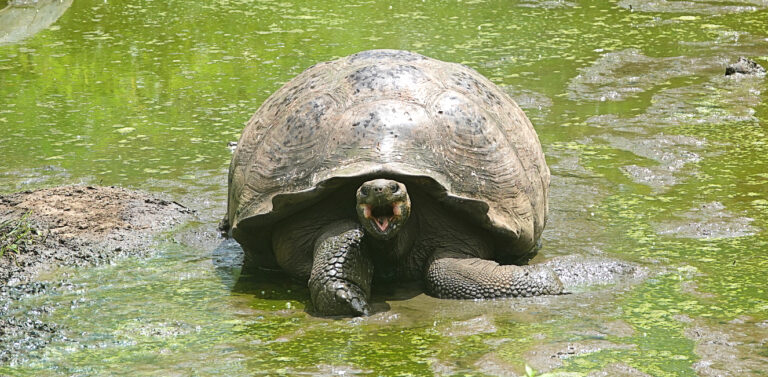 Santa Cruz
This tortoise was one a half dozen that were keeping cool in a small muddy pond.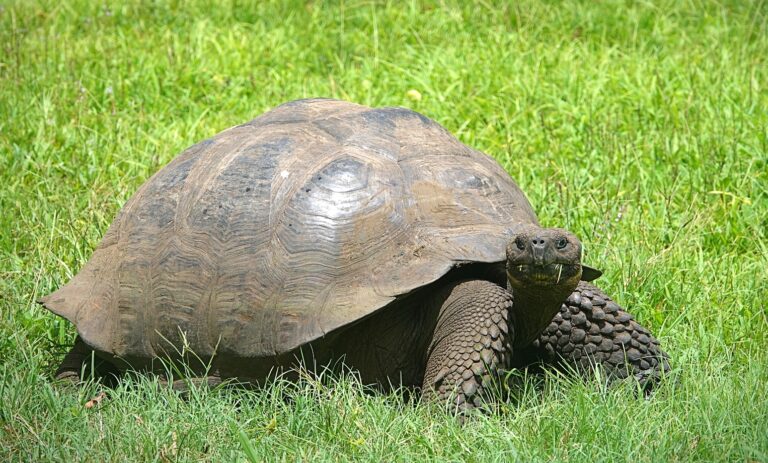 Santa Cruz
And this fellow was grazing in the green grass.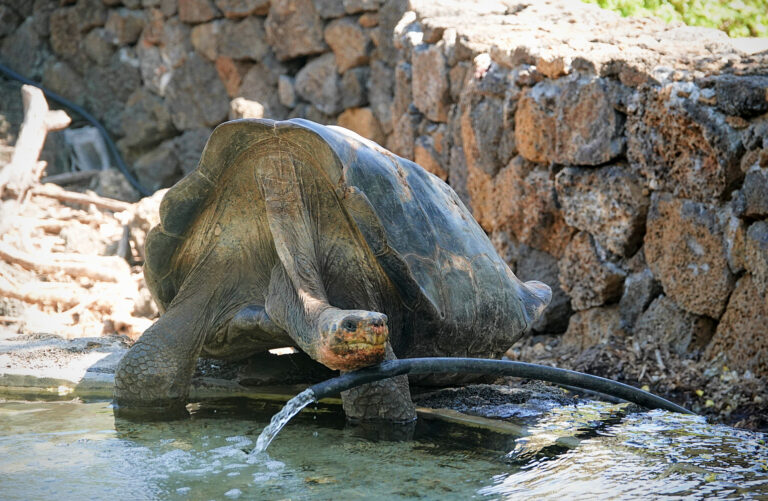 Santa Cruz
After lunch we drove back down to Puerto Ayora. It was hot and humid. We went to the center that breeds tortoises to reintroduce them to islands where they are endangered or have become extinct. 
This is a Saddleback tortoise. His shell has a high dome and he has a much longer neck. Saddleback tortoises come from the smaller dryer islands where they needed to reach up high to get enough food, probably from prickly pear cactuses. This guy had the right idea to keep cool.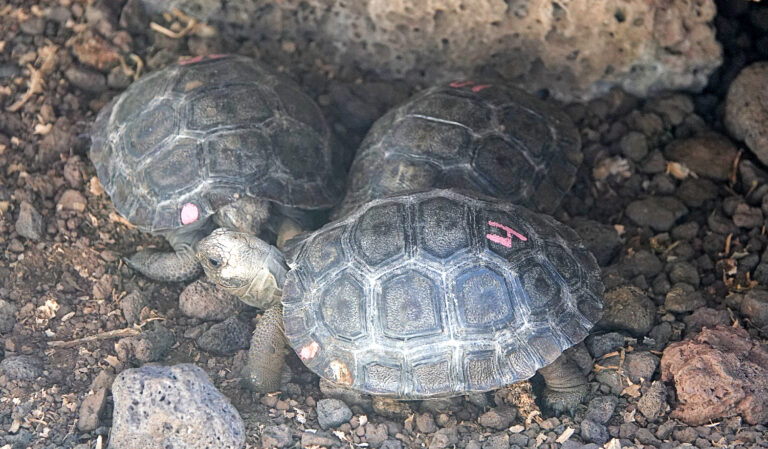 Santa Cruz
They do genetic testing to differentiate which turtles go to which islands. There are thirteen living species. On one island they discovered the tortoises had become hybridized, as tortoises from another island apparently arrived there from a shipwreck (the tortoises were taken aboard ships to provide fresh meat). They are attempting to reintroduce one of the extinct species by selectively breeding from this hybridized population.
After eggs hatch in a very controlled incubation process, the young ones are then raised in separate pens that are designed to reflect the environment they will be released into. They have to raise them for about twenty years before growing big enough to release.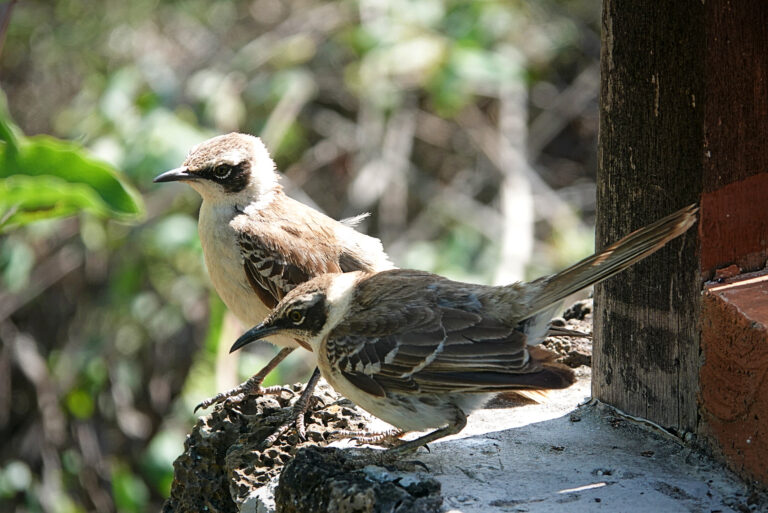 Santa Cruz
Two Galapagos mockingbirds on a wall that enclosed the growing tortoises.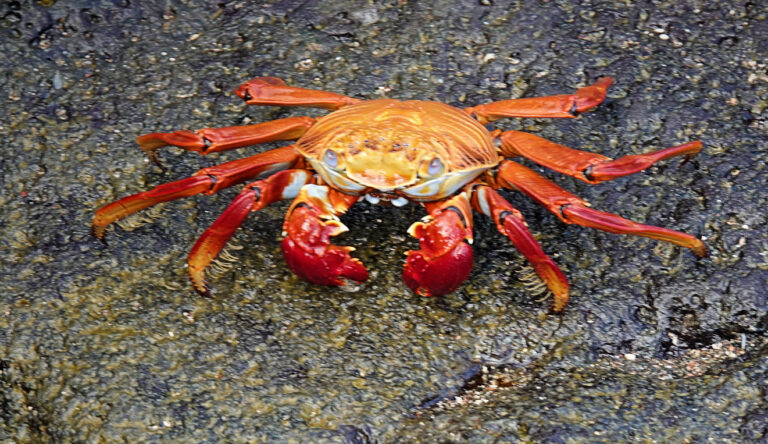 Santa Cruz
We went back to the harbor to return to the ship.  I got my best photo of a Sally Lightfoot crab on a rock by the dock.
Next Stop – Genovesa Island