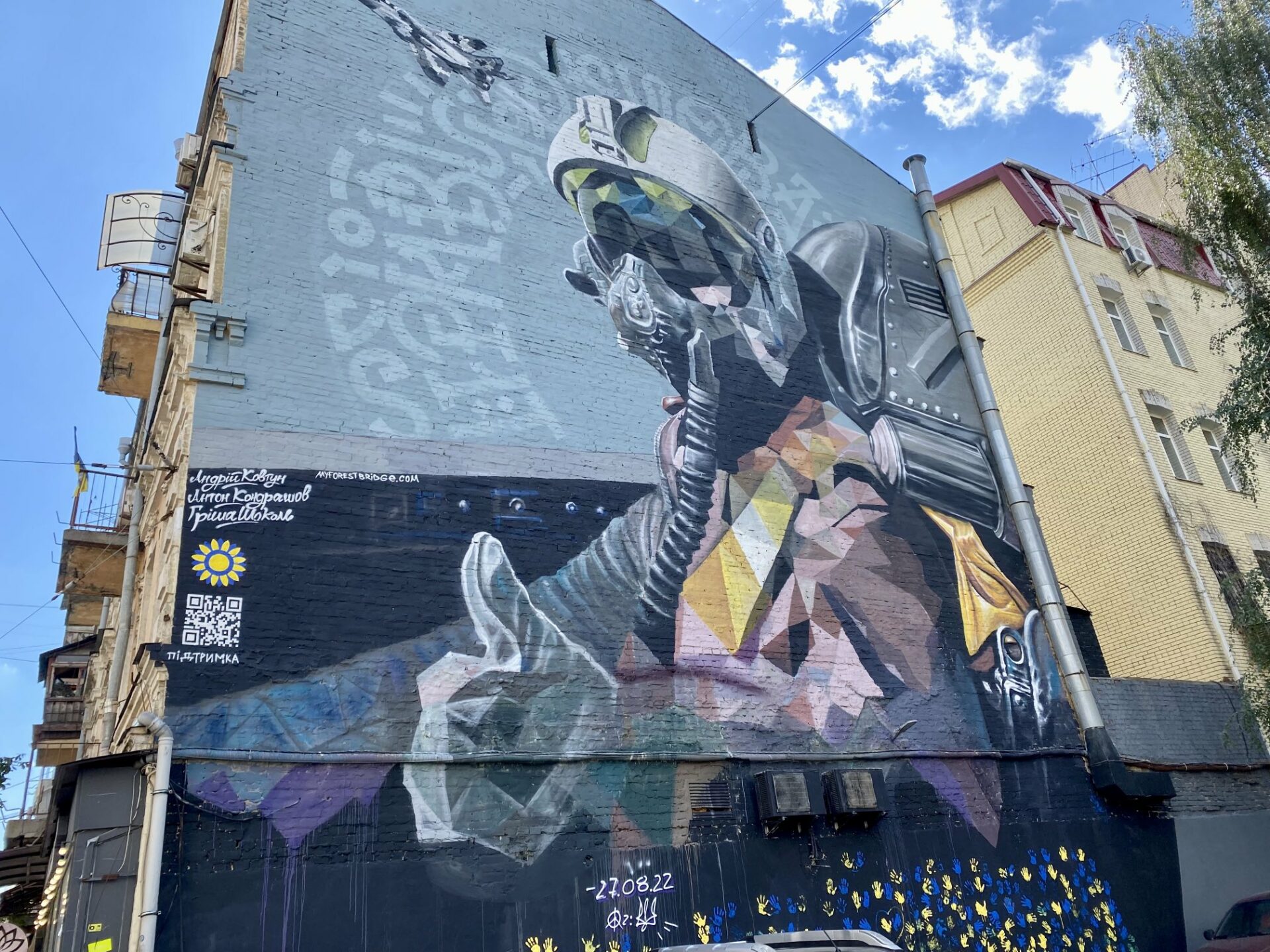 Good morning world! pic.twitter.com/Mf5TrXf3K9

— Ukrainian Air Force (@KpsZSU) October 12, 2022
I had a much longer day than I expected – nothing really bad, just things kept popping up – and I have an early start tomorrow. So I'm going to just do a brief post tonight.
Here is President Zelenskyy's address from earlier today. Video below, English transcript after the jump:
Good health to you, fellow Ukrainians!

Today I took part in the work of the Parliamentary Assembly of the Council of Europe – outlined the most important things for us in achieving peace and restoring Ukraine and the international legal order after this war.

We also have a powerful response from PACE, which is the first international organization to designate the current regime in Russia as terrorist.

It is very important that this is a political signal. A signal to all states – members of the Council of Europe and all states of the world, that there is nothing to talk about with this terrorist group, which appropriated Russia and unleashed the most heinous war in Europe in 80 years.

Terror must be responded with force at all levels: on the battlefield, with sanctions, and legally

We will create a special tribunal for the crime of Russian aggression against Ukraine and ensure the operation of a special compensation mechanism so that Russia will bear responsibility for this war at the cost of its assets.

I am grateful to all our partners in the Council of Europe who work for justice for Ukraine and our entire continent. I am grateful to our PACE delegation for truly effective work!

I am also grateful to all Ukrainian diplomats and our friends in the world and in the United Nations who helped consolidate the world community of states in such a way that we gained the highest support at the UN General Assembly for the entire time of the Russian terrorist war.

The world sees what is happening. It knows the price of the farce that Russia staged in the occupied territory under the guise of sham referenda. 143 UN member states supported the resolution, which protects the basic principles of the UN Charter and condemns Russia for the criminal attempt to annex our territory. This is a record number of states supporting Ukraine today. But I believe that there will be more.

Four states came out on the side of Russia – this is very eloquent. North Korea, Nicaragua, Belarus and Syria. Such a list that everything is clear.

I am grateful to each of the 143 states!

Today, an important meeting of our team, which deals with the issue of the release of prisoners, took place in the online format with representatives of the International Committee of the Red Cross and other international organizations related to this process.

Very important things were said. In particular, those concerning the institutional work of the Red Cross to guarantee the safety of those held in Russian captivity.

I believe that the International Committee of the Red Cross is not a club with privileges where they get paid and enjoy life. The Red Cross has obligations, primarily of a moral nature. The mandate of the Red Cross must be fulfilled. It is necessary to immediately do what is completely logical for the Red Cross.

There is Olenivka. In fact, a concentration camp where our prisoners are kept. Access to them is required, as it was stipulated. The Red Cross can make it happen. But you have to try to make it happen. Ukraine is ready to facilitate this.

The mission of the Red Cross can work on the model of the mission of the IAEA. But this requires leadership. Conscientiousness is required. Understanding who and why created such an institution as the Red Cross is required.

I am grateful to the team that continues to engage in exchanges: Budanov, Yermak, Usov, Maliuk. Today, we managed to return another 20 Ukrainians from captivity. 14 warriors of the army, four warriors of the territorial defense, one national guard and one warrior of the Navy. We are working on getting everyone back!

Our Air Forces continue the battle for Ukrainian skies. As in previous days, I received hourly reports of downed Russian missiles and drones. During the day, 11 missiles were fired, six missiles were shot down in Mykolaiv, Lviv and Dnipropetrovsk regions. Thank you to everyone who fulfills this task!

We urgently restore damaged infrastructure objects.

I also want to celebrate today the warriors of the 5th separate assault regiment of the Ground Forces, the 1st separate battalion of the marines and the battalion of the 4th brigade of the National Guard of Ukraine for their skillful and heroic actions during the defense in the Bakhmut direction.

This direction is still one of the toughest on the front. Thank you to everyone who defends our positions there and inflicts tangible hits on the occupiers.

Now Russia is sending thousands of its mobilized men to the front. They have no significant military training, but their command does not need it at all. They expect that the mobilized Russians will be able to survive in the war for at least a few weeks, then they will die, and then new ones will be sent to the front. But during this time, such use by Russian generals of their people as "cannon fodder" makes it possible to create additional pressure on our defenders.

It's a tangible pressure. And I am grateful to all our warriors who endure it. I am also grateful to the partners who understand that in such conditions we need an increase in defense assistance. I thank everyone who fights, works and helps to protect Ukraine!

Tomorrow we will definitely celebrate – everyone in their place – one of our most important days. Intercession, Day of Defenders of Ukraine. The holiday of all our warriors – from ancient times to the present, from the Cossacks to the insurgents, from all of them to the warriors of the modern army.

Tomorrow will be the 233rd day of our full-scale defense. And new steps that bring us closer to peace and victory.

We do not relax! We beat the enemy! We follow the safety rules! We listen to the air alarm signal, especially tomorrow!

And we do everything to strengthen Ukraine!

Glory to Ukraine!
Here is former NAVDEVGRU Squadron Leader Chuck Pfarrer's most recent assessments for the situations in Izium, Kherson,
IZIUM/1315 UTC 13 OCT/ UKR intel reports extremely low morale among RU reinforcements, leading to desertions, refusals and even outright mutiny. RU combat engineers are reported to be building a triple line of defensive trenches near the P-66 HWY. pic.twitter.com/tBE7QLaBSY

— Chuck Pfarrer | Indications & Warnings | (@ChuckPfarrer) October 13, 2022
KHERSON/2130 UTC 13 OCT/ 19 UKR Close Air Support (CAS) missions were carried on in the last 24 hours, with approximately 6 occurring in the Kherson AO. UKR Suppression of Enemy Air Defense (SEAD) missions continue with an additional six Russian SAM complexes reported destroyed. pic.twitter.com/yBMLmf0Dr5

— Chuck Pfarrer | Indications & Warnings | (@ChuckPfarrer) October 13, 2022
What air defense doing?
DOING HARM: The UKR air force continues its successful campaign of Suppression of Enemy Air Defense (SEAD). The UKR General Staff has revealed that Ukrainian Forces interdicted three Russian S-300 air defense complexes in the vicinity of Tokmak in Zaporizhzhia Oblast. pic.twitter.com/06cobntieO

— Chuck Pfarrer | Indications & Warnings | (@ChuckPfarrer) October 13, 2022
TOP GUN: Friend & colleague @HeliosRunner reports that in the last 48 hrs a UKR pilot destroyed 5 Shahed-136 drones & cruise missiles. His aircraft was hit today, but he managed to steer the wreckage away from the city of Vinnytsia before ejecting safely. Hang loose, Maverick! https://t.co/bDYJdL91h8 pic.twitter.com/M9JJRtzdBQ

— Chuck Pfarrer | Indications & Warnings | (@ChuckPfarrer) October 13, 2022
For our drone enthusiasts:
WW1-style duel. Ukrainan Mavic-drone, which we have delivered to one of the airborne units in Donetsk region, destroyes russian opponent. Amazing!
Pls support our Armed Forces: https://t.co/nw19NpRIN6 pic.twitter.com/2vaCBQINQK

— Serhiy Prytula (@serhiyprytula) October 13, 2022
More air defense is on the way:
I'm grateful to my 🇪🇸 colleague Margarita Robles for the decision to send 4 Hawk air defense systems to Ukraine. It's quick response for 🇺🇦 request at #Ramstein 6
There are more Hawks on the way.
Today air defence is a priority not only for Ukraine, but for all of Europe.
🇺🇦🤝🇪🇸

— Oleksii Reznikov (@oleksiireznikov) October 13, 2022
And winter gear from the Great White North!
Brief updates:

– Canada to provide $47M of supplies (500k winter uniforms!)
– France to provide 3 advanced MLRS systems
– NATO meeting: Ukraine air defence at top of agenda
– AFU destroys russian s-300 batteries
– AFU continues to liberate villages in Kherson

— Maria Drutska 🇺🇦 (@maria_drutska) October 12, 2022
Obligatory since we've referenced Canada:
Also, obligatory: Canada's unofficial alternative national anthem
For those who might be interested:
Before I forget — please feel free to join my online meeting with @BulletinAtomic on Nov. 9.
It's 100 seconds to midnight now, but when the warmongering imperialist regime in the Kremlin loses power, this world will be a much safer place.https://t.co/e42ODqpDyy pic.twitter.com/VGRuYomqM6

— Illia Ponomarenko 🇺🇦 (@IAPonomarenko) October 13, 2022
That'll do for tonight.
Your daily Patron!
These days, I learned a new profession. Cameradog 😀
Just kidding. I was honored to be a part of the documentary about Ukrainian animals. So after some time, you'll be able to watch my ears there 😆 pic.twitter.com/FV9cmcvk0m

— Patron (@PatronDsns) October 13, 2022
And a new video from Patron's official TikTok:
The caption came translated tonight!
Open thread!