This cartoon is so spot on that I asked for permission to share it here, and she graciously agreed.
I know for sure that a lot of you are donating!  I bet a lot of us are doing a lot more to stop the crazy and contribute to the outcome we want in November – please tell us what you're up to in the comments.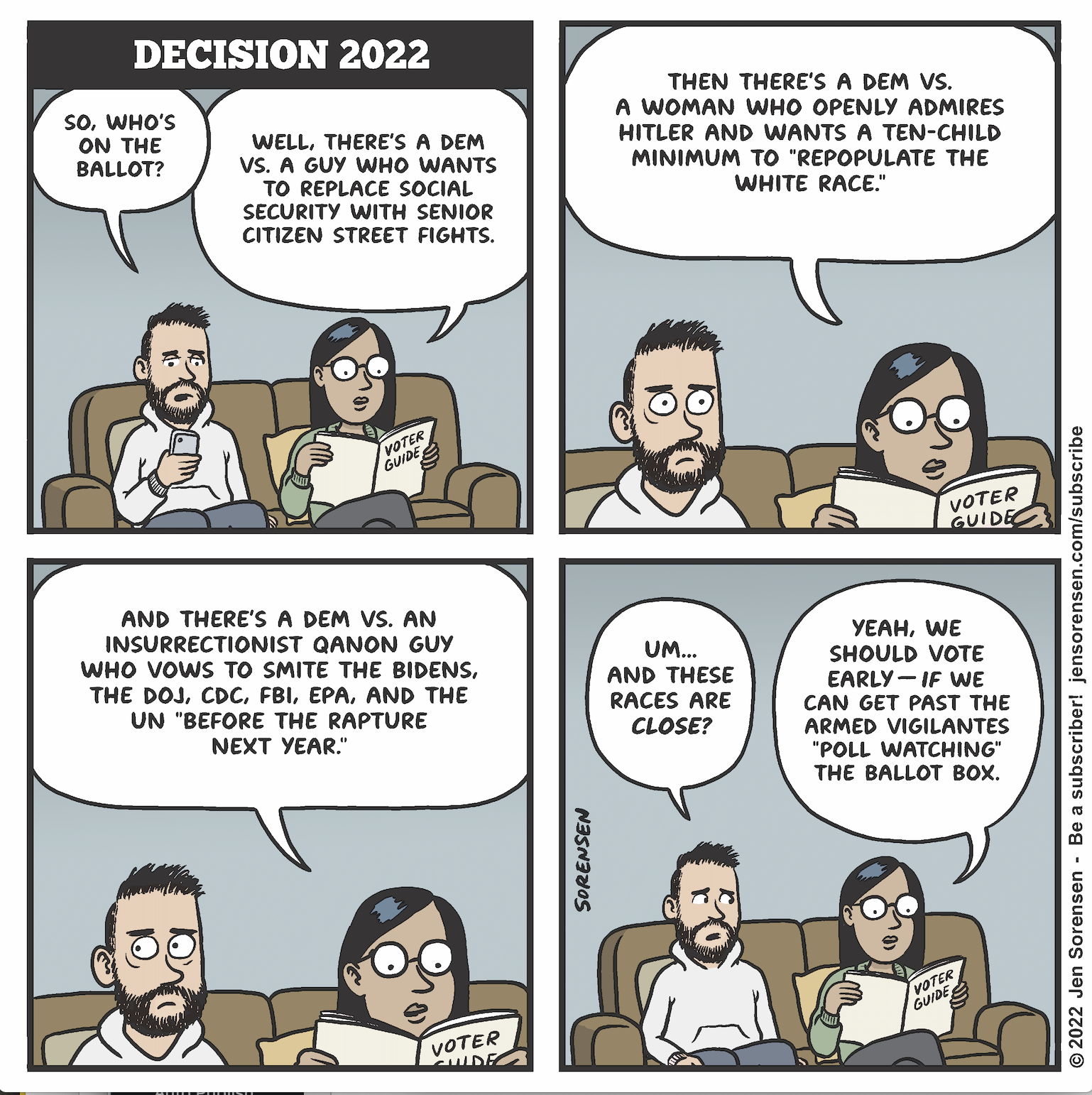 Jen Sorensen:

This pretty much sums up how I feel about the midterms. I can't believe so many contests are so close. Perhaps the most depressing one is the Ohio Senate race in which the misogynist bigot JD Vance — who has stated that the sexual revolution made it easier for women to leave violent marriages, and that this is bad somehow — has a very good shot at winning. Republican candidates can say just about anything these days, and it doesn't matter. The old norms are gone; actual policy has become irrelevant.

In case you haven't heard about the guys in tactical gear guarding a ballot drop box in Mesa, AZ, you can view footage here. I can only imagine we'll be hearing more stories like this in the week ahead. I saw a disturbing thread on Twitter the other night from a female TV journalist in Arizona who had reported on intimidating "poll watchers" — she was sharing all the threats she had received.

The third panel of this cartoon was partly inspired by a Christian nationalist rally last weekend in Lancaster County, PA, where I grew up. The QAnon-friendly event featured a speaker who declared that the "angel of death" was coming for numerous politicians and members of the media by the end of the year. Eric Trump was in attendance. Lancaster has always been a fairly religious, conservative area, but it wasn't like this when I was a kid.