O Retorno dos Jedis

— Lula 13 (@LulaOficial) October 31, 2022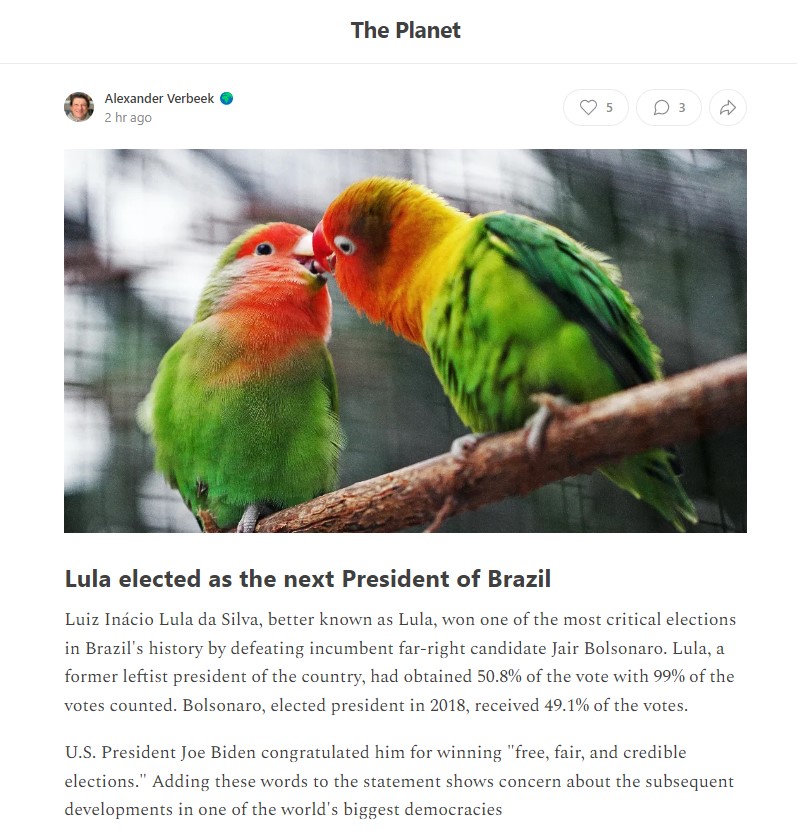 Brazil's democratic institutions have long been under siege by President Jair Bolsonaro. As a result, millions of citizens have now questioned the credibility of Brazil's elections. You're not alone if you see a pattern closer to home. Bolsonaro is referred to as the "Tropical Trump" for various reasons, this being just one of them.

One of the reasons the world has been missing Brazil is the destruction of the Amazon, the world's lungs. Lula and Bolsonaro envisioned opposite fates for the Amazon at a crucial moment. If deforestation continues at current rates, as favored by Bolsonaro, the Amazon will pass an irreversible threshold in just a decade or two. Scientists warn that it would transform the rainforest into a savanna that would release billions of greenhouse gases.

As president, Lula demonstrated great success in drastically reducing Amazon rainforest deforestation. Sadly, Bolsonaro has openly supported clear-cutting and burning in the Amazon for agriculture, reversing this trend. Additionally, he undermined current environmental safeguards and legalized unlawful activity. In protected regions and Indigenous territory, illegal mining and logging grew during his watch, leading to pollution, destruction, and violence.  READ the entire article here.  His newsletter is good weekly read.
Democracia. pic.twitter.com/zvnBbnQ3HG

— Lula 13 (@LulaOficial) October 30, 2022
Lula the Leftist, Lula the trade unionist, Lula the people's leader. It's Lula da Silva who defeated fascist Bolsonaro with 50.9% votes and becomes the new President of Brazil. It's the people only the people who creates history. Fascism won't speaks last.#LulaPresidente2022 pic.twitter.com/y1Y4r7JjVJ

— Shibam Sarkar (@ShibamSrkr) October 31, 2022
More on this at a later date when I can read up more on his policies and the impact this will have on the planet's "lungs".
*as of the writing of this, Bolsonaro has yet to concede.
Open thread