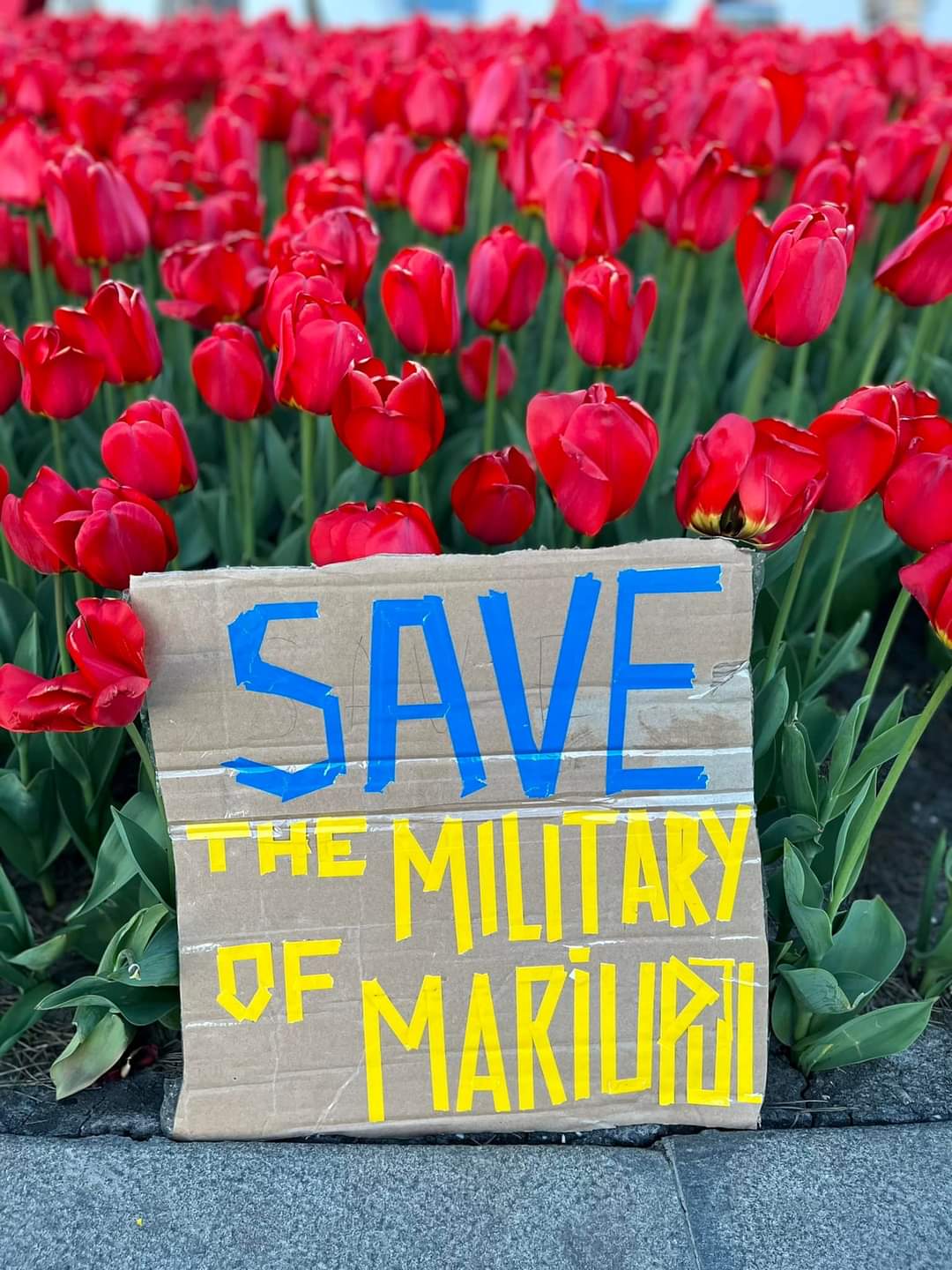 Ukraine and Russia have carried out another exchange of prisoners of war, with each side releasing 107 soldiers from captivity. Among the Ukrainians are 70+ Azovstal defenders. Info from Zelensky chief of staff @AndriyYermak and Russia's MOD. 🎥 of Ukrainians via Yermak. pic.twitter.com/ImvKa3qndG

— Christopher Miller (@ChristopherJM) November 3, 2022
A few days (last week? a tenday? a fortnight?) ago someone in comments asked about the Azov Regiment and the agitprop Russia pushes that they're NAZIs. It was a good faith question, I meant to deal with it on the front page the next night or a day or so later and, as things often do, it got lost in the shuffle. So I'm going to copy and paste my response the last time this came up from my update post on 11 APR, which was day 47…
Just a quick note about the Azov Regiment. From The Jewish Telegraphic Agency (emphasis mine):

(JTA) — Konstantyn Batozsky believes he is on a list of so-called "neo-Nazis" to be rounded up "Gestapo-style" and "exterminated" by Russian forces seeking to enter Kyiv.

Batozsky, a Jew from eastern Ukraine, said he was informed about the "bounty on his head" by Ukrainian intelligence sources. But as a longtime and avowed Ukrainian nationalist who has collaborated with an paramilitary group that has a reputation for including extremists, he knows that it's people like him that Russian President Vladimir Putin was talking about when he cited a need for "denazification" as a pretext for invading his country.

"I have been staying underground away from my apartment where the Russians will try to find me," Batozsky said from a makeshift bunker preparing for what appears to be an imminent invasion as bombs rained down outside the city center.

"I am happy that I'm alive," he reflected, as he coordinated efforts to get much needed supplies to the Ukrainian army. "It now feels like every day could be the last."

Initially cheerful in the early days of the war as the Ukrainians were surprisingly resilient against the much bigger Russian army, Batozsky now sounded more worried. And angry.

"The Russians are advancing and the West is not helping. Just words are not enough," he lamented. Batozky pleaded for Western countries to intervene militarily.

Among those taking up arms for the first time as volunteers for the civilian army include Jews like Batozsky, who was passionately devoted to the Ukrainian national cause in his native Donetsk years before Russia decided to wage war on the entire country. He was a former advisor to the governor of Donetsk, Serhiy Taruta, now a member of the Ukrainian parliament.

It might seem perplexing to observers in the United States and beyond that Jews would embrace Ukrainian nationalism, which some of its opponents — including Putin — say is tinged with antisemitism.

"There was definitely a Jewish memory of anti-Jewish pogroms conducted by Ukrainians," said Sergiy Petukhov, Ukraine's former deputy minister of European Integration whose mother and grandfather live in Israel. Also a native of Donetsk, Petukhov describes himself as a Ukrainian with Jewish ancestry, "like our current president," he said, referring to Volodymyr Zelensky.

Ukraine's history of antisemitism go far beyond pogroms. In their efforts to exterminate Jews, the Nazis were significantly aided by Ukrainians during World War II, according to several historians.

More recently, some of the initial paramilitary fighters against the Russian-backed takeover in Ukraine's east, such as the Azov Battalion, were extremists and ultranationalists who displayed Nazi symbols. 

"I know it's hard for Jews abroad to understand, but these actions were intended as anti-Russian, not anti-Jewish," Petukov said. "And when it comes to those supporting Ukrainian sovereignty and culture, this is really a tiny element."

Now part of the national guard, the battalion of 900 to 1,500 members publicly claims to eschew all Nazi ideology.

Batozsky said he worked closely with the Azov Battalion during the 2014-15 conflict behind the scenes as a political consultant in Donetsk. It is this work, and his outspoken defense of Ukrainian efforts to defeat the separatists, that he says put him on the Russian hit list — and also that makes him confident that Russian charges of neo-Nazis in Ukraine are inaccurate.

"They were soccer hooligans and wanted attention, so yeah, I was shocked when I saw guys with swastika tattoos," he said about the Azov members he got to know. "But I talked with them all the time about being Jewish and they had nothing negative to say. They had no anti-Jewish ideology."

He insists that the image of Ukraine as a hotbed of antisemitism is absurd.

"I don't practice, but still everyone knows I am Jewish — I have such a Jewish face! And I never experienced antisemitism from Ukrainians," he insisted. "The military guys I am working with now really don't care that I am a Jew."

He does not have similar feelings towards his Russian neighbors. "I did have a Jew-hating Russian first-grade teacher who mockingly called my long hair payos," recalled Batozky, using the Hebrew term for the long sidecurls kept by many Hasidic men. And he said he heard more slurs against Jews from Russians Moscow State University, which he attended in the 1990s, then he ever heard back home.

Daniel Kovzhun, a Jew from Kyiv who ran logistics during the war in Donetsk for paramilitary units, described a similar experience.

"There were Orthodox Jews in Azov," he said. "I know because I was there on the battle lines. No one cared who was Jewish, we cared about keeping our country together."

Like Batozsky, Kovzhun, who lived and studied in Israel before returning to Kyiv, has joined the newly formed civilian army in Kyiv, the Territorial Defense Forces — an overnight volunteer force that has attracted Jewish fighters across the country, and even from abroad.

Much, much more at the link!
Hopefully that puts to bed any lingering questions anyone had about the Azov Regiment. Which was only one part – a very significant part – of the Azovstal defenders and the defenders of Mariupol. The others included the 36th Separate Marine Brigade, members of the Territorial Defense, members of the local and regional police, fire, and emergency services, and a whole bunch of medics – a lot of whom were women.
Here is President Zelenskyy's address from earlier today. Video below, English transcript after the jump:
Good health to you, fellow Ukrainians!

First of all, I want to congratulate you on two professional holidays that are celebrated today. This is the Day of Missile Troops and Artillery and the Day of Engineering Troops. I sincerely congratulate all warriors, veterans and relatives of our heroes who serve in these troops.

Ukrainian artillery became the strongest in Europe and one of the strongest in the world. It will always be like that. Despite the physical advantage of enemy artillery – simply quantitative – our warriors provide better results. The advantage of our gunners is qualitative – skills, intelligence, faith in themselves and in our country.

And I signed the decrees on awarding two brigades with a special award – "For courage and bravery". These are the 43rd separate artillery brigade named after Hetman Taras Triasylo and the 44th separate artillery brigade named after Hetman Danylo Apostol. Thank you guys for your precision!

Ukrainian engineering troops are exactly those warriors who make a vital contribution to the advancement of our units, and therefore to the liberation of our territory. They create a material basis for the movement of troops and for the protection of positions – barricades, crossings, demining and much more.

I thank all units of these two branches of the troops, each soldier, relatives of our soldiers and all those who support them and who help them.

Today, there were various negotiations and meetings to strengthen our state. The visit of the President of Greece took place, and the key meaning of the visit is precisely defensive. We received from Greece the first batch of armored vehicles, which are extremely necessary now.

Defense cooperation, strengthening of sanctions against Russia, creation of a special tribunal on the crime of Russian aggression against Ukraine were discussed. Of course, we also talked about the reconstruction of Ukraine. All this is a special topic for Greece. The community of Ukrainian Greeks traditionally lives in the south of our country, in many cities and villages, a large part of which was badly damaged by Russian strikes. Many Greeks lived in Mariupol, in the Mariupol area…

I hope that Greece will actively support our efforts to bring all Russian murderers and torturers to justice for what they have done against our people. And when we return the Ukrainian flag to all the cities and villages of the south of our country, we will certainly invite Greece, its companies and specialists to participate in the restoration of normal life in this part of Ukraine.

Today I also met with representatives of the US Congress – Senators Chris Coons and Rob Portman. I thanked them for the continued bipartisan support and for the assistance that the United States provides to our country. We talked primarily about an air shield for Ukraine, about how to speed up the liberation of our territory.

Challenges in the energy sector were discussed separately and in a very specific manner. Russian attacks on our energy sector, on our energy facilities, do not stop for a single day. Kryvyi Rih was attacked by Iranian drones this night. Such Russian terror must receive – and surely will eventually receive – a powerful global response. I am grateful to our friends in the United States who are helping with this.

In general, there is damage to energy facilities in different areas across the country – this is the volume of electricity generation and transportation for millions of people. Only as of this evening, about 4.5 million consumers have been temporarily disconnected from consumption under emergency and stabilization schedules. In particular, in Kyiv and ten regions: Kyiv region, Dnipropetrovsk region, Zhytomyr region, Zaporizhzhia region, Sumy region, Kirovohrad region, Kharkiv region, Chernihiv region, Khmelnytskyi region, Cherkasy region. Blackouts may take place in other regions as well.

To endure Russian energy terror and such a challenge is our national task, one of the main ones now. The very fact that Russia resorted to terror against the energy industry shows the weakness of the enemy. They cannot defeat Ukraine on the battlefield, and that is why they are trying to break our people in this way – to humiliate Ukrainians, to strike at the morale of our people, at the resistance of our people. I believe that Russia will not succeed.

It is important now to preserve our ability to act together. Therefore, today I want to draw attention to two things. The first is the attention of local authorities. Please ensure that there is no unnecessary use of electricity in all cities and communities of Ukraine. Now is definitely not the time for bright showcases, signs, advertisements and other such lighting.

I also appeal to the energy companies – publicly, so that everyone can hear it.

Please be more active in explaining to people when and why you disconnect this or that street, this or that district. Now is the time for such microcommunications. People have a right to know. And if consumers contact and report this or that injustice in energy supply, please respond to it immediately. Work together with local authorities.

If someone stays without electricity for eight or ten hours, and everything is connected, including street lighting, across the street, then this is definitely unfair. It is necessary to do everything so that disconnections are predictable and completely understandable for consumers.

In particular, I spoke today with the President of Moldova about energy challenges. The terrible consequences of Russian hybrid aggression are felt by all Europeans, and the citizens of Moldova as well. We talked with Mrs. Sandu about what we can do together in the interests of our people and for the protection of our states.

I also spoke with the President of Indonesia today. The topic is clear – this is the G20 summit, which will begin shortly. This is our effort to prevent a food crisis. And I thank Mr. President for his support in this matter, for his positive assessment of our efforts.

There is a conclusion of the IAEA today – it is quite obvious. The organization's mission visited all the objects that Russian representatives mentioned when they told their fantasies about the so-called dirty bomb. We have invited the IAEA to check, we have given them full freedom of action at the relevant facilities, and we have clear and irrefutable evidence that no one in Ukraine has created or is creating any "dirty bombs". And the only thing that is dirty in our region now is the heads of those in Moscow who, unfortunately, seized control of the Russian state and are terrorizing Ukraine and the whole world.

The important document was prepared and published today by an international group of experts working under the leadership of Michael McFaul and Andriy Yermak. This is a document about absolutely necessary sanctions against Russia in the IT sphere. This is what can really weaken the potential of Russian aggressiveness. IT is used for missile and drone terror, for the production of military equipment, for cyber attacks and the spread of disinformation. That is, it is one of the pillars of the Russian war against Ukraine and freedom in the whole world.

We offer a concrete way to break this Russian IT pillar. I am sure that we will complete this task as well – there will definitely be corresponding new sanctions against Russia.

And the last point.

Today, another 107 Ukrainians were freed from Russian captivity. Six of them are officers, 101 are sergeants and privates. Army, Navy, territorial defense, National Guard, border guards… Many of them were wounded, and very seriously. Everyone is already getting the aid they need.

I am sincerely glad that another 107 families have seen their loved ones, and I thank all our team who made this exchange possible: intelligence, the Office, the Security Service, the ombudsman. We will definitely return home all Ukrainian men and women who are in captivity in Russia or in the temporarily occupied territory. We remember each of our heroes.

Glory to all who defend our state! Glory to all who fight and work, bringing our victory closer!

As for the front, the guys are moving forward. As for the grain, the ships are on their way. As for the occupiers, they are also on their way… following the warships!

Glory to Ukraine!
Here is former NAVDEVGRU Squadron Leader Chuck Pfarrer's most recent assessments of the situations in Zaporizhzhia and Kherson:
NUCLEAR ROULETTE: The Zaporizhzhia Nuclear Plant is again disconnected from the national power grid. This dangerous condition requires that the plant's diesel-powered emergency generators function 24/7 to provide necessary electricity to the plant's reactor control systems. pic.twitter.com/6e2Qq87cbS

— Chuck Pfarrer | Indications & Warnings | (@ChuckPfarrer) November 3, 2022
KHERSON AXIS /1220 UTC 3 NOV/ Local sources are reporting that RU occupation authorities are now forcing removal of UKR citizens from left (south) bank locations. RU looting of small businesses and solar power units continues. UKR precision strikes hit S-300 battery in stadium. pic.twitter.com/YkVvW7FtqC

— Chuck Pfarrer | Indications & Warnings | (@ChuckPfarrer) November 3, 2022
DEVELOPING: @NLwartracker reports that Kherson locals are now reporting all RU roadblocks, and soldiers are gone. Flags are taken down from governement buildings. Defensive positions north of the city are also reported to have been abandoned.

— Chuck Pfarrer | Indications & Warnings | (@ChuckPfarrer) November 3, 2022
Natalia Humeniuk, spokesperson for Ukraine's Southern Command, urges caution and says Russia's unusual maneuvers in Kherson might be a trap to lure in Ukrainian forces. https://t.co/AEqC8dqNSV

— Christopher Miller (@ChristopherJM) November 3, 2022
How's Russian mobilization going?
Video from Baza of mobilized soldiers in Ulyanovsk who staged a protest because they aren't being paid what they were promised. Rosgvardia troops were reportedly deplored before they dispersed. https://t.co/QKLavQIUh5 pic.twitter.com/DPLjKaGL27

— Rob Lee (@RALee85) November 2, 2022
orc army faces mutiny as 100 mobilized "soldiers" refuse to go ​to war pic.twitter.com/IoejYjUxwj

— Paul Healey 🇺🇦🇨🇦 (@Paul_TheNewf) November 2, 2022
Here's a long thread – first actual tweet followed by copy and paste from the ThreadReader App – from Michael Kofman. Kofman is the Center for Naval Analysis's senior Russian subject matter expert. He just got back from a trip to Ukraine:
A few thoughts on the current course of the war, and some impressions after a recent visit to Ukraine with several colleagues from the mil analysis community, including areas near the front in Kherson. /1

— Michael Kofman (@KofmanMichael) November 3, 2022
The general sense one gets is that Ukraine is winning the war & morale is high, but like any military operation, you see friction up close that you can't from a distance. A fair bit of the UA effort is ground up, based on horizontal linkages, volunteers, apps, etc. 

2/

 

Russia's military appears at its most vulnerable going into the winter, but UA has seen some modest impact from RU mobilization. Troops are being deployed to try and stabilize Russian lines, and increase force density relative to terrain. 

3/

 

The situation in Kherson is clear as mud. Russian forces seemed to withdraw from some parts, evacuated, and drew down, but also reinforced with mobilized personnel. The fighting there is difficult. Despite constrained supply, Russian forces do not appear to be out of ammo. 

4/

 

I think this is a fog of war issue right now, with contradictory indicators, but to me the preponderance of evidence points to a Russian decision to steadily retreat from the right river bank and avoid being cut off there, while also trying to exact a high cost. 

5/

 

UA folks I spoke to seemed optimistic they can press Russia out of Kherson (west of the river) by the end of the year. There are outstanding questions about the Khakovka dam, and whether RU might sabotage it upon withdrawal. This issue is more salient than talk of RDDs. 

6/

 

Still, it remains unclear whether RU intends to fight for Kherson city, perhaps using more expendable or mobilized units while preserving better troops. I'm skeptical RU will abandon all positions on that side without being forcibly pressed out, but could be wrong on this. 

7/

 

Forcing a Russian retreat from Kherson's right bank will bring UA systems within range of some ground lines of communication from Crimea. But, it will also give RU forces a large natural barrier, less terrain to defend, and a higher force density to terrain ratio. 

8/

 

Overall, it seems unlikely that the war will die down over the winter, even if some months make offensive operations challenging. UA will likely leverage its advantage in range and precision to attrit the Russian military over this period. 

9/

 

Strikes across Ukraine are leading to blackouts and electricity conservation. UA is resolving these blackouts quickly, and if anything the bombardment campaign bolsters resolve, but over time the challenges from these strikes could mount, straining equipment and ADS ammo. 

10/

 

I've been dismissive of the Belarus vector, despite recent RU deployments there. But the situation merits tracking over the coming months if numbers of Russian troops grow and they are provided heavy equipment. 

11/

 

Mobilization, and its potential downstream effect 3-4 months from now introduces a degree of uncertainty. It could extend the war, or make future UA offensives more costly, but I think UA is preparing for a range of possibilities depending on what mobilization yields. 

12/

 

On mobilization I largely hold to the thoughts in this earlier thread. It seems RU is taking a staggered approach, throwing some mobilized personnel with little training to stabilize lines, but holding many back to reconstitute units or form reserves.

13/ 

RU strategy appears to be focused on defense over the winter, hoping that mobilization can rebuild their forces. If the pressure lets up they will use the time to get more equipment out of storage (including from Belarus) & potentially ammo from sources like DPRK. 

14/

 

In the east RU forces appear desperate to hold the Troitske-Svatove-Kreminna line and are trying to dig in for the winter. Here a UA breakout could prove significant. In general it seems RU approach is to try and fix a defensible line and hope to maintain over the winter. 

15/

 

UA objectives are likely to prevent Russian force reconstitution over the winter, generate additional forces in the interim (which requires more equipment), and acquire air defenses to reduce the threat from the Russian strike campaign against critical infrastructure. 

16/

 
Donetsk, Kharkiv, and Kherson:
— Oksana Pokalchuk (@OPokalchuk) November 3, 2022
That's enough for tonight.
Your daily Patron!
What an idea!🤩Kind double donation. You can donate $15 to my PayPal [email protected] and "buy" a t-shirt for children in Ohmatdyt hospital. And the money from the donation will go to my fundraising for the sappers (health and technology support). Nice? pic.twitter.com/mHyDprJRTL

— Patron (@PatronDsns) November 3, 2022
And Yaroslava, thank you too

— Patron (@PatronDsns) November 3, 2022
And a new video from Patron's official TikTok!
The caption machine translates as:
Unbreakable, brave, free 💙💛 #SlavaUkraini #GloryTotheHeroes #PatrontheDog
Open thread!