The risk of death, hospitalization and serious health issues from COVID-19 jumps significantly with reinfection compared with a first bout with the virus, regardless of vaccination status, a study published on Thursday suggests. https://t.co/ALql3SJ3Yj

— Reuters Health (@Reuters_Health) November 11, 2022

Mitigating factors, *but*…
The risk of death, hospitalization and serious health issues from COVID-19 jumps significantly with reinfection compared with a first bout with the virus, regardless of vaccination status, a study published on Thursday suggests.

"Reinfection with COVID-19 increases the risk of both acute outcomes and long COVID," said Dr. Ziyad Al-Aly of Washington University School of Medicine in St. Louis. "This was evident in unvaccinated, vaccinated and boosted people."

The findings were drawn from U.S. Department of Veterans Affairs (VA) data collected from March 1, 2020 through April 6, 2022 on 443,588 patients with one SARS-CoV-2 infection, 40,947 with two or more infections, and 5.3 million noninfected individuals. Most of the study subjects were male.

Reinfected patients had a more than doubled risk of death and a more than tripled risk of hospitalization compared with those who were infected with COVID just once. They also had elevated risks for problems with lungs, heart, blood, kidneys, diabetes, mental health, bones and muscles, and neurological disorders, according to a report published in Nature Medicine…

Experts not involved with the study said the VA population does not reflect the general population.

Patients at VA health facilities are generally older, sicker people and often men, a group that would typically have more than normal health complications, said John Moore, a professor of microbiology and immunology at Weill Cornell Medical College in New York.

The researchers said cumulative risks and burdens of repeat infection increased with the number of infections, even after accounting for differences in COVID-19 variants such as Delta, Omicron and BA.5.

However, Dr. Celine Gounder, an infectious disease epidemiologist and an editor-at-large at Kaiser Health News, said there seemed to be a "plateauing effect with multiple infections," with less of a jump in risk after the second infection.

"The good news there is that the better people are protected with immunity, likely the risk of developing some of the complications will be lower over time," she added…

Still, Al-Aly cautioned that people should not let their guard down.

"We had started seeing a lot of patients coming to the clinic with an air of invincibility," he told Reuters. "They wondered, 'Does getting a reinfection really matter?' The answer is yes, it absolutely does."

Ahead of the fast approaching holiday season with travel and indoor gatherings, "people should be aware that reinfection is consequential and should take precautions," he added.

========
Chances of finding SARSCoV2's ancestor are 'almost nil,' say virologists reporting in the journal Nature. Genome analysis finds SARS2 & bat coronaviruses shared an ancestor just a few years ago, but extensive recombination has totally muddied the picture https://t.co/aY32F6nDi1 pic.twitter.com/VzU6p6b3g4

— delthia ricks 🔬 (@DelthiaRicks) November 10, 2022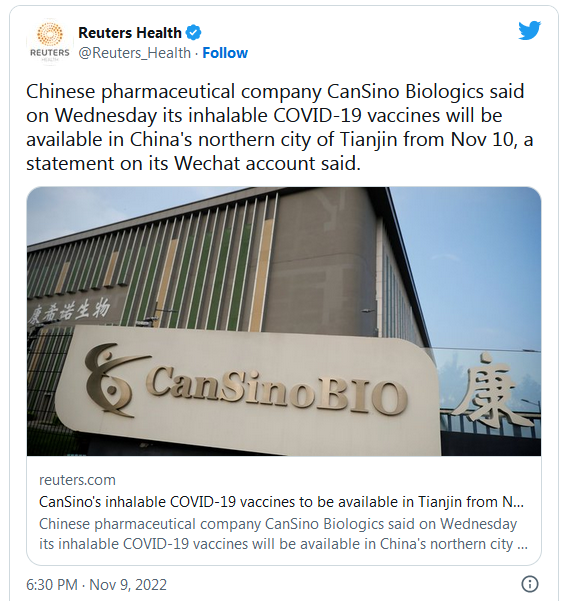 Beijing residents can start making appointments for an inhalable COVID booster made by CanSino Biologics, media reported on Thursday, while those in Tianjin city can now get it as the Chinese pharmaceutical firm distributes more supplies.

CanSino's vaccine, called Convidecia Air, is an aerosol version of an inactive shot and was approved as an emergency-use booster by Chinese health authorities in September.

The financial hub of Shanghai and 13 cities in the eastern province of Jiangsu have already introduced the CanSino vaccine as a booster, the company said…

Increasing the uptake of vaccinations is vital for China, which is sticking resolutely to its strict zero-COVID policy that aims to prevent large-scale outbreaks and fatalities, especially among the elderly.
To note: #IP issues, as with #Moderna, still TBC. but this public announcement in itself is significant enough. However, implications for #zeroCOVID policy are too far & too soon to predict – population eligibility, manufacturing capacity/supply chain, #vaccine deployment etc.

— Dr Ruby Wang (@RcjWang) November 4, 2022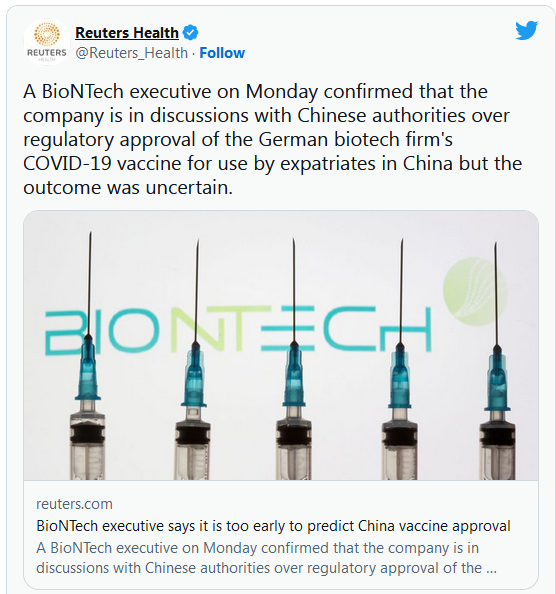 (link)
Oh nice, our politicians have made sure their families and China's rich elite with overseas passports can get the best vaccines.

Never get tired of being second-class in my own damn country.https://t.co/47IQbF8Z63

— Naomi Wu ???? (@RealSexyCyborg) November 5, 2022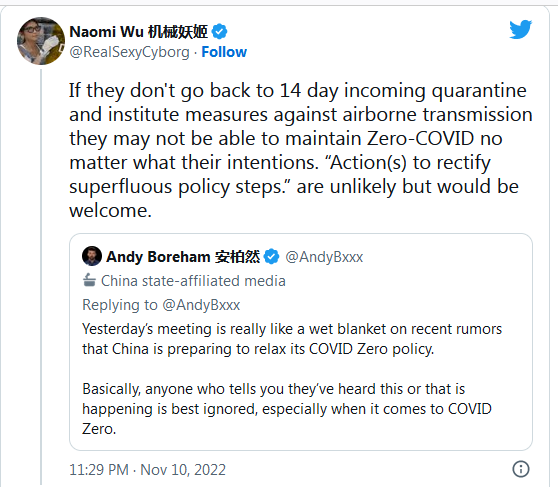 (link)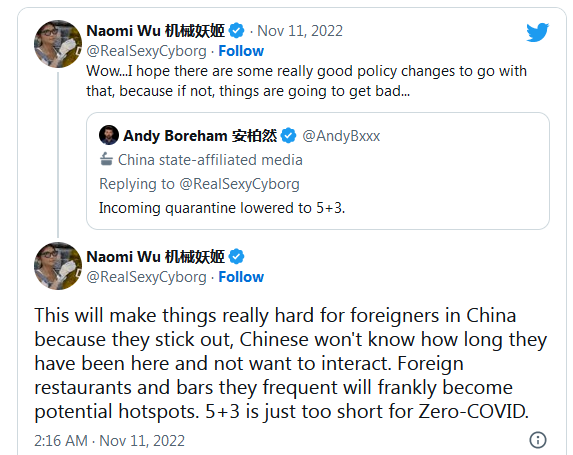 (link)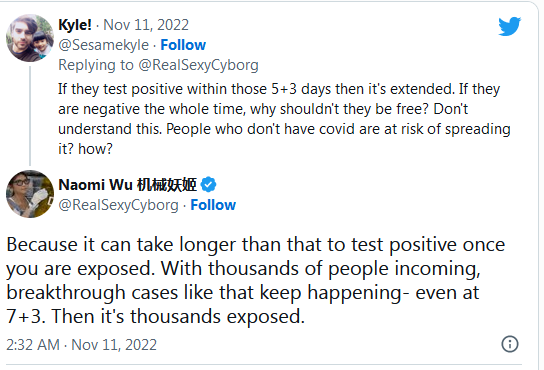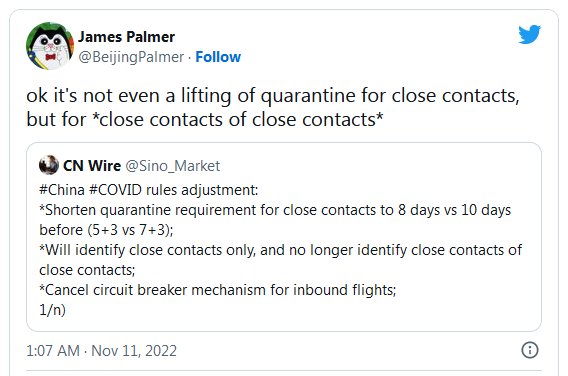 (link)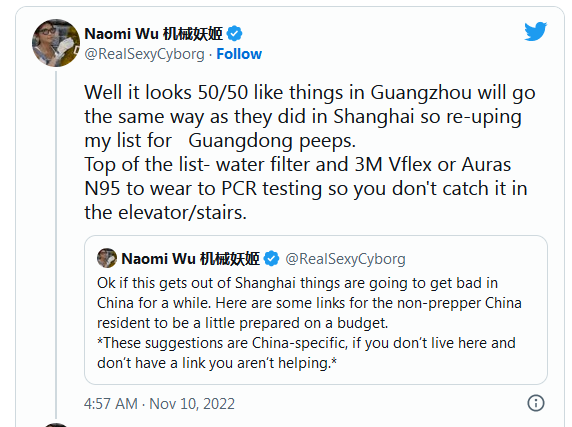 (link)
India reports 842 fresh #Covid19 cases, 1,271 recoveries and 6 deaths in the last 24 hours.

Read all #coronavirus news and updates: https://t.co/HlozqgCJQ4 pic.twitter.com/AL9SLJD0T2

— BQ Prime (@bqprime) November 11, 2022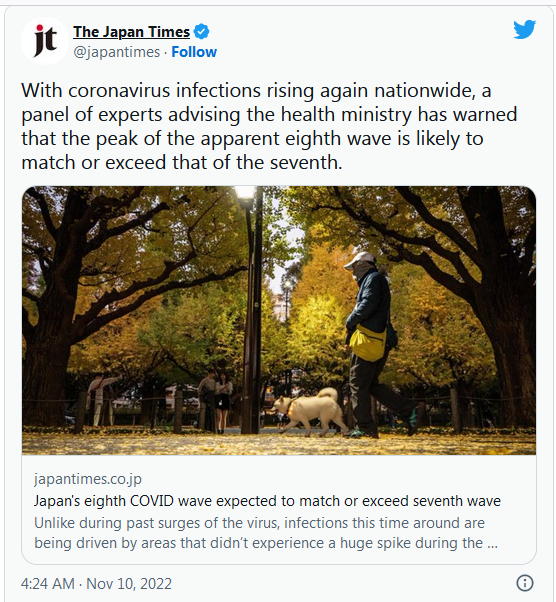 (link)
THE VACCINE RACE | INDONESIA'S "HALAL" SHOT?

Indonesia's successful pursuit of a homegrown coronavirus vaccine shows the challenges for Southeast Asian countries as they seek a path between Western drugmakers and suppliers China and Russia.https://t.co/bNf3ce12QB

— Nikkei Asia (@NikkeiAsia) November 9, 2022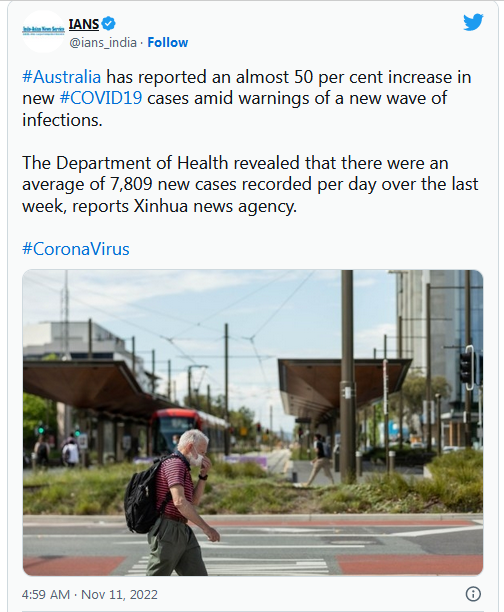 (link)
========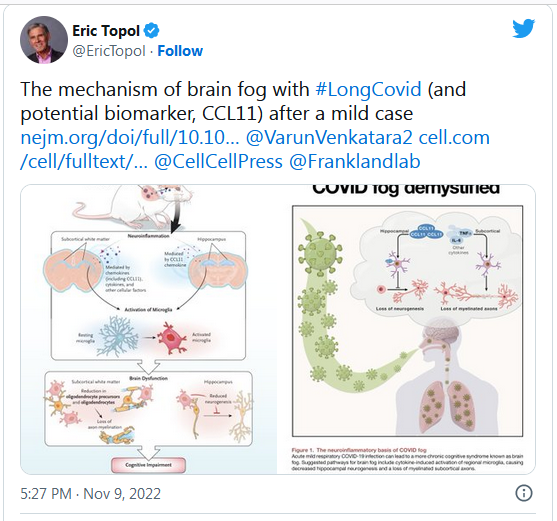 (link)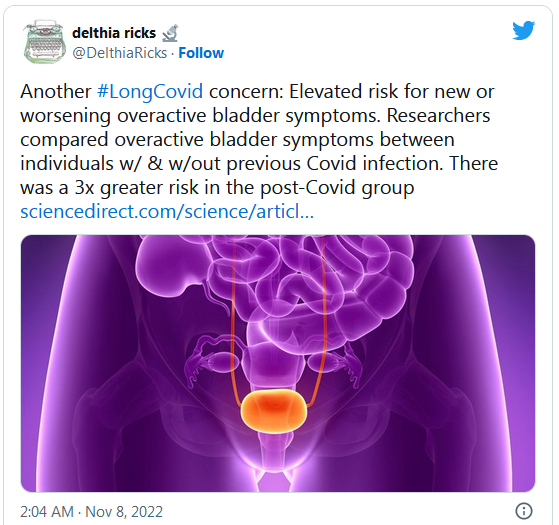 (link)
Study identifies sex differences in the effects of #SARSCoV2 in young adults. Researchers at the Mount Sinai Hospital in New York City report *distinct immunological differences* in responses to the virus in a study of nearly 3k members of the US Marine Corps pic.twitter.com/Z2VDMFUX9R

— delthia ricks ?? (@DelthiaRicks) November 8, 2022
#LongCovid's physical & mental health challenges affect all age groups, confirms a new study from Germany's Technische Universität. "Results of our study indicate people of all age groups, including children & adolescents, are at risk" the team reports https://t.co/o6ViJhytoK pic.twitter.com/OSxccayQf0

— delthia ricks 🔬 (@DelthiaRicks) November 10, 2022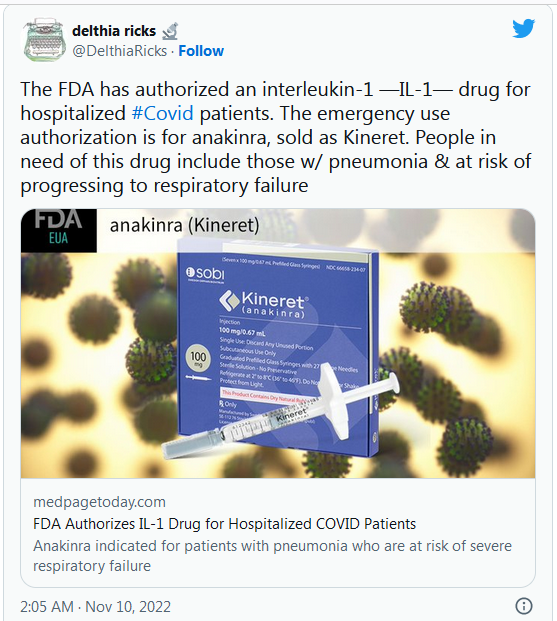 (link)
#Covid patients coming off ventilators can take weeks to regain consciousness. A new paper suggests the combination of the virus & anesthesia plunges the brain into a prolonged state of quiet https://t.co/A42JcjzHY3

— delthia ricks 🔬 (@DelthiaRicks) November 9, 2022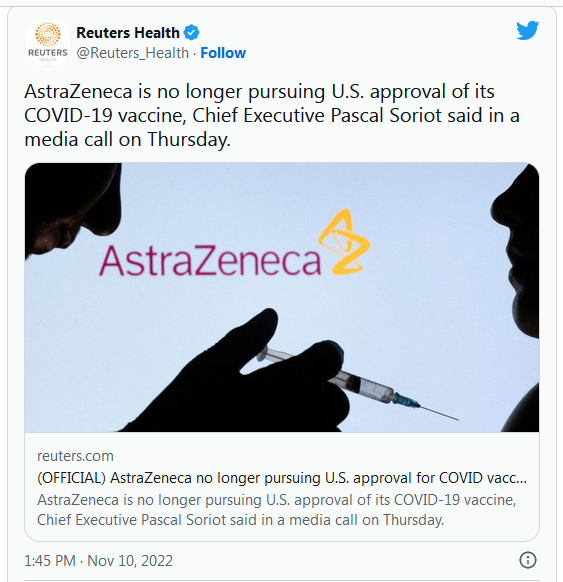 (link)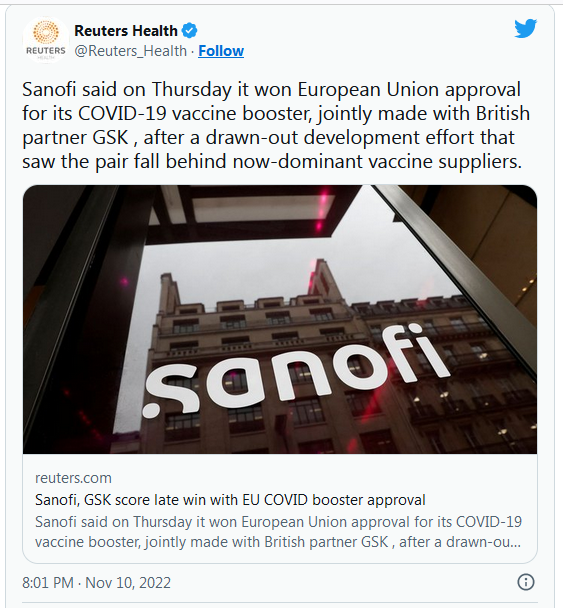 (link)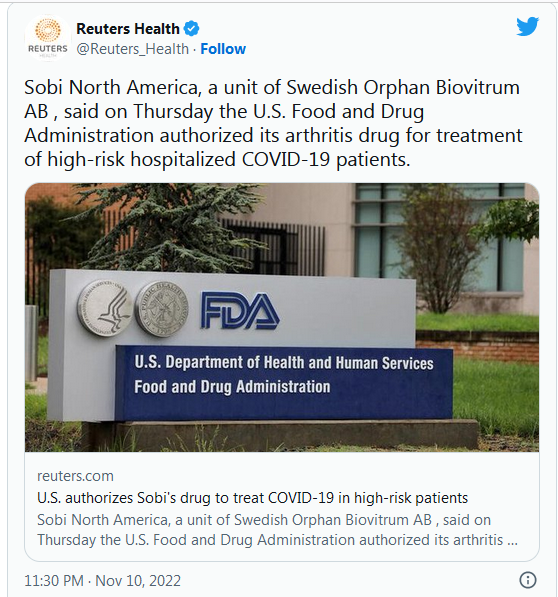 (link)
========
No one knows if this winter will see a surge, a wave, or a flat and even decreasing level of cases and deaths from COVID-19. @EricTopol presents a very balanced view, data supporting both good and bad, and comes out optimistic -with caveats.

Well worth reading. https://t.co/N9NVxgv3Nc

— Larry Brilliant 💛💙 (@larrybrilliant) November 8, 2022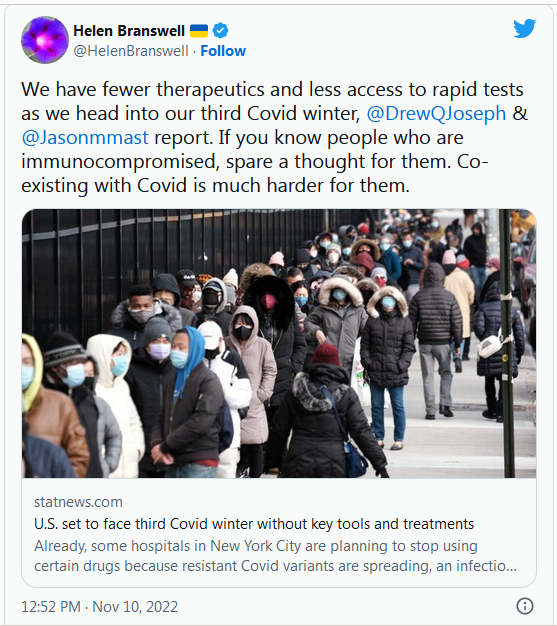 (link)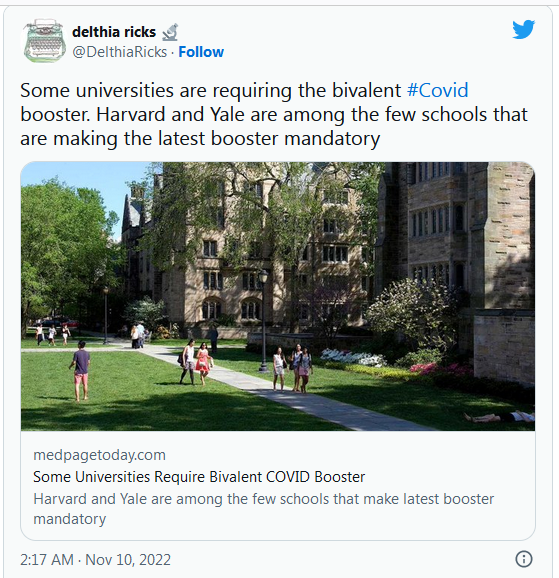 (link)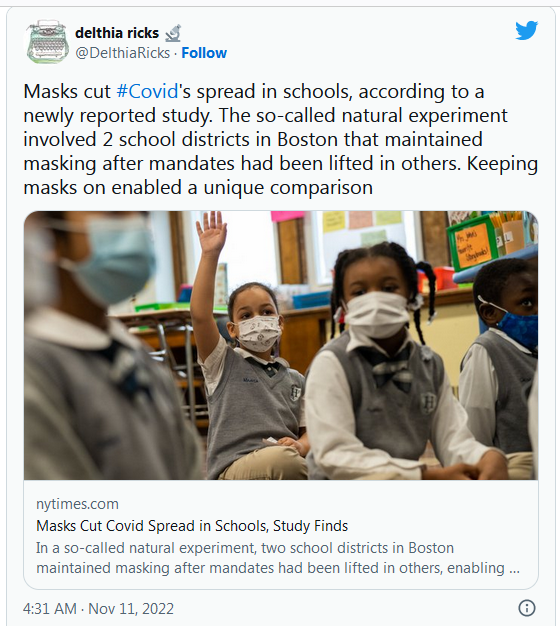 (link)
Reader Interactions