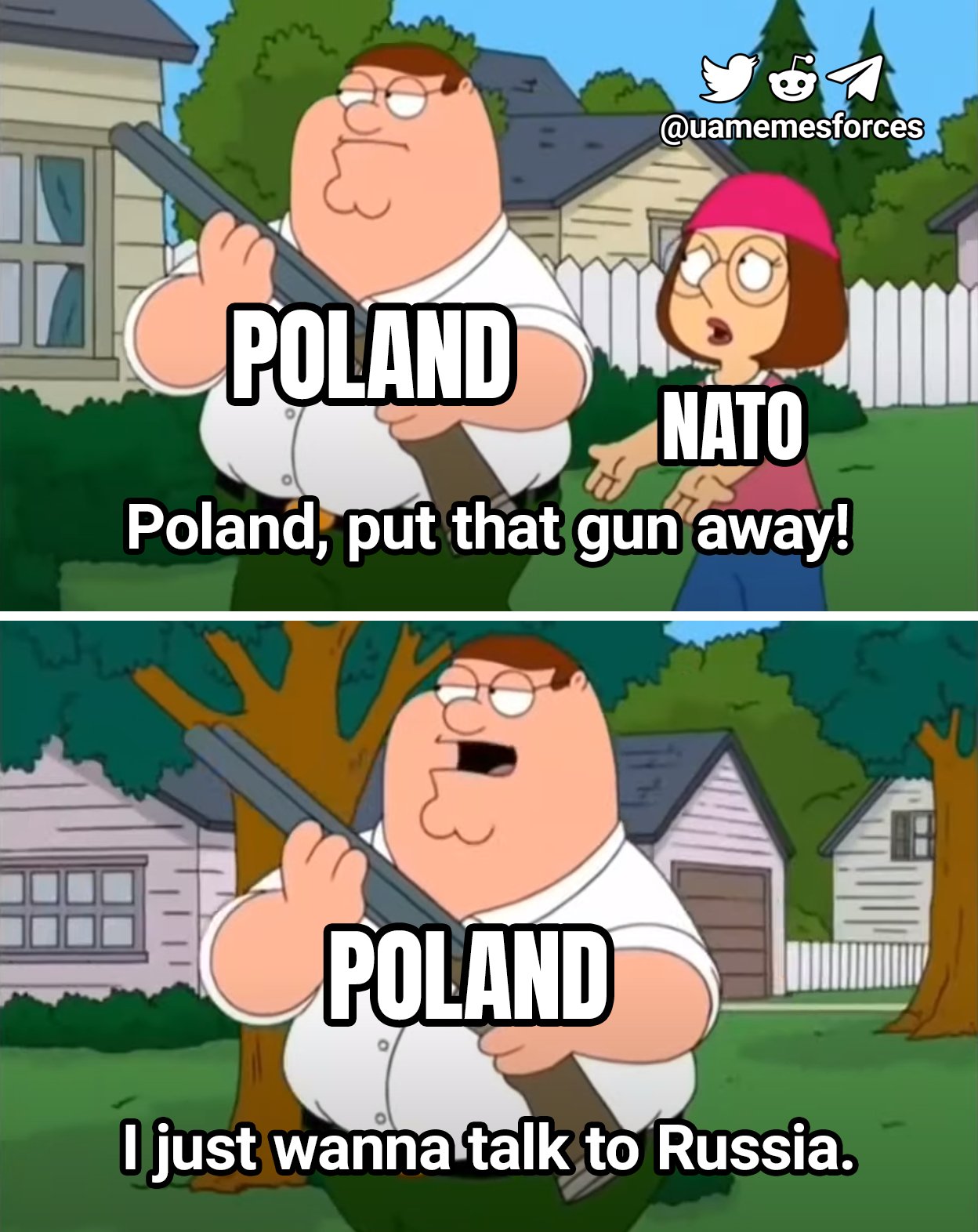 (From Ukrainian Memes Forces)
I saw that this morning as the reporting was coming in clarifying yesterday's events and it made me chuckle.
What the reporting is telling us – as of now while the investigation is still ongoing – is that parts of or all of one of Ukraine's air defense interceptors came down in Poland yesterday. I've been offline for a couple of hours, but as of this afternoon in the eastern time zone I was still seeing reporting indicating it was unclear if there were also bits of the Russian missile that was being intercepted among the debris. Regardless, based on the reporting of the current official Polish government statements today, this wasn't an attempt to escalate by Russia and claim it was an accident. Nor was it an overshot of the actual target. It was an unfortunate secondary effect of Ukraine having to use a lot of air defense yesterday because Russia launched almost 100 missiles at Ukrainian cities, residential areas, and power generation and transmission infrastructure yesterday.
If you recall last night's post, one of the last bits of reporting I included was a quote tweeted translation of a Mariusz Gierszewski from Poland's Radio ZET. Gierszewski was reporting that this was debris from a Russian missile intercepted by Ukraine'a air defense.
Polish reporter on blasts tonight: My sources in the services say that what hit Przewowo is most likely the remains of a [Russian] rocket shot down by the Armed Forces of Ukraine. https://t.co/h4B8wjgT7U

— Paul Cunningham (@RTENewsPaulC) November 15, 2022
Gierszewski was just about on target if you'll forgive the use of the expression. As of the current state of information and reporting, it appears to have been air defense debris, but as of that current reporting it appears to be predominantly debris from a Ukrainian interceptor.
For those calling for me to never reference Chuck Pfarrer again:
NOT RUSSIAN. Regarding the missile strike on Poland, UN the Secretary General says: "Our preliminary analysis suggests that the incident was likely caused by Ukrainian air defense missile fired to defend UKR territory against RU cruise missile attacks." https://t.co/xmSyWz1w3q pic.twitter.com/aJYZZm8zU1

— Chuck Pfarrer | Indications & Warnings | (@ChuckPfarrer) November 16, 2022
GETTING IT RIGHT: Providing context to fast breaking stories is a difficult business, especially when analysis is predicated on evolving data. Early pronouncements are not always full and complete. Going forward, I&W will endeavor to better balance breaking news and accuracy.

— Chuck Pfarrer | Indications & Warnings | (@ChuckPfarrer) November 16, 2022
I trust that puts that issue to bed.
Here is President Zelenskyy's address from earlier today. Video below, English transcript after the jump:
Dear Ukrainians, I wish you health!

Today was a long and hard day. And now, in the evening, it seems that the events of the morning happened at least yesterday or the day before yesterday…

The summit in Indonesia. I took part in today's work of the leaders.

Then – another meeting of the Staff of the Supreme Commander-in-Chief, discussion in detail. The situation at the front. Also, the military presented all the available data on the missile hitting the territory of Poland. Everyone responsible for liquidating the consequences of Russian missile strikes on Ukraine reported on the recovery work.

Recovery does not stop for a minute.

Emergency blackouts and stabilization outages continue in 18 regions and the city of Kyiv. These are millions of consumers. We are doing everything to restore electricity – both generation and supply.

Another meeting of the "Ramstein" defense group took place. The key issue is the strengthening of our anti-aircraft and anti-missile defense.

I held negotiations with the vice president of the World Bank, who is responsible for our region. We discussed projects for the reconstruction of our infrastructure and social facilities, the work of the Recovery Fund of our country.

The total cost of projects discussed today is billions of dollars. This is something that needs to be rebuilt now to guarantee a normal life for people.

There were reports on the liberation of the territories of Kherson region – we are doing everything to provide people with electricity, water, communications, financial and social services, and normal medicine as soon as possible.

Pharmacies are finally reopening in Kherson, the post office, banks are working. People are getting access to the Internet. There are already 30 humanitarian aid distribution points.

Electricity was restored to more than 20 de-occupied settlements in Kherson region.

Mykolaiv region is the same. We return everything necessary for a normal life.

We are working to restore the water supply to Mykolaiv. Payment of pensions has started in Snihurivka.

And I thank everyone who provides recovery. And especially our sappers and rescuers. Thanks to their work everyone else can work safely.

Once again, I will repeat to everyone in the de-occupied territory: please be very careful!

Russia wants to kill even after fleeing from our land. Therefore, you need to be very careful.

If you see anything suspicious, report it to the emergency services and the police. If a building has not yet been checked by sappers, please do not enter it. If a road has not been checked yet, please skip it.

Reports and messages from Donetsk region are unchanged. Fierce battles continue at the same points as before. We hold our positions despite dozens of attacks.

Of course, there was a lot of international communication. Not everything can be talked about now. We protect the interests of Ukraine, as always.

Today is the professional day of thousands of our people who perform one of the most important jobs. And this is not only the work to inform people.

The Day of Radio, Television and Communication Workers is about those who strengthen democracy at all times. Who integrates society informationally, emotionally and politically. Who unites our interests, our pain and our joys, our hopes and aspirations, our problems.

The stronger this sphere is in the country, the stronger the democracy is there.

I sincerely congratulate everyone who works in this field – each one.

Those who make a telethon and those who work on other information platforms. Presenters, reporters whom we see and hear, studio workers, producers, editorial staff, whom society usually does not see and hear, but without whom this industry simply would not exist. Thank you all for your work for Ukrainians!

Today there was a rather long interview. I also held an "off the record" meeting for journalists – specifically for radio and television workers.

And the day is not over yet…

There is also a meeting of the UN Security Council regarding the new wave of Russian missile terror. We are monitoring statements, working with partners, and defending Ukrainian interests.

Of course, one of the main issues at the Security Council meeting is the situation in Poland, the clarification of all the circumstances of how Russian aggression crossed the Polish border.

The Ukrainian position is very transparent: we strive to establish all the details, every fact.

That is why we need our specialists to join the work of the international investigation and to get access to all the data available to our partners and the site of the explosion.

All our information is in full access, we have been giving it to our partners since the night, from those first hours when the world began to find out what happened.

I spoke with President Duda last night and expressed my condolences to him – Russian aggression took the lives of two Polish citizens.

And I want all of us to honor the memory of all those whose lives were taken by this Russian war with a minute of silence.

Citizens of Ukraine, citizens of Poland…
Pfarrer did not post any battle space assessments today.
Secretary of Defense Austin and GEN Milley gave a joint for attribution press conference today. Here is the transcript including the Q&A: (emphasis mine)
Secretary of Defense Lloyd J. Austin III and Army General Mark A. Milley, Chairman, Joint Chiefs of Staff, Hold a Press Briefing Following Ukrainian Defense Contact Group Meeting

Nov. 16, 2022Secretary of Defense Lloyd J. Austin III, Chairman of the Joint Chiefs of Staff Army Gen. Mark A. Milley

STAFF: Well, good afternoon, everyone. Thank you for being here today.

It's my pleasure to introduce Secretary of Defense Lloyd Austin III and Chairman of the Joint Chiefs of Staff General Mark Milley. The secretary and the chairman will deliver opening remarks, and then they'll have time to take a few questions. I'll moderate those questions and call on journalists.

Secretary Austin?

SECRETARY OF DEFENSE LLOYD J. AUSTIN III: Thanks, Patrick.

Good afternoon, everyone.

We've just completed our seventh meeting of the Ukraine Defense Contact Group, and it's been another highly successful session.

Now, we were meeting today as Russia continues to target Ukraine's civilians and bombard its energy grid, but Russia's deliberate cruelty only deepens our resolve, and we'll continue to support Ukraine's bedrock right to defend itself and defend the rules-based international order.

Yesterday, we saw reports of a deadly explosion in Poland near its border with Ukraine. I spoke last night to my Polish counterpart, Deputy Prime Minister and Minister of National Defense Blaszczak, and I conveyed my deep condolences to the Polish people and to the loved ones of those who were killed. I also underscored America's ironclad commitment to defend Poland. We have full confidence in the Polish government's investigation of this explosion, and they've been conducting that investigation in a professional and deliberate manner, and so we won't get ahead of their work. And we're going to stay in close touch with our Polish counterparts, as well as with our NATO allies and other valued partners.

We're still gathering information, but we have seen nothing that contradicts President Duda's preliminary assessment that this explosion was most likely the result of a Ukrainian air defense missile that, unfortunately, landed in Poland, and whatever the final conclusions may be, the world knows that Russia bears ultimate responsibility for this incident.

Russia launched another barrage of missiles against Ukraine specifically intended to target Ukraine's civilian infrastructure. This tragic and troubling incident is yet another reminder of the recklessness of Russia's war of choice. And Ukraine has a bedrock right to defend itself, and we will continue to stand in solidarity with the people of Ukraine as they defend their country.

And we were joined today — again today at the at the contact group meeting by my good friend, Oleksii Reznikov, Ukraine's minister of defense, and by deputy chief of defense, Lieutenant General Moisiuk. And I spoke with General Reznikov by phone before this morning's contact group meeting about yesterday's explosion in Poland, and we'll remain in close consultation as we move forward.

Ukraine's commanders have shown tremendous leadership and tenacity, and they updated the contact group this morning on the current battlefield dynamics and on Ukraine's most urgent self-defense needs. Ukraine's troops continue to consolidate their gains on the battlefield as they head into the winter, and the contact group continues to push hard to bolster Ukraine's air defenses in the face of Russia's ongoing barrages.

I'm pleased to be able to report that the NASAMS air defense systems that we sent to Ukraine are now operational, and their performance so far has been very impressive. The NASAMS systems had a 100 percent success rate in intercepting Russian missiles as the Kremlin continues its ruthless bombardment of Ukraine, including yesterday's attacks. We're also working to secure more critical equipment to protect and repair Ukraine's energy infrastructure after Russia's indefensible attacks.

We also heard an important update from General Cavoli, our supreme Allied commander in Europe. I'm confident that the training efforts spearheaded by the United States and many other members of this contact group will equip the Ukrainian Armed Forces with the skills that they need to consolidate their gains and to seize new opportunities on the battlefield.

I'd also like to acknowledge the European Union's important efforts here. The E.U.'s training program across Europe will do a great deal to reinforce what other countries are doing bilaterally. Also like to recognize Germany and Poland for their leadership in this larger mission, and let me thank the U.K. for pledging to train another 19,000 Ukrainian troops next year.

And the contact group also discussed important industrial base initiatives to sustain our security assistance to Ukraine. Let me also thank the department's Acquisition and Sustainment Team, as well as the co-host of the National Armaments Directors, a working group under the contact group auspices. And all of these initiatives help prepare the Ukrainians to consolidate their gains during the winter and to prepare to seize new initiatives in the spring, and you can see this contact group's ongoing unity and commitment in some of the announcements that its members made.

I'd like to thank Sweden for coming forward today with a substantial $287 million package of assistance to Ukraine. This package includes key capabilities, including an air defense system that will bolster Ukraine's ability to defend itself against Russia's ongoing ruthless attacks. And Spain has promised to send two more HAWK launchers and missiles, and Canada is stepping up with its largest — with its latest tranche of $500 million in assistance, and Canada remains one of the lead donors of winter gear. Germany has advanced much-needed donations of air defense, artillery and MLRS ammunition, and Greece also announced an important donation of 155 millimeter ammunition, and Poland has committed additional artillery and tank ammunition, as well as short-range air defense capabilities.

And so these contributions will make a real difference, and so does the coordination of our security assistance that this contact group makes possible. So we will continue to deepen our work together. And the contact group has met seven times this year and each meeting has produced tangible results that help Ukraine defend itself and its citizens. And you can see that progress in Ukraine's victories in Kharkiv and Kherson. Over the weekend, the world saw Ukrainian forces liberate Kherson, demonstrating once again the determination of the Ukrainian people to live free in their own country.

Now, our resolve is only strengthened by Russia's indefensible attacks on civilian targets, and we'll continue to stand together in common purpose because no member of this contact group wants to live in a world where big countries bulldoze their peaceful neighbors, and we won't just accept Putin's imperial aggression and erosion of international norms as some kind of new normal. Instead, we will continue to stand up for Ukraine's inalienable rights to defend itself. We'll continue to strengthen our unity and resolve. We'll continue to show the power of partnership, and we'll continue to bolster Ukraine's Armed Forces by rushing them the capabilities that they need to defend their country, and we will continue to help the people of Ukraine in their fight for freedom.

Thank you very much, and I'll turn it over to General Milley for his opening comments.

GENERAL MARK A. MILLEY: Thank you, Secretary Austin. Appreciate that and I appreciate your leadership as we gather today, this morning, for the seventh consecutive convening of the Ukrainian Contact Group, which we've been doing every month, as you know.

And thanks also to all the ministers of defense out there who participated and all of my counterparts, all the CHOD's (Chief of Defense) that participated. And other senior representatives from almost 50 countries showed up at this meeting this morning and to continue to take part in these discussions, which are very, very productive.

The mission of the group remains clear — to support Ukraine as they counter the illegal and unprovoked Russian aggression and to continue to supply Ukraine with the capabilities necessary to defend their sovereignty.

Through these contact group sessions and other close coordinations that I have and the Secretary has with our counterparts — that I talk to General Zaluzhnyi weekly and my staff continually talks to his staff — we continue to respond to Ukraine's battlefield requirements and their needs for — their means — of fighting for their freedom.

This is a war of choice — it's a war of choice for Russia. They embarked on a tremendous strategic mistake. They made a choice in February of this year to illegally invade a country that posed no threat to Russia. In making that choice, Russia established several objectives. They wanted to overthrow President Zelenskyy and his government. They wanted to secure access to the Black Sea. They wanted to capture Odessa. They wanted to seize all the way to the Dnipro River, pause, and then continue to attack all the way to the Carpathian Mountains.

In short, they wanted to overrun all of Ukraine, and they lost. They didn't achieve those objectives. They failed to achieve their strategic objectives and they are now failing to achieve their operational and tactical objectives.

Russia changed their war aims in March and beginning of April. Their war of choice then focused on the seizure of the Donbas, the Donetsk and Luhansk Oblasts. That was their operational objectives and they failed there. Then they changed again and expanded to seize Zaporizhzhia and Kherson.

The strategic reframing of their objectives, of their illegal invasion have all failed, every single one of them. And we've just witnessed last week Russia's retreat from Kherson. They retreated across the Dnipro River, they moved to more defensible positions south of the river. Their losses due to Ukrainian success and skill and bravery on the battlefield have been very, very significant.

And it's clear that the Russian will to fight does not match the Ukrainian will to fight. On the battlefield, Ukrainians' offensive up in Kharkiv has been very successful, where they crossed the Oskil River and they have moved to the east and are near the town of Svatove.

There is a significant ongoing fight down in Bakhmut right now and in the vicinity of Siversk and Soledar, where the Ukrainians are fighting a very, very successful mobile defense. There is limited contact right now in Zaporizhzhia and limited contact in and around the Zaporizhzhia Nuclear Power Plant. And as we already discussed, Kherson's offensive has already been successful.

So across the entire front line trace of some 900 or so kilometers, the Ukrainians have achieved success after success after success and the Russians have failed every single time. They've lost strategically, they've lost operationally, and I repeat, they lost tactically.

What they've tried to do, they failed at. They started this war and Russia can end this war. Russia can make another choice, and they could make a choice today, to end this war. However, Russia is choosing to use their time to attempt to regroup their forces and they are imposing a campaign of terror, a campaign of maximum suffering on the Ukrainian civilian population in order to defeat Ukrainian morale.

The Russians are striking throughout the depth and breadth of all of Ukraine with air-launched cruise missiles, with Kalibr sea-launched cruise missiles, and with other types of munitions. They are striking the Ukrainian civilian infrastructure, and it has little or no military purpose.

While assessments are ongoing, yesterday's strikes looked like they launched at least 60 missiles and they may have launched upwards of 90 or even perhaps 100, and we'll have better assessments in the days ahead. But it was likely the largest wave of missiles that we've seen since the beginning of the war.

These missiles, again, they targeted intentionally and damaged civilian power generation facilities to cause unnecessary suffering with the civilian population. We assess now that over a quarter of Ukrainian civilians are without power.

The deliberate targeting of the civilian power grid, causing excessive collateral damage and unnecessary suffering on the civilian population, is a war crime. With the onset of winter, families will be without power, and more importantly, without heat. Basic human survival and subsistence is going to be severely impacted and human suffering for the Ukrainian population is going to increase.

These strikes will undoubtedly hinder Ukraine's ability to care for the sick and the elderly. Their hospitals will be partially operational. The elderly are going to be exposed to the elements. In the wake of unrelenting Russian aggression and incalculable human suffering, Ukraine will continue to endure. Ukraine is not going to back down. The Ukrainian people are hard, they are tough, and most of all, they're free and they want to remain free.

Ukraine is going to continue to take the fight to the Russians. And I just had a significant conversation with my Ukrainian counterpart and he assures me that that is the future for Ukraine.

As Ukraine continues to fight, air defense capabilities are becoming critical for their future success. An integrated system — an integrated air defense system, an integrated air and missile defense system, is what is necessary as Ukraine repels Russian aerial attacks.

And a significant portion of today's conversations in today's meeting with almost 50 countries focused on how we, as a global coalition, can provide the right mix of air defense systems and ammunition for Ukraine to continue its control of the skies and prevent the Russians from achieving air superiority.

To combat continued Russian strikes, last Thursday, the United States announced $400 million in additional commitments to support Ukraine, and those capabilities included missiles for the HAWK air defense systems, which is a complement to what Spain has recently committed. There's other air defense systems included in that $400 million package, along with ground systems such as up-armored Humvees, grenade launchers and additional HIMARS ammunition and lots of other pieces of equipment.

Wars are not fought by armies; they're fought by nations. This war is fought by the Ukrainian people, and it's fought by the Russian people, and this is a war that Russia's leadership has chosen to put Russia into. They didn't have to do this, but they did, and they have violated Ukrainian sovereignty and they violated territorial integrity of Ukraine. It is in complete contradiction to the basic rules that underlined the United Nations Charter established at the end of World War II. This is one of the most significant attempts to destroy the rules-based order that World War II was fought all about, and we, the United States are determined to continue to support Ukraine with the means to defend themselves for as long as it takes.

But at the end of the day, Ukraine will retain — will remain a free and independent country with its territory intact. Russia could end this war today. Russia could put an end to it right now, but they won't. They're going to continue that fight. They're going to continue that fight into the winter as best we can tell, and we, the United States, on the direction of the president and the secretary of defense, we will continue to support Ukraine for as long as it takes to keep them free, sovereign, independent with their territory intact.

The president of the United States has been very, very clear to us: that it's up to Ukraine to decide how and when or if they negotiate with the Russians, and we will continue to support them as long as it takes. The United States will continue to support Ukraine with the best possible equipment to position them on the battlefield to give them positions of strength against the Russians, and that is also true of all the other nations that attended the meeting today. There is an absolute sense of urgency, an absolute sense of determination on the part of all of the member states that attended our meeting today, and I can tell you, the cohesion and coherence of the organization is complete and the resolve is high.

Ukrainians are not asking for anyone to fight for them. They don't want American soldiers, or British, or German, or French, or anybody else to fight for them. They will fight for themselves. All Ukraine is asking for is the means to fight, and we are determined to provide that means. Ukrainians will do this on their timeline, and until then, we will continue to support all the way for as long as it takes. It is evident to me and the contact group today that that is not only a U.S. position, but it is a position of all the nations that were there today. We will be there for as long as it takes to keep Ukraine free. Thank you, and I welcome your questions.

STAFF: Mr. Secretary, Chairman, thank you very much, gentlemen. First question will go to Associated Press. Tara?

Q: Thank you. Mr. Secretary, President Zelenskyy just denied that it was a Ukrainian air defense missile that landed in Poland. How are you certain that this was possibly a Ukrainian air defense missile and was not a Russian missile?

SEC. AUSTIN: Thanks, Tara. First of all, the investigation is still ongoing, and Poland is conducting that investigation. We are assisting in any way we can. We do have some experts on the ground there helping Polish leadership. We have full confidence in Poland's ability to conduct this investigation in the proper way, and until that's complete, again, I think it's — it'd be premature for anybody to jump to conclusions, and I know that Ukraine has offered to participate and help in any way they can, as well.

So we won't get ahead of, you know, what — of the investigation, but you know, our information supports what President Duda said earlier in his preliminary assessment, was that this was most likely, most likely, a result of a Ukrainian air defense missile. But we'll let the investigation play out here.

Q: So at this point, are you confident in saying that this was not a Russian missile?

SEC. AUSTIN: We're going to let the investigation play out, and then once the results are released, we'll be confident in everything. But again, we — our information supports what President Duda has said earlier.

Q: And then, Chairman Milley, after this strike occurred, did you reach out to your Russian counterparts, or did any other military officer reach out to their Russian counterparts to protect against escalation? And if not, why not?

GEN. MILLEY: There were — our — I do that through my staff to set the calls up. The short answer is yes, some attempts were made. No success with the Russian counterpart. Did have — I did talk to my Ukrainian counterpart immediately, General Zaluzhnyi. Talked to him several time, in fact. Also, Polish counterpart and several other CHOD's (Chief of Defense) in Europe. And exactly what the secretary said. Investigation's ongoing. There's professionals there to do the forensics, you know, all the debris that's in and around the impact site and so on and so forth, and very shortly, we'll know all the facts, and we just don't them right this second.

Q: So Russia did not take the call?

GEN. MILLEY: Right. My staff was unsuccessful in getting me linked up with General Gerasimov. That's correct.

STAFF: Let's go to next question — ABC, Luis Martinez?

Q: For Mr. Secretary — for the chairman, actually, I'd just like to follow up on Tara's question initially, because in his remarks, President Zelenskyy cited a conversation with your counterpart, General Zaluzhnyi, saying that he had confirmed to him that it was not a Ukrainian missile. Based on your conversations with him today, was there a disconnect there? And then I'll follow with another question.

GEN. MILLEY: Yeah, I'm not going to talk about it — he and I, our agreement between each other is not to talk about the substance of the conversations that we have. We have conversations several times a week, and we acknowledge that we have the conversations, but we don't discuss the substance of the conversation. So I have to honor that, and I'll continue to honor that.

But I can tell you that right now, the investigation's ongoing. These are professional investigators. There is a debris field there. There's other forms of data that are — are going to be available that — that come from various technical means. And I suspect very shortly we will have very confirmed data as to what the point of origin is, the point of impact, what the angle of the — the weapon system was, the flight trajectory. All of the details are going to be known in due time, but it's pretty early, actually, in the investigation. So we'll know that, and the secretary will know that. President Biden will know that, and we'll all get informed here shortly by the investigators. And Poland has put together a team. They have lead, and they've put together a team of professional investigators to do that.

Q: Thank you.

Mr. Secretary, yesterday was kind of the reality of the speculation that has been going on for months about how NATO might respond if a Russian missile went into NATO territory. On the opposite side, the United States has been very careful not to provide weapons systems that might reach into Russia. What about Crimea? If the United States HIMARS — you know, supplied HIMARS systems are able to reach inside Crimea regularly, is that a concern, given what we saw yesterday?

And a follow-up, sir, to your comments about — earlier from last week about the possibility of discussions put on by — a slow down in the fighting, let's say, during the winter — it sounds like the comments that you're making today about the winter are that the Ukrainians are going to continue very strongly. Is — are you pulling back from your comments from last week, that you see an opportunity for negotiations with the Russians?

GEN. MILLEY: No, I think — I think the Ukrainians should keep the pressure on the Russians, you know, to the extent that they militarily can, but winter gets very, very cold. And the natural tendency is for tactical operations are going to naturally, probably slow down.

And right now, what we're seeing is the lines from Kharkiv all the way down to Kherson, for the most part, are beginning to stabilize. Now, whether that means they will be stable throughout the winter or not, nobody knows — nobody knows for certain. Come January, February, that ground probably will freeze, which could lend itself to offensive operations.

So there could be a lot of activity in the winter, but typically speaking, because of the weather, the tactical operations will slow down a bit. And I think that, you know, President Biden and President Zelenskyy himself has said that there'll be a — at the end of the day, there'll be a political solution.

So if there's a slow down in the actual tactical fighting, if that happens, then that may become a window possibly — it may not — for a political solution or a — at least the beginnings of talks to initiate a political solution. So that's all I was saying.

Q: And Crimea, sir?

SEC. AUSTIN: Yeah. First, let me just agree with what the Chairman just said, in terms of there — there is a — there probably will be a slow down in the fall and going into winter. The fall's a muddy season, as you know, and so is the spring.

So when the ground hardens, trafficability will probably improve, and then we'll be — we may see more activity. But I would remind everyone that this war started in February. So it — you know, winter does not mean that we're going to stop fighting or — or the Ukrainians are going to stop fighting. I certainly, like the Chairman, believe that they won't.

And so we're going to do everything within our power to make sure that they have the means to accomplish their goals and objectives. And along that line, the goals and objectives of this fight are the Ukrainians. They're not — they're not ours. And so we won't — haven't prescribed to the Ukrainians what they can and cannot do. And so our focus is to continue to provide them the means to be successful in their endeavors. And — and so that's my response to the question on Crimea. Again, the — Crimea is a — is an issue to be thought through and sorted out by the Ukrainian leadership.

STAFF: Okay, let's go ahead — Helene, New York Times?

Q: First, for General Austin — so with winter coming —

SEC. AUSTIN: It's a bad habit. You keep calling me "General" but —

(Laughter.)

Q: — ingrained in my head.

SEC. AUSTIN: Yeah.

Q: Secretary Austin, do you agree then with General Milley's comments in New York last week, that Ukraine cannot achieve a military victory, as defined by driving Russia out of all of its territory, including Crimea, and therefore should use winter as an opportunity to negotiate?

SEC. AUSTIN: I — I — again, having the Chairman here, I think it's fair to —

(Laughter.)

— to allow him to really provide context for his comments.

I think — and — and you've heard me say this before — now, there are countless numbers of people that have been amazed and astonished by what the Ukrainians have accomplished. And so I won't presuppose what's possible or impossible for them.

What I am focused on is just making sure that they have the means to do two things. First is to protect themselves and their civilian population from some of the things that we've seen here recently, with the aerial bombardments. The second thing is to enable them to achieve their goals and objectives on the ground as they continue to try to take back their sovereign territory.

So we're going to continue to support them, and again, I think, to this point, we've seen them come up with very achievable goals and objectives. We've seen a very successful counter-offensive, both in Kharkiv and also in Kherson. And I think they will continue to keep the pressure on the Russians going forward.

And in terms of what's a good time to negotiate, we've said repeatedly that the Ukrainians are going to decide that and not us. And we will support them for as long as it takes.

Now, we just spent almost four hours with our colleagues there in the Ukraine Defense Contact meet — Group meeting. It was amazing to me how many ministers of defense, on their own, said "we're going to do this for as long as it takes." And so I continue to see unity, I continue to see resolve, and that's very, very encouraging. And I think it's encouraging for Oleksii Reznikov and his team to hear that as well because, as you know, they're in the meeting as well. So yeah.

GEN. MILLEY: So, Helene, I'll make a couple of comments. First, on the Russians —

Q: I still have a question for you though.

GEN. MILLEY: Okay, but let me — let me —

SEC. AUSTIN: So that'll be, like, four questions.

(CROSSTALK)

GEN. MILLEY: — let me help you out with this one first. So start with the Russians — Ukraine's a pretty big country. It — this is not a small piece of turf. And the probability of Russia achieving its strategic objectives of conquering Ukraine, of overrunning Ukraine, the probability of that happening is close to zero. I can suppose theoretically it's possible, maybe, I guess, but I don't see it happening, militarily. So I just don't see that happening.

But they do currently occupy about 20 percent of that — of Ukraine. So they occupy a piece of ground that's about 900 kilometers long and, I don't know, probably about 75 or 80 kilometers deep. So it's not a small piece of ground.

And they invaded this country with upwards of 170, 180,000 troops in multiple field armies, combined arms armies, and they have suffered a tremendous amount of casualties, but he's also done this mobilization and called up additional people. So the Russians have reinforced and they have — they still have significant Russian combat power inside Ukraine.

Now, Ukraine's had great success in the defense. They did a tremendous job in defeating the Russian offensive. It's incredible what they were able to do. And then they went on the offensive at the beginning of September and they had great success up in Kharkiv and they've had better success even down in Kherson, as you just witnessed.

But Kherson and Kharkiv, physically, geographically, are relatively small compared to the whole, so that that — the military task of militarily kicking the Russians physically out of Ukraine is a very difficult task. And it's not going to happen in the next couple of weeks unless the Russian army completely collapses, which is unlikely.

So, in terms of probability, the probability of a Ukrainian military victory defined as kicking the Russians out of all of Ukraine to include what they define or what the claim is Crimea, the probability of that happening anytime soon is not high, militarily. Politically, there may be a political solution where, politically, the Russians withdraw, that's possible. You want to negotiate from a position of strength. Russia right now is on its back.

The Russian military is suffering tremendously. Leaders have been, you know, their leadership is really hurting bad. They've lost a lot of causalities, killed and wounded. They've lost — I won't go over exact numbers because they're classified, but they've lost a tremendous amount of their tanks and their infantry fighting vehicles. They've lost a lot of their fourth and fifth-generation fighters and helicopters and so on and so forth.

The Russian military is really hurting bad. So, you want to negotiate at a time when you're at your strength and your opponent is at weakness. And it's possible, maybe that there'll be a political solution. All I'm — all I'm saying is there's a possibility for it. That's all I'm saying.

STAFF: Okay, we have time for just a couple more. Go to VOA, Carla Babb.

Q: Thank you, gentlemen, both for doing this. Mr. Secretary, you stressed that the United States and their allies are committed to Ukraine for as long as it takes. How long do you think Russia can continue this war with its current arsenal and its current personnel? And how much has Iran and North Korea's weapons extended their ability to wage this war?

And, Mr. Chairman, thank you. You thoroughly answered my question with both Luis and Helene, so I'm going to ask you a question on China, if I may. After the meeting with President Biden and President Xi, have you seen any indications that China's has changed its ambition to control Taiwan? And, you know, the last time the National Defense Strategy was rolled out the Pentagon said America's military edge was eroding. Now that this new one has rolled out, is America's military edge still eroding to China?

SEC. AUSTIN: So, thanks, Carla.

And in terms of how long Russia can sustain their effort, that's left to be seen. I think the Chairman just gave a very accurate and compelling description of kind of where the Russians are right now. They're — they have some problems. They've had problems since the very beginning of this, trying to sustain their efforts. Those problems have only become more acute. They've lost a lot of people. And as important, they've lost a lot of important military gear. So, the numbers of tanks that they've lost, the numbers of armored personnel carriers, pretty staggering numbers.

As important, the numbers of precision guided munitions that they've rifled through in this endeavor is striking. But, they won't be able to reproduce those munitions very quickly, because there are trade restrictions on their — that have prevented them from rapidly gaining microchips and other things that required to produce these kinds of munitions. And so, it may take years for them to restock that inventory up to the point that they were before they started this conflict.

We've seen them struggle with having enough munitions to fight the way that they want to fight, so they're reaching out to Iran, they're reaching out to North Korea. I do think that those countries will probably provide them some capability.

And so for that reason I don't think this will be over anytime soon. Our — you know our goal, our requirement is to make sure that we continue to provide Ukraine with the means to do what's necessary to prosecute their campaign.

And so they have to continue to keep the pressure on the Russians going forward. And I think winter fight favors the Ukrainians.

We pushed, you know, enormous amounts of winter gear into Ukraine, thanks to countries like Canada and others who have really been very, very generous. Russia on the other hand, I mean they're fighting in a foreign country. Ukrainians have challenged their supply lines.

It will be difficult for them to get the kinds of gear in to their troops that they need to be able to fight effectively. And so I think the Ukrainians will have the upper hand in this fight as they have right now but that they'll continue to maintain that upper hand going into the winter.

Just like we saw them operate in February of last year, they know the land, they can — they can pull things from their local communities and they'll be prepared for this — for this winter weather. And I don't think that the Russians will be as prepared and they'll continue to struggle to get things into their troops using the supply lines that they currently have.

And the Ukrainians will continue to pressure those supply lines there.

Q: And do you think the Russians can hold out? Or will it take them the years that you say it would take for them to fully resupply?

SEC. AUSTIN: I — I don't think the Ukrainians are going to allow them to hold out. I think the Ukrainians are going to continue to pressure them. And so this battlefield dynamic will change — you know continue to change.

The Ukrainians know that, you know, allowing them to rest and refit and rearm is a mistake. That's a — that's a — an operational mistake and I don't believe they're going to make that mistake. And I — you know my goal is to make sure that they have a means to do what's necessary to insure that they don't hold out.

GEN. MILLEY: And you had two questions for the secretary. So I get to bye on mine. So look, on China, as quickly as I can say it, China is the pacing threat, as we describe it, and DOD is part of the national defense strategy. It was defined in the previous months, defined in the current ones as a pacing threat.

And what do we mean by that. We mean that China is the one country out there that geopolitically has the power potential to be a significant challenge to the United States and they are. There — based on their population, their technology, their economy and nano and a bunch of other things, China is the greatest geopolitical challenge to the United States.

And China is not shy about their goal. They want to be the number one power in the globe by midcentury, by 2049. And they want to do that military, diplomatically, informationally, economically, and so on and so forth. So they want to be number one by mid-century.

By the 19 — by the 2030s, mid-2030s, they had previously said they want to be number on regionally. So they want to have a military that out does the United States military regionally by the mid-'30s. They previously said that.

And then they advanced to that goal to 2027. So they advanced that goal in I think it was two party congresses ago or one party congress ago. And what they have said is that they want to be equal to or superior militarily to the United States. That's only five years away. So they're working on that and they're working on that very, very hard.

But we are not static. And we are working on it.

Right now, the United States military is — without question, despite whatever criticisms people have, the United States military is the most lethal warfighting machine on Earth, bar none. The United States military is number one and we intend to stay number one.

And our task — militaries only have two tasks. We have a single purpose, really, which is to — either to prepare for war or to fight a war, and we are laser-focused on that. And we intend to stay number one.

China is not going to be a better military than the United States military is but they're going to try but they're not going to get there. We will be number one five years from now, 10 years from now, and 50 years from now. We are not going to let China take number one. They have made gains in a wide variety of areas, in cyber, in space, and and land, sea, and air.

So what — a peasant army of — largely infantry-based. You know, when I was commissioned in 1980, that's kind of what Deng Xiaoping had when he made his reforms. So he had a very large dismounted infantry, peasant-based army, more or less. They had some tanks but not much.

And then they got rich. They made a massive amount of money with a 10 percent rise over run, dropped down to seven percent, maybe it's going to come down to three or four percent, but the GDP allowed them to buy a military, and they believe that it's their day in the sun, they believe it's, once again, time for the Middle Kingdom to be number one.

So that's what they're shooting for and we are not going to allow that to happen. The United States military is number one now and we are going to be number one five years from now. 2027 is not going to be the date that China becomes number one. And we're going to stay number one the entire time.

And as long as we remain number one, then we will deter the war that people worry about, a great power war between China and the United States. As long as we have the military capability, we have the will to use it, your adversary knows it, then you'll deter that war, and — but the key is to have the military capability, and we intend to stay number one.

STAFF: Time for one final question. We'll go to Nikkei, Ryo Nakamura.

Q: Hi, thank you very much for taking my question.

To the Secretary first, President Biden and President Xi essentially agreed to maintain their open lines of communications. Do you expect China will resume some of their military channels — military-to-military channels — they suspended in August after Speaker Pelosi's visit to Taiwan? And are you planning to visit with your Chinese counterpart during your visit to Cambodia next week?

And to the Chairman, also on China, the — President Xi consolidated his power in the Chinese Communist Party and he's now surrounded by his loyal advisors. How much are you concerned that President Xi might make an ill-advised or ill-informed decision to take Taiwan by force, as President Putin did in the leading up to the invasion into Ukraine?

Thank you very much.

SEC. AUSTIN: Thanks, Ryo. As you've heard me say a number of times, I think it's really important for large countries with — with significant military capacity to talk to each other. And as I told Minister Wei when we talked — we met face-to-face in — in Singapore, that we needed to work to keep the lines of communication open in — that helps with crisis management, it helps with a number of things.

And so my hope is that they will open up their communications channels that — not only at my level but at the Chairman's level and that — at the level where our — our combatant commander, Admiral Aquilino, can engage with his counterparts as well.

So you're right. We will both be in Cambodia here in the near future. I don't have any announcements to make in terms of any scheduled meetings but there is an opportunity there, and so we'll see — we'll see how things play out.

GEN. MILLEY: So I think first of all, you know, President Xi is — I don't know him. I've never talked to him, and he'll make decisions based on what he thinks is in his national interest. But as best I can tell, he's a rational actor. I think he evaluates things on cost, benefit and risk, and I think that he would conclude that an attack on Taiwan in the near future would be an excessive amount of risk, and it would end in a strategic, really, debacle for — for the Chinese military. And I think it would throw off their China dream of being the number one economic and military power and so on.

So would he do it? Who knows? I don't know. But I can tell you that we watch it closely. We are militarily prepared, and one of the keys now is to make sure that Taiwan can defend itself, and there are a lot of lessons learned coming out of the Ukrainian war. There's lessons learned for Taiwan. There are lessons learned that we're learning. There's lessons learned European countries are learning, and there's lessons learned that President Xi and the Chinese military are learning.

And one of the things people are learning is that war on paper is a whole lot different than real war. And when blood is spilled and people die and real tanks are being blown up, things are a little bit different. There's a lot of friction and fog and death in combat, and for someone who has — for a military that hasn't fought in combat since fighting the Vietnamese in 1979, they would be playing, you know, a very, very dangerous game to cross the straits and invade the island of Taiwan. They don't have the experience, the background to do it. They haven't trained to it yet. They do piece-part training. We watch it very, very closely, how many — how much amphibious capability they have, how much airborne capability they have.

Now, they could bomb it. They could missile it. They could attack Taiwan in that sense, but attacking and seizing the island of Taiwan across the straits, putting troops on the island of Taiwan, that is a very difficult military task to do. You've got a large city of Taipei with three or four million people, with the suburbs, about seven million people. You've got very complex terrain with mountains. Most of Taiwan is a mountainous island. So it's a very, very difficult military objective, a very difficult military operation to execute, and I think it'll be some time before the Chinese have the military capability and they're ready to do it.

Now, that could be wrong. That could — an incident could happen. Some sort of political thing could happen in a moment in time, and all of the decisions would change very, very rapidly. But I think that the Chinese would be high risk to take on an operation like that, and I think it would be unwise. It would be a political mistake, a geopolitical mistake, a strategic mistake similar to what the strategic mistake is that Putin has made in Ukraine.

SEC. AUSTIN: I'll be traveling with the — with some of you later this week and into next week, but for those who I won't see between now and Thanksgiving, I want to take this opportunity to wish you and your families a happy Thanksgiving, and on behalf of the Department of Defense, thanks for what you continue to do for our nation. Thank you very much.

STAFF: Thank you very much, ladies and gentlemen. That's all the time we have for today.
Yesterday, Estonian Prime Minister Kallas gave an address to Passikivi Seura in Finland. Here's the transcript of her remarks. I'm not highlighting anything, read the whole thing! It's that good!
Prime Minister Kaja Kallas at Paasikivi Seura – "The Battle of Our Time"

November 15th 2022

Ladies and gentlemen, dear friends,

You might be wondering why I titled this speech "the Battle of Our Time." This is in reference to the scene from the Lord of the Rings, where Gandalf and Pippin are standing at the balcony at Minas Tirith, looking East. And Gandalf tells the young hobbit: "We have come to it in the end – the great battle of our time." The wizard knew the challenges ahead. He knew what would happen if the forces of good failed. He knew that no effort was to be spared to make the world safe for the living.

So, let us ask: do we grasp the magnitude of what is happening in Ukraine and what is at stake here? Is our response adequate and what would be the price of failure?

Open war of aggression and annexation is back in Europe. This war is not just about Ukraine, it is about the international rules-based order and the future security architecture of Europe. Let us keep in mind that Russia targeted the ultimatums to us – to NATO and EU Member States. That was in December last year. Back then, the Kremlin demanded an end to NATO's open door policy, it demanded that NATO returns to its pre-1997 borders, and it demanded limiting military equipment on the territories of sovereign countries.

To achieve their aims, Russia has shown the willingness to resort to military force. Things that we thought belonged to history are happening yet again in Europe. Atrocities that we thought were memories of the past have become the nightmares of today. In Ukraine, Russia is targeting civilians, is destroying civilian infrastructure, masses are being killed, tortured, raped and deported.

This is no accident but a feature of the Russian way of war. We are witnessing state-orchestrated war crimes. The Kremlin has made it clear that their aim is to wipe Ukraine off the world map. "Denazification" is the example of its hate speech – an official Russian label of the policy of destruction of the Ukrainian state and its people. This is all too similar to incitement to commit genocide – a distinct crime whether or not genocide actually follows. And such calls are working – in the areas liberated by Ukrainians, we see evidence of mass killings, torture, rape, deportations. In this part of Europe, we remember this face of Russian occupation painfully well.

Imperialism and colonialism are the Kremlin's long-term ideologies. They did not emerge on 24 February this year. The warning signs and deeds were long there.

Russia justifies and veils its actions under the label of "liberating" people. Liberating those who have not asked for liberation. They justify this messianic zeal with the defeat of Nazi Germany and with the explanation that the Soviet Union helped save Europe and the world from Nazism. But they always forget to mention that it was the Soviet Union, together with its then-ally Nazi Germany, who started World War II together. It was Moscow who attacked Poland on 17 September 1939, and Finland on 30 November.

History matters. Although the Soviet Union collapsed, its imperialist ideology never did. While our history books were rewritten after the collapse of the Soviet Union, this was not the case in Russia.

While the crimes of Nazism have been unequivocally condemned and tried before tribunals, this has not been done with the crimes of Communism. We had the Tokyo and Nuremberg tribunals, but there was never a Moscow tribunal. Instead, Putin has built a strong revival of Stalinism in Russia and as a result opinion polls suggest that 70 percent of Russians approve of Stalin and his policies.

If people admire dictators, there is no moral obstacle to becoming one or submitting to one. If people's minds and eyes are shut before past atrocities, there are no limits to committing new ones in the future. This is exactly what we see Russian soldiers doing right now in Ukraine.

Ladies and Gentlemen,

Estonia has a border with Russia, so does Finland. We both have a long history with our mutual neighbour. Large countries can make mistakes and survive. For small ones, the margin of error is much smaller – the policy to stop Russian aggression in Ukraine is an existential matter to us.

In the last century Estonia and Finland had a very different experience with Russian violent imperialism. I want to pay tribute to Finland who decided to fight in 1939. Finland lost a lot of people and a lot of territory, but you retained something sacred – your statehood. Estonian volunteers of the infantry regiment 200 were fighting in the Continuation War under the banner "Soome vabaduse ja Eesti au eest", "Suomen vapauden ja Viron kunnian puolesta"! Estonian freedom was gone, they were fighting for its honour.  Finland lost a lot but Estonia lost everything – we lost our territory, freedom, and a fifth of our population to Soviet terror. And we felt we were forgotten and abandoned behind the Iron Curtain for half a century.

We have learnt a few things from this:

First, you need to fight for your freedom, whatever the odds. Because not fighting is much worse. Today Ukrainians are proving the same thing to the entire world every single day.

Second, if you want peace, you must prepare for war. Estonia has been spending 2% of its GDP on defence for many years. By next year Estonian defence spending will be approximately 3%. By 2024 it will be over 3%. Like Finland we have retained the conscription service and our armed forces are based on reserves. We are buying Himars, long-range shore-to-ship missile systems, mid-range air defence and much more.

Third, when we restored our independence after 50 years of occupation, we decided we will be Never Alone Again. Never again without friends and allies. That is why we are in the EU and in NATO.

Dear friends,

Estonia was among the first to ratify Finnish and Swedish membership in NATO. Finnish membership in the Alliance will open-up new horizons in our countries' bilateral as well as Nordic-Baltic regional defence cooperation. Most Finns live in the southern part of Finland, most Estonians in the northern part of Estonia. This is the reason, in one sentence, to strengthen our bilateral defence cooperation.

Today, at the joint seminar of our two governments, we discussed the report on future bilateral relations. The report covers a lot of issues, but it lacks one chapter – it does not touch security and defence. It was written before 24 February and published in March. In the future, security must be front and centre of our cooperation. Especially as it's linked to so many areas – energy security, cybersecurity, critical infrastructure protection.

Ladies and Gentlemen,

From the start of the Russian war of aggression in Ukraine, my government has based our response on three tracks:

First – supporting Ukraine militarily, economically, and politically.

Second – increasing the price of aggression, isolating Russia, and ensuring there's no impunity for war criminals.

And third – strengthening our own defence.

We started the process of sending arms to Ukraine in December last year. With Javelins it went smoothly – they played a key role in the battle of Kyiv. Unfortunately, it took longer for our delivery of the howitzers. Now, let's imagine a scenario where the free world had sent the arms and ammunition we are sending now already in January or February. Many lives would have been saved. Back then, we saw too much self-restraint and too much self-deterrence.

The Russian strategy vis-à-vis the Euro-Atlantic community is built around three weapons – pain, fear, and hope.

The pain of starving Europe from energy.

Fear of nuclear war.

Hope to pressure Ukraine into a peace agreement granting Russia parts of conquered territory.

What should our response be?

When it comes to pain inflicted on us by Russia with the energy weapon – we will survive, and we will prosper. Russian aggression has demonstrated what happens when you connect to partners who weaponize trust. Trust may come at a price—but it is a price worth paying. The European Union and its Member States have learned lessons from dependence on Russian fossil fuels and there has been a sharp move away from it.

Concerning fear, let's remember what Franklin Delano Roosevelt said: "The only thing we have to fear is fear itself." If we allow nuclear blackmail to work even just once, we will wake up in a much, much more dangerous world.

So why not call for peace? What about freezing the conflict and looking for a diplomatic solution?

I really hope that Europe has learnt that appeasement only strengthens the aggressor. And that the aggressor will never stop unless it is stopped. The longer it takes, the harder it gets. In Estonia we know from our painful history what Russian peace really means – executions, torture, and deportations.

Any pause today in Ukraine would allow Russia to prepare, rest and regroup only to continue the aggression later. And in the end, we would – paraphrasing Churchill – have both dishonour and the war. After all, we had the chance to prevent future aggressions by Russia in 2008 and 2014. But the response from the free world then was weak. Principles were exchanged for cash, truth for gas. And the aggressor's confidence only grew. And now we have come to this – a large-scale genocidal war.

As for peace, unless the Kremlin gives up on its goal of conquering new territories in Ukraine, it is difficult to believe in the prospect of any real peace talks. I do not believe in the goodwill of an outright aggressor and a cold-blooded war criminal. As President von der Leyen recently said and I quote: "This is the time for us to show resolve, not appeasement." End of quote.

Ukraine has shown that this war is winnable, but it needs our support – military, political, moral, and financial. We need to be at the forefront of helping Ukraine integrate with the Euro-Atlantic community, and we should help Ukraine as an EU candidate country as much as possible. Ukraine needs to be rebuilt and we must find a way to use Russia's frozen assets for this already now – of course strictly based on the rule of law. And we must support Ukrainian path towards NATO membership, based on commitments made in Bucharest in 2008 and in Madrid in 2022. Ukraine's full post-war Euro-Atlantic integration is fundamental for its future and essential for European security.

The perpetrators of this war of aggression and other war crimes committed in Ukraine need to be brought to justice – the International Criminal Court has an important role here. But we also need to establish a tribunal for the crime of aggression – as the International Criminal Court does not have jurisdiction over this crime. The EU should play a leading role here.

Finally, we should never take our attention away from strengthening our own defence. And we must not forget that Russia is also waging a global hybrid war on Europe and beyond. It hopes that high energy prices and flow of refugees will weaken our publics' support for Ukraine and leave us with less resources to support it. Russia is spreading disinformation globally, it keeps interfering in our elections, and weaponizing dependencies. It keeps targeting us with cyberattacks. Freedom from Russian dependency means freedom from Russian blackmail.

Let me come back to the questions I posed at the start. What is at stake in Ukraine – it is our own freedom we are protecting there. It is freedom from repressions, freedom from war crimes, freedom to decide over our own security arrangements and foreign policy direction.

This freedom is not cost-free. Ukrainians are paying with their lives. We pay in euros and must keep repeating to ourselves that gas might be expensive, but freedom is priceless.

I will wrap up with two short sentences I know you all agree with:

Slava Ukraini!

AND

Suomi NATO:n!
Ken McCallum, the Director General of MI5, gave his annual threat update at Thames House today. Here is the transcript of his remarks. Here too, just take a few minutes and read the whole thing!
MI5 Director General Ken McCallum gave his annual threat update at our headquarters in Thames House, London today.

In a wide-ranging update to an invited audience, he explaned the nature of the terrorist threat to the UK and highlighted the challenges posed by states – in particular Russia, China and Iran.

Read his full speech below:

INTRODUCTION

Good morning. Thank you for joining me here in Thames House.

Today, I'll give our annual public update on the threats the UK is facing, and what MI5, with partners, is doing about them.

No-one should be under any illusion about the breadth and variety of the threats we face in 2022:

•    We've seen Putin's illegal invasion of Ukraine bringing war to Europe – raising national security questions many thought consigned to the history books.
•    We're seeing an increasingly assertive Chinese Communist Party using overt and covert pressure to bend other countries to its will.
•    Instability in Iran is bringing real-world consequences here.
•    We're still contending with transnational terrorist groups that are down but definitely not out.
•    As well as the wicked problem of self-initiated lone actor terrorists, fiendishly hard to detect and disrupt.

Not all these challenges are bolts from the blue.  You've heard me and my predecessors talk about most of them before.  But their confluence and trajectory pose profound questions for the UK and our allies, on how we bolster our resilience and defend our way of life in a changing world.

All of this makes MI5's task compelling, and deeply motivating. The classic prioritisation choice for us is deciding what to pursue within hundreds of fragmentary leads to potential terrorist activity. Lifting up a level, how do we balance effort between, say, detecting teenage would-be terrorists radicalised in extreme right-wing spaces online, and protecting the UK's military secrets from Russian cyber hackers? How to prioritise combatting repression of the Chinese diaspora or of Iranian dissidents here against the need to keep degrading Al Qaeda overseas? The complexity we face is huge.

We also have a balance to strike in how much we say about our work.  I have made it a feature of my tenure to be as open as I can with you about what we do and why it matters.

But I must be clear that secrecy and covert activity are essential for our effectiveness. We will always keep our methods and techniques confidential.  To maintain the UK's edge in dealing with covert threats, we must protect our agents, our people and our operations.

And maintaining the UK's edge also means working with a wider range of partners than ever before; explaining the necessity of our work; and dispelling myths about the 'type of person' that works here keeping the UK safe.

Part of our mission is about keeping secrets, secret.  Another part is informing the public we serve about the threats facing the UK. That's what I'm going to do today.

STATE THREATS

I'll start on threats posed to us by States, where MI5 is making the biggest shifts in a generation. We are facing adversaries who have massive scale and are not squeamish about the tactics they deploy. The West is in a contest in which our security, values and democratic institutions are at stake.  To be clear: at stake because of the actions of authoritarian regimes, not because of the people living under those regimes.

We are prepared for the long haul.  These threats will not evaporate overnight. When you're in a contest, it's almost always better to recognise that you're in one. And we need both to disrupt specific individual threats, and make the UK a harder target.

First Russia.  When I gave my last annual update, the invasion of Ukraine was a dark cloud on the horizon.  Now it's a grim reality.

The human cost is sickening.  But Putin is not winning.

Not winning in Ukraine, where the counter-offensive has made important advances. And not winning strategically, where rather than weaken NATO, Putin's actions have doubled Russia's land border with a strengthened alliance.  Much remains uncertain.  But I am proud of the part the UK, including our intelligence community, has been playing – in providing accurate warning of the invasion, in calling out disinformation attempts, and most crucially in supporting the monumentally brave Ukrainian effort.

I'd highlight one aspect of the international response that will have a profound, lasting impact. This year, a concerted campaign has seen a massive number of Russian officials expelled from countries around the world, including more than 600 from Europe – over 400 of whom we judge are spies. This has struck the most significant strategic blow against the Russian Intelligence Services in recent European history.  And together with co-ordinated waves of sanctions, the scale has taken Putin by surprise.

This year's expulsions follow the template set by the UK-led international response to Salisbury in 2018. Alongside the wave of expulsions, the other part of that template is staying the course and preventing Russian intelligence restocking. In the UK's case, since our removal of 23 Russian spies posing as diplomats, we have refused on national security grounds over 100 Russian diplomatic visa applications.

We've continued to work intensively to make the UK the hardest possible operating environment for Russian covert action. And we'll need to keep at it: alongside assassination attempts, the Russian covert toolkit includes cyber attacks, disinformation, espionage, democratic interference, and the use of Putin-aligned oligarchs and others as tools for influence.

The distinctive importance of the UK's support to Ukraine's self-defence is reflected in recent Russian public statements pointed at the UK. While these include silly claims, such as alleging UK involvement in attacking the Nord Stream pipelines, the serious point is that the UK must be ready for Russian aggression for years to come. Some of that will be covert aggression, for MI5 to detect and tackle. But much of it, as currently with energy levers, will be overt. Our national resilience, brought into sharp focus by COVID, is a vital asset in which we must invest.

Which brings me to China.

In the summer, speaking alongside Director Wray of the FBI, I said that the activities of the Chinese Communist Party pose the most game-changing strategic challenge to the UK.

We set out the coordinated campaign we are seeing to re-design the international system.  We outlined the scale and breadth of their information acquisition, using not only intelligence officers and cyber hackers but businesspeople and researchers to steal government and commercial information alike. We talked about how organisations can actively protect themselves – while still engaging with the world, including with China.

And we described the threat to our national and economic security, and to the UK's political system.  We see the Chinese authorities playing the long game in cultivating contacts to manipulate opinion in China's favour – seeking to co-opt and influence not just prominent Parliamentarians from across the political landscape, but people much earlier in their careers in public life, gradually building a debt of obligation.

Since then, we've seen yet more concerning activity.  The Chinese authorities use all the means at their disposal to monitor – and  where they deem necessary intimidate – the Chinese diaspora. This takes place all over the world, from coercing and forcibly repatriating Chinese nationals to harassment and assault.

This was brought home recently when a pro-democracy protester appeared to be the subject of violence outside the Chinese Consulate in Manchester.  We're seeing further indications of that repression.  Recent media coverage has focused on so-called overseas Chinese police stations.  But this activity extends to using the United Front Work Department and other front organisations to apply pressure to those challenging the regime's perceived 'core interests' – whether that's on democracy in Hong Kong or human rights abuses in Xinjiang.  We can expect it to increase further as President Xi consolidates power on an indefinite basis.

To intimidate or harass UK nationals or those who have made the UK their home cannot be tolerated.

MI5 has an important part to play in countering these threats.  But tackling the whole problem needs a system-wide response. So it's welcome that government recently announced a taskforce, reaching out cross-party, to focus on protecting our democratic institutions and freedoms.  We look forward to working with the Security Minister and partners on it.

I also want to mention the threat from Iran – the state actor which most frequently crosses into terrorism.

The current wave of protests in Iran is asking fundamental questions of the totalitarian regime.  This could signal profound change, but the trajectory is uncertain.  For now, we see the regime resorting to violence to silence critics.  An Iran that, with its proxies, remains a profoundly destabilising actor in its region and beyond. An Iran providing support to Russia, including by supplying the drones inflicting misery in Ukraine.

Iran projects threat to the UK directly, through its aggressive intelligence services.  At its sharpest this includes ambitions to kidnap or even kill British or UK-based individuals perceived as enemies of the regime. We have seen at least ten such potential threats since January alone. We work at pace with domestic and international partners to disrupt this completely unacceptable activity.  The Foreign Secretary made clear to the Iranian regime just last week that the UK will not tolerate intimidation or threats to life towards journalists, or any individual, living in the UK.

State Threats can sometimes feel a bit abstract, or of interest only to specialists. But they're very real. To convey some of how it feels to us, allow me to use a metaphor which I get is imperfect:

MI5 plays a crucial role in a highly effective UK team.  But we need to be clear about the opponents we're facing.

Russia thinks nothing of throwing an elbow in the face, and routinely cheats to get its way.  We've had success in getting some of their players sent off, and for now they're a bit distracted by the blame game in their own dressing-room, but they will keep attacking us.

The Chinese authorities present a different order of challenge.  They're trying to re-write the rulebook, to buy the league, to recruit our coaching staff to work for them.

And Iran will only let people support one team and is prepared to use violence against those who don't toe the line.

We're alive to the risk of these teams loaning players to each other, amplifying their strengths.

But of course this isn't a game. Which is why it's so crucial that the UK grows its resilience. Alongside MI5's work with the police, SIS and GCHQ amongst others to detect and disrupt threats we need a concerted societal response. That includes:

•    The National Security Bill, which will introduce new measures to protect the public, give MI5 and our policing partners a greater range of tools, and make the UK a harder operating environment.
•    It includes the whole-of-system approach I mentioned earlier – a concerted counter-state threat strategy bringing together expertise and tools from across government.
•    And it includes bolstering our nation's resilience by investing in the foundations that will harden UK defences – our energy security; our supply chains; our protective and cyber security across government, industry and our research and innovation base.

The Centre for the Protection of National Infrastructure (CPNI), which reports to me, is doing vital work to help the UK reduce its vulnerabilities.  And it must go further, building on its respected role in protecting critical infrastructure, to reach a wider range of audiences in need of protection from a wider range of risks.  The way they do this, and the name under which they do it, will need to change. I expect that to happen in the first half of next year – at which point we'll have more to say about the important roles businesses, universities and others can play.

In an era of renewed contest between democracies and autocracies, what we do in MI5 is one piece of a bigger jigsaw. I expect resilience to feature centrally in the Government's refresh of its Integrated Review of security.  We are playing our full part.

TERRORISM

I want to turn now to the threat from terrorism. Rising State threats are a huge challenge; but getting ahead of terrorist plots is still the first thing the British public expects of us. MI5 and CPNI's quietly effective work with the police to safeguard the national mourning events following the death of Her Majesty Queen Elizabeth II was testament to the maturity of the system we've put in place over many years.

And we need that system, because the threat is still there. Since the start of 2017, MI5 and the police have together disrupted 37 late-stage attack plots. That's another 8 potentially-deadly plots disrupted since I gave my update last year. And as before it's a mix of Islamist and extreme right-wing terrorism.

Islamist Terrorism remains the larger problem – about three quarters of our terrorist caseload. As previously, much of the volume is self-radicalised terrorists seeking to conduct low-sophistication attacks. Low sophistication does not mean low impact: think of the appalling murder of Sir David Amess MP just over a year ago.

In a free country, detecting self-initiated terrorists – who often don't reveal their plans to anyone, and can move quickly and sometimes spontaneously from intent to violence – is an inherently hard challenge. A challenge which is compounded by the complex mix, often, of extremist ideology with personal grievance and individual vulnerability such as mental ill-health. This poses pressing questions about how different elements of the State should best join up to manage risk to the public, effectively and proportionately.

This same phenomenon is strongly present also in the other quarter of our counter-terrorist caseload: Extreme Right Wing Terrorism. We most recently saw the horrible petrol bomb attack in Dover.

Just as with Islamist extremist activity, it is not always straightforward to draw lines demarcating what is and is not terrorism. In cases of previously-unknown attackers, who make no claim of responsibility, it takes time to assemble the facts – and even once they are assembled, they are often a confused mix of factors.

The Extreme Right Wing landscape has continued to evolve away from structured, real-world groups such as National Action, to a diffuse online threat. From the comfort of their bedrooms, individuals are easily able to access right-wing extremist spaces, network with each other and move towards a radical mindset.

There has been further growth in attempts to acquire weapons – firearms in particular, whether illegally obtained, homemade or 3D-printed. Often weapons are sought for their own sake, well in advance of any specific targeting intent developing – making for difficult risk management judgements, and forcing early intervention.

We are seeing growing numbers of right-wing extremist influencers, operating globally, fuel grievances and amplify conspiracy theories. This problem feels like it will endure.

Another problem which endures is the risk of sophisticated plots directed against the UK from Islamist terrorist groups based overseas.

Years of pressure by the military and organisations like mine against Al Qaeda and Islamic State means neither wields a centralised operational structure comparable to their respective heydays.

But MI5, SIS, GCHQ and other partners are still operating globally, every day, to penetrate and disrupt transnational terrorist groups, who absolutely still aspire to attack us.

Pressure has forced both Al Qaeda and Islamic State to adapt, as each has done before. They are expanding into unstable regions and failing states through affiliated groups. This provides them with strength in depth, as decentralised movements more than hierarchical organisations.

Intent and capability varies, but the enduring risk is that in these strengthened global networks, affiliates work together to direct activity in the UK and in other western countries. A risk not to be underestimated. Though certainly preferable to what we faced from overseas just a few years ago.

Which brings me to Northern Ireland.

Clearly, the political situation is challenging at present. But progress in countering terrorism continues: this year, the threat level in Northern Ireland was reduced. Working with partners we continue to achieve significant disruptions to Dissident Republican activity.    Despite many attempts, there have been no completed national security attacks since 2019. We continue to monitor all potential threats in Northern Ireland, and will investigate any that reach the national security threshold.   Those still attempting to engage in terrorism will continue to face the consequences of their actions.

LEARNING AND IMPROVING

As terrorism in its various forms continues to evolve, MI5 continually looks to adapt the counter-terrorist system. The Operational Improvement Review we conducted with the police following the awful attacks of 2017 made 104 recommendations – we have implemented 102. We are on the other two and we've gone yet further:

A massive milestone is the creation of the Counter-Terrorism Operations Centre, in which MI5 staff are now working alongside the police.  CTOC, as we know it, is a purpose-designed operational hub that enables minute-by-minute connection between the many teams working on counter-terrorism. Progressively co-locating  policing, the intelligence agencies and other parts of government will significantly improve the effectiveness, efficiency and responsiveness of the counter terrorism mission.

Taking that same approach further, just as on state threats we're working to build a wider response, going beyond traditional security agencies to connect with expertise in healthcare, education, social services and the criminal justice system, to respond to the complexity we are seeing.

Our other big push is constantly to improve the way data is obtained and analysed. That means MI5 forming cutting-edge partnerships such as with The Alan Turing Institute, and valuing data scientists and engineers just as we do agent runners and investigators.

The nature of terrorism, especially self-initiated terrorism, is such that we know it won't be possible to find and stop every single developing plot. But we owe it to the public we serve to get as close as we possibly can, continually striving to tilt the odds in our favour. Every act of terrorism is shattering for its victims.

CONCLUSION

Today I have sought to give a straight, balanced account of the increasingly complex range of threats we face.  I do so in service of our commitment to openness with a purpose – to keep our country safe.

Amongst other benefits, openness helps us bring the best talent to our organisation wherever it may be found, to maximise our effectiveness. This year marks the 25th anniversary of MI5 moving to fully open recruitment.

It is a great honour to lead an organisation of such brilliant people, who work with incredible dedication, integrity and drive to keep our country safe.

They do not expect recognition, but I want to take this opportunity to acknowledge publicly the invaluable contribution they make.

You don't know who they are – but they do.

I'm incredibly proud of them.

Thank you.
Finally, there are a lot of holes in our sanctions regime. The Wall Street Journal has the details:
New intelligence collected from downed Iranian drones in Ukraine shows that a majority of the aircrafts' parts are manufactured by companies in the U.S., Europe and other allied nations, stoking concern among Western officials and analysts and prompting a U.S. government investigation, according to people familiar with the matter and documents reviewed by The Wall Street Journal.

Ukrainian intelligence estimates that three-quarters of the components of the Iranian drones downed in Ukraine are American-made, according to documents reviewed by the Journal. The findings were made after the Ukrainian military downed several drones, including an Iranian Mohajer-6 drone that agents hacked midflight and landed intact, according to Ukrainian investigators.

The components, identified by Ukrainian military intelligence, were verified by the Independent Anti-Corruption Commission, or NAKO, a Kyiv-based nonprofit that inspected the drone. NAKO, whose expertise includes assessing military contracts and arms, showed its report to The Wall Street Journal.

Out of more than 200 technical components identified by Ukrainian investigators that make up the innards of the captured drone, roughly half were made by firms based in the U.S., and nearly a third by companies in Japan, according to the report.

When contacted by the Journal, U.S. officials responsible for export-control enforcement declined to confirm the origin of the components. The companies whose parts were identified weren't able to confirm the origin of components or didn't respond to a request for comment.

U.S. sanctions imposed across Iran's economy were intended in part to cut the country off from the international financing and trade needed to fund and develop its military, including drones. Similarly, prohibitions in the U.S. and Europe on exports of commercial components that could be used for advanced weaponry are designed to prevent Iran and other foes from gaining from the West's technical expertise.

The Western-made components that appear to guide, power and steer the drones present a vexing problem for world leaders trying to contain Iranian weapons development and proliferation. Iran's fleet of unmanned military aircraft, along with the precision-guided missiles they can carry, is now seen by Western security officials as a bigger immediate threat than Iran's nuclear program.

"A priority is understanding how foreign parts are ending up in Iranian drones," said David Albright, founder of the Washington-based Institute for Science and International Security, which published its own analysis of Iranian drones last month.

The institute's report said that besides Western components, there is also evidence that Chinese companies might be supplying Iran with copies of Western commodities to produce the combat drones.
Much more at the link!
That's enough for tonight.
Whichever commenter or lurker sent this, thank you for getting this across, but next time you can email me using the contact a front pager widget. And thanks to BettyC for texting it to me!
Betty, can you get this to Adam? https://t.co/w2cXnCHEkO

— djs65 (@djs654) November 16, 2022
Your daily Patron!
No new tweets, so I'll just repost this one:
I want to express my condolences to the families of the two people who died in a rocket attack today in Poland. @NATO while establishing the facts, it may take a long time. Unfortunately, those two people don't have time anymore. pic.twitter.com/WxHQlnJ2Yc

— Patron (@PatronDsns) November 15, 2022
And a new video from Patron's official TikTok page:
The caption machine translates as:
There are many more reasons, but not all of them fit here🙈 #PatrontheDog #PatronDSNS
Open thread!