The 1918 pandemic changed America, especially when it came to women's rights. The question now is how will #Covid transform the United States? https://t.co/9TgIVPWmRB

— delthia ricks ?? (@DelthiaRicks) November 15, 2022
A @KFF tracker shows more than 160K Covid deaths have been in people 65 and over, and nearly 50K have been in people under 65. https://t.co/vMJz2nMzYp

— Dr. Tom Frieden (@DrTomFrieden) November 15, 2022
"When Republicans take control of the House of Representatives .. they've made it clear that probing President Biden's response to the pandemic will be their top priority. Holding the majority gives them new powers to subpoena officials." – @rachelcohrshttps://t.co/MrX0Z1pZu3

— Martin Kulldorff (@MartinKulldorff) November 18, 2022
… Republicans across the country campaigned on anti-science rhetoric, lobbing intense criticism of the Biden administration's vaccine and mask mandates and its spending on the pandemic response.

Rep. Cathy McMorris Rodgers (R-Wash.), who is set to chair the Energy and Commerce Committee, has signaled particular interest in probing the origins of the pandemic, along with research funded by the National Institutes of Health, and remote schooling recommendations.

After his vilification on the campaign trail, National Institute of Allergy and Infectious Diseases Director Anthony Fauci could be another target, and health officials including health secretary Xavier Becerra, and Centers for Medicare and Medicaid Services administrator Chiquita Brooks-LaSure could also face more heat from the House in oversight hearings…

House Republicans' power will be limited, however, now that Democrats managed to retain control of the Senate. Divided government will force Republicans to focus more on oversight and bipartisan bargaining than they might have otherwise.

It will be a radical change from House Democrats' approach to the pandemic. During their four-year tenure in control, they unilaterally passed billions of dollars in Covid-19 relief funding, backed Biden administration officials, and broadly supported more public health spending…
Another #coronavirus wave could be coming. Here's how to factor #Covid into your holiday plans. It's our 3rd #pandemic winter & some experts say you can mitigate risk without missing out https://t.co/Do9RlyR7mf

— delthia ricks 🔬 (@DelthiaRicks) November 16, 2022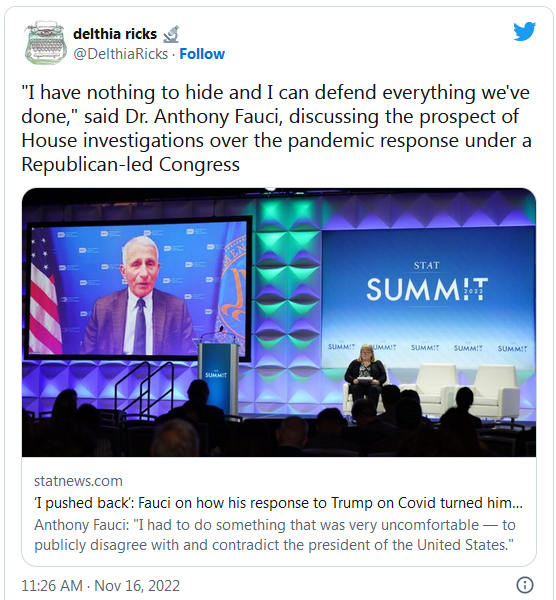 As he faces the possibility of increased scrutiny from what is likely to be a Republican-controlled House, Anthony Fauci on Tuesday signaled he is willing to go to the mat to justify the government's response to the Covid-19 pandemic and viral research programs.

"I'd be more than happy to discuss anything that we've done over the last several years with this outbreak, since I have nothing to hide and I can defend everything we've done," Fauci said at the annual STAT Summit…

Branswell asked Fauci, 81, who has led the National Institute of Allergy and Infectious Diseases for nearly four decades, if there was something he could have done differently early in the pandemic to avoid being cast as a political figure.

Fauci, without naming former President Donald Trump in the answer, said that couldn't be avoided once he challenged Trump and other administration officials who undersold the threat from SARS-CoV-2 or who hyped therapies like hydroxychloroquine even after multiple studies showed they didn't work.

"I had to, I didn't like the idea, but I had to, to preserve my own scientific and personal integrity and to fulfill my obligation, which is not to any president, which is not to any party, it's to the American public, so I had to do something that was very uncomfortable — to publicly disagree with and contradict the president of the United States," Fauci said. "When he says this drug is a wonder drug, and it isn't, or this virus is going to disappear like magic when it's not.

"That triggered such a pushback on the part of the extremists that I became public enemy No. 1," Fauci continued. "I didn't decide and wake up one day, 'I think I'm going to be public enemy No. 1.' But I had a choice, I could either go with the flow of misinformation or push back. I pushed back, and now I'm in the position I'm in where I have to have federal agents guarding me because people want to kill me."…

"I welcome oversight," Fauci said. "I have no problem with oversight. I've testified before Congress literally without hyperbole hundreds of times over the last 38 years, and I think the oversight process is a very healthy part of the government."…
======

(link)
As for "working class" that's where it gets complicated- many are going to be in Zero-COVID bubbles because god forbid you wait a week for your iPhone. It's the middle class that's skittish about going out, sending their kids to school etc, without mass PCR testing in place.

— Naomi Wu 机械妖姬 (@RealSexyCyborg) November 17, 2022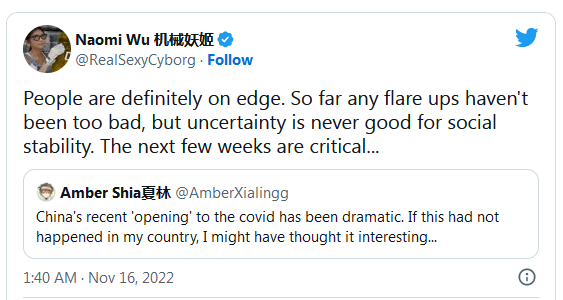 (link)
India reports 656 fresh #Covid19 cases, 790 recoveries and 7 death in the last 24 hours.

Read all #coronavirus news and updates: https://t.co/zhRUiQZDGt pic.twitter.com/YrgDecvKmX

— BQ Prime (@bqprime) November 18, 2022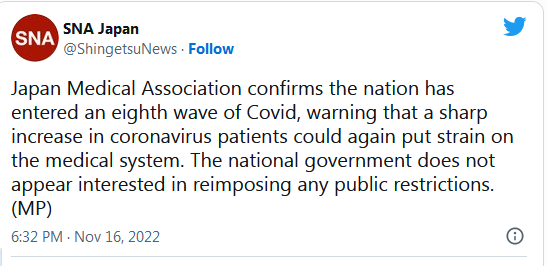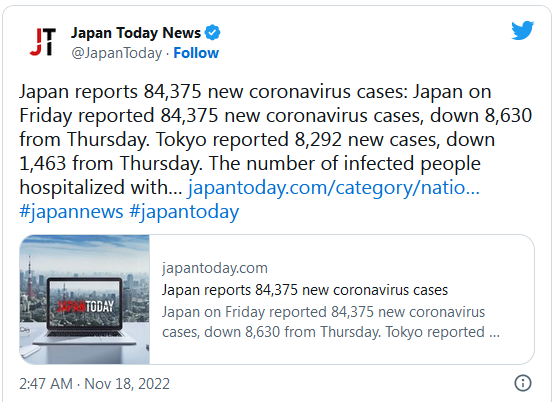 (link)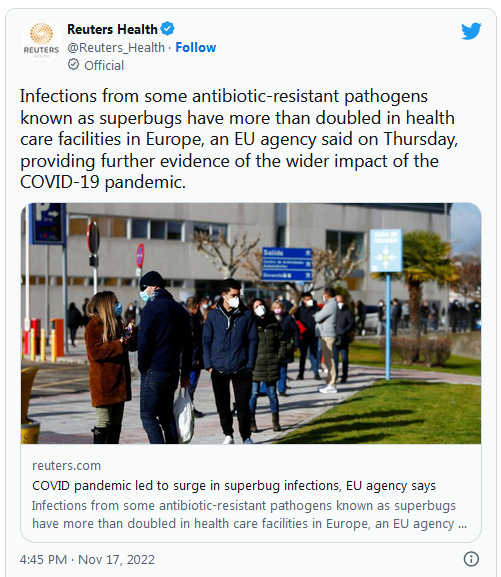 (link)
Variant update from COG UK: together, BQ.1 and BQ.1.1 Omicron subvariants are now dominant in England as of a week ago…

If we are similar to France, should not cause a big wave – fingers crossed!

But XBB also increasing – up to 3% of sequenced cases now. pic.twitter.com/obeEg5FuzL

— Prof. Christina Pagel 🇺🇦 (@chrischirp) November 16, 2022
======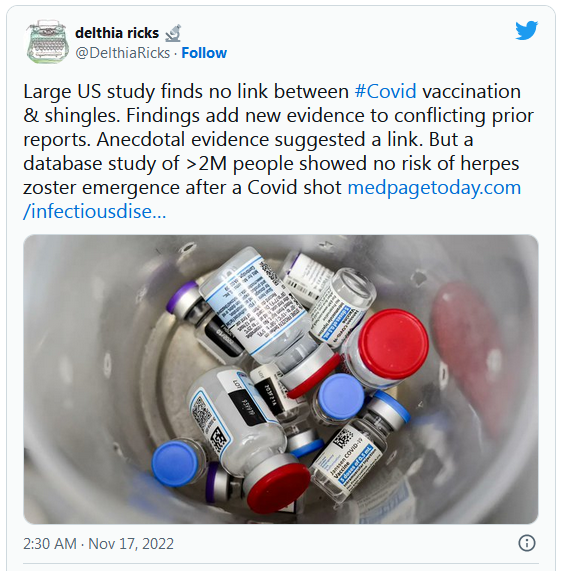 (link)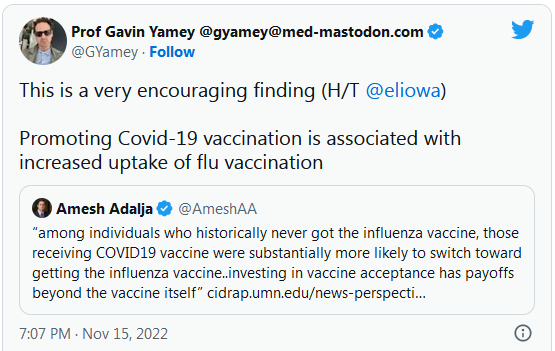 (link)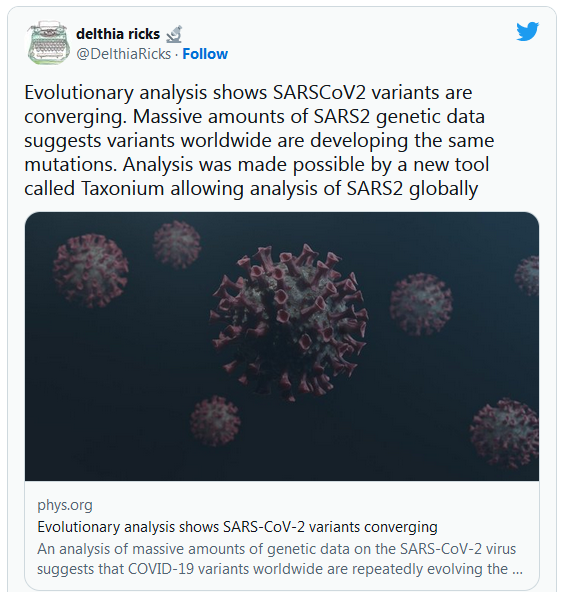 (link)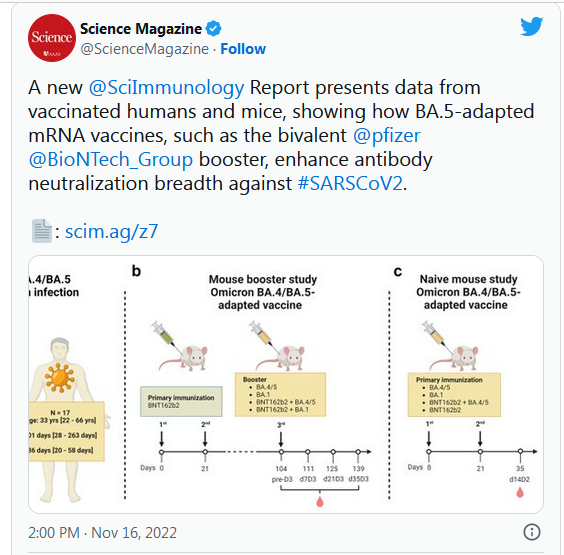 A @statnews review of documents from the dossier that led to India's regulatory approval of the Covid vaccine Covaxin raises serious questions about the way the vaccine was studied & approved, @pharmalot reports. https://t.co/EbVISGoCLe

— Helen Branswell 🇺🇦 (@HelenBranswell) November 15, 2022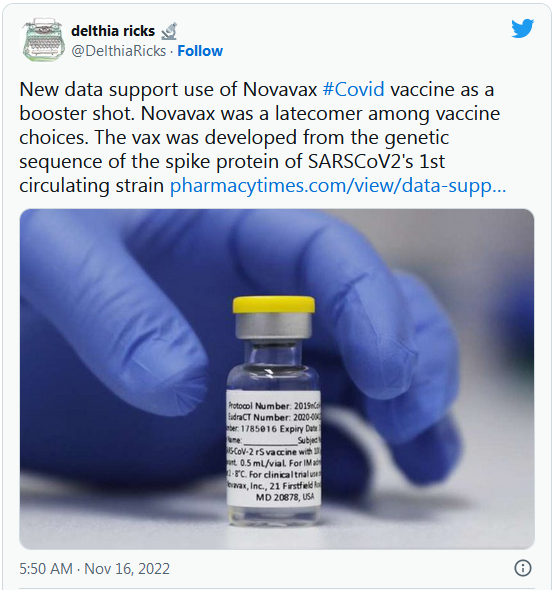 (link)
What's changed with long Covid? https://t.co/dpDyQNANje

— BBC News (World) (@BBCWorld) November 18, 2022
Hospitalized or not, #LongCovid symptoms persist after 2 yrs. Fatigue, pain & memory loss are the most common. Among ~700 people infected in Covid's 1st wave 59.7% of those hospitalized & 67.5% not hospitalized had at least 1 symptom 2 yrs later https://t.co/7rlj4DXjeU pic.twitter.com/zXkRId58vY

— delthia ricks 🔬 (@DelthiaRicks) November 16, 2022
======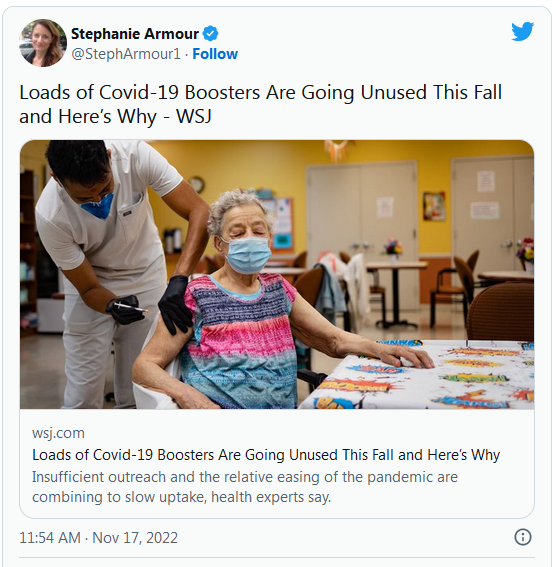 … About 31 million people in the U.S. have gotten the updated shots, or roughly 10% of people ages five and older, according to data from the Centers for Disease Control and Prevention. The federal government purchased more than 170 million doses of the new bivalent boosters that target two Omicron subvariants and the original virus strain…

The current pace of people getting the booster likely isn't sufficient enough to protect many people—especially seniors and immunocompromised people—from severe disease in the winter months when more individuals spend time indoors and gather for the holidays, public-health experts said.

Outreach is limited in part because Congress hasn't approved additional Covid-19 funding, according to the Department of Health and Human Services, which oversees Covid-19 response. Health officials and experts say that the recent easing of the pandemic has also played a role in public outreach and messaging.

"The administration I think is faced with a challenge. They have been trying to convey that things are getting better, and they are trying to convey that you should get your updated booster," said Jen Kates, a senior vice president at the Kaiser Family Foundation, who has helped lead the organization's work on the Covid-19 pandemic. "It is hard to create that urgency." …

Outreach efforts in October included updated ads as part of HHS's "We Can Do This" campaign, which targets seniors and Black and Hispanic communities that have been disproportionately impacted by the pandemic.

Local radio ads targeting rural communities began airing on Oct. 24. Ads are also running on Facebook, Twitter, Pinterest, Snapchat and Reddit. HHS declined to provide data on how much is being spent on advertising and outreach now compared with previous booster campaigns…

Other reasons are also behind the lackluster uptake of boosters, some public-health leaders say. Some people might be waiting to get vaccinated because they recently had a Covid-19 infection, or are trying to time it with the holidays. But many are likely feeling vaccine fatigue or see Covid-19 as less of a threat than before.

Covid-19 cases and hospitalizations are down from the most recent summer surge, even as the virus continues to circulate. The U.S. averaged some 2,300 Covid-19-related deaths the week ended Nov. 9, CDC data show…

Modeling overseen by the CDC indicated that as many as 100,000 hospitalizations could be avoided and 9,000 lives could be saved this winter if people got the updated boosters at the same rate as the annual flu shot, which hovers around 50% for adults every year.

Bivalent booster uptake could increase if Covid-19 cases and hospitalizations surge again this winter, public-health experts said.

Waning cases in some parts of Europe suggest there may not be a major Covid-19 surge this winter in the U.S., some health experts said. But many anticipate an increase, as fewer people take precautions and other viruses including flu and RSV are surging earlier than usual for the season.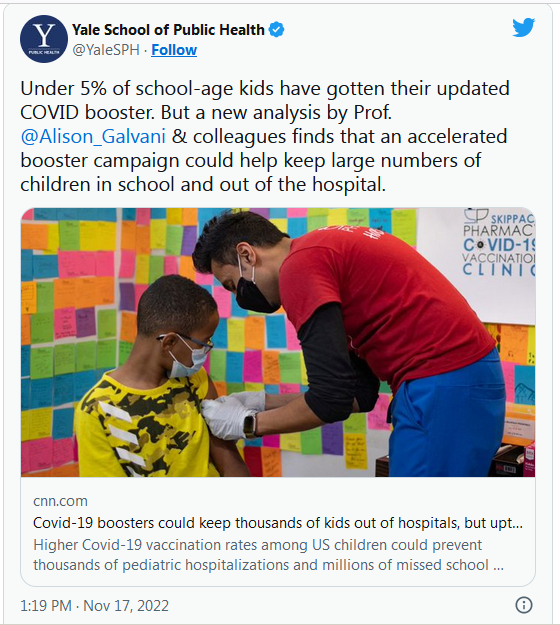 (link)
What could possibly go rong wrong?…
Tyson Foods Inc confirmed on Wednesday it eliminated a requirement that employees receive COVID-19 vaccinations, a step the company said improved meatpacking operations after plants closed in 2020 due to outbreaks among workers early in the pandemic. https://t.co/WmmWEP2FjB

— Reuters Health (@Reuters_Health) November 17, 2022
If there's a theme for this pandemic, it remains "and so the mice voted to bell the cat". pic.twitter.com/p5igYatrqv

— Naomi Wu 机械妖姬 (@RealSexyCyborg) November 16, 2022
Reader Interactions