On the Road is a weekday feature spotlighting reader photo submissions.
From the exotic to the familiar, whether you're traveling or in your own backyard, we would love to see the world through your eyes.
TKH
Capitol Reef National Park has made an appearance in "On the Road" before. I recall a submission by frosty and Gin & Tonic if memory serves. Briefly, the park encompasses an approximately 60 mile long geologic feature running N/S. Most people will only see it along highway 24 where the visitor center is located and the old-time orchards. There are opportunities for day hikes along the highway corridor. A smaller fraction of visitors will drive into the park to reach the Burr Trail Road with its famous switchbacks that allow one to climb out on the Western cliffs in one's car. An even smaller fraction of visitors may make the hike to Hall's Creek narrows, a slot canyon that is relatively easy to hike in itself, but requires overnight camping.
As part of my latest crossing of Southern Utah using the Hayduke "trail", I descended all the way to the bottom of the park, continued on in Glen Canyon National Recreation Area until I could climb up on the cliffs to the right. I crossed the crest and then descended into Stevens Canyon which ultimately leads one to the Escalante river drainage. This is known in the biz as the "Baker Route" named after an early settler who grazed cattle in this area and built a trail to drive his cattle. Bits and pieces of this old cattle route remain visible to this day. This traverse had been on my agenda for a long time and it is a truly great route. I had been turned around twice before by unfavorable conditions.
I will try to restrict this to a two-part submission, one for the Capitol Reef section and for the Stevens Canyon section. I easily could go on and on.
In Capitol Reef one has two options for heading South, one is the hall's Creek drainage also known as Grand Gulch. The latter is visually less interesting but fast. The second route runs through Lower Muley Twist canyon which is almost three times as long as the Grand Gulch route because the canyon is, you guessed it, twisted. I have used both routes on different hikes, I'll be showing you pictures from Lower Muley in this submission.
I hope that you will enjoy the pictures.
Thomas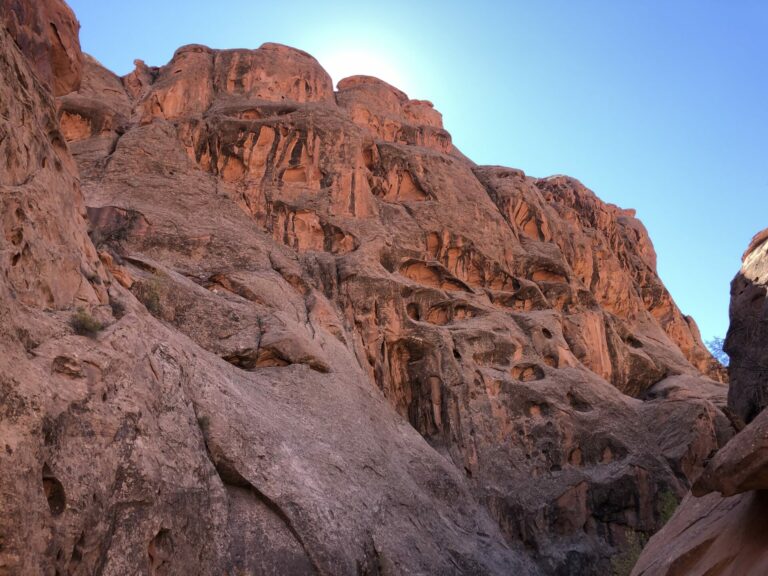 Upper Lower Muley Twist Canyon-Capitol Reef NP
Muley Twist Canyon is remarkable for the varied erosion patterns of the rocks and the different kinds of rock one can see. If that's not for you, I apologize. I personally cannot get enough of red rock, blue sky and green pine/piñon trees.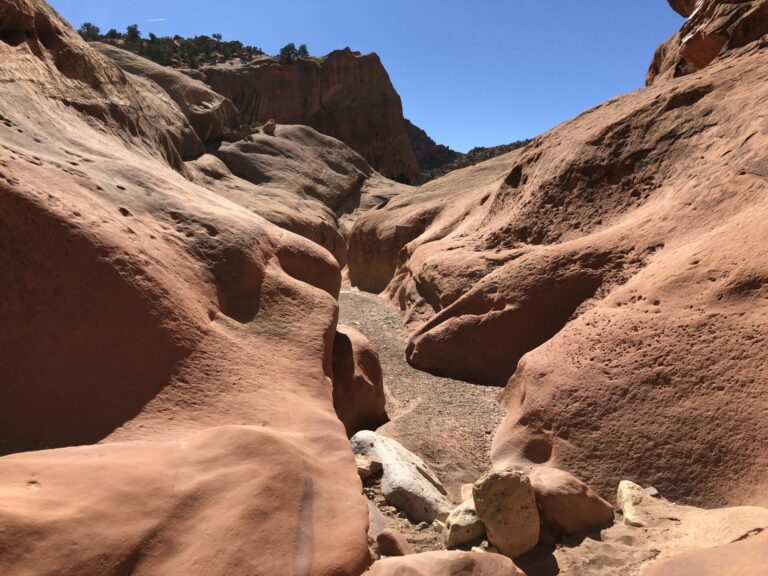 Lower Muley Twist Canyon Capitol Reef NP
The width of the canyon varies widely along its approximately eight mile course. This is a portion of shallow slot canyon.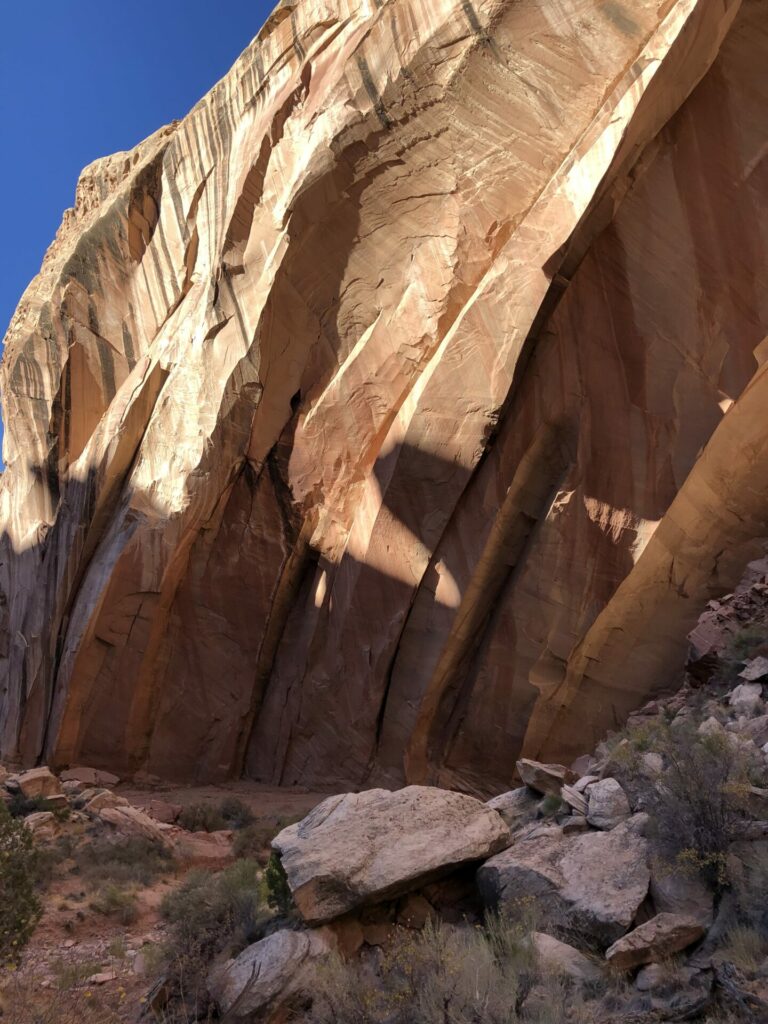 Lower Muley Twist Canyon Capitol Reef NP
This is another layer of rock being exposed, more yellow in color than the reddish iron-containing stone in the pictures above. Becauset of the curvature one could make oneself believe that this is an arch or bridge in the making. Coming back in a couple of 100k years to see what happened.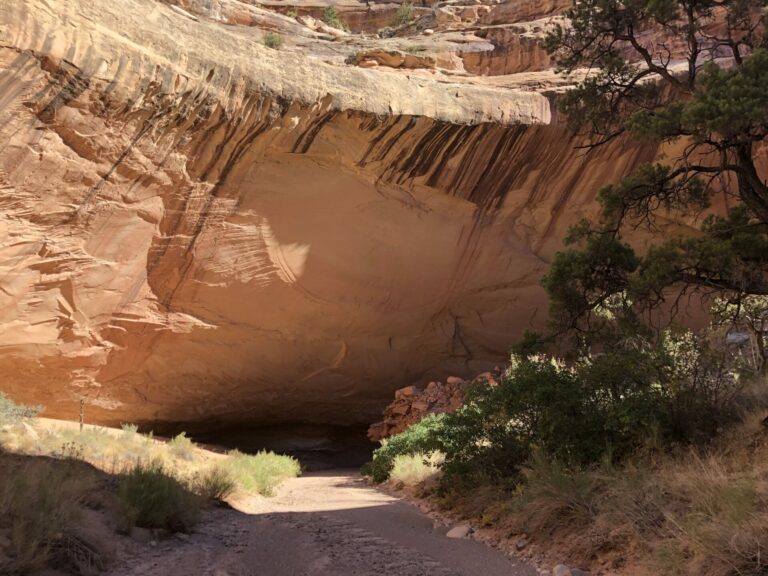 Lower Muley Twist canyon
The canyon drains an absolutely huge area. In the summer during monsoon season real torrents must be flowing through here. The undercut shown here, where the canyon makes a turn and the floods hit the wall head-on, is an illustration of the power of the water running through here.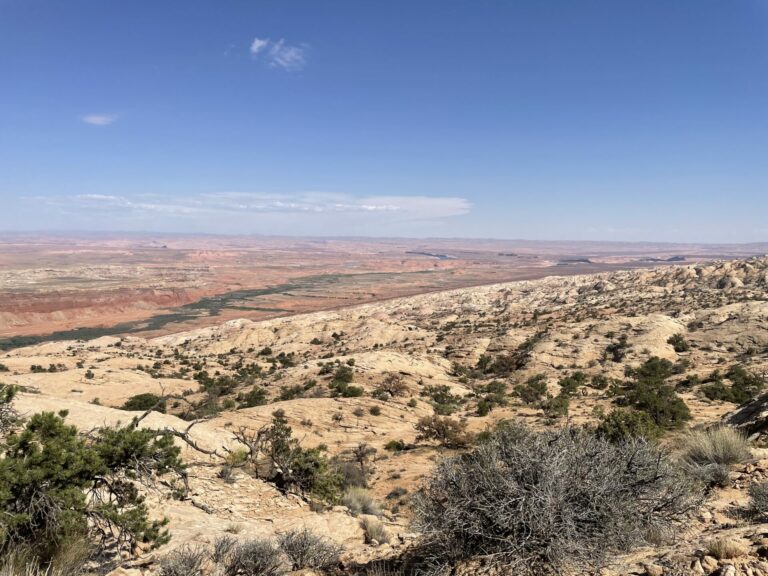 Glen Canyon National Recreation Area
I have left Capitol Reef NP in the direction of Lake Powell, have entered Glen Canyon National Recreation Area and have started to climb up the slick rock/sand slopes to the West. This is a look back into the Hall's Creek drainage that drains Grand Gulch and many, many side canyons into Lake Powell.
You will notice a green band starting in the middle of the picture at its left margin sloping up and to the right. This area used to be covered by Lake Powell, but has not been for many years and hence vegetation has moved in.
Slightly off-center to the right you see a short "hook" pointing left and "up". This is a small stretch of Lake Powell. This gives you an idea of how much the lake has been drained in excess of water input from snow melt and summer monsoons. A local told me that it would require on the order of 50 years of above-average snow fall for the water level to rise substantially.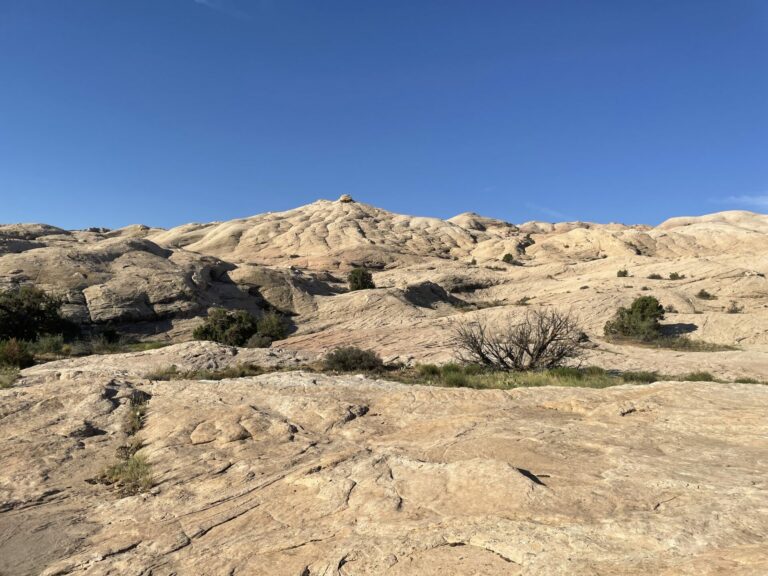 Glen Canyon National Recreation Area
After the look East, now a look West, upslope, as I ascend to the crest. It is a mixture of slickrock and sand that one walks across. There are hidden cliffs on this slope. It is a typical off-trail hike where you have to observe carefully and plan ahead on where you intend to go in five to ten minutes' time and how you will be connecting your present location to where you want to to be five minutes hence. This is so much fun!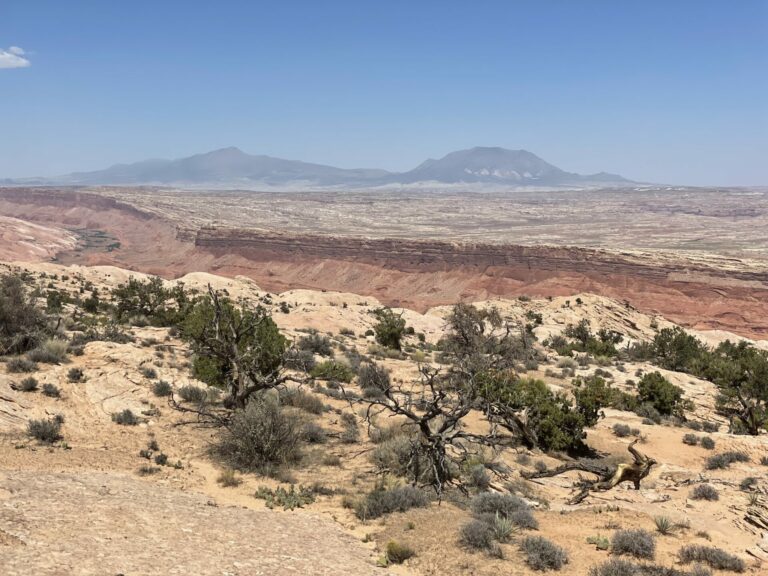 Glen Canyon National Recreation Area
Another look back from near the crest. On the horizon two massive mountain ranges, the Henry Mountains and Mt. Hillers and Mt. homes (I think). In the foreground on the left is the Hall's Creek drainage. You can see how the creek meanders down the drainage. Wherever you see green, that's where the water is running. The foliage is part cottonwoods of all sizes, but mostly invasives such as Russian olive and tamarisk, and reed, lots of reed. The vegetation is so thick that it is mostly impenetrable, but there is the occasional game trail that one can use to get out of the drainage onto the slopes away from the water.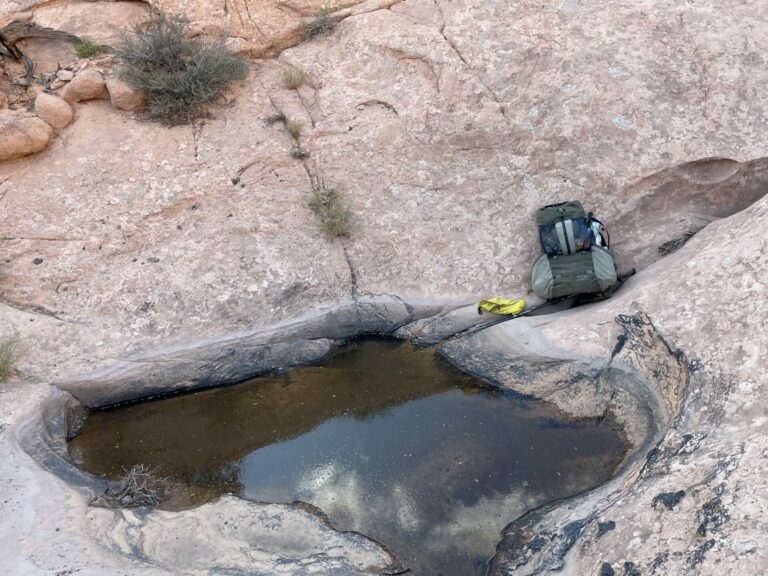 One of or the the greatest challenges of this hike is the supply of water or the lack thereof. As I said in the intro, I had turned around twice before for lack of water. As  you climb out of the Hall's Creek drainage and ascend the slick rock slope there is a kind of belt of potholes where the runoff from rain hitting the slick rock surface collects. As I reached this belt of potholes I still had enough water from Hall's creek and I did not fill up. Bad mistake! I assumed that there would be potholes higher up as well. Bad assumption based on absolutely nothing!
I reached the crest and was out of water. It was late afternoon and I had about an hour of daylight left. I was not worried, but I was not entirely comfortable with my situation is nice I did not know when I would be finding the first water on the west-facing slope. A thirty minute concentrated search yielded this pothole with cold, clear (for backcountry standards) water, so I had a pool party. I have been hiking in Utah for long enough now that I have an intuition as to where it pays to look for water and where it would be a waste of time. It used to take me a lot longer years ago.