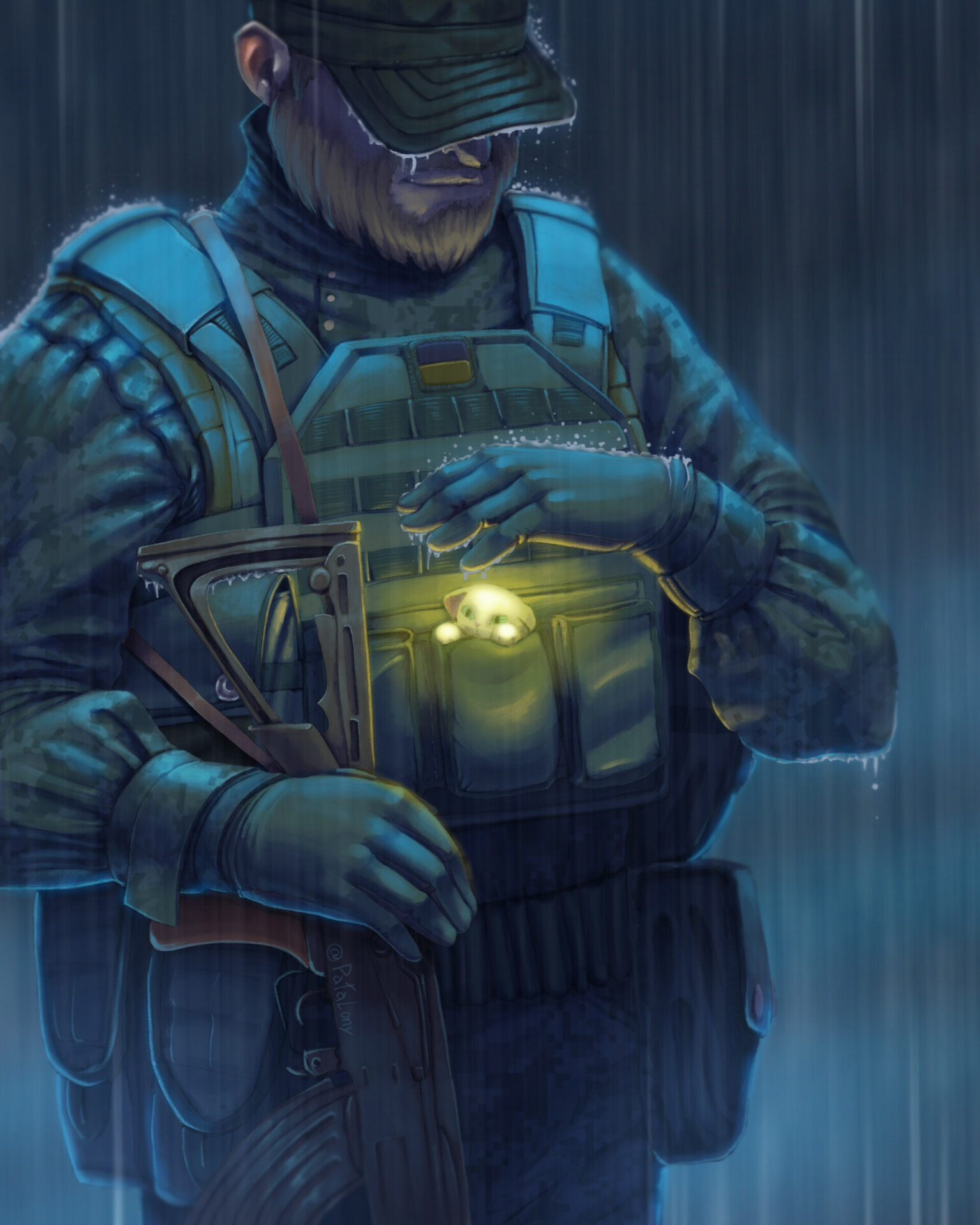 Here is President Zelenskyy's address from earlier today. Video below, English transcript after the jump:
Good night, dear Ukrainians!

It was a special day of a special week.

The nicest, the most symbolic thing is that today I had a privilege to honor with awards our heroes released from Russian captivity and members of our team – those who are working for the return of Ukrainians home.

Now I want to thank once again everyone who is doing this task. A total of 1,331 – so many have been already released during the full-scale war.

And we will not leave a single Ukrainian in Russian prisons, camps and "isolation." We remember everyone. The day will come – we will welcome them again free.

All this week, we worked at various levels in European capitals in order to gain a critical mass of support for the launch of a special tribunal – a tribunal on Russian aggression.

London, Paris, Berlin, Warsaw and other capitals… We are strengthening our position everywhere, accumulating the support of our partners. I am sure that there will be a tribunal, there will be justice.

We are moving quite actively with regard to another point of the Ukrainian peace formula – food security. We use every day so that the world sees and feels that global stability is possible only together with Ukraine.

Today, the third vessel within the framework of our initiative Grain from Ukraine entered the port of Odesa. 25,000 tonnes of humanitarian wheat will be sent to Somalia. The second vessel, which is finishing loading in the port of Chornomorsk, will be heading to Ethiopia with 30,000 tonnes of wheat on board. Also, the first vessel under this program – Grain from Ukraine – is heading to Ethiopia.

And in general, by the end of spring, we will send about 60 vessels with such humanitarian cargo. It literally saves millions of people from starvation. And I am grateful to all our partners who joined the Ukrainian initiative.

Another initiative of ours – grain export – made it possible to bring almost 13 million tonnes of Ukrainian foodstuffs to the food market. A significant contribution to world security. We are doing everything to increase the supply.

Today, I want to mention all those who are returning normal life to the liberated areas, in particular to Kherson region and the city of Kherson. These are people from different regions – everyone has united, responded to the call for relief… These are our energy workers, builders, communications workers, repair crews, businesses, local leaders, mine clearance specialists.

More than 200 explosive devices were found in just a few days this week. Demining continues.

In Kherson region, every week there is more mobile communication coverage, more electricity and gas supply, more transport opportunities. Every week more access to normal medicine, educational and social services. Today, the broadcast of the Ukrainian telethon Edyni Novyny also started in Kherson.

I thank everyone who, despite constant Russian shelling and various attempts by terrorists to make difficulties for us, is doing everything so that Ukrainians can live – live normally.

And one more.

These days we celebrate the 300th anniversary of the birth of Hryhorii Skovoroda – our philosopher, who taught happiness and self-knowledge, finding one's true self in this world.

Today, I visited Pereiaslav, Kyiv region. Places where Skovoroda lived and taught.

It would be funny if it weren't bitter that the occupiers are trying to steal this Ukrainian from Ukraine. They say something there, as if Skovoroda is theirs. But we know that they will not catch him. How it's impossible to catch, stop, break and capture Ukraine.

These days we have taken some steps to guarantee the spiritual independence of our people. I see that people support these steps. And I see very powerful support.

And that's not all. There will be more steps. Ukraine will never stop halfway again.

Glory to all who fight and work for our country!

I thank everyone who defends and helps our people!

Glory to Ukraine! 
Here is former NAVDEVGRU Squadron Leader Chuck Pfarrer's most recent assessments of the situation in Izium and Bakhmut:
IZIUM AXIS/2015 UTC 2 DEC/ UKR has advanced the Forward Edge of the Battle Area (FEBA) to a line conforming with the N-S axis of the P-66 HWY. Ukrainian maneuver elements have severed the P-66 HWY north of Kremenna- severing RU's Lines of Communication & Supply (LOCS). pic.twitter.com/mPv8uOJ0RX

— Chuck Pfarrer | Indications & Warnings | (@ChuckPfarrer) December 2, 2022
BAKHMUT/1530 UTC 2 DEC/ Heavily outnumbered UKR forces continue to resist a RU offensive against the city. UKR recon UAVs direct precision artillery strikes against a RU salient south of Ivanhard. pic.twitter.com/ypZnb4ARmf

— Chuck Pfarrer | Indications & Warnings | (@ChuckPfarrer) December 2, 2022
Bakhmutske is split into a rural Russian-held and an urban Ukrainian-held part.
Its defense is absolutely crucial for the defense of eastern #Soledar.
Ukrainian cyborgs, holding such locations, are the real heroes of this war. pic.twitter.com/3cM1JTLWdL

— Julian Röpcke🇺🇦 (@JulianRoepcke) December 2, 2022
Well this is a bit of good news:
The MiG-31K/I that can carry the Kinzhal missile are apparently leaving Belarus. https://t.co/HIfovn46KH

— Rob Lee (@RALee85) December 1, 2022
Tallyho!
Have a nice Friday, and we flew to do our work.

video: MilitaryAviationInUa pic.twitter.com/7V5DVbw0uX

— Ukrainian Air Force (@KpsZSU) December 2, 2022
If this is the same configuration of aircraft in the Combat Air Patrol (CAP) as in other, older videos, then that is a MiG-29 flying escort for a pair of Su-25 ground attack fighters.
It is becoming clear that a coordinated terror campaign is underway using packages and letters as weapons. The Financial Times has the details:
Ukraine's foreign ministry has spoken of a "well-planned campaign of terror and intimidation" after more than a dozen threatening packages, some containing explosive devices and animal parts, were sent to the country's foreign diplomatic missions.

The Ukrainian embassy in Madrid has been targeted twice in the past three days. A "bloodstained package" was sent to the mission on Friday, said foreign ministry spokesperson Oleg Nikolenko. Two days earlier a letter sent to the ambassador, Serhii Pohoreltsev, exploded in the hands of an embassy employee as he handled it. He suffered minor injuries.

Spanish government offices and the US embassy in Madrid also received similar items in recent days.

Nikolenko said earlier on Friday that after "the terrorist attack in Spain, sealed packages were delivered to the embassies in Hungary, the Netherlands, Poland, Croatia, Italy, Austria, the consulates general in Naples and Krakow, and the consulates in Brno".

"There are animal eyes in the packages. The packages themselves were soaked in a liquid the colour of blood and had a corresponding smell," he said. "We are studying the meaning of these messages."

Spanish police cordoned off the embassy on Friday for security reasons as they conducted investigations and searched the premises, the spokesperson added.

Spanish authorities said on Thursday that at least five other letters containing explosives were sent within the country, including to the offices of Prime Minister Pedro Sánchez, on November 24, the defence minister and the US embassy.

Spain's interior ministry said on Thursday that the letter addressed to Sánchez had been intercepted by the country's security services and was found to contain "pyrotechnic material". The Spanish authorities are investigating the shipments as a "terrorist offence" but have said nothing about suspected culprits.

Nikolenko said the entrance to Ukraine's diplomatic mission in the Vatican had also been vandalised, and the embassy in Kazakhstan had received a bomb threat.

The Ukrainian embassy in Washington received a letter with a photocopy of a critical article about Ukraine. "Like other envelopes, this letter arrived simultaneously with others from the territory of one European country," Nikolenko said without giving details.

"We have reason to believe that a well-planned campaign of terror and intimidation of Ukrainian embassies and consulates is taking place," said foreign minister Dmytro Kuleba.

"But it is possible to say right away that these attempts are useless. We will continue to work effectively for the victory of Ukraine."
Much more at the link!
The Wall Street Journal brings us new details in Russia's ongoing theft and trafficking of stolen Ukrainian grain:
Vessels linked to Russia's largest grain trader shipped thousands of tons of stolen Ukrainian grain to global buyers, using a sophisticated system of feeder vessels and floating cranes, according to an investigation by The Wall Street Journal.

The ships are linked either through their management or ownership to companies controlled by Russian businessman Peter Khodykin, who in turn owns RIF Trading House LLC, the country's largest grain exporter and a big player in global grain markets, according to corporate and legal documents reviewed by the Journal.

The Journal has previously reported widespread theft of grain and land in Russian-occupied Ukraine, including detailing an intricate system by which smugglers clandestinely trucked out large amounts of stolen grain from newly occupied farms in eastern Ukraine to Crimea, which Russia annexed in 2014.

The next step in the smuggling process: moving that stolen Ukrainian grain from Crimea to global buyers. A fleet of small vessels ferry smuggled grain, typically from the Crimean port of Sevastopol, to larger cargo ships waiting at sea, where they transfer their cargo with the help of crane-equipped vessels, according to the Journal's investigation. Those larger ships then set sail for far-flung ports.

Such at-sea transfers can hide the true provenance of the ships' cargoes, which buyers might shun if they suspected the grain came from Russia-occupied eastern Ukraine. The transfers allow big container ships, which can be easily recognized in port or from satellite imagery, to avoid calling at Sevastopol. Sometimes the stolen Ukrainian grain is mixed with Russian grain, to further disguise the cargo's origins.

"It's wheat laundering," said Yoruk Isik, head of the Istanbul-based Bosphorus Observer, an independent ship-tracking consulting firm. "They made it really hard to track."
Much more at the link!
And back to The Financial Times for details of how Russia has also out together a ghost fleet to evade sanctions on its oil exports:
Russia has quietly amassed a fleet of more than 100 ageing tankers to help circumvent western restrictions on Russian oil sales following its invasion of Ukraine, according to shipping brokers and analysts.

Shipping broker Braemar estimates Moscow, which relies heavily on foreign tankers to transport its crude, has added more than 100 ships this year, through direct or indirect purchases. Energy consultancy Rystad says Russia has added 103 tankers in 2022 through purchases and the reallocation of ships servicing Iran and Venezuela, two countries under western oil embargoes.

The Kremlin's push to assemble what the oil shipping industry calls Russia's "shadow fleet" is an attempt to overcome new international curbs on the country's oil. These include an EU ban on seaborne imports, which comes into force on Monday, and a new global price cap of $60 per barrel, which the bloc backed on Friday and is part of a broader G7 initiative.

Traders say the shadow fleet will reduce the impact of such measures, but will fall short of eliminating it.

The punitive EU and G7 measures are expected to cut Moscow off from a large part of the global tanker fleet because insurers such as Lloyd's of London will be barred from covering vessels carrying Russian oil — whatever their destination — unless it is sold under the price cap scheme.

But Russia has long said it will not deal with any country enforcing the ceiling, a stance that means it may refuse to supply oil under the conditions set by the west.

Instead it aims to use its new fleet to try to supply countries such as India, China and Turkey that have become bigger buyers of its oil as Europe has cut back.

The largely anonymous tanker purchases can be tracked by the big increase in unnamed or new buyers appearing in registries. The vessels are generally 12-15 years old and would be expected to be scrapped in the next few years, said Anoop Singh, head of tanker research at Braemar.

"These are buyers that we, as longstanding brokers, are not familiar with," Singh said. "We are confident that the majority of these vessels are destined for Russia."

In 2022, operators linked to Russia are suspected to have purchased as many as 29 supertankers — known as VLCCs, very large crude carriers — each capable of carrying more than 2mn barrels, Braemar told the International Energy Agency in a presentation last month. The country is likely to have also added 31 Suezmax-sized tankers capable of carrying about 1mn barrels each, and 49 Aframax tankers that can each haul about 700,000 barrels, it added.

Andrei Kostin, head of Russia's state-owned bank VTB, appeared to confirm the push in October by saying the country needed to spend "at least Rs1tn ($16.2bn)" for "the tanker fleet's expansion". Russian deputy prime minister Alexander Novak in March said the country would build up its "supply chains" in oil. The Kremlin did not respond to a request to comment on the tanker purchases on Friday.
Much more at the link!
Just a quick note before we finish: I am aware and have read the second part of The Kyiv Independent's reporting on problems in the International Legion. I'm also aware that Malcolm Nance then went on the warpath on his Twitter feed about The Kyiv Independent and then gave a video interview with Jay Smart of The Kyiv Post to push back on the former publication's reporting. I've watched the video and, amazingly, Nance actually raised new questions directly related to The Kyiv Independent's reporting. I'm not going to get into it tonight, but will try to get to it before the end of the weekend.  I will, however, just leave this here (h/t John Cole back in April):
Reporter: was that an airstrike?

Nance: yes–came from a ship

500 lb bomb
*smells air*
came from the southeast
fired from 173 degree azimuth
*tastes dirt*
by a guy named Greg
*squints*
wife just left him pic.twitter.com/l4i5A3b1Yv

— ₩₳Ɽ ₱₳₮Ⱨ (@WarPath2pt0) April 19, 2022
Kalibr cruise missiles are thousand pounders, not 500 lbs. The ones the Russians were firing at the Ukrainians are the subsonic land attack versions, not the hypersonic ship launched ones. And they're not shot at 30 second intervals. And there were four of them, not the predicted three. Also, and I cannot emphasize this enough: YOU CANNOT SMELL A CRUISE MISSILE COMING!!!!! Which is why the Ukrainians rely on air raid sirens!
That's enough for tonight.
Your daily Patron!
No new Patron tweet tonight, just a new video from his official TikTok:
The caption machine translates as:
We are not afraid of any blackout as long as the light lives inside us ❤️💡 #PatrontheDog
Open thread!