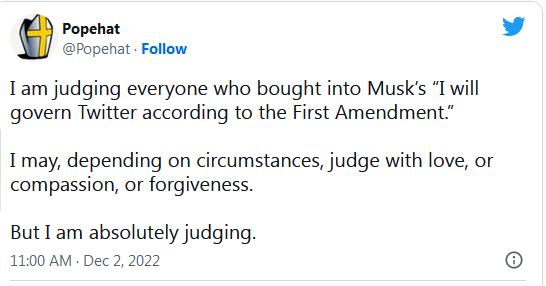 Y'all have only seen a small part of the loot I've collected recently on the Apartheid Princeling's latest shenanigans, so for those of you who are not twitter-readers, take my word: It's a WHOLE BUNCH of… stuff. A journey, of sorts:
So richly deserved: Now that Musk suspended Ye for sharing a swastika, Musk is getting slaughtered by his fans, who are finally realizing his "free speech absolutism" was always the scam we told you it would be: pic.twitter.com/aN4P3DaObX

— Greg Sargent (@ThePlumLineGS) December 2, 2022
Here is a fairly comprehensive narrative, if you want one:
Kanye 'Ye' West wasn't happy with just one controversy in 24 hours.https://t.co/cBDUo5hOZy

— The Daily Beast (@thedailybeast) December 2, 2022


Below is a photo of Ye during his Infowars appearance. As many people have said, when Alex Jones looks like the reasonable half of the interview…
The House Judiciary GOP Twitter account deleted a now infamous tweet that touted Kanye West, Elon Musk, and Donald Trump on Thursday afternoon after the rapper praised Adolf Hitler on "InfoWars." https://t.co/Jtv5plravS

— The Daily Beast (@thedailybeast) December 1, 2022
There's a running debate as to whether the former Kanye West, given that he has been open about his bipolar diagnosis, can be held personally responsible for his reprehensible statements. Even if you (not me!) accept that as a get-out-of-jail-free card, there is no such excuse for those — from the wingnut wurlitzer to the Republican Party — who are exploiting him for their own benefit.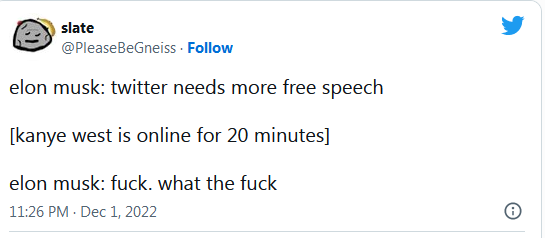 the usuals are having a real tough time finding out their fascist fantasyland is only 95% of what they dreamed it could be https://t.co/8Rhc7awVFS

— kilgore trout, death to putiner (@KT_So_It_Goes) December 2, 2022
Personally I think a better rule is "don't post swastikas on Twitter" but that would be too simple

— nilay patel (@reckless) December 2, 2022
Elon: Maybe grant the fanbois an avowed Nazi who isn't as well known to the Major Lamestream Media?…
Twitter has reinstated the account of Andrew Anglin, editor of the neo-Nazi website Daily Stormer. His account was suspended nearly a decade ago. pic.twitter.com/jd8fdCgPeV

— Shayan Sardarizadeh (@Shayan86) December 2, 2022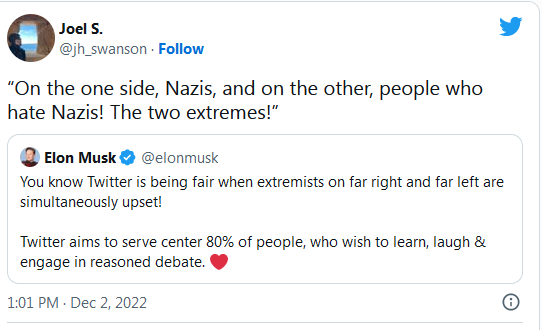 TIME FOR SOME SERIOUS DISTRACTION THEORY!
Earlier today, Matt Taibbi (now downgraded to appearing exclusively on SubStack, where he can make a very nice living telling The Real Truth Unfiltered By Mainstream Bias, just like so many other top-ranked formerly-mainstream journamalists) tweeted out that he would be breaking his 'exclusivity' to share a paradigm-breaking story from The Emperor of Twitter Himself, after which nothing would ever be the same: HUNTER BIDEN'S LAPTOP, SUPPRESSED!!!!
Apparently Taibbi had a little trouble figuring out the twitter interface — also his narrative was delayed 'for an hour or so' while, Musk tweeted, some last-minute fact-checking took place — but the Big Reveal seems to have been something of a wet shart.
Okay then. That's the big story.

Taibbi says, seemingly with access to all internal docs, the earlier big claim that the government had directly intervened ("stepping in") to suppress a story before the election has no evidence.

Also seems some nonconsensual nudity was removed. pic.twitter.com/2N5b6fBdiA

— zeynep tufekci (@zeynep) December 3, 2022
So far, the big scoop from Matt Taibbi and Elon Musk's Hunter Biden Files collaboration is that the Biden campaign asked the Twitter moderation team to remove some posts and accounts that featured Hunter Biden dick pics, which is basically a form of revenge pornography.

— steven ''italian elon musk'' monacelli (@stevanzetti) December 3, 2022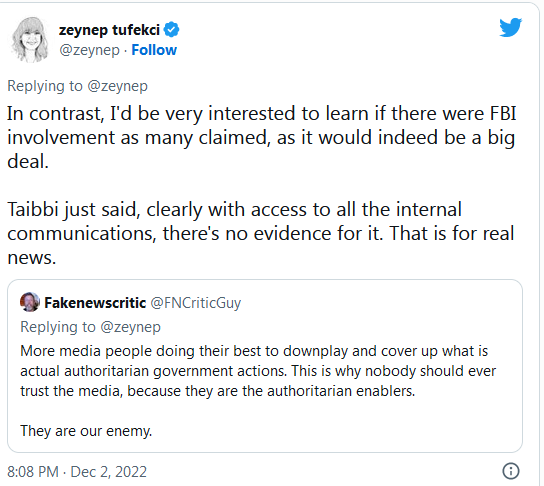 Like a lot of people, I was a Taibbi reader during his golden period, after he left Moscow and before he became… infatuated with a certain Independent Senator. It was clear, even then, that Taibbi's emulation of Hunter S. Thompson was going to end badly. I rank HST among my top twenty favorite writers, but even *he* couldn't avoid a predictably tragic ending…


Thing is… Matt Taibbi didn't have even a fraction of $44 billion worth of credibility to lose:
What Elon Musk's Twitter files have revealed so far is that content moderation at Twitter WAS being decided by a team of people with differing viewpoints.

Now it's being decided by the richest man on Earth with an axe to grind against one political party — a true scandal.

— Ben Collins (@oneunderscore__) December 3, 2022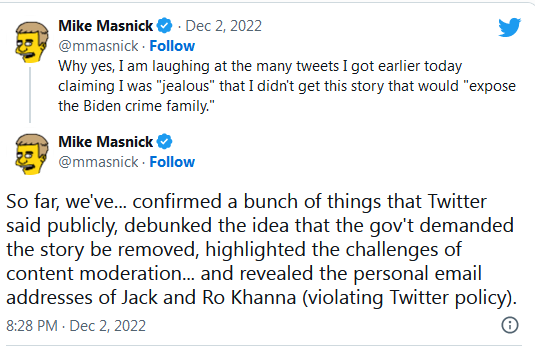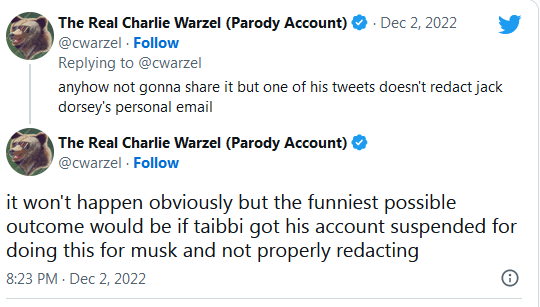 (Putin's) MISSION ACCOMPLISHED!
Because it doesn't matter. You insist it's a shocking bombshell exposé and the intended audience will dutifully act as though that's what it is. https://t.co/IqrW8fNtF0

— Julian Sanchez (@normative) December 3, 2022