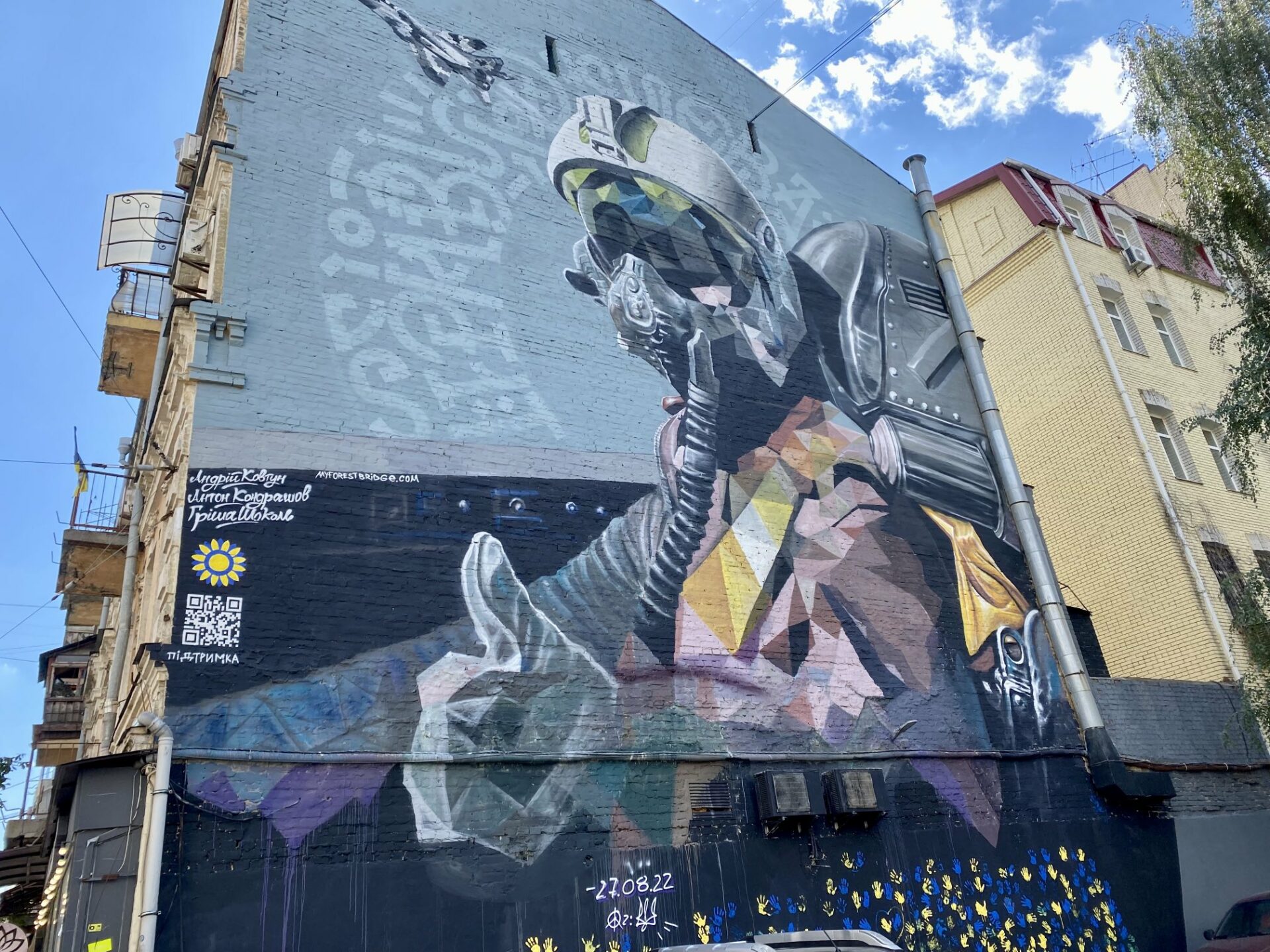 This morning, like yesterday morning, news began to trickle out that something had blowed up real good at a Russian airbase.
— Rob Lee (@RALee85) December 6, 2022
The Guardian has details:
A drone attack has set an oil storage tank on fire at an airfield in Kursk, the Russian region's governor has said, a day after Ukraine appeared to launch audacious drone attacks on two military airfields deep inside Russian territory.

Roman Starovoyt, the governor of the Kursk region bordering Ukraine, said on the Telegram messaging app there were no casualties from the attack and the fire was "localised".

Video footage posted on social media showed a large explosion lighting up the night sky followed by a substantial fire at the airfield 175 miles (280km) from the Ukrainian border. At daybreak a large column of black smoke was still visible above the site.
Much more at the link!
The Ukrainians have clearly decided, and rightly so, that they are going to prosecute legitimate Russian targets regardless of whether they're in Russian occupied Ukraine or Russia itself. And they've decided to do so despite the US. From The New Voice of Ukraine:"The United States secretly modified the advanced HIMARS rocket launchers it gave Ukraine so they can't be used to fire long-range missiles into Russia – a precaution the Biden administration says is necessary to reduce the risk of a wider war with Moscow," WSJ writes.

HIMARS, however, are also capable of launching ATACMS missiles, which can hit targets 300 kilometers away. U.S. Department of Defense modified Ukraine-bound HIMARS to lock them out of being able to launch ATACMS, officials told WSJ.
The full US statement about escalation risks. Blinken also does not offer any elaboration on the report that the US modified HIMARS systems send to Ukraine to restrict the scope of longer-range attacks pic.twitter.com/el6nMsVE3W

— Samuel Ramani (@SamRamani2) December 6, 2022
I expect that this is a software modification that is reversible. Regardless, the exceedingly low risk tolerance of the Biden administration's senior national security folks has now provided an information warfare and influence advantage to the Russians and the PRC. Whose proxies are all over social media talking about how unreliable an ally the US is. Promising X and then delivering it semi broken.
Here is President Zelenskyy's address from earlier today. Video below, English transcript after the jump:
Glory to Ukraine!

Gentlemen, generals, officers, sergeants, soldiers!

Fellow Ukrainians!

Dear attendees!

Today is the day of our gratitude. This is exactly the meaning of December 6 – and it is forever. Now, this is the only way our people will celebrate the Day of the Armed Forces of Ukraine – with words of gratitude, feelings of gratitude, tears of gratitude.

I am sure, millions of times today "thank you" was said or simply thought in Ukraine.

I am thankful to the warriors of our army and all formations of the defense forces of Ukraine.

I am thankful to the parents of our warriors who raised real winners. That's that – winners.

I am thankful to all the doctors and nurses who save the wounded heroes.

I am thankful to everyone who strengthens the defense and provides Ukrainian warriors with everything they need.

When the Day of the Armed Forces in a state is a holiday of gratitude, I am sure that such a state cannot be defeated and cannot be broken. And today we all see it for sure and have seen it again.

Dear attendees!

For 8 years and 286 days, the Armed Forces of Ukraine have been defending our beautiful state from the occupier, from Russian aggression. Thousands of Ukrainians gave their lives for the day to come when not a single occupier remains on our land and all our people are free again.

I ask you now to honor with a moment of silence the memory of everyone who died on the battlefield for the sake of our state, for the sake of Ukraine, and whose life became part of the heroic history of courage of Ukraine.

Fellow Ukrainians!

Today it is an honor for me to spend the whole day together with our defenders. In the morning, I was in the Donetsk region – I thanked the fighters who defend our state in the most dangerous and responsible directions. Those who are fighting in Svatove, Bakhmut, Avdiivka and other directions in the Donetsk and Luhansk regions. I presented state awards and decorations to the warriors.

I was in the Kharkiv region today – I thanked the doctors who save our indomitable fighters. In the Kharkiv region, I presented awards to the fighters who participated in the liberation of the region and who continue to expel the occupiers from Ukraine.

Today we managed to bring home another 60 warriors who were in Russian captivity. We will continue to return our people and free everyone.

Now here, in the Mariyinsky Palace, are our heroes, relatives of our warriors, commanders and representatives of combat brigades and units who have just arrived from the front and are returning to the frontline again. Where it's really hot. Where they really fight for our freedom, for our independence, for our children.

And I want to say to everyone present what is definitely in the heart of every Ukrainian today: I thank you! I thank absolutely all soldiers, all sailors, all sergeants, sergeant-majors, all officers, all heroes, generals and, of course, all your fathers and mothers, our dear, esteemed Ukrainian warriors.

I wish you all one thing – victory! To all of us. You deserve it! All our people deserve it. All our parents, our children deserve it. Our state and history deserve it. To finally gain victory.

Glory to the Armed Forces of Ukraine!

Glory to Ukraine!
It's Armed Forces Day in Ukraine today. President Zelensky goes all the way down to Slovyansk in Donetsk oblast to meet Ukrainian troops and wish them well on their day. In his full video address Zelensky calls UA military 'the strongest, the most powerful, the best'. pic.twitter.com/v2eBctd56b

— Myroslava Petsa (@myroslavapetsa) December 6, 2022
I congratulate our service members on Armed Forces Day! Hundreds of thousands of brave men and women are protecting our nation from genocide. It is an honor for me to work with you in this difficult hour of the largest war of the 21st century. A war we will win. pic.twitter.com/uftodOXxku

— Oleksii Reznikov (@oleksiireznikov) December 6, 2022
Here's former NAVDEVGRU Squadron Leader Chuck Pfarrer's most recent assessment of the situations in Izium and Bakhmut:
IZIUM AXIS/1945 UTC 6 DEC/ UKR forces have cut the H-26 HWY in the vicinity of Novoselivske. South of Svatove, FEBA conforms with the P-66 HWY, with UKR consolidating a lodgment N of Kremenna at the village of Chervonopopivka. pic.twitter.com/ILcUhwtbfG

— Chuck Pfarrer | Indications & Warnings | (@ChuckPfarrer) December 6, 2022
BAKHMUT/1330 UTC 6 DEC/ RU continues to press sacrificial platoon sized attacks. Lodgments across the M-03 HWY in the N suburbs, and a salient west of the rail line at Andriviika have proven particularly costly as the terrain is dominated by UKR artillery. pic.twitter.com/BQ40NVEVLR

— Chuck Pfarrer | Indications & Warnings | (@ChuckPfarrer) December 6, 2022
Germany and Poland appear to have some issues. From The Kyiv Independent:
Germany blocks Polish offer to place Patriot air defense systems in Ukraine
by The Kyiv Independent news desk
December 6, 2022 10:26 pm

Polish Defense MinisterMariusz Blaszczak said on Dec. 6 that he was disappointed by the decision, made after speaking with his German counterpart Christine Lambrecht, as "the deployment of Patriots in western Ukraine would increase the security of Poles and Ukrainians." He added that Poland would start working on stationing the German-provided air defense systems in Poland and integrating them into its command system.

After a missile struck the Polish village of Przewodow on Nov. 15, Lambrecht announced that Germany would deliver Patriot missile systems to Poland.

Blaszczak asked Germany to send the launchers to western Ukraine instead. The German government responded that such a decision would have to be approved by NATO.

Der Spiegel reported on Dec. 2 that Germany would supply Ukraine with seven additional Gepard anti-aircraft tanks to "take pressure off" the debate on Patriots.
Shashank Joshi of The Economist, which does not seem to use bylines, brings us a deep dive into the Russian offensive against Bakhmut:
Like many places in eastern Europe, Bakhmut bears the scars of history. In the 18th century Cossack rebels seized the town and held it for three years. In 1919 it was contested in the Russian civil war. In 1942 Nazis killed 3,000 Jews in Artyomovsk, as the town was then known. And it slipped briefly into the hands of separatists when Russia fomented a war in eastern Ukraine in 2014, before being recaptured. Now the latest struggle for Bakhmut is turning into one of the bloodiest battles of the current war.

Ukrainian offensives in Kharkiv in September and Kherson last month have put Russia on the defensive along vast front lines. The exception is Bakhmut, along with Avdiivka to the south. Virtually all of Russia's remaining offensive power—which is not much—has been thrown at the town since August. That was originally because it anchors the southern end of a defensive line shielding the bigger cities of Slovyansk and Kramatorsk. But the attacks now seem to be animated more by stubbornness than strategy. Even before the war, the town's population was not much over 70,000.

The offensive has been led by the Wagner Group, a mercenary outfit, and supported by air power, copious artillery and waves of hapless infantry, reinforced in recent weeks by troops withdrawn from Kherson and by newly mobilised men. The regular army fights during the day. Wagner units, better funded and equipped with the latest tanks, come out at night. Elite airborne forces have joined in. For all that, the front lines have hardly budged.

In early December Russia captured three villages (Kurdyumivka, Ozarianivka and Zelenopillya) to the south of Bakhmut, with the aim of severing its supply lines to the west. But attacks to the north towards Soledar have proved fruitless. Russian progress has also come at eye-watering cost. Ukrainian artillery, starved of ammunition in the summer but now replenished by the West, has pounded the Russian attackers. Rochan Consulting, a firm that monitors the war, says that the urban terrain and Ukraine's use of anti-tank squads has deterred Russia from employing tanks in the town, leaving infantry dangerously exposed.In many ways, the battle is a microcosm of the war and its politics. Bakhmut is not a strategic town. If Russia were to conquer it, it would not have the manpower to breach further lines of defence to the west. But Vladimir Putin, Russia's president, is desperate for his first victory in almost six months—the last one being Severodonetsk in late June—and happy to feed mobilised men into the meat grinder. Yevgeny Prigozhin, the ambitious head of Wagner, is thought to have promised Mr Putin that his forces can succeed where the regular army has failed. Mr Prigozhin's personal and political fortunes may hinge on his ability to deliver.
More at the link!
One of the great things about tracking and reporting on the Ukraine war is the country's somewhat baffling tendency to give identical names to towns in extremely close proximity. To confuse invaders? https://t.co/7cd5qncmhw

— Shashank Joshi (@shashj) December 6, 2022
What air defense doing:
Stay strong!
Stronger than steel! pic.twitter.com/Dvv6AnJXx0

— Defense of Ukraine (@DefenceU) December 6, 2022
That's enough for tonight.
Your daily Patron!
A new video from Patron's official TikTok! Wait for it… Wait for it…
The caption machine translates as:
Well, did you guess?☺️ #PatrontheDog #PatronDSNS
Open thread!