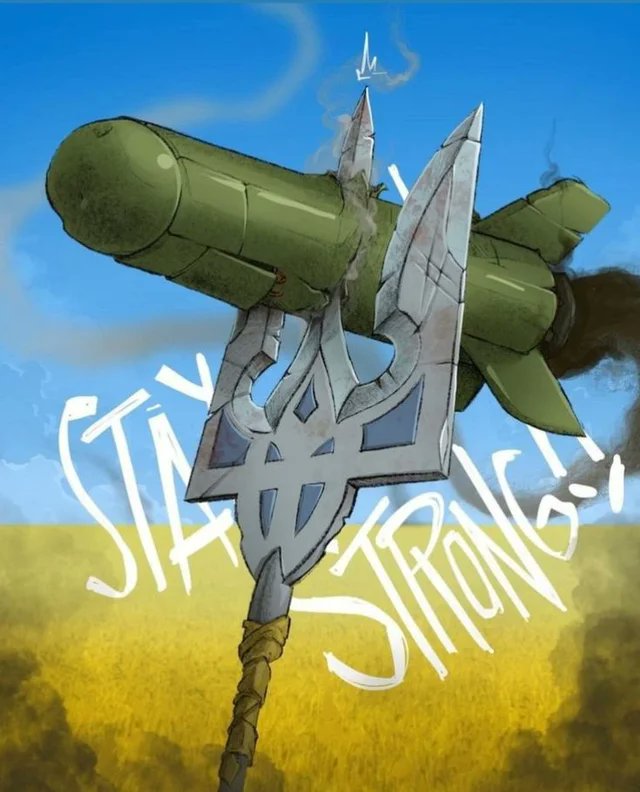 I have something I have to do tonight, so I'm going to keep these on the short side.
President Zelenskyy was selected as Time's person of the year. It was not without some small controversy:
I'd better suggest a Ukrainian soldier as the real person of the year 2022 pic.twitter.com/AR7lYjPEFX

— Illia Ponomarenko 🇺🇦 (@IAPonomarenko) December 7, 2022
Here's President Zelenskyy's address from earlier today. Video below, English transcript after the jump:
Good health to you, fellow Ukrainians!

Today was a long and hard day.

The Kherson region – four policemen died during stabilization measures… Russian mines.

Among the dead was Mykhailo Kuratchenko, chief of police of the Cherkasy region. He was helping colleagues in the south. EOD technician Ihor Melnyk. Dog trainer Serhiy Nenada. Assistant duty officer of the Uman district police department Vadym Perizhok. Doctors are currently saving the lives of four more policemen.

Police forces along with all the defense forces of our state are now on the frontline. And together with everyone they protect Ukrainians, together with everyone they suffer losses… My condolences.

The Donetsk region – today the Russian army carried out a very brutal, absolutely deliberate strike at Kurakhove. Precisely at civilians. At ordinary people. At the market, elevator, gas station, bus station, residential building. The list of the dead so far includes ten people, there are many wounded.

My condolences to relatives and friends… Eternal memory to all victims of Russian terror!

I've held a meeting of the Staff today. Commanders' reports, analysis of the situation in specific directions.

First of all, regarding the Donetsk region, Bakhmut districts and other hottest spots. A very fierce confrontation is ongoing there, every meter counts.

I thank all our guys who destroy the enemy right there – every day, every night, every hour.

Of course, due attention was paid to the Luhansk region and Kharkiv region at the Staff's meeting, there were reports on the situation in general and on the borders.

Energy sector is a permanent item on our agenda – both at the Staff and government levels.

I've also held a meeting on the stabilization of the energy system and the protection of our power plants.

We are constantly increasing the generation and supply of electricity – we are adding more volume almost every day. But we should not forget – and everyone should not forget – that it is now impossible to restore 100% of the energy system as it was before the beginning of the Russian energy terror. We need time. That is why shutdown schedules remain in most cities and districts.

As of this evening, the biggest number of shutdowns is in Kyiv and the region, Lviv region, Zhytomyr region, Khmelnytskyi region, Poltava region, Vinnytsia region and Zakarpattia. And I thank all our energy workers, repairmen, businesses, utility workers and local authorities who are doing everything they can to make things easier for people.

By the way, today is the Day of Local Self-Government. This is a holiday for all those who work with people directly and on whom almost everything in communities depends.

As in any government, in local self-government there are different people of different personal qualities and views. And today I thank all those who, at their level, really protect their communities. Who can be trusted and to whom people come for help. Who really takes care of the defense – within their responsibility – and who prepares everything so that his or her community can get through this winter more easily.

Thank you and congratulations on your professional day.

Today we have a very important result in France. The Supreme Court of France upheld the decision on recovery in favor of the Ukrainian Oschadbank from the aggressor state. The amount with accrued interest is almost 1.5 billion dollars.

This legal process has been dragging since 2015. More than six years of struggle, tens of thousands of pages of legal documents, many hopes and no less skepticism expressed by some… But there is this victory for Ukraine. Russia will be held to account for all stolen assets of the Ukrainian state and companies.

This is the first victory for a state-owned company in the legal cases against Russia concerning the seized property in Crimea, and I thank each and every one who secured this result.

Today, representatives of the Office and the government took part in a conference in America – a conference dedicated to the creation of a special tribunal for the crime of Russian aggression against Ukraine.

Similarly, not everyone in the world agrees now that this tribunal will work. But no matter what they say, we will do our part and will definitely achieve a result for Ukraine and Ukrainians.

We are already preparing for the events of the second half of the week – at the international level. There will be important decisions for our defense.

We do everything to make them stronger.

I am grateful to all partners of our country!

Glory to all who work for the victory!
Zelensky says Russian forces attacked Kurakhove. "A market, a bus station, gas stations, and residential buildings came under fire. At least six civilians were killed, five were wounded." The city's home to a large power plant and has been a gateway to Mariinka in Donetsk Oblast. pic.twitter.com/DoGGJW3zXY

— Christopher Miller (@ChristopherJM) December 7, 2022
Bakhmut:
Бахмут. 07.12.2022. Місто під щоденними постійними обстрілами. pic.twitter.com/9pGu7LGl2i

— Kostiantyn & Vlada Liberov (@Liberov) December 7, 2022
The caption translates as:
Bakhmut. 07.12.2022. The city is under constant daily shelling.
Putin made a televised address today.
Putin says 150,000 mobilized Russian soldiers are now in the "zone of operation" –in Ukraine. Of that number, half are involved in active combat, he says. pic.twitter.com/1W5UhENdKq

— Mike Eckel (@Mike_Eckel) December 7, 2022
Putin says Russia "has no need" to do a second wave of mobilization, despite fears the draft will come back after the new year. That's aimed at calming people: reluctance to fight and reports of horrible conditions for the draftees have sapped support for his invasion of Ukraine.

— max seddon (@maxseddon) December 7, 2022
Putin says Russia won't do a nuclear first strike and isn't planning to use tactical nukes. "We haven't gone crazy – we know full well what nuclear weapons are."

But: Russia "considers nuclear weapons as a means of defense." Fears of nuclear war are the fault of…Liz Truss!

— max seddon (@maxseddon) December 7, 2022
The War Zone's The Drive reports informed speculation that Russia may be out of Iranian Shaheed drones:
As of Tuesday, Iranian-made Shahed-136 drones had not appeared over the skies of Ukraine since the middle of last month and the reason is that Russia likely ran out of them, according to the Ukrainian Air Force.

"It's been three weeks" since Ukrainian air defense forces have seen "the loitering drones of the Shahed-type," Yuri Ignat, spokesman for the Ukrainian Air Force, said during a press conference Tuesday at the Ukrainian Media Center. "There are different thoughts and factors which indicate probably that the first shipment received by the occupiers is over [and] they ran out of them."

Russia initially ordered about 1,700 of the Shahed-136 drones, said Ignat, with only about 400 arriving in Russia so far. Of those, he said about 350 were shot down by Ukrainian air defense forces. Those that managed to make it to their targets caused tremendous damage and terrorized Ukrainian civilians.
Here's the video of the press conference with English subtitles.
Known Russian intelligence asset and Rudy Giuliani accomplice Andrii Derkach was indicted today:
"active russian agent"…when the indictment press release is really, really trying to speak https://t.co/K60abyHL5O

— Laura Rozen (@lrozen) December 7, 2022
Did Nabuleaks put out anti Hunter Biden stuff that correlates to that which was trafficked via the laptop story in 2020, and again, now?

— Laura Rozen (@lrozen) December 7, 2022
Here's the announcement of the indictment from the DOJ:
Department of Justice
U.S. Attorney's Office
Eastern District of New York
FOR IMMEDIATE RELEASE
Wednesday, December 7, 2022

Russian Intelligence Agent Charged with Fraud and Money Laundering in Connection with Purchase and Use of Luxury Beverly Hills Real Estate
Defendant Was Sanctioned in 2020 for Attempting to Interfere in the U.S. Presidential Election

A seven-count indictment was unsealed today in federal court in Brooklyn charging Andrii Derkach with conspiracy to violate the International Emergency Economic Powers Acts (IEEPA), bank fraud conspiracy, money laundering conspiracy and four counts of money laundering in connection with the purchase and maintenance of two condominiums in Beverly Hills, California. Derkach allegedly purchased the properties in violation of new U.S. sanctions imposed earlier this year and concealed his interest in the transactions. Derkach remains at large.

Breon Peace, United States Attorney for the Eastern District of New York, Michael J. Driscoll, Assistant Director-in-Charge, Federal Bureau of Investigation, New York Field Office, and Andrew Adams, Director of Task Force Kleptocapture announced the charges.

"The conduct of this Kremlin asset, who was sanctioned for trying to poison our democracy, has shown he is ready, willing, and capable of exploiting our banking system in order to advance his illicit goals. The U.S. will not be a safe haven where criminals, oligarchs or sanctioned entities can hide their ill-gotten gains or influence our elections," stated United States Attorney Peace. "This Office, together with our law enforcement partners, will use every tool available to prosecute those who evade sanctions and abuse the U.S. financial system, and we will identify, freeze and seize criminal proceeds whenever and wherever possible."

"Kremlin-backed Ukrainian politician and oligarch, Andrii Derkach, was sanctioned for his efforts to influence the 2020 U.S. Presidential election on behalf of the Russian Intelligence Services. While participating in a scripted Russian disinformation campaign seeking to undermine U.S. institutions, Derkach simultaneously conspired to fraudulently benefit from a Western lifestyle for himself and his family in the United States. The FBI will continue to use all the tools at its disposal to identify Russian intelligence operations, disrupt Russian information laundering networks, and bring to justice those who seek to engage in criminal conspiracies to undermine the integrity of U.S elections and evade U.S. sanctions," stated Assistant Director-in-Charge Driscoll.

"Attempting to enjoy the safety, security, and freedoms of an open society, while secretly working to undermine that very society, is a hypocrisy that runs through every sanctions charge announced by the Task Force. It is a particularly egregious hypocrisy in the case of Andrii Derkach – sanctioned for attempts to undermine American democracy, while corruptly seeking to benefit from its protections," said Task Force KleptoCapture Director Andrew C. Adams.

Since 1998, except for a hiatus from November 2006 to November 2007, Derkach was a member of the Verkhovna Rada (Rada), Ukraine's Parliament. During his time in the Rada, Derkach was a member of the Party of Regions, a pro-Russia political party, which was the ruling party in Ukraine from 2010 until the 2014 Ukrainian Euromaidan Revolution. On September 10, 2020 the United States Department of Treasury's Office of Foreign Asset Control (OFAC) sanctioned Derkach and several companies he controlled pursuant to Executive Order 13848, calling him "an active Russian agent for over a decade, maintaining close connections with the Russian Intelligence Services" who "waged a covert influence campaign" to undermine the 2020 U.S. presidential election.

As alleged in the indictment, beginning in 2013, Derkach and a co-conspirator devised a scheme to purchase and maintain two luxury condominiums in Beverly Hills while concealing his interest in the transactions from U.S. financial institutions. Specifically, Derkach used the services of a corporate nominee, a multi-tiered structure of California-based shell companies, and numerous U.S. bank and brokerage accounts. Using this framework, Derkach wired approximately $3.92 million to the nominee from overseas accounts in Latvia and Switzerland belonging to companies registered in the British Virgin Islands. The money was then used to pay $3.2 million in cash in the name of a corporate entity set up by the nominee, with Derkach having no visible affiliation with the purchase. The remaining $800,000 was invested in a brokerage account maintained by the nominee for Derkach's benefit and used to pay expenses on the condominiums, including taxes, homeowners' fees, and utilities. Because Derkach had fraudulently obscured details about his identity and involvement from the financial institutions holding the aforementioned bank and brokerage accounts, he prevented those financial institutions from moving funds into blocked accounts, and instead caused those financial institutions to engage in transactions involving blocked funds and transactions for the benefit of the condominiums, which were blocked property pursuant to the sanctions.

A parallel civil forfeiture action has been initiated to seize the condominiums and the remaining funds in the U.S. brokerage and bank accounts that Derkach controls.

If convicted, Derkach faces a maximum of 30 years' imprisonment. The charges in the indictment are allegations, and the defendant is presumed innocent unless and until proven guilty.

The government's case is being handled by the Office's National Security and Cybercrime Section. Assistant United States Attorneys Artie McConnell and Jonathan E. Algor are in charge of the prosecution, with assistance from Trial Attorney Adam Small of the National Security Division's Counterintelligence and Export Control Section and Litigation Analyst Ben Richmond. Assistant United States Attorney Madeline O'Connor of the Office's Asset Recovery Section is handling forfeiture matters.

The investigation was coordinated through the Justice Department's Task Force KleptoCapture, an interagency law enforcement task force dedicated to enforcing the sweeping sanctions, export controls, and economic countermeasures that the United States, along with its foreign allies and partners, has imposed in response to Russia's unprovoked military invasion of Ukraine. Announced by Attorney General Merrick Garland on March 2, 2022 under the leadership of the Office of the Deputy Attorney General, the task force will continue to leverage all of the Department's tools and authorities to combat efforts to evade or undermine the collective actions taken by the U.S. government in response to Russian military aggression.

The Defendant:

ANDRII DERKACH
Age: 55
Dnipropetrovsk, Ukraine

E.D.N.Y. Docket No.: 22-Cr-432 (DLI)
There are links to the indictment and the civil complaint at the link above.
I will remind everyone that it was Derkach that provided Giuliani with the hacked material from Hunter Biden's Apple products. It was most likely his iPhone and the hack was most likely done with NSO Group's spyware.
— Laura Rozen (@lrozen) December 7, 2022
Laura Rozen also brings us remarks from NSC Spokesperson John Kirby:
missiles: that we know there's been some interest in that, but we cannot say at this point that we've seen the transfer of Iranian ballistic missiles. We have seen continued provision of Iranian drones from Iran to Russia..You can see those drones continuing to hit civilian

— Laura Rozen (@lrozen) December 7, 2022
targets & kill innocent Ukrainians nearly every day. So we know that they're involved in the efforts that Mr. Putin has been expending lately to try to bring the Ukrainian people to their knees with respect to power and water and other resources.

This is just another example of the degree to which Iran is directly assisting Russia's desire to brutalize, quite frankly, to brutalize the Ukrainian people.

Kirby: afraid I don't have accurate inventory data for you for how many more drones or cruise missiles that the Russians have available to them. Clearly, by reaching out to Iran, they're trying to supplement shortages that they have, specifically with UAVs.

Kirby: We know that their [Russian] defense industrial base is being taxed by trying to keep up with the mere pace at which Mr. Putin's military is firing cruise missiles into into Ukraine…We know that he's having trouble replenishing specifically precision guided munitions

… "We know that Mr. Putin is struggling again to keep up with the pace that he and his military are demonstrating in Ukraine…That's why he's reaching out to Iran. For obviously the continued provision of drones, but even the potential provision of ballistic missiles…

"All of those are strong indicators that he's got…not only inventory problems, but replenishment problems as well."
Finally, the Germans began rolling up a massive neo-NAZI, neo-Fascist, anti-democratic extremist network today. The best backgrounder on the network is this English language reporting from Der Spiegel from 2020. It is a deep dive, long form report by German journalists who know the human geography they are covering. It is long, but well worth the read.
You can't spend all of your time preparing for the apocalypse. Sometimes, as was the case on the first Monday in August, the lawn needs to be mowed.

That lawn was in front of a brick home outside northern German city of Schwerin. A bumper sticker on the mobile home in the driveway read: "God bless our troops, especially our snipers."

At first, the man pushing the mower – dressed in olive-green pants and a camouflage baseball cap – showed no interest in talking. But he ultimately turned off the mower, came over to the fence and discussed natural catastrophes, power outages and other emergencies Germans should be preparing for. With the country phasing out nuclear and coal energy, Marko G. said, the country's energy supply is in danger and a huge blackout may occur. As a patriot, he explained, he is prepared to defend his homeland, no matter what the crisis, "and I will risk my life to do so."

In the group Marko G. founded five years ago – called Nordkreuz, or Northern Cross – his intentions didn't always sound that honorable. He sent one of his comrades an image, for example, showing soldiers pointing their weapons at a man lying on the ground, captioned, "Asylum application rejected." On Adolf Hitler's birthday, he shared a photo of the dictator with the words: "Happy birthday." He referred to German Foreign Minister Heiko Maas as "scum."

Nordkreuz once counted around 40 members, preppers getting ready for "Day X," a mythical moment when all public order breaks down. The group remains active today, Marko G. says.

When police launched a criminal investigation against Marko G., they found an Uzi submachine gun in his possession along with a silencer and 40,000 rounds of ammunition. State prosecutors charged him with violations of the War Weapons Control Act – marking a man who had once sworn an oath to protect the German constitution as a possible danger to the state.

Marko G. served as a soldier in the German armed forces, the Bundeswehr, for eight years. He then spent 20 years in the police force. He was a sniper and a member of the Special Deployment Commando (SEK) belonging to the state criminal police office of Mecklenburg-Western Pomerania.

Today, he is a free man, having been handed a suspended sentence for his weapons possession charge. The regional court in Schwerin ruled that it was "a one-time lapse – if extensive in both time and substance." Prosecutors appealed the ruling and Marko G. was suspended by the police. "Everyone does stupid shit at some point," he says, and insists that he is not a right-wing extremist.

Beyond Isolated Incidents
A one-time lapse? An isolated case? Politicians have used such arguments for decades to play down right-wing activity in the police and Bundeswehr out of concern that the large majority of upstanding soldiers and police officers might suddenly be viewed with suspicion.

But it has become difficult to ignore that the number of isolated cases is growing, or at least that this is the impression among the public. More and more right-wing extremist incidents are becoming widely known, in particular within the elite Special Forces Command (KSK). In Frankfurt, meanwhile, officials have been trying for two years to determine which public servant passed along sensitive addresses from the police computer – addresses that later received horrifying threats signed with "NSU 2.0", a reference to the National Socialist Underground, the neo-Nazi terror cell responsible for a series of racist-motivated murders between 2000 and 2006.

DER SPIEGEL research found that German states and the federal police force have recorded at least 400 suspected incidents of right-wing extremist, racist or anti-Semitic activity in recent years among police officers or trainees. It is, on the one hand, not a large number. But any member of the public service who does not firmly believe in the German constitution is a problem.

German Interior Minister Horst Seehofer has demonstratively thrown his support behind the police in recent weeks. "Our security agencies are a jewel," he said in late July in comments to the Munich newspaper Münchner Merkur. The statement followed weeks of debate in Germany over racism in the country's police force, a discussion triggered by the Black Lives Matter protests that had spilled over from the U.S. Seehofer decided that it was unnecessary to carry out a study on how often police officers stopped Black citizens for no reason. "The officers have my absolute support," he said.

Yet even Seehofer, from the conservative Bavarian party Christian Social Union (CSU), appears to realize that simple expressions of loyalty are no longer sufficient. In February, following an attack in Hanau in which a right-wing terrorist shot up two shisha bars, killing nine and wounding five, Seehofer called right-wing extremism "the greatest threat facing our country." Last year, he asked the Federal Office for the Protection of the Constitution, Germany's domestic intelligence agency, to investigate right-wing activities among civil servants. The initial focus was on security agencies, with results expected following the summer break.

Defense Minister Annegret Kramp-Karrenbauer — of the Christian Democrats (CDU), the CSU's sister party — also told parliamentarians in June that she will "not tolerate right-wing extremism or any other form of extremism in the Bundeswehr." Following several right-wing incidents in the KSK, the minister summarily disbanded the unit's 2nd Company.

Nightmare Scenario
There have simply been too many disturbing reports in recent months from Germany's security apparatus. It has led to growing concerns that the incidents that have been publicized may just be the tip of the iceberg. Stephan Kramer, president of the State Office for the Protection of the Constitution in Thuringia, is one of those harboring such concerns. "When special forces units in the military and police call the state into question and perhaps even establish right-wing networks, that should make us extremely worried," he says.

An attack on the state perpetrated by those trained to defend it – security personnel trained in the use of weapons – would be a nightmare scenario for Germany.

In a confidential report, an expert commission later pieced together that Marko G., the former SEK member from Mecklenburg-Western Pomerania, began drawing concern many years ago. Other police officers were put off by the slogans uttered by Marko G. during a training event just east of Schwerin in 2009. A memo to his commander noted that he was conspicuously interested in National Socialism and especially in the SS, "without exhibiting the necessary distance." But the memo went nowhere.

Marko G.'s fondness for the Nazis apparently didn't bother anyone in his SEK unit, which was primarily made up of former elite soldiers from the Bundeswehr. According to the special investigators, there was "little knowledge and sensitivity" in the unit for statements and symbols from the right-wing extremist scene. They found that this led to the development of problematic "subcultural tendencies."

Marko G. set up a chat group for the Nordkreuz prepper group in January 2016 that quickly began attracting others with radical beliefs. In testimony provided to the Federal Criminal Police Office, one witness said that two members of the group, a lawyer and a criminal investigator, discussed "collecting and killing" left-wing supporters of refugees on "Day X."

Lists of enemies, including the names and addresses of regional politicians, were also discovered. The German Federal Public Prosecutor has initiated a terrorism investigation into the lawyer and criminal investigator, but it has not yet been completed.
Much, much, much more at the link!
I think that's enough for tonight.
Your daily Patron!
A new video from Patron's official TikTok!
The caption machine translates as:
Eh, sad…😒 #PatrontheDog #PatronDSNS
Open thread!