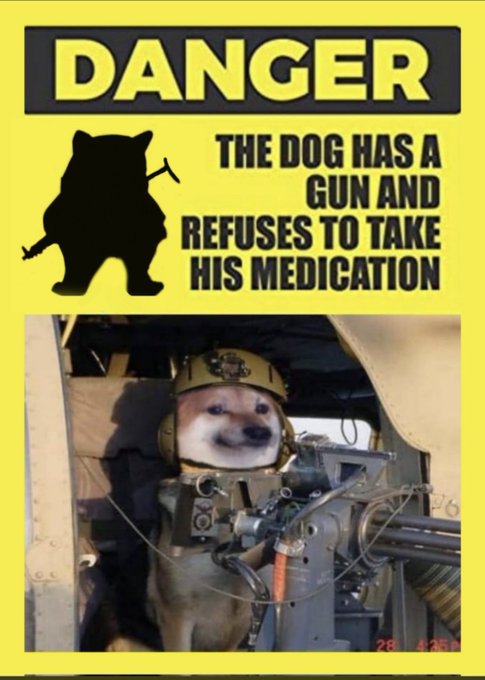 Putin had a bit too much champagne earlier today:
Drunk putin explains why strikes against Ukrainian infrastructure will continue because "they started first by attacking the Crimean bridge" pic.twitter.com/fQeRuNo4Pu

— Dmitri (@wartranslated) December 8, 2022
Who could've possibly predicted that this was Putin's thinking and motivation? Eez a puzzlement!
Before we go further I just want to make two quick points regarding the exchange that has brought Brittney Griner home. First, given the churlish and vile responses to the news from the usual suspects it is important to remember that Bout's life is going to be significantly less safe than it was in the SuperMax in the US. Bout's arms deals made a lot of enemies. There are a lot of states and non-state actors, both groups and individuals, that want him dead. I expect that sooner or later, and I reckon it'll be sooner, he's going to fall out a window or get beat up by his sink, bathtub, and/or toilet or somehow shoot and/or stab himself in the back multiple times. Or all of the above! Moreover, he really can't just pick up the arms business where he left off. Both because it has changed since we scarfed him up, tried him, and put him away and because he's going to be watched by our and our allies' and partners' intelligence services. Additionally, by returning him, US taxpayers are no longer paying to house, feed, clothe, and provide him with medical care. The administration will continue to work quietly and diligently to get Paul Whelan home. But exchanging Bout for Griner isn't the catastrophe that the usual suspects are making it out to be.
Second, here's the real reason that Paul Whelan is still in a Russian prison:
The Griner trade obviously had a huge mismatch in "value", but this trade would dwarf even that.

— Aric Toler (@AricToler) December 8, 2022
And even if President Biden was willing to exchange Krasikov for Whelan, it isn't his call to make. He's got to get the German's to agree to do it as a favor to us/for us.
Here is a much more sober President Zelenskyy's address from earlier today. Video below, English transcript after the jump.
Fellow Ukrainians!

I have just signed the decrees on awarding posthumously the policemen whose lives were taken yesterday in the Kherson region by Russian mines.

The title of Hero of Ukraine was awarded to police colonel Mykhailo Kuratchenko. Orders "For Courage" – to police captains Ihor Melnyk and Serhiy Nenada and police corporal Vadym Perizhko.

Once again, my condolences…

They did everything for the safety of Ukrainians. Already returning after completing one of the tasks, when they removed weapons and ammunition from the cache of the occupiers, many of which were left in the Kherson region, the policemen stumbled upon a mine trap.

And this is the form of Russian terror that will have to be countered for years to come. Terrorists deliberately try to leave behind as many death traps as possible. Buried landmines, tripwire mines, mined buildings, cars and infrastructure… This is more than 170 thousand square kilometers of dangerous territory.

I am sure: this will be among the charges against Russia for aggression – precisely mine terror. Which is even more cruel and meaner than a missile one, because there is no anti-mine system that could destroy at least part of the threat, as our air defense does.

I am grateful to all our partners who help Ukraine with demining. Canada, Japan, Great Britain, Slovakia, ambassadors and donors of United24 and many others who understand how important it is that Ukraine is not left alone with the problem of the territory mined by the occupiers.

I met today with representatives of Slovakia, the government delegation – ministers of foreign affairs, defense and economy. We discussed the existing cooperation between our states both at the bilateral level and in the structures of the European Union. We agreed on new solutions for the sake of our common security and political interests.

We are actively working to support and strengthen the next sanctions against Russia – by European, American and other partners. The issue of the ninth EU sanctions package is currently in progress.

We are also waiting for other decisions, in particular, regarding schemes for circumventing anti-war sanctions, including financial and energy ones.

We are preparing several important events – for tomorrow and next week. Protecting and restoring the rights of our people, rebuilding Ukraine are constant priorities. The next week will be quite important for Ukraine in terms of these two tasks.

I thank all those who fight for freedom!

I thank everyone who strengthens our state and helps our people!

Eternal memory to everyone who gave their lives for Ukraine!

Glory to Ukraine!
Speaking of Hero of Ukraine awardees:
Major Vadym Voroshylov, call sign Karaya, shot down 2 missiles and 5 drones during a ruscist attack on Vinnytsia. A photo of his bloodied face went viral. On December 5, President @ZelenskyyUa signed a decree awarding him the title of Hero of Ukraine, Order of the Gold Star. pic.twitter.com/b0iH9QXw4N

— Defense of Ukraine (@DefenceU) December 8, 2022
CONTEXT: Zelensky has issued a decree granting fighter pilot Vadym "Karaya" Voroshylov the Hero of Ukraine title

— Illia Ponomarenko 🇺🇦 (@IAPonomarenko) December 8, 2022
Lord, guard and guide the men who fly
Through the great spaces in the sky.
Be with them always in the air,
In darkening storms or sunlight fair;
Oh, hear us when we lift our prayer,
For those in peril in the air!
Mary C. D. Hamilton (1915)
Loading… pic.twitter.com/4tusnZ8iG7

— Defense of Ukraine (@DefenceU) December 8, 2022
Here is former NAVDEVGRU Squadron Leader Chuck Pfarrer's most recent assessments of the situations in Kremenna and Bakhmut:
KREMENNA/0230 UTC 8 DEC/ UKR is exploiting the interdiction of the P-66 HWY between Ploschanka and Chervonopopivka. Tactical pressure is being exerted on Kremenna in the north, at Zhytiivika, and south of of the urban area at Shypylivka. pic.twitter.com/YjHccdrwKY

— Chuck Pfarrer | Indications & Warnings | (@ChuckPfarrer) December 8, 2022
BAKHMUT AXIS/1400 UTC 8 DEC/ Heavy fighting continues as RU presses platoon & company sized assaults on the line of contact. Reports indicate that a Russian assault south of the H-32 HWY has reached the embankment of a retention pond on the Bakhmutka River north-east of Ivangrad. pic.twitter.com/0S4QWFpLbQ

— Chuck Pfarrer | Indications & Warnings | (@ChuckPfarrer) December 8, 2022
As we accurately identified here back in February:
PRESS RELEASE: #Belgium files a declaration of intervention under Article 63 of the #ICJ Statute in the case concerning Allegations of Genocide under the Convention on the Prevention and Punishment of the Crime of Genocide (#Ukraine v. #Russia) https://t.co/hsxVBaZRBn pic.twitter.com/McmK39bOfL

— CIJ_ICJ (@CIJ_ICJ) December 7, 2022
Recall that Biden used "genocide" to describe Russia's actions in Ukraine in April. He said then: "I called it genocide because it's become clearer and clearer that Putin is just trying to wipe out even the idea of being Ukrainian. The evidence is mounting." https://t.co/fFlUDbaOgI

— Christopher Miller (@ChristopherJM) December 7, 2022
The Starlink Snowflake strikes again:
Both twitter and meta have decided to severely restrict Ukraine related content now

The reach of the @saintjavelin account on twitter has dropped by 50% and @Meta just deleted Saint Javelin from Instagram https://t.co/A2p0xtl9R4

— Christian Borys (@ItsBorys) December 8, 2022
Here's a couple of things for you mapping/geospatial enthusiasts:
The lines can be seen on our map here: https://t.co/oe6rzBBXEV by clicking the "Russian defensive lines" folder visible.

We didn't think and didn't colour code dragon's teeth, AT ditches or trenches from each other. We'll get it done in the future once we have the time!

— John Helin (@J_JHelin) December 8, 2022
In coordination with @bellingcat, @GeoConfirmed, and the wider open source community, CIR launched the Eyes on Russia project in January 2022 to collect and verify photos, satellite imagery, videos, and other media related to the Putin regime's invasion of Ukraine. 2/8

— C4ADS (@C4ADS) December 8, 2022
Consider the Bakhmut hospital, in the Donetsk region. Through the Eyes on Russia Map, we can see just how badly this medical building had been damaged, supporting efforts to collect evidence of Russia's targeting of civilian infrastructure. 4/8 pic.twitter.com/sc3S80rqI0

— C4ADS (@C4ADS) December 8, 2022
C4ADS & CIR produced this map to allow anyone to easily filter, sort, and track the real-world impact of Russia's military adventurism on the Ukrainian people. It offers unprecedented insight into the ways this war affects those living in conflict zones, even across distance. 6/8

— C4ADS (@C4ADS) December 8, 2022
The Eyes on Russia Map sets a new standard for open source reporting, helping global stakeholders better understand the consequences of the Putin regime's aggression and make informed decisions to counter them. 8/8

More 👇https://t.co/GcGwtXMwgI pic.twitter.com/jjEU4Ie0Z5

— C4ADS (@C4ADS) December 8, 2022
While hope is not a strategy, where there's life, there's hope:
These are the conditions in which children are born in Kyiv: with lots of love and sandbags in the windows to protect them from the evil from the east.

📷Getty Images pic.twitter.com/YaXIuhGHHp

— Defense of Ukraine (@DefenceU) December 8, 2022
That's enough for tonight.
Your daily Patron.
There's still no new tweets from Patron, but here's a clandestine Ukrainian cat with its own personal security detail to tide you over:
Not Ukraine's Security Service protecting identity of a cat 😁😂 pic.twitter.com/sxotkNXGmN

— Kateryna_Kruk (@Kateryna_Kruk) December 8, 2022
And a new video from Patron's official TikTok:
The caption machine translates as:
I don't even know who is luckier😌 #PatrontheDog
Open thread!