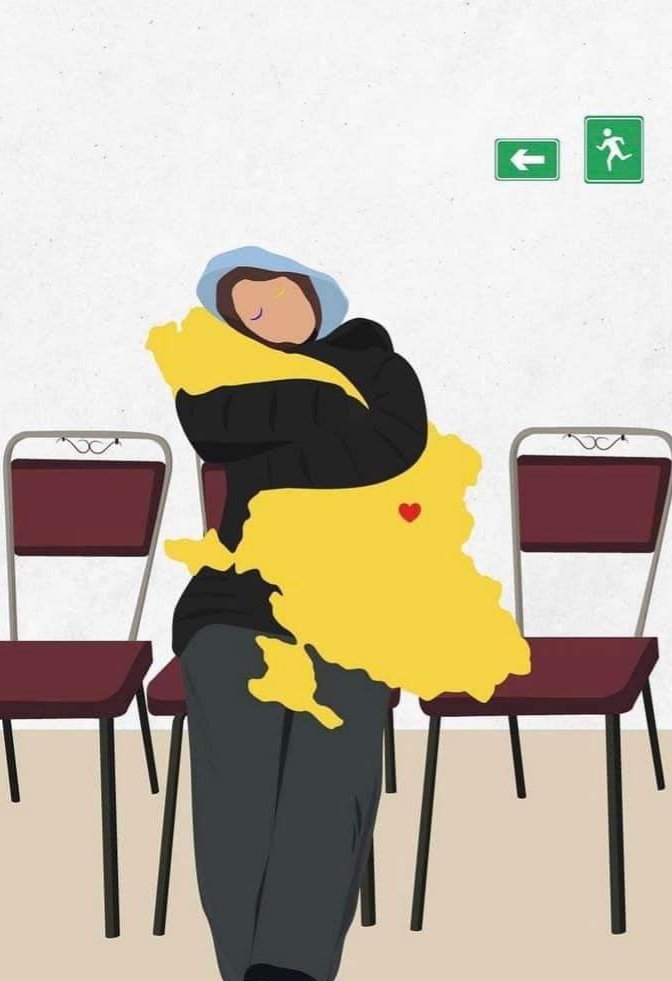 This is what it is all about:
A childhood crippled by the war.
Kalinouski's soldiers were driving through Bakhmut, and saw a boy. Stopped, talked, bought sweets, which he took for himself and gave to the local children. No child should go through the horrors of war. We just have to help stop war in Ukraine! pic.twitter.com/lv5Le7eZXc

— Kastus Kalinouski Regiment (@belwarriors) December 8, 2022
Here is President Zelenskyy's address from earlier today. Video below, English transcript after the jump:
Dear Ukrainians, I wish you health!

I had an important conversation with British Prime Minister Rishi Sunak today. We coordinated our positions ahead of the summit next week. In fact, this will be the final G7 summit this year, and it will determine the priorities for the next year. We are preparing as many as possible solutions that our countries need – for Ukraine and for the G7 states.

I also thanked Mr. Prime Minister and the entire United Kingdom for the constant support of our state. They discussed the situation on the front line and winter prospects on the battlefield.

The front-line situation remains very difficult in the key areas of Donbas – Bakhmut, Soledar, Maryinka, Kreminna… For a long time, there is no living place left on the land of these areas that has not been damaged by shells and fire. The occupiers actually destroyed Bakhmut, another Donbas city that the Russian army turned into burnt ruins.

I thank all our heroes, all soldiers and commanders who hold the front in these directions, repulse attacks and inflict significant losses on the enemy in response to the hell that entered Ukraine under the Russian flag.

Today, a conference was held in Kyiv, which continued the line of events in our country and in Europe that took place this week and last week, during which we work out solutions for the sake of justice, for the sake of holding Russia accountable, and for the sake of finding formats for the release of our people, who are held captive by the occupiers.

We feel support from both states and international organizations and human rights institutions. We hope to be able to announce specific details in the near future.

By the way, the results of the visit of the First Lady of Ukraine to London and her speech in the British Parliament were discussed with the British Prime Minister. On behalf of our country, Olena proposed that the United Kingdom shows leadership in the issue of justice – in the creation of a special tribunal to try the crime of Russian aggression. This is one of the points of the Ukrainian peace formula, and it is very important for me to see now in international communication that global leaders have really heard Ukrainian peace proposals.

Let me remind you that the peace formula consists of ten points – from nuclear security to the restoration of the territorial integrity of our state, from energy security to the return of all prisoners of war and deportees held on the territory of Russia. This is now one of the key tasks for our state – to involve the world in concrete implementation of the points of the peace formula. We must return the Ukrainian flag to all cities and communities of Ukraine, we must ensure the real responsibility of the terrorist state for this war, and we must guarantee the safety of all generations of Ukrainians after the end of this war.

Every day of the heroic resistance of our Defense Forces and all our people brings closer the day when the entire Ukraine will finally experience victory, victory and peace. Real, reliable.

Today, I presented the Ukrainian vision of steps towards peace at the TRT World Forum in Istanbul. There I focused on food security – on Ukrainian initiatives that add global weight to our state. This is the grain export initiative and the Grain from Ukraine initiative.

Using these transparent and useful examples for our people, for the Black Sea region and for the entire global community, we show that it is quite possible to restore security. The main thing is determination. I am sure that Mr. President Erdoğan, who was at the forum, heard our position.

We are already preparing for a very important next week – there will be important international events. I held relevant meetings today. I believe: there will be powerful decisions for our country.

Glory to everyone who fights for Ukraine!

Thanks to everyone who works for our people!

Eternal memory to all those who gave their lives for independence!

Glory to Ukraine!
Here is former NAVDEVGRU Squadron Leader Chuck Pfarrer's most recent assessment of the situation in Izium:
IZIUM AXIS/ 2100 UTC 9 DEC/ UKR tactical elements have established positions across the P-66 HWY in the vicinity of Chervonopopivka. On the west bank of the Krasna River, RU forces have targeted artillery on UKR observation points (OPs) near the town of Ploshchanka. pic.twitter.com/4DAq1uiJ0I

— Chuck Pfarrer | Indications & Warnings | (@ChuckPfarrer) December 9, 2022
Christopher Miller of The Financial Times brings us the details from inside Bakhmut:
Rockets and mortar rounds rained down on Ukrainian military positions on the eastern edge of the city of Bakhmut, spraying shrapnel and sending troops diving for cover.

Then came the Russian infantry, charging in a first world war-style attack across a no man's land of shredded trees and artillery craters. The Ukrainians popped up and mowed down many of them with machine guns and grenade launchers.

Moments later, the scenes were repeated — although this time the Russian fighters had to navigate their comrades' bodies. Again many were cut down by Ukrainian bullets.

"It's like a conveyor belt," Kostyantyn, an exhausted Ukrainian machine-gunner who described the scene to the Financial Times, said of the Russian tactics. "For what? A fucking metre of our land."

The scene on Sunday in the frontline city of Donetsk province is one that troops say has played out repeatedly in recent days as Russia, desperate for a battlefield victory after humiliating defeats in Kharkiv and Kherson this autumn, refocuses its offensive in an area Russian president Vladimir Putin first invaded in 2014 and claimed to have annexed in September.

"They are just meat to Putin," Kostyantyn added, referring to the Russian soldiers, "and Bakhmut is a meat grinder."

Ukrainian soldiers described the intensity of the recent fighting in and around Bakhmut, particularly the artillery barrages, as greater than anything they had experienced anywhere in Ukraine since the start of Russia's full-scale invasion in February.

"A very fierce confrontation is ongoing there, every metre counts," Ukrainian president Volodymyr Zelenskyy said in his Wednesday night address. During a visit to his troops 40km north-west of Bakhmut on Tuesday, he called the fighting around the city the "most difficult area that protects not only the east but our entire state".

"Hell. Just hell," is how Volodymyr, a senior officer who declined to give his last name because he was not authorised to speak to journalists, described the fighting. He was with a group of soldiers taking a short rest before returning to the battle.
Ukrainian soldiers and military analysts say there seems to be neither strategy nor logic to the Russian offensive in Bakhmut beyond symbolism. Leading the Russian charge there is the infamous Wagner mercenary group. https://t.co/tm2wYaJWzV

— Christopher Miller (@ChristopherJM) December 9, 2022
Returning to Bakhmut was tough. The city is my adopted Ukrainian home, where I lived from 2010-12. As I entered, a Ukrainian soldier suggested I was an idiot. "I'll pray for you. You should pray for yourself." The destruction since August when I was last there is much worse. pic.twitter.com/BKRdaIwXyu

— Christopher Miller (@ChristopherJM) December 9, 2022
Much, much more at the link!
Bakhmut. Evacuation of a wounded soldier. "I am married. My wife is expecting. I can't die now!"#StandWithUkraine pic.twitter.com/PFHAG1QVwk

— olexander scherba🇺🇦 (@olex_scherba) December 8, 2022
Kherson:
The use of Cluster Munitions in Kherson is heartbreaking. These have wounded and kill more civilians then anything else here. Today we blew up as many as we could because they are to dangerous to move, until we ran out of demolition. Back at it tomorrow. https://t.co/9flMK20CjF pic.twitter.com/CbYKO7xbiM

— Ryan Hendrickson (@tipofthespear42) December 9, 2022
The Financial Times also brings confirmation of what I posted last night in regard to the attempts to get Paul Whelan back. Also, whoever wrote the headline for that article should be ashamed of themselves.
In July, US secretary of state Antony Blinken and Russian foreign minister Sergei Lavrov spoke on the phone for the first time since Russia's full-scale invasion of Ukraine in February. During the call, Blinken pressed Lavrov to accept a "substantial proposal" from Washington to release Griner and the former marine Whelan, who has been detained in Russia since 2018 on what the US and his family say are trumped-up espionage charges.

Americans had offered to free Bout, people familiar with the discussions said, but the Russians said they also wanted the release of Vadim Krasikov, a former colonel from Russia's domestic spy agency who was convicted of murder in Germany last year.

In the ensuing months, officials said, Washington made a number of offers to Russia in an attempt to secure the release of Griner and Whelan.

However, Biden administration officials said that in recent weeks it became clear that Moscow would only accept a one-for-one swap. According to one senior administration official, "the choice was bringing Brittney Griner home right now or bringing no Americans home from Russia right now".
The Kyiv Independent's defense reporter Illia Ponomarenko provides the amount of the US's latest aid package to Ukraine:
+$275 million on Ukrainian defense coming from 🇺🇸
One step closer to getting back to normal peaceful life.

— Illia Ponomarenko 🇺🇦 (@IAPonomarenko) December 9, 2022
Tally ho!
We traditionally wish you a good Friday, and we flew to do our work. pic.twitter.com/MV8eHAPvVI

— Ukrainian Air Force (@KpsZSU) December 9, 2022
Someone asked the other night why I kept putting Tally ho as the caption on Ukrainian Air Force videos. The answer is that US fighter pilots use the phrase or the shorter "Tally" on comms to indicate that the enemy is in sight. This is used in opposition to "visual", which indicates friendlies are in sight. A lot of the jargon is borrowed from the Royal Navy and, I expect, from the Royal Air Force. I've read that the phrase is also used to indicate the enemy is in sight and the fighter is moving to engage, but I'm not 100% sure if that's an accurate recollection or leftovers from a Tom Clancy novel when I was in college…
Hopefully Leto or one of our other Air Force or other aviation vets will pop up and further clarify. Because I'm not bothering my former boss – a retired Naval Aviator – about this on Friday night. Here's a list of terms for those interested.
Since we're on the topic of military aviation, Politico brings news regarding the possible American provision of MQ9 Reapers to Ukraine:
The Air Force thought it had the perfect plan: Take its older Reaper drones, which it's been trying to get rid of for years, and send them to Ukraine, a country begging for long-range weaponry.

But after months of internal wrangling, the Pentagon has yet to make a decision — even though the drones could provide a capability to Ukraine that it's wanted since the start of the war.

The Air Force made the pitch to send its older Reaper drones to Ukraine about a month after Russia invaded in late February. But concerns over the transfer of sensitive technology, and the fact that some would almost certainly be shot down, has led to a months-long stalemate, according to four people familiar with the issue.

The four people were granted anonymity to discuss internal deliberations.

The debate over the armed drones has see-sawed for much longer than for other once-controversial systems, such as artillery and long-range tactical missile systems, both of which began arriving by the summer as fighting escalated.

The stance has frustrated Ukrainian officials who have pledged to use the donated drones to strike only Russian positions within Ukraine, and have promised to share targeting information with the U.S. before launching strikes, one of the people said.

Both the Reaper and the Army version — the Gray Eagle — would give Ukraine a critical new capability as the country's forces press on occupied Crimea and the well-defended Russian frontlines in Donbas. The issue isn't off the table, DoD and industry officials have suggested, as the Pentagon and drone maker General Atomics continue to try to make one or both drones transferable to Ukraine.

Since the early days of the war, the Air Force Reapers and Army Gray Eagles have been high on Kyiv's wish list, as they would give Ukraine a vastly expanded surveillance and strike capability, which is vital in a war heavily reliant on artillery duels and drone attacks.

General Atomics executives have been in contact with Ukrainian officials for months in attempts to reach an agreement on technology transfers that would comply with U.S. rules and concerns.

The Air Force has been trying to scrap older versions of its Reaper fleet for years to free up money to buy and operate more cutting-edge technology, but Congress has shot down the proposal each time.

The most recent proposal in the fiscal 2023 National Defense Authorization Act, which requests the transfer of 100 Reapers to another government agency, would conceivably free up some of the drones to send to Ukraine. The Air Force would not confirm which government agency, but the U.S. Customs and Border Protection also flies Reapers, and it is unclear if the drones would be drawn from the Air Force or special operations fleets.

The Air Force is already operating the aircraft in Europe. Last year, the Air Force began flying Reaper missions from Romania.

In March, the service asked the major commands that fly the Reaper to assess the impact on their units if the U.S. transfers the drones to Ukraine, and Air Force Special Operations Command volunteered to send their drones, said two people with knowledge of the discussions. AFSOC flies roughly 50 Reapers and those drones are equipped with full-motion video that does not come with the baseline system. That offer wound its way through the Pentagon bureaucracy, where it still sits.

The Air Force referred a request for comment to the Pentagon, and Pentagon spokesperson Brig. Gen. Pat Ryder said he had no updates on where the issue stands.
Much, much more at the link!'
The Daily Beast reports what is clearly RUMINT that Putin has already put an exfil plan in place in case he has to flee for his life:
Russia's Vladimir Putin and his cronies already have a plan in place to flee the country once things go sideways, a former aide to the Russian president has claimed.

Abbas Gallyamov, a former speechwriter for Putin, made the astounding claim on Telegram early Wednesday, citing an unnamed source that he said had "insider" information on the whole affair.

The evacuation plan, according to Gallyamov, got underway back in the spring, when it was unofficially dubbed "Noah's Ark."

"As the name implies, it's about a search for new land to go to in case it becomes completely uncomfortable in the homeland. The leader's entourage has not ruled out that he will lose the war, be stripped of power, and have to urgently evacuate somewhere," Gallyamov wrote.

Putin's inner circle first considered a plan to evacuate to China, Gallyamov said, but later thought better of it, fearing the chances of "cooperation" from the Chinese were slim, especially since they despise "losers." Now, he said, the focus has shifted to either Argentina or Venezuela, with Putin ally Igor Sechin currently overseeing an evacuation plan for the latter country.
Here's a machine translation of the Telegram post referred to in The Daily Beast's reporting:
Abbas Gallyamov
I usually don't retell insider stories, but today I will make an exception. Firstly, I trust the source too much, and secondly, the information is very fried.

So, starting in the spring, Putin's Politburo began work on a project under the unofficial name of Noah's Ark. As the name implies, it is about finding new lands where you can go in case it becomes completely uncomfortable in your homeland. The leader's entourage does not exclude that he will lose the war, lose power and he will have to urgently evacuate somewhere.

Initially, China, proposed, as they say, by the elder Kovalchuk, was considered as the main platform, but potential emigrants quickly became disappointed in the prospects for cooperation with him. The Chinese are too self-conscious and too despised of others – especially losers. Hope, as it has now become clear, is not enough for them.

Now Latin America – Argentina and Venezuela are being considered as a promising platform. I don't know any details about the first one, but the project of moving to the second is supervised by Sechin. He has a good personal relationship with Maduro and it is to him that the curatorship of the evacuation project is now transferred.

As I was told, Yury Kurilin, the right hand of the head of Rosneft, is directly involved in the on-site work; a person who, until recently, was in charge of the company's apparatus. In the summer, he formally resigned from there and now devoted himself entirely to the "Noah's Ark". He has American citizenship and good connections. He graduated from Hayward University in California, worked in BP structures, including in the high position of director of corporate affairs.

Unfortunately, my source does not know any other details, however, what has been said is enough to understand: when they say that "everything is going according to plan", it makes sense to clarify which one. They seem to have more than one plan.
That's enough for tonight.
Your daily Patron!
It's so lovely! Today we received the letter from @SecBlinken 🤩 That was so unexpected! And the first time, I received a letter from the United States and from a government official (so maybe next year I'll not react like this). Thank you, @USAmbKyiv for sending this to me. pic.twitter.com/8YKvWWRcYA

— Patron (@PatronDsns) December 9, 2022
Here are the letters so you don't have to click through.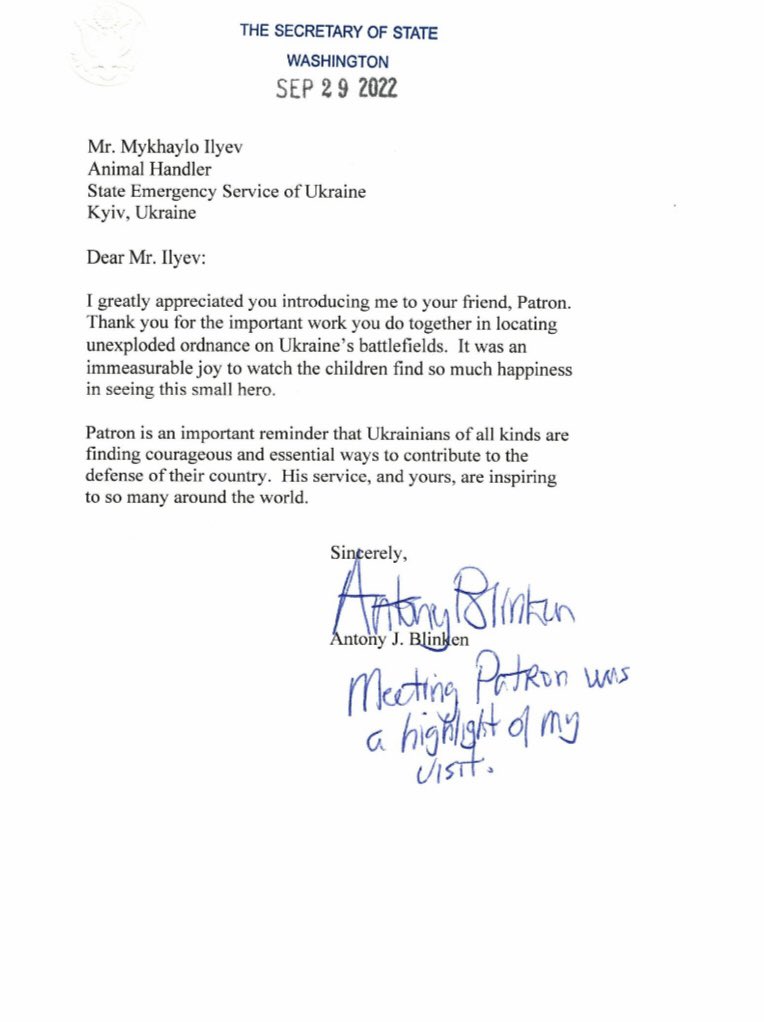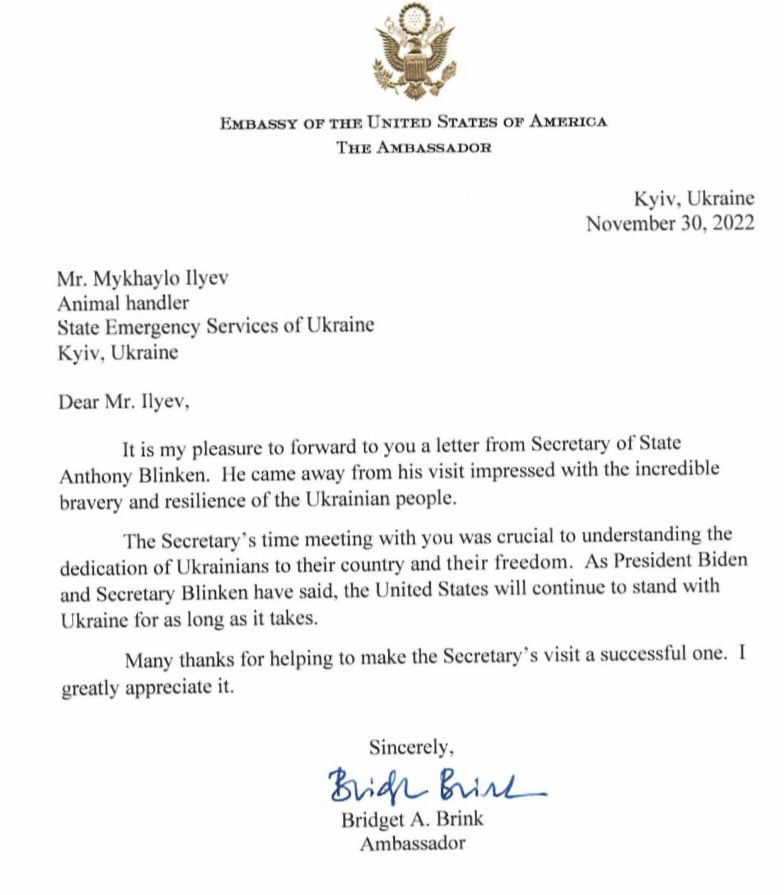 And a new video from Patron's official TikTok:
The caption machine translates as:
If I were an anime character🐶 #PatrontheDog #PatronDSNS
Open thread!