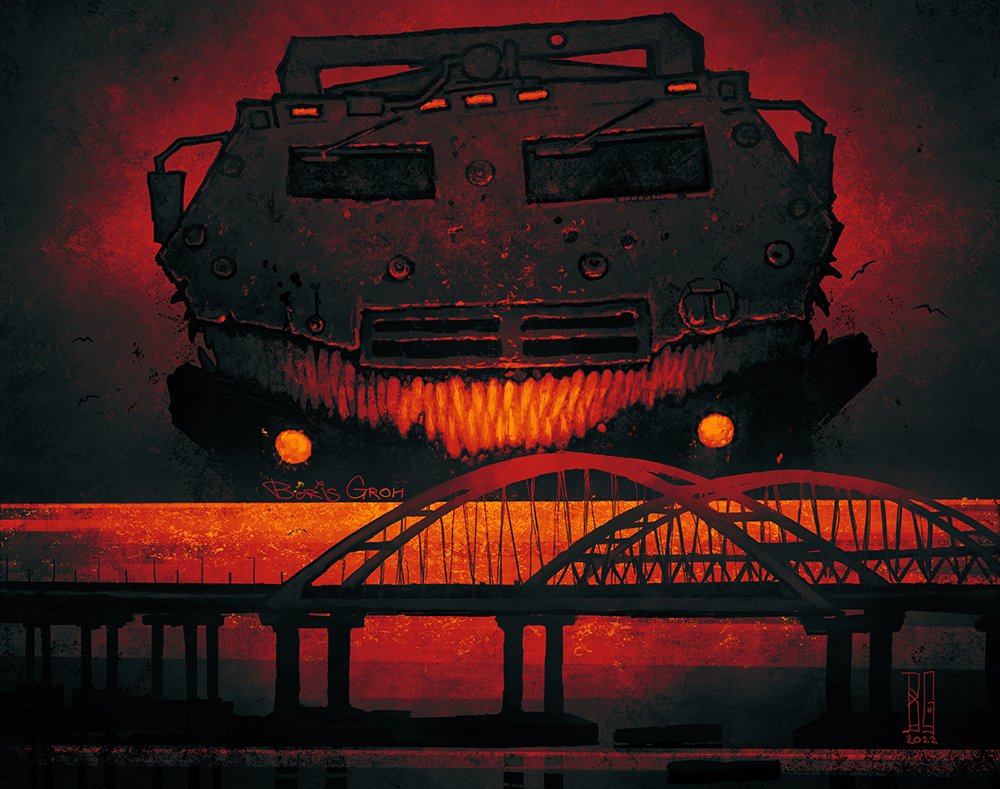 Santa's Ukrainian elves are busy making HIMARS this year pic.twitter.com/OdT1fgDXrD

— Philip Ittner (@PhilipIttner) December 10, 2022
It's so cute!
Here is President Zelenskyy's address from earlier today. Video below, English transcript after the jump:
Dear Ukrainians, I wish you health!

The key for today is energy. The situation in Odesa region is very difficult. After the night strike by Iranian drones, Odesa and other cities and villages of the region are in the dark. So far, more than 1.5 million people in Odesa are without electricity. Only critical infrastructure is connected and to the extent where it is possible to supply electricity.

In total, Russian terrorists used 15 Shahed drones against Odesa. During one night on Saturday. This is the true attitude of Russia towards Odesa, towards Odesa residents – deliberate bullying, deliberate attempt to bring disaster to the city. Our sky defenders managed to shoot down 10 drones out of 15. Well done!

Power engineers, repair crews, regional authorities – everyone is working non-stop to restore power. Unfortunately, the hits were critical, so it takes more than just a period of time to restore electricity… It doesn't take hours, but a few days, unfortunately. We will do everything we can to speed up the recovery.

Please, while the repairs are in progress, help your friends, your neighbors, and the elderly in Odesa to find and use the Points of Invincibility. Points of Invincibility are deployed. There you can warm up, charge your equipment, get access to mobile communication, get the necessary, important support.

In general, both emergency and stabilization power outages continue in various regions.

The power system is now, to put it mildly, very far from a normal state – there is an acute shortage in the system. That is why there are blackout schedules. The largest number is in the Lviv, Vinnytsia, Kyiv, Ternopil, Sumy, Zakarpattia, Zhytomyr, Khmelnytsky regions and in the city of Kyiv.

It must be understood: even if there are no heavy missile strikes, this does not mean that there are no problems. Almost every day in different regions there are shelling, there are missile attacks, drone attacks. Energy facilities are hit almost every day. Due to losses in the system, everyone in the system has to reduce the limits. Recovery is also very difficult. But still, our energy and utility crews are doing truly heroic things, restoring in weeks what would have required months of work. And I thank each who is working to restore power and save the power system.

I also thank everyone who realizes how hard it is for our defenders of the sky, how hard it is for the repair crews and very hard for the energy workers, how hard it is for everyone who protects our lives.

Today, we have important news from Norway. There is a new support package from this country in the amount of $100 million. And precisely for the restoration of our energy system after these Russian strikes. I thank all Norwegians for this decision. I'm thankful to the government. In general, we receive defense, economic and very important political support from Norway, as well as a lot of humanitarian assistance. Norway also helps with the purchase of gas. We will work together on the reconstruction of Ukraine. I want to thank you once again.

Today, in the Norwegian capital, Oslo, the annual ceremony of awarding the Nobel Peace Prize took place. This year, the language of Ukraine, our Ukrainian language, was heard for the first time at the ceremony – thanks to the Center for Civil Liberties and its head Mrs. Matviichuk, who became laureates of the Peace Prize. I congratulate Ms. Oleksandra, her colleagues and all Ukrainian human rights defenders on this recognition.

It is symbolic that the ceremony takes place on this very day – International Human Rights Day. In Ukraine, before there was no national day of gratitude and respect for the human rights movement – all those who dedicate their lives to the protection and restoration of people's rights. Now such a day has been established and will be celebrated annually on December 10 – Human Rights Day.

Earlier, I signed several more important decrees. In particular, about awarding state scholarships.

And Mr. Edem Bekirov was awarded the state scholarship named after Levko Lukyanenko. This is a special scholarship with which the state supports those who were released from the captivity of the occupiers, who were saved from Russian repression.

Outstanding figures of our science, culture, and art have been awarded other state scholarships. A total of 100 Ukrainian men and women.

I thank everyone who works for our country!

Glory to everyone who fights for Ukraine and thanks to whom we can live and work!

Eternal memory to all those who died for our freedom!

Glory to Ukraine!
The Kyiv Independent's Illia Ponomarkenko provides an explainer on how (some) Ukrainians are dealing with the power outages caused by Putin's and Russia's targeting of the civilian power generation and transmission infrastructure.
…is off, I have neither heating nor hot water. And I'm screwed. So I get myself a charging station, and if things are really bad, I can turn the boiler on for a couple of hours a day and sustain more or less acceptable air temperature at home.
And I can recharge the thing…

— Illia Ponomarenko 🇺🇦 (@IAPonomarenko) December 10, 2022
…and live on. If there's no gas supply, here you go with compressed gas cylinders. The same goes for things like portable ovens for cooking. There's always a way to survive the winter of Russian missile terror.
Those things are pricy in Ukraine now, but they are available.

— Illia Ponomarenko 🇺🇦 (@IAPonomarenko) December 10, 2022
…by wiping out our critical infrastructure. Everyone in Ukraine is finding a way to carry on while the clock is ticking for the Kremlin.

— Illia Ponomarenko 🇺🇦 (@IAPonomarenko) December 10, 2022
Here is former NAVDEVGRU Squadron Leader Chuck Pfarrer's latest assessment of the situation in Bakhmut:
BAKHMUT /1710 UTC 10 DEC/ MASINT [Measurement & Signature Intelligence] and defense sources indicate that a series of RU assaults continue along the line of contact. Fighting is reported as heavy, although there do not appear to be significant RU gains at this time. pic.twitter.com/tplex26oEs

— Chuck Pfarrer | Indications & Warnings | (@ChuckPfarrer) December 10, 2022
Here's some more on what Prigozhin's private military contractors – aka the Wagner Group – and the Russian military are doing in Bakhmut:
1/ The Armed Forces told how the Russians changed their tactics in the #Bakhmut area : Currently, #Donbas is the main front of the struggle for the independence of Ukraine, noted the speaker of the Armed Forces of Ukraine.
The Russians have changed their tactics in one of the pic.twitter.com/DjFwHs7njy

— J. comme JéJé 🇫🇷 🇺🇦 #UkraineMap (@HeliosRunner) December 10, 2022
2/ 

hottest areas.

#Russian

 occupiers have changed the tactics of conducting hostilities in the 

#Bakhmut

 region of the Donetsk region.Serhiy Cherevaty, the spokesman of the Eastern Group of the Armed Forces of Ukraine, said in an informational tv appearance that the occupiers

3/ are concentrating their main efforts on the #Bakhmut & Avdiivka directions. Attacks & assaults take place there, the enemy uses all types of artillery, rocket launchers and aviation.

"The enemy has changed tactics. Instead of using company-battalion orders, he now creates

4/ such assault squads & groups, and already these groups are divided into subgroups that directly assault, and others cover them with fire. We study these tactics and for every such military poison we have an antidote," Cherevaty said.

He also said that this tactic is primarily

5/ used by the "Wagners", but it is also used by other types of enemy troops that are involved in attacks on Ukrainian positions.

Cherevaty noted that the Ukrainian military is actively monitoring the occupiers and trying to preemptively act.

"We are strengthening surveillance

6/ 

with our unmanned systems and stationary ones. We are trying to identify the enemy in advance and hit him with artillery, mortars, when approaching our positions with the fire of our small arms," ​​said the spokesman of the Armed Forces. According to him, now 

#Donbas

 is the

7/ main front of the struggle for Ukraine's independence.

"It is the main focus of the enemy's efforts to push through our defenses, trying to get to the rear and seize the entire Ukrainian Donbas – this is the primary plan," Cherevaty emphasized.

"In general, the front now has

8/ 

such an interesting configuration, when one cannot say that one side is in a state of attack, and the other is in blind defense. This is a dynamic process now, there are actually such binary processes, when we counterattack the enemy at the slightest opportunity and try to

9/ 

knock them out of their positions . And the enemy, where he has an advantage and sees that he can carry out attacks, he does it," added the speaker of the Armed Forces.

10/ Also according to British intelligence, over the past three months, Russian troops in Ukraine have mostly stopped deploying in the form of battalion tactical groups (BTGs) .

The BTG concept has played an important role in Russian military doctrine for the past 10 years.

11/ However, during large-scale, high-intensity hostilities in Ukraine, several internal shortcomings of this concept were revealed.

As analysts at the Institute for the Study of War (ISW) note, since April, Russian BTGs have been degraded during various failed or completed

13/ After the aggressor country lost its BTG, and with them its strength, the Russian command tried to restore combat power and re-create battalion tactical groups. However, it was not crowned with success.

Previously, the spokesman of the Eastern Group of Forces, Cherevaty,

14/ 

already said that the enemy had changed tactics in the Bakhmut direction, concentrating on small groups. In particular, the mercenaries of the "Wagner" PMC create small assault groups that try to act in a dispersed manner in order to reach our positions as quickly as possible

15/ 

and try to penetrate into the trenches.

and as i explained early in the war or showed like here :when Ru had full load of ammo is that it takes a lot of shell to dislodge troops, or you need special systems/ammo like Excalibur or Ukr/German equiva

16/ 

but if you don't get yourself a very precise CAS and precise arty to deter the said entrenches troops, then you are in for a true ww1 type of war.

(or course you can use drones, but they have a short life span right now and can't be use just to replace some heavy helos / A10

17/ that could "straff" the Ru mercenaries.

also even if we saw it coming

it seems like in the famous Lamarck/Darwin discussion we are still wondering if it's only because they couldn't do different that they transformed like that and or if Wagner with

18/ 

it's own form of organization was able to "generate" this change, because in such disastrous armored etc support, they had anyway to come up with something that is "functioning" (not great, but they also do as they can).

Anyway, that's what is happening now on the frontline.
As I mentioned in the title of tonight's update, things just seem to keep catching on fire in Russia:
In Barnaul, Russia, the Altai Tire Plant is on fire.
The plant also produces tires for military equipment. pic.twitter.com/LWGpZ4BrVE

— Special Kherson Cat 🐈🇺🇦 (@bayraktar_1love) December 9, 2022
Reuters has the details of the shopping mall fire in Moscow from a couple of days ago:
Dec 9 (Reuters) – Fire engulfed one of the largest shopping malls near Moscow early on Friday, emergency services said, leading to the collapse of part of the structure, which complicated firefighters' efforts to douse the flames.

The conflagration spread over an area of about 7,000 sq m (75,000 sq ft) in the Mega shopping centre in Khimki near the Russian capital, authorities said. One person died in the fire, authorities say.
More at the link.
We've also got news from Crimea.
The first is that all the civilians residing on/near the Kinburn Spit have been "evacuated" by Russia. Evacuated here means forcibly removed and relocated. Ukrainiski Pravda has the details:
There are no longer any civilians on the Kinburn Spit, which is still under the control of the Russian occupiers.

Source: "Radio Svoboda", quoting Head of Mykolaiv Oblast Military Administration, Vitalii Kim.

Quote: "There are zero civilians left there. About a little less than a week ago, the Russians forcibly evicted them and took them in the direction of Crimea. I do not know [where they were taken – ed.] after Crimea.

There were only 37 people left. These are small villages, they basically lived there off of tourists, and 100-200 people lived there in peacetime winters. So now there are only enemy soldiers there."

Details: Kim also believes that the Russian military, that are located on the spit, do not directly threaten Mykolaiv, and their main goal is to hold as many territories as possible.

Background: On 29 November, the Armed Forces of Ukraine announced that they have not yet gained control over the Kinburn Spit in Mykolaiv Oblast, the Russian troops are currently regrouping there.
The second bit of news is that the Ukrainians reached out touched something on Crimea earlier today. The New Voice of Ukraine has the details:
A fire broke out early on the morning of Dec. 10 in the barracks in the town of Sovetske in Crimea, where Russian conscripts were reportedly accommodated, a number of local Telegram channels reported.

Casualties have already been confirmed.

The Krymsky Veter channel posted a video from the scene of the incident. The post specifies that the fire started at around 06:00 a.m. on Dec. 10.

Those barracks could house from several hundred to several thousand people, Serhiy Bratchuk, an Odesa Oblast military administration official, wrote on Telegram.

"At about 6 a.m. today. The barracks are on fire… There are dead and wounded people," the message reads.
More at the link.
Please note and keep in mind that Sovetske is around 149 miles from Ukraine's southernmost position in Kherson. As such, it is out of HIMARS range as currently configured for Ukrainian usage. So this was most likely a combo of Ukrainian SOF and Ukrainian partisans targeting the barracks from inside Russian occupied Crimea.
The Kyiv Independent's Illia Ponomarenko has reported that Israel might be willing to do more if Ukraine's official position was not in support of better treatment for the Palestinians, including recognizing the Palestinians' right to autonomy.
Over the last few weeks, the question of Israeli support for Ukraine in its fight against Russia has returned to the spotlight.

After many months of ambiguity and silence, rumors circulating in the media suggest that Israel, amid Russia's ravaging brutality and its new alliance with Iran, secretly initiated the first steps to provide Kyiv with defense technologies.

Despite multiple reports about ongoing Ukraine-Israel military consultations and even the sale of important hardware via mediators in the West, the official Jerusalem does not publicly confirm any of it.

According to the Israeli Ambassador to Ukraine Michael Brodsky, Ukraine enjoys rather broad public support in Israeli society, despite what is believed to be a strong Russian influence among Russian-speaking Israelis.

Many people in Israel, Brodsky said, do a lot to provide humanitarian assistance to Kyiv. But when it comes to military support, the situation is much more complicated as Israel has its own "red lines" regarding its security in the Middle East.

Moreover, support for Kyiv in Israel has been jeopardized after Ukraine recently voted in favor of a number of United Nations resolutions condemning Israel in its dispute with Palestinian Autonomy.

"Speaking as not only a diplomat but also a person who has a lot of contacts for Israelis supporting Ukraine, I can tell you that some were very upset about the Ukrainian position," Brodsky told The Kyiv Independent in a recent interview in his Kyiv office.

"They said they halted their active assistance to Ukraine. To be honest, they did not understand the Ukrainian position regarding the Israeli question and the Middle East. They were upset, and they felt betrayed."

Amid many decades of the Israel-Palestine conflict, Ukraine recognizes the Palestinian Authority as an independent nation and has diplomatic ties with it.

"Hundreds, if not thousands," of people in Israel fundraise or volunteer to help Ukrainian refugees, gather pro-Ukraine rallies in Israeli cities, or purchase helmets and armored vests for the Ukrainian military, the ambassador said.

Various private and state-run projects have ensured humanitarian assistance to Ukraine worth tens of millions of dollars. They include a field hospital and medical equipment worth over $1 million, food packs, drinking water, and other essentials.

In the near future, Israel will provide Ukraine with 20 large power generators, and Israeli hospitals are ensuring medical treatment to Ukrainian children struggling with cancer and to wounded Ukrainian soldiers in need of prosthetics, the ambassador said.

Brodsky knows of two Israeli nationals, who were also Ukrainian citizens, who volunteered to fight and were killed while defending Ukraine.

Many in the country also changed their attitude towards Russia after Feb. 24.

"What has happened over the last nine months — the Russian aggression against Ukraine — has undoubtedly affected the way people in the world see Russia and the region. Israel is no exception."

When it comes to weapons, things are much less enthusiastic and much more obscure from the Israeli side.

Ukraine, including President Volodymyr Zelensky himself, has called multiple times on Israel to step up and provide the country with Israeli weaponry to counter Russia's relentless bombardment of vital civilian infrastructure.

In November, Israeli media said the country's leadership had given the green light to NATO allies, particularly the United Kingdom, to provide Ukraine with Israeli-made "strategic equipment," such as optoelectronics and fire control systems. The decision reportedly came following a U.S. diplomatic effort.

That would be a major step in switching from humanitarian aid to defense assistance for Ukraine.

Besides, in late November, Israeli journalists said a high-ranking Ukrainian delegation visited Israel to discuss a possible acquisition of Israel's "early warning missile technology." It is not clear what this technology actually is – a better radar system or something else.

The early warning system is something that Israel wouldn't mind providing to Ukraine, according to ambassador Brodsky.

But regarding weaponry, things are much more complicated.

"Such things shouldn't be discussed in the media," Brodsky said.

"There shouldn't be a public discussion about this. Because as distinct from NATO nations, Israel can count only on itself when it comes to its security. Israel is not a formal member of any military bloc."

"And the threats that Israel faces are not comparable with the challenges of many other nations that openly support Ukraine. So when it comes to Israel, such questions should be discussed via special channels, preferably without the involvement of the general public and media," he went on.

"Any leaks of information regarding the Israeli assistance only jeopardize the process. So if one wants a result, it's better to talk less about this."

The diplomat could not tell if his country really helps Ukraine with defense technologies.

But he said the Ukrainian leadership knows that Israel has certain "red lines" it can't cross and that no Israeli government would risk endangering Israeli civilians and soldiers.

"Any incautious step in the Middle East may lead to an outburst of terror or, in the worst case, to a new regional war," Brodsky said.

The Israeli public opinion tends to support the government's cautious position regarding weapons for Ukraine, according to the ambassador. According to a poll by the Israel Democracy Institute published in October, only 21% of Israelis firmly support providing Ukraine with weapons.

The recent Ukrainian voting in condemnation of Israel at the UN had reinforced this position, Brodsky added.

The key reason for the Israeli hesitation is, of course, Russia.

It is very important to make sure that Moscow cooperates with Jerusalem and does not undermine the Israeli ability to combat the Iranian presence and the activities of anti-Israel militant groups in Syria, Brodsky said.
Much, much, much more infuriating diplomatic weasel speak at the link.
Once again my co-religionists, to repurpose Abba Eban's famous saying, have never missed an opportunity to miss an opportunity.
That's enough for tonight.
Your daily Patron!
Well, now I know that a handwritten letter is so nice and personal! This is not a cold smile in return. Like this 😄And I decided to sign my charity cards. And you can get some. 100% of the profit will go to my fund for sappers. Tap here to see more https://t.co/ggDS6bNDXh pic.twitter.com/G0wUpVAnAJ

— Patron (@PatronDsns) December 10, 2022
I know you're going to find this hard to believe, but the new video at Patron's TikTok is the same as in his new tweet.
The caption machine translates as:
You can buy such a charity postcard via the link in the profile header❤️ #PatrontheDog #PatronDSNS
You all know what to do! Shop till you drop!
Open thread!