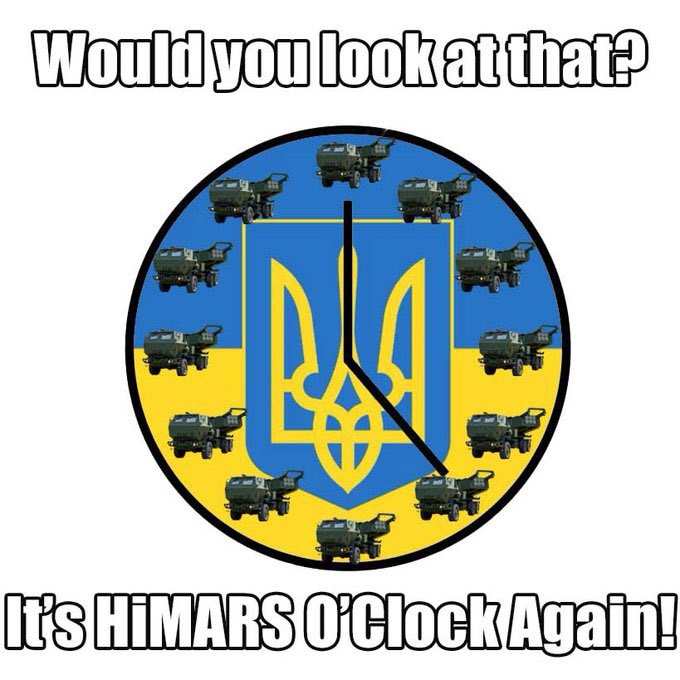 After President Zelenskyy's daily address, so after the jump, we'll get into what we know so far from yesterday's Ukrainian strikes in Melitopol.
The video of President Zelenskyy's address is below. English transcript after the jump.
Good health to you, fellow Ukrainians!

Today we have quite a busy day.

I held a meeting of the Staff. The situation on the frontline, the restoration of the energy infrastructure, the intelligence data on the plans of the occupiers, internal challenges. We work everything out in detail.

Restoration work continues in the south of our country – we are doing everything to restore the light supply to Odesa. As of this time, we managed to partially restore the supply in Odesa and other cities and districts of the region. We are doing everything to achieve the maximum possible after the Russian hits.

But now the Odesa region is still among the regions with the biggest number of shutdowns.

Kyiv and the region, Lviv region, Vinnytsia region, Ternopil and the region, Chernivtsi and the region, Zakarpattia, Sumy region, Dnipropetrovsk region – the situation remains very difficult. We are constantly working with partners to mitigate the situation and give our people more opportunities, more electricity.

Next week will be important in this regard. The G7 summit, a conference in France on the recovery and resilience of Ukraine in the winter, events at the level of the European Union… We are preparing for participation and expecting important results.

I spoke with President Macron today. It was a rather long conversation – more than an hour – and a very meaningful one. Defense, energy, economy, diplomacy… We are coordinating steps, preparing for the implementation of our peace formula – Mr. President Macron supports it, and this is very important for us.

Today I also spoke with President of Türkiye Erdoğan. As always, a very specific conversation. About something that is important not only for Ukraine and Türkiye, but what is of truly global importance.

We discussed the possibilities of expanding our Black Sea export corridor. I thanked for supporting our "Grain from Ukraine" humanitarian initiative.

We agreed on some important joint steps for the near future.

Also today – later – a conversation with President of the United States Biden is scheduled. Details and results will be announced after the end of the conversation.

And one more thing.

By decision of the National Security and Defense Council of Ukraine, sanctions were applied against seven people. We are doing everything to ensure that the aggressor state does not have a single string of Ukrainian society to pull.

Thank you to everyone who protects our country!

Thank you to everyone who fights for Ukraine!

Eternal memory to all those whose lives were taken by Russian terrorists!

Glory to Ukraine!
Here is former NAVDEVGRU Squadron Commander Chuck Pfarrer's most recent assessments of the situations in Izium and Kherson:
IZIUM AXIS /2000 UTC 11 DEC/ Reports indicate that UKR forces have crossed the Krasna River west of of Novokrasnianka. UKR patrols, supported by artillery, have engaged RU forces at Pischane and Zhytilivka. pic.twitter.com/ZwKZKxuIaf

— Chuck Pfarrer | Indications & Warnings | (@ChuckPfarrer) December 11, 2022
KHERSON AXIS /0350 UTC 11 DEC/ UKR Partisan elements identified a Russian HQ/Barracks facility outside the urban area of Melitopol. The complex, formerly a luxury spa/hotel, was engaged by UKR long range precision strike artillery on 10 DEC. pic.twitter.com/suYILJygFG

— Chuck Pfarrer | Indications & Warnings | (@ChuckPfarrer) December 11, 2022
Yesterday the Ukrainians struck hard on a Russian military complex/barracks in Melitopol.
"Melitopol'. According to preliminary estimates, about 200 occupiers were roasted."

«Мелітополь. За попередніми підрахунками підсмажилося близько 200 окупантів.»https://t.co/LmZsSLGlng

— Michael MacKay (@mhmck) December 11, 2022
Here's the machine translation of the full post from the Zaporizhzhia Telegram channel that MacKay is quoting and linking to in his second tweet:
Melitopol. According to preliminary estimates, about 200 occupiers were roasted.

Wounded orcs are immediately taken to Crimean hospitals, because there are not enough places in Melitopol hospitals (that's why blood is needed)⬆️

"Fast" cars are coming from different parts of Melitopol – not only from the eastern side, where it's on fire, but also from the southern side.

Not all orcs have access to hospitals. Some "ambulances" turn to the morgue, – reports the mayor of the city
The fire occurred on the morning of Dec 10 in the settlement of Sovietske near Yalta in southern Crimea. According to unconfirmed reports, the facility night have had up to 200 mobilizees, the Russian media says two of them died in the fire.

📹via https://t.co/uxNgztaPVu pic.twitter.com/hWD4lZL9nc

— Euromaidan Press (@EuromaidanPress) December 10, 2022
This is what the complex looked like before the Ukrainians blowed it up real good:
Looks like they have a few cabins to bunk in. TV. Comfy bed. Hopefully a general or two enjoyed the evening entertainment before they were turned to dust. pic.twitter.com/OFtUEjcADO

— The Intel Crab (@IntelCrab) December 10, 2022
Correction. Photo was roughly taken here…

46°50'40.7"N 35°23'56.1"E

— The Intel Crab (@IntelCrab) December 10, 2022
So remember kids:
Smoking is bad 2022 pic.twitter.com/44hqT1kwLu

— Boris Groh 🇺🇦 (@BorisGrohArt) November 18, 2022
Here's video reporting from Bakhmut by Hromadske a Ukrainian news outlet. It has English subtitles. Here's their English language description of the video:
The Russians have been storming the city of Bakhmut in Donetsk region since May. By December, they were able to approach the outskirts of the city in the northeast and southeast. The ground there is littered with bodies, and sporadic photos look like an archival footage from the First World War. There are also many wounded. At the "stabilization point" in Bakhmut work only military medics. Doing their job means oftenly getting no sleep and under fire. The whole territory of Bakhmut is constantly shelled, including the building where professional first aid is provided and lives are saved. Sometimes this happens both during shelling and power outages while the generator is being started. Sometimes doctors have to spend the night in the basement, where the temperature is now +4°C. Whilst outdoors it's -10°C. Sometimes doctors go to the evacuation themselves. In some cases – to take away not only the wounded, but also the dead. In such conditions, these doctors have been working for 4 months — without breaks or days off. The "flow" of wounded does not stop here. "It is not difficult for us, it is difficult for those who are at "zero," [e.g. the frontlines] they say.
WARNING! WARNING! Disturbing Content! WARNING! WARNING!
ALL CLEAR!
That's enough for tonight.
Your daily Patron!
😂😂Patron Патрон pic.twitter.com/jdku6UB46Z

— TimeTeamFella (@RasReload) December 10, 2022
Someone better be arranging for him or her to make an appearance for my next birthday. Understood?
And here's the new video from Patron's official TikTok!
The caption machine translates as:
Nevdali frame😂 #PatrontheDog #PatronDSNS
Open thread!