The timing is a coincidence, but days after Phony Stark rolled out the floptastic Twitter Files, Josh Marshall's TPM team started dropping the Meadows Texts — text messages to and from then-White House Chief of Staff Mark Meadows and GOP lawmakers. Holy hell, the contrast between the two document dumps!
You've got hard-right culture warriors rummaging through the underwear drawers of a social media company's dithering executives on the one hand. On the other, a plucky team of actual independent journalists reveals coup-plotting communications between the White House and elected Republicans. TPM made some of the texts public for the first time and provided context around others we've seen before.
Tom posted about the first tranche yesterday. The latest installment features blathering from Georgia 12th Rep. Rick Allen, who sent Meadows links to a Romanian crackpot's YouTube channel alleging that "identities of '50 million' U.S. citizens were stolen via Ukraine in 2009 and 2018 to be used for voting in the 2020 election as part of a '$100 billion' plot involving illegal immigrants, blackmail and Romanian officials."
Okay then. But as nutty as that is, this from Rep. Allen is somehow even scarier: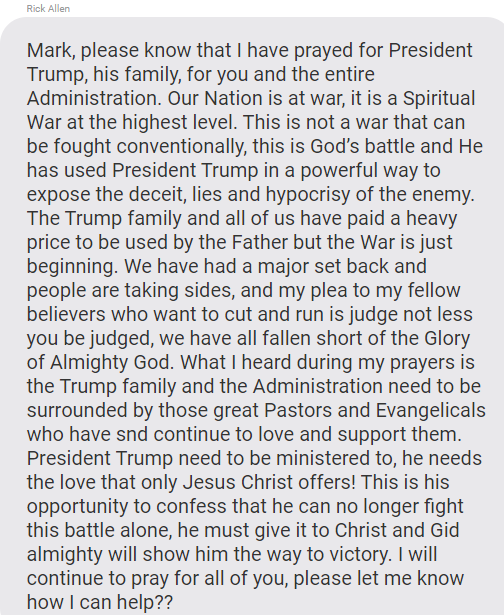 This person who believes Satan and Jesus were duking it out over electoral votes is one of the 435 members of the House of Representatives, and most of us have never heard of him because he doesn't stand out in that chamber as especially deranged. Yowza.
Open thread.