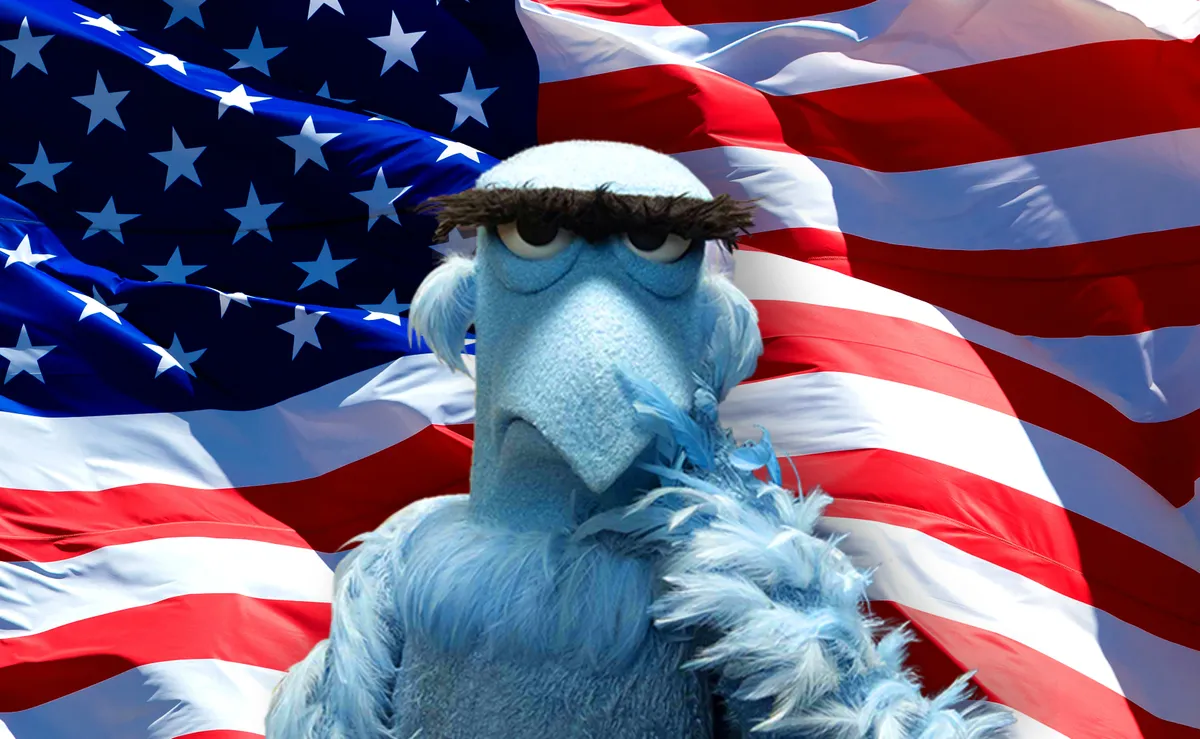 What? You can't get more Patriot than Sam the Eagle! And that's the big news, originally reported by Voice of America News:
#BREAKING US defense official confirms to VOA that the Pentagon is prepping to send a Patriot missile battery to #Ukraine to help protect the country from incoming #Russian missiles. An announcement could come as soon as this week, per the official

— Carla Babb (@CarlaBabbVOA) December 13, 2022
Pentagon press sec declines to confirm news VOA has learned from U.S. defense official that US is preparing to send a #Patriot missile battery to #Ukraine & will make the announcement as soon as later this week https://t.co/iGN0dGDkqD

— Carla Babb (@CarlaBabbVOA) December 13, 2022
CNN hass additional details that the Biden administration is finalizing plans to send Patriot batteries to Ukraine:
The Biden administration is finalizing plans to send the Patriot missile defense system to Ukraine that could be announced as soon as this week, according to two US officials and a senior administration official.

The Pentagon's plan still needs to be approved by Defense Secretary Lloyd Austin before it is sent to President Joe Biden for his signature. The three officials told CNN that approval is expected.

Ukraine has been calling for the US to send the advanced long-range air defense system that is highly effective at intercepting ballistic and cruise missiles as it comes under a barrage of Russian missile and drone attacks that have destroyed key infrastructure across the country. It would be the most effective long-range defensive weapons system sent to the country and officials say it will help secure airspace for NATO nations in eastern Europe.

It is not clear how many missile launchers will be sent but a typical Patriot battery includes a radar set that detects and tracks targets, computers, power generating equipment, an engagement control station and up to eight launchers, each holding four ready to fire missiles.

Once the plans are finalized, the Patriots are expected to ship quickly in the coming days and Ukrainians will be trained to use them at a US Army base in Grafenwoehr, Germany, officials said.

Ukraine has been asking for the system for months but the logistical challenges of delivering it and operating it are immense. Despite those obstacles, "the reality of what is going on the ground" led the administration to make the decision, the senior administration official told CNN, noting the continuing intense Russian missile barrages.
I'll have more analysis from Rob Lee after we cover President Zelenskyy's address. Video of that below, English transcript after the jump:
Good health to you, fellow Ukrainians!

Today was a very fruitful day for Ukraine. In different aspects.

We have very good news from France – two conferences in support of Ukraine were held there today. Their first result is €1 billion in aid to our resilience, primarily energy.

Every day we gain new strength for Ukraine to get through this winter, and I thank everyone who works for this and who helps our state.

Today, we also have decisions from other countries, besides France, – the Czech Republic, Spain, Switzerland – to provide additional support packages. The Italian Senate passed a decision on armed support. Norway is preparing a new program to support our state and people…

I took part in both conferences in Paris today. The first concerned to a greater extent our interstate relations. The second forum was focused on French business.

Ukrainian government officials presented French entrepreneurs with opportunities to invest in Ukraine already now, when the war is still going on, and after our victory. We also discussed what we can do additionally to strengthen our state at the European level.

Today in France, the First Lady of Ukraine presents humanitarian projects to our partners. What can be done as quickly as possible to support our people in the field of healthcare, education and humanitarian aid, in particular through Olena's Foundation. And I am grateful to all the French for their support of Ukraine – not only political, not only defense and sanctions, which is vitally important. But also for the fact that we equally perceive the need to protect the value of human life, human dignity and the humanitarian opportunities that the modern world gives to everyone.

I spoke with President of the European Council Charles Michel. I thanked for the decision regarding 18 billion euros for Ukraine next year and for increasing the European Peace Facility by 2 billion euros. These funds can greatly help us maintain social stability. I am also preparing to participate in the meeting of the European Council on December 15.

I have just addressed the parliament and people of New Zealand, a country that has fundamentally supported us since the first weeks of full-scale Russian aggression. I've told about our peace formula, about the special summit that we are convening to implement our formula. And I called on New Zealand to take the lead in supporting at the international level one of the clauses of the peace formula – the one related to environmental security and demining.

New Zealand is one of those countries that understands that the destruction of the natural environment is equal to the destruction of life, and that can help the diplomatic mobilization of its region in order to implement the Ukrainian peace formula.

And one more thing.

Today I signed the Law adopted by the Verkhovna Rada on the liquidation of the District Administrative Court of Kyiv. This story is over. And the story of reforms continues – continues even during such a war.

Thank you to everyone who works for Ukraine!

Thank you to everyone who is fighting for our independence, who is currently at the front, who is currently struggling! We support you, we strongly believe in you.

Glory to all our warriors! 

Glory to our indomitable people! 

Glory to Ukraine!
Here is Marine veterans and current Foreign Policy Research Institute Senior Fellow Rob Lee's analysis of the big news:
One of the key considerations that will drive future arms deliveries to Ukraine is the availability of ammunition for weapons they began the war with. Patriots are an important addition, but they also mean that Kyiv can conserve missiles for S-300 and Buk-M1 for other targets. https://t.co/BacuTmIHzU

— Rob Lee (@RALee85) December 13, 2022
As an example, this Ka-52 shoot down from last week was likely from an S-300 or Buk-M1.https://t.co/2JyutLlOUJ

— Rob Lee (@RALee85) December 13, 2022
LTG (ret) Hertling also has some analysis for us:
"Breaking news" on is suggesting @SecDef is about to approve Patriots to Ukraine. Unless there's been secret training going on for months, "approval" doesn't mean those systems will be on the battlefield immediately. Patriots require months of operator & maintenance training.

— MarkHertling (@MarkHertling) December 13, 2022
And that is really the key question: has there been any prior training on the Patriot system by any of the Ukrainian Soldiers that NATO allies have been training or are they going to just be getting a crash course at Graf? The CNN reporting seems to indicate the latter, but I expect we'll soon learn for sure one way or the other.
It is also nice to see responses like this:
America is right now getting back to where it was supposed to be, right from the beginning of its history.
To being a beacon of hope, democracy, and the pursuit of happiness.
Right now, America, when it comes to Ukraine, is doing the right thing.

— Illia Ponomarenko 🇺🇦 (@IAPonomarenko) December 13, 2022
As I've written here before in regards to migrants that try to reach the US to seek asylum and refuge, the American flag is supposed to symbolize hope, freedom, and safety for those folks, as well as for those unfortunately in the situation that Ukrainians find themselves. So it is nice to see it being viewed that way.
Here is former NAVDEVGRU Squadron Leader Chuck Pfarrer's most recent assessment of the situation in Bakhmut:
BAKHMUT/1700 UTC 13 DEC/ RU has registered costly advances against UKR positions in and around Bakhmut. Near the Myika pond a RU attempt to cross the rail line at Klischiivka has succeeded. The present line of contact conforms to the rail line south to the vicinity of Andriivka. pic.twitter.com/Ehn5xRD99E

— Chuck Pfarrer | Indications & Warnings | (@ChuckPfarrer) December 13, 2022
Here's a British MOD video analysis of the Ukrainian advances so far:
Ukraine has liberated around 54% of the maximum amount of territory Russia seized since 24 Feb 2022.

Russia now controls around 18% of internationally recognised areas of Ukraine, including the Donbas and Crimea regions under Russian control since 2014.pic.twitter.com/0OkcQLtjMA

— Ministry of Defence 🇬🇧 (@DefenceHQ) December 12, 2022
Rob Lee also brings us news of a new indictment involving Russian attempts to smuggle ammunition and sensitive technologies out of the US and into Russia:
The ammunition was 6.5mm and .338 ammunition. The Steyr SSG 08 and Lobaev Arms sniper rifles are very popular with Russian SSO and other SOF units, which can be chambered in .338 Lapua Magnum. pic.twitter.com/rfEJF6kLz6

— Rob Lee (@RALee85) December 13, 2022
One of our commenters, and since I can remember if they use a nym or not they can ID themselves in comment if they like, sent me this post earlier today from Mastodon: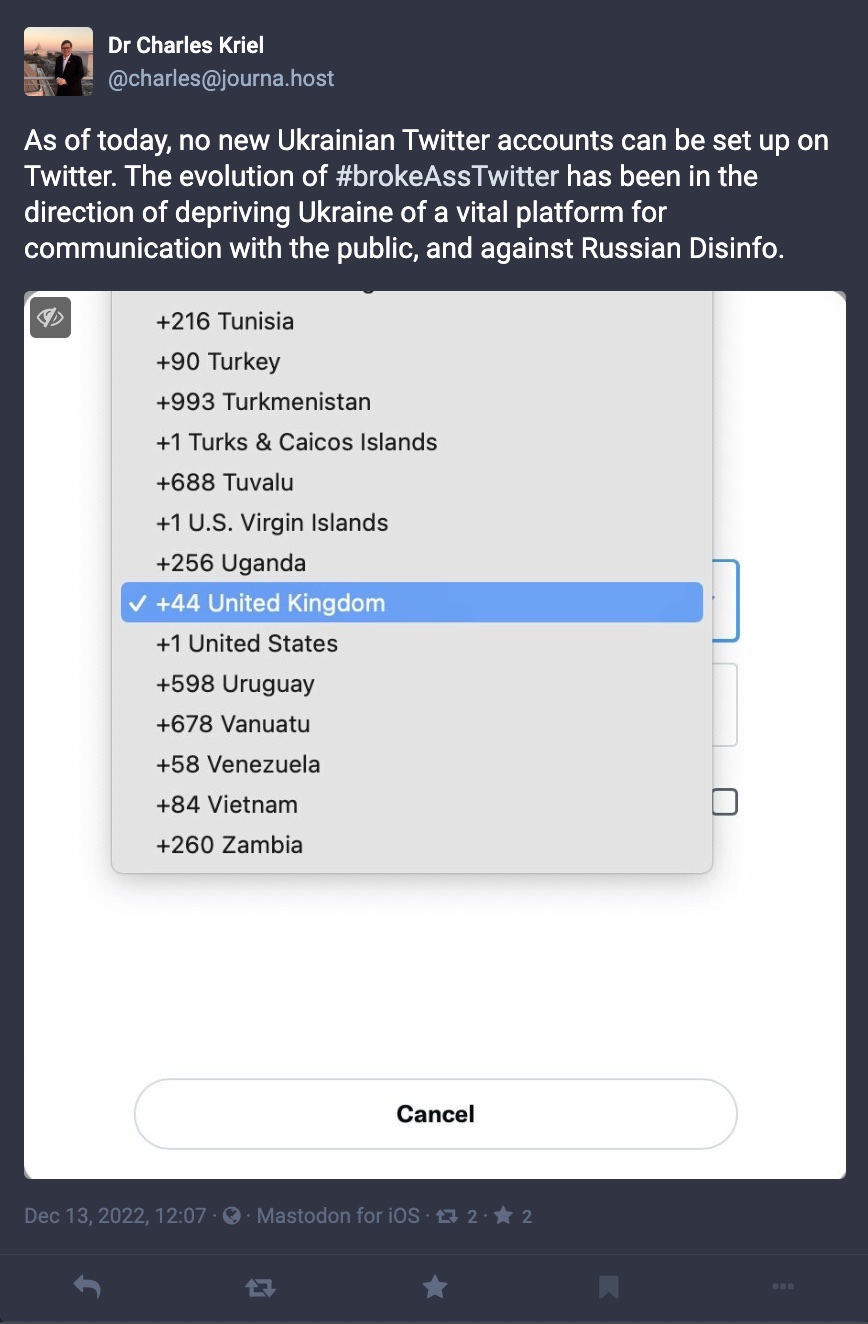 First off: thanks! I've now seen other confirmation:
Ukraine is facing Russian terrorism, genocide, and now Twitter has erased the Ukraine country code from its database, silencing Ukrainians when we NEED to hear their voice @TwitterSupport @elonmusk

— Paul Massaro (@apmassaro3) December 13, 2022
Twitter broke two-factor authentication in Ukraine and stopped sending codes to Ukrainian numbers. Users with an associated number cannot log in to Twitter. I really hope this is just an unfortunate mistake by @TwitterSupport and not a new policy of your boss.

— Taras (@tarasmi) December 13, 2022
"War in Ukraine" disappearance from Twitter trends. Radical curtailment of tweets mentioning ru-aggression coverage. Users aren't allowed to register or log into accounts with Ukrainian phone number. @elonmusk, I wonder if will we ever see "Twitter Files" about Fall/Winter 2022?

— Михайло Подоляк (@Podolyak_M) December 13, 2022
This was preceded by what the usual suspects would call a shadowban:
Twitter appears to shadow ban Ukraine content. So much for Elon Musk's free speech. https://t.co/3tgkcQfnRT

— Euan MacDonald (@Euan_MacDonald) December 5, 2022
Now we have to wait until someone does some actual reporting and explains whether this is a deliberate action taken by the Starlink Snowflake or something else is going on. I know which way I'm leaning given the Starlink Snowflake's statements and actions regarding Ukraine over the two months or so, including Ian Bremmer's reporting that the Starlink Snowflake had spoken with Putin:
Meanwhile, geopolitics expert @ianbremmer is standing by his claim that he recently spoke with Musk and he revealed that Putin told him "in a direct conversation" that he was ready to negotiate. Musk denied this.

— Paul Szoldra (@PaulSzoldra) October 20, 2022
That's enough for tonight.
Your daily Patron!
#StopEcocide @UAnimalsENG https://t.co/qwu3iACCWp

— Patron (@PatronDsns) December 14, 2022
And something a bit more upbeat:
And a new video from Patron's official TikTok:
The caption machine translates as:
Rate my style from 1 to 100😂 #PatrontheDog
Open thread!