On the Road is a weekday feature spotlighting reader photo submissions.
From the exotic to the familiar, whether you're traveling or in your own backyard, we would love to see the world through your eyes.
Hey you *slackers :-) where are your holiday pics?  Holidays when you were little, Christmas lights, decorations?

* cope, jeffery, SkyBluePink, one more mystery person and the person who lost all their childhood pictures in a fire … not included in the (pretend) name calling.
cope
In July of 2022, my grandson and I flew out to visit my family in Grand Junction, Colorado.  Born and raised in Florida, he had never been out West.  At the time, his family was preparing to sell their Florida home and move to Vermont, a task they completed this past November.  During this visit, I decided that my wife and I should sell our Florida home too, and move back to Colorado after 33 years of Florida life.
I tried to make sure we did something different every day so my grandson could share some fun memories with his grandpa.  I think that mission was accomplished.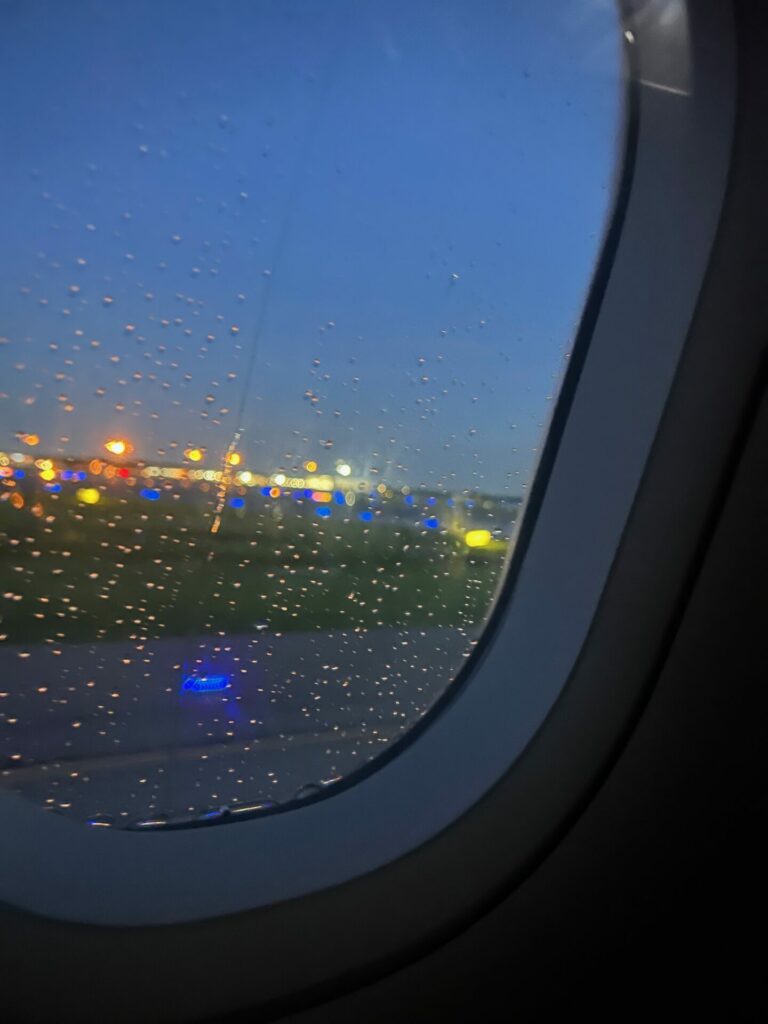 OIA
To save money, our flights there and back were at odd hours and each involved a lengthy layover in Denver.  This is the dawn view as we left Orlando in a drizzle.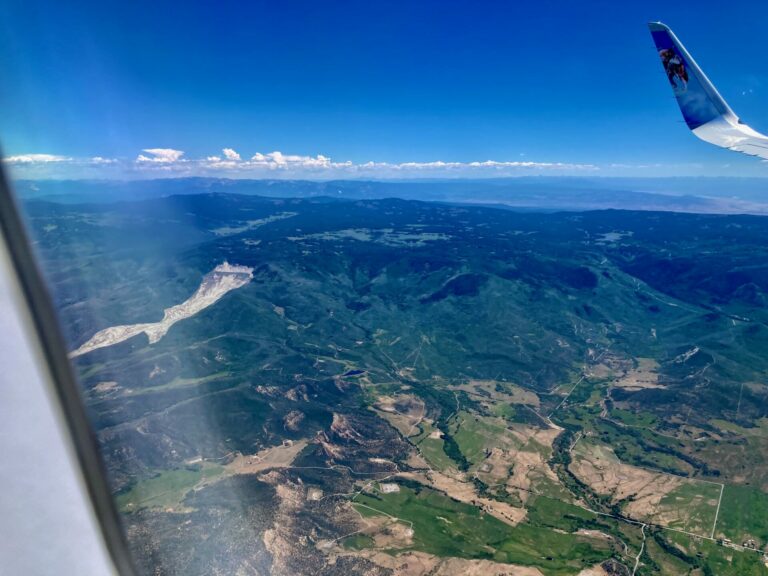 Grand Mesa
The DEN-GJT leg of the trip took us on a quick hop over the mountains and roughly down the course of the Colorado River into the Grand Valley.  This picture is unremarkable except for the fact that the bright scar on the left is the West Salt Creek landslide on the northern slopes of Grand Mesa.  In the spring of 2014, this largest landslide in Colorado history left about 600 acres covered by thirty-eight million cubic yards of debris to a maximum depth of 123 feet.  Three men checking an irrigation canal in the area were never found.  The tiny little irregularities along the horizon are the beautiful San Juan Mountains, probably one hundred miles distant.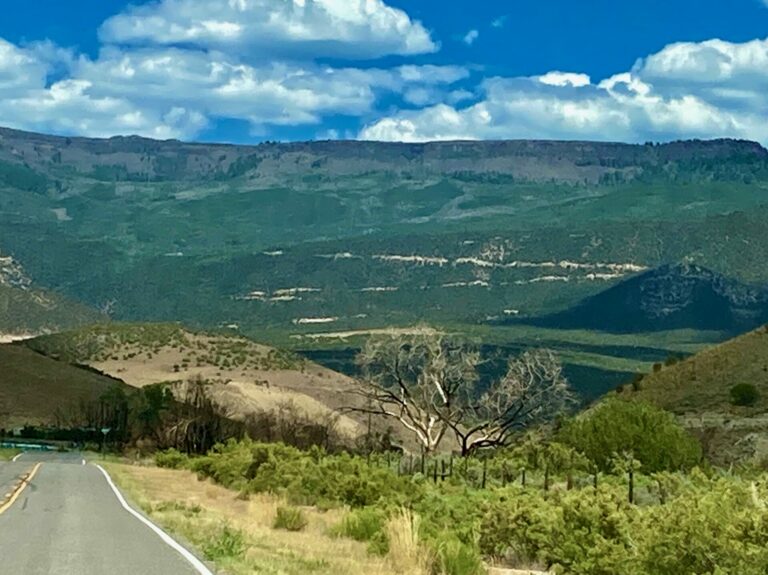 Land's End Road
Our first jaunt was a drive up out of the Grand Valley on Land's End Road to the top of Grand Mesa, an elevation gain of about a mile.  The tight switchbacks of the unpaved road are obvious from below.  The mesa itself is credited as the largest flat-topped mountain in the world and is topped out with forests and lakes everywhere. Variations in the color green differentiate the changing ecosystems during the ascent.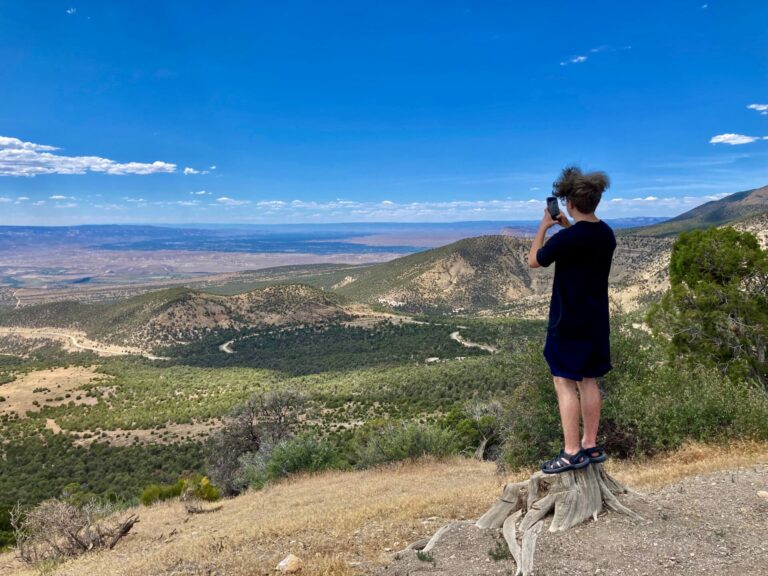 Land's End Road
About halfway up, we took in a view of the Grand Valley below.  Until efforts by Colorado congressman Edward Thomas Taylor in 1921 led to a name change, the river flowing west out of the Rocky Mountains was called the Grand River.  At the time, "Colorado River" referred only to the section below the confluence of the Grand and Green rivers in Utah.  "Grand Valley" and "Grand Junction" are relics of the earlier name and refer to where the now Colorado River joins with the Gunnison River.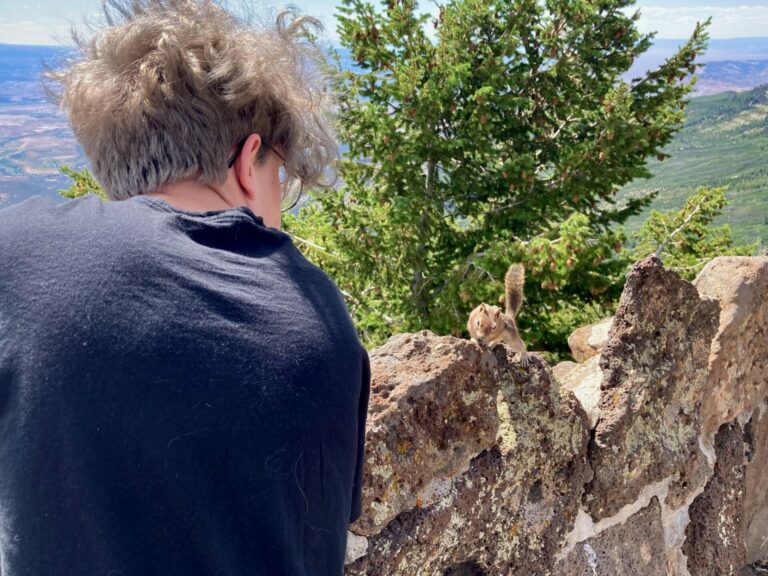 Land's End Observatory
At the top of the road is Land's End Observatory, a now abandoned CCC building.  Numerous chipmunks scamper around, trying to bum snacks.  The most popular visitor while we were there wasn't handing out chips or nuts or Cheetos, he was filling a small bowl with fresh water which the striped rodents lapped up with great enthusiasm.
Grand Mesa
Except along the rivers or in irrigated areas, the Grand Valley is a desert.  The top of Grand Mesa, however, is anything but as these innumerable wildflowers show.  We were a little too late to experience the peak of Spring blooms but we enjoyed what we saw.  It was pretty enough to get a 15 year old boy to spontaneously exclaim how beautiful it was up there and I think that's saying something.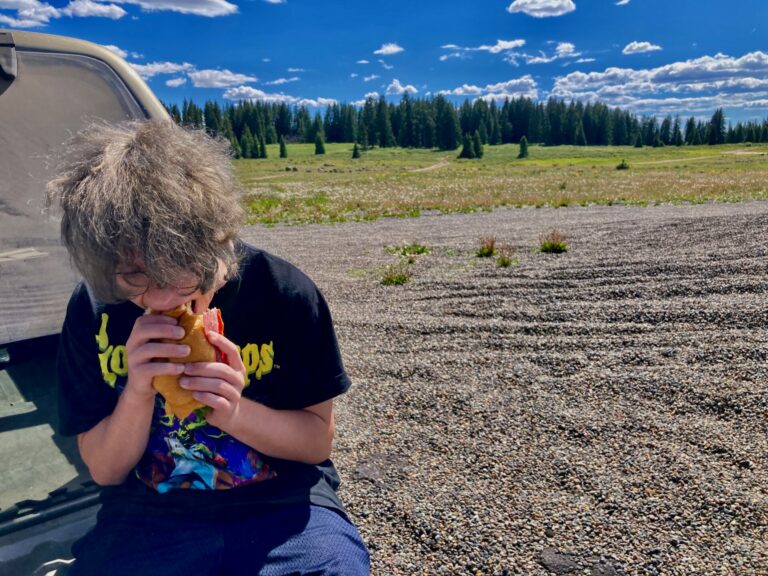 Grand Mesa gravel pile
On Grand Mesa, I pulled my brother's truck over so we could have a bite to eat.  A DOT gravel pile wasn't the most scenic choice for our snack but distant views, tasty treats, cold drinks, the quiet, a warm Sun, the clean air and the slightly oxygen deficient air at 10,000 feet all combined to make for a wonderful feeling of contentment.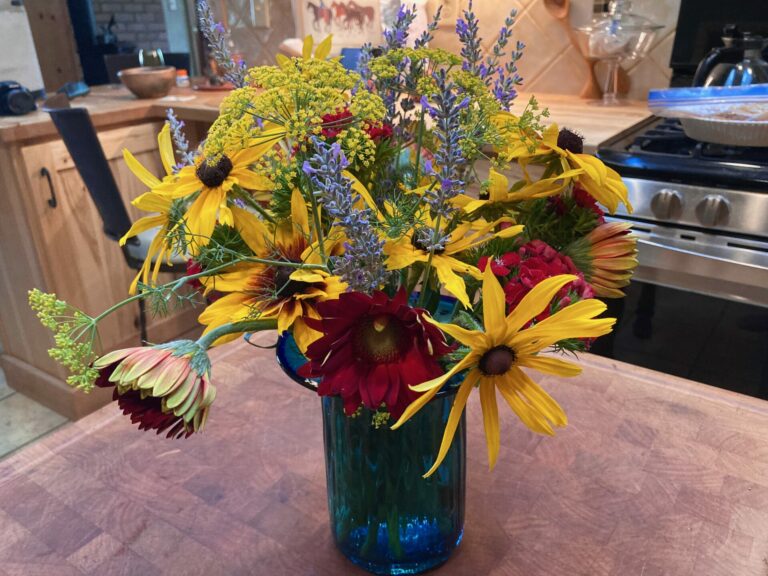 My Sister's Kitchen
Don't panic, none of these flowers came from Grand Mesa.  My wife had asked me to give this blue vase to my sister with whom we were staying as a gift.  She said to fill it with flowers before doing so. With a skimpy bouquet I picked up at the grocery store and fresh flowers cut from my sister's own gardens, it came together pretty nicely I think. 
Still to come:  a hike to Devil's Kitchen, a loop around Colorado National Monument, cool old cars and a drive into Cretaceous Utah, thrill rides and a cave on a cliff, a desert flash flood and a float trip on the Colorado River.