Big sports guys pic.twitter.com/O4XgEzIpVx

— Kendall Baker (@kendallbaker) December 18, 2022
I wouldn't have volunteered to set up all those World Cup posts if I hadn't thought they'd be appreciated, but I'm glad y'all verified my impulse (special thanks to WaterGirl, who got stuck with hand-posting everything during business hours).
While I was surfing around looking for snippets I could repurpose for those threads, there were many stories that didn't quite fit the aesthetics of the moment, some of which I thought might still be of interest…
Ryu Spaeth, at NYMag, on "The Last World Cup":
… The World Cup, in other words, has a way of being itself despite appalling outward circumstances that might mitigate its pleasures. A child watching the tournament for the first time this year will enjoy an experience not all that different from my own first World Cup way back in 1990, perpetuating the myth of the greatest sporting contest on earth, a myth so entrenched that, even in this era in which European club soccer is paramount, the biggest stars humble themselves before it. There have been many examples: Neymar's devastation after Brazil's shock quarterfinals exit, Son Heung-min's wracking sobs after he lifted South Korea to the round of 16 with a brilliant through-the-legs assist, England's Harry Kane's skying a do-or-die penalty against France and seeing the first line of his obituary flash before his eyes. But the most revealing may have been 34-year-old Robert Lewandowski collapsing into a heaving mess after he scored his first World Cup goal for Poland in the group stage. Here was a person who had notched roughly a bajillion goals over his storied career, who had played for the best clubs and had won nearly every honor that it is possible to win, made as vulnerable as a little boy by a single goal, a boy's dream finally fulfilled.

It may seem crass to boil down these dynamics — the collapse of past and present, the merging of the heroic and the human — to mere entertainment, but there is no doubt that this is how FIFA, the sport's corrupt, unaccountable governing body, views the event. Led by Gianni Infantino, a bald bureaucrat in dark suits who can be seen glowering in the VIP seats like global soccer's very own Lex Luthor, FIFA correctly bet that the tournament's entertainment value would ultimately outshine its more distasteful elements. FIFA is sitting on something priceless, a gift that will seemingly keep giving forever, no matter how hard it tries to soil it in the pursuit of profit. Those who don't follow soccer can't quite understand the appeal, in the same way that a novice to opera hears only noises, but what they are each offering is the same: emotion at its most naked, drama so acute it verges on melodrama, a concentrated dose of life's rich pageant. As long as the literally billions of people who watch this sport continue to invest it with so much meaning, then FIFA's greed cannot dull its luster.

This is surely Infantino's takeaway: that he can get away with almost anything. The World Cup is well on its way to surviving a host country that likely bribed its way into contention, as well as the breaking of an important precedent in moving the tournament to the winter months. But other changes threaten to diminish its value in the eyes of fans and players. Infantino's desire to hold the event every two years would deprive the World Cup of its most precious quality: its rarity. Expanding the number of teams from 32 to 48, the format for the next World Cup in North America in 2026, will create a sprawling colossus that will likewise cheapen the experience. (Infantino is relentlessly expansionary and deaf to complaints, announcing on Friday a 32-team "Club World Cup" that would take place in 2025.) There is no popular demand for these changes; it's all about the tournament's lucrative broadcasting rights and the banal power struggles behind them: Infantino secured his position as FIFA's president by promising more countries entry into the tournament…
I can't appreciate the technical aspects here, but I'm sure some of you will have thoughts:
… Refined technique — the term of art for the instruments of control and precision — is no longer the secretive preserve of the Dutch academy and the Italian training ground. It is now expected that a player be able to bring a hurtling orb to a complete standstill — to kill it dead — and rifle it to all four corners of the field with laserlike accuracy. The gap between the iconic teams and the middling powers has never been narrower, which is why the group stage of this World Cup was so thrillingly unpredictable and why two of the four semifinalists, Croatia and crowd favorite Morocco, came from outside the traditional elite. This was the globalization of the game at work, greased by enormous pools of cash. It was evident in everything from the quality of the players, each of whom represents an investment in cutting-edge training and nutritional technology, to the ubiquitous haircut of the tournament: high and very tight on the sides, as if every player were a Navy Seal, an assassin…

The World Cup has made clear the uncomfortable truth that money has made the sport much better. It's also made clear that a growing chunk of that money comes from bad places that do bad things. Almost everything a fan could love about a soccer performance these days — the athleticism, the explosive power, the grace on the ball — has a cost, both monetary and human. De facto slave labor may not play a role in the next World Cup, held in Canada, Mexico, and the United States, but that doesn't mean it will lie beyond the shadow of despots…
Never bet against the Trickster God:
Kind of respect the ruthlessness of the French FIFA team.

Came in knowing they were the evil empire against the scrappy underdog. Didn't care. Looked God in the eye and told Him happy endings were for Hollywood.

— Checkless Starfish Who Can Change His Name (@IRHotTakes) December 14, 2022
Chief executive of the Qatar World Cup chief criticised for migrant worker death comments https://t.co/ZeegW37upt

— BBC News (World) (@BBCWorld) December 8, 2022

Albert Burneko, at Defector, "Qatar's World Cup CEO Scolds Reporters For Noticing That Another Worker Died":
… FIFA and the Fox network's efforts at distraction notwithstanding, the dire plight of migrant workers in Qatar has been a focus of critical media coverage pretty much since the emirate successfully bought the rights to host this World Cup back in 2010. By now much of the world knows that the tournament's infrastructure was built with, in effect, slave labor, and that some 6,500 migrant workers—sit with that number for a second—are believed to have died in the effort. Qatar is ruled by an absolute monarchy with effectively limitless riches; FIFA is a bottomlessly corrupt cesspool of graft and self-dealing; neither organization has shown or ever voluntarily would show the slightest inclination toward meaningful accountability for, or even recognition of, this more than decade-long atrocity…

When a Reuters journalist got access to Nasser Al Khater, this deeply accursed World Cup's chief executive, the subject came up. Here you might expect an even minimally accountable boss type, one encumbered by, if nothing else, a cynical sense of responsibility to good public relations, to affect the appropriate face and recite the obligatory lines about being deeply saddened by this tragic loss of life and about the Qatar World Cup's absolute commitment to the safety and fair treatment of all the workers who make this possible and so on. None of it would mean all that much, of course, except as a rearguard action to reassure skittish advertisers and brand partners. Still, there's something chilling implied by an executive apparently unbothered even by those gross mercenary concerns…

"We're in the middle of a World Cup. And we have a successful World Cup. And this is something that you want to talk about right now? I mean, death is a natural part of life, whether it's at work, whether it's uh, in your sleep. Of course, a worker died, um, our condolences go to his family, however, you know, I mean it's strange that this is something that you want to focus on as your first question."…

"Workers' death has been a big subject, uh, during the World Cup. Everything that has been said, and everything that has been reflected about workers' death here has been absolutely false. This, uh, this theme, this negativity around the World Cup has been something that we've been faced with, unfortunately. Um, you know, we're a bit disappointed that the journalists have been exacerbating this false narrative, and honestly you know, I think a lot of the journalists have to question themselves and reflect on why they've been trying to bang on about this subject for so long."

These are the remarks of a man who needs nothing from the world or the other people in it that he cannot buy a million times over, and whom the world in turn can do no more than annoy. He's trying to walk from here to there, man, he shouldn't have to deal with noise about some guy who died, one of several thousand who died. In his aggrieved petulance, the grudging parentheses he practically pantomimes around his hollow expression of worthless condolences to the family of a guy his very own decisions might have killed, is the Ghost of Christmas Yet to Come for every working person in a society suicidally dedicated to empowering a tiny number of its worst inhabitants. A guy fell and died, thousands of miles from home and under Nasser Al Khater's authority, and the sum total meaning of the former's life and work and death to the guy under whose boot he served is that it gave the latter an opportunity to chastise some reporters for bothering to count the corpses.

Look at the fire we built! You expect us to mourn the kindling?
It's complicated, you guys!
How Qatar's riches touch millions of UK lives https://t.co/6Vl2SfQzCB

— BBC News (World) (@BBCWorld) November 24, 2022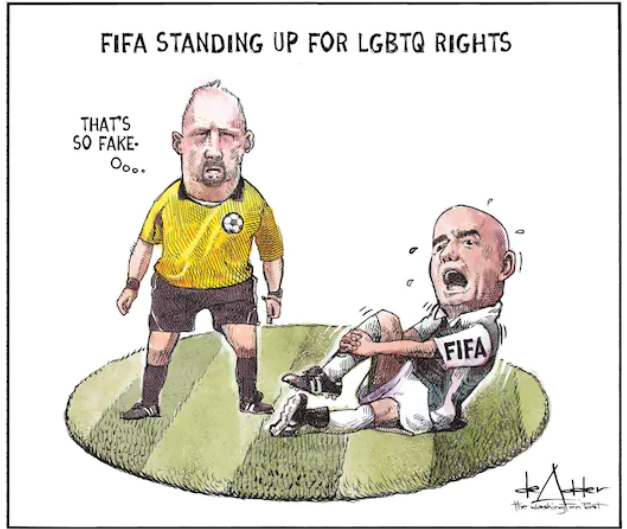 'Being a gay fan in Doha is so taboo we're invisible' https://t.co/MfWF0wqmXO

— BBC News (World) (@BBCWorld) November 29, 2022
About 70% of the world's soccer balls, including the official World Cup ball, are hand-stitched in a single city in Pakistan https://t.co/fFUAu28zHr

— Businessweek (@BW) December 16, 2022
Eugene Robinson, at the Washington Post:
@Eugene_Robinson on the problematic erasures in World Cup media coverage. Free link. Read here: https://t.co/OFKgZzu3lB

— Monica H Green, PhD #VaxTheWorld (@monicaMedHist) December 13, 2022
every awful regime should get to host a world cup so they lose billions of dollars and remind people how shitty they are

— Seva (@SevaUT) November 19, 2022
Anybody gonna follow up on this? Or have the French already announced a blockade at every port?
New Day, New Tweet. Winning Country gets the Buds. Who will get them? pic.twitter.com/Vv2YFxIZa1

— Budweiser (@Budweiser) November 19, 2022
no wonder everyone wants it pic.twitter.com/QpnfwW4J2h

— Jorge R. Gutierrez (@mexopolis) November 21, 2022