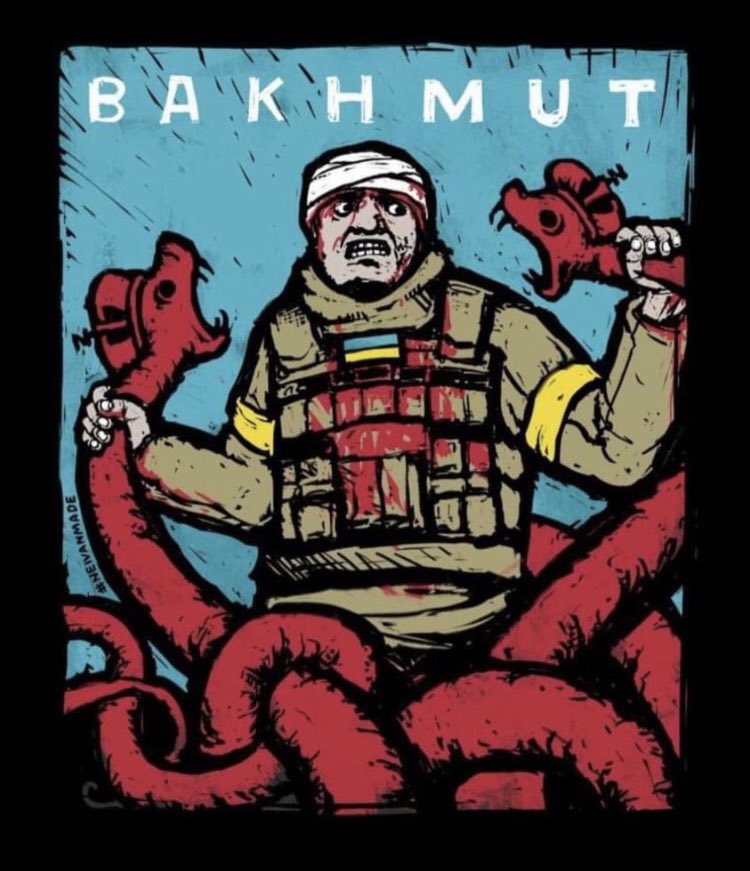 Last night I started the post with the image above and I linked to where I had found it. Another Scott informed us in a comment last night that the artist is NEIVANMADE. Here's the tweet where he posted the image above:
BAKHMUT#StandWithUkraine #StopWarInUkraine #Ukraine️ #StopPutin #RussiaIsATerroristState #StopRussia #Україна #WarInUkraine #PrayForUkraine #ЗСУ #СЛАВАУКРАЇНІ #saveukraine #neivanmade #posterart #BAKHMUT #БАХМУТ #ЗБРОЙНІСИЛИУКРАЇНИ #war pic.twitter.com/qRQ5L1yFT1

— NEIVANMADE (@neivanmade) December 10, 2022
There was a lively discussion of what the picture is supposed to depict. My take is that it has a dual meaning. The first is that because the imperial Russian crest includes a crowned two headed eagle – often referred to as the double eagle – the Ukrainian Soldier is crushing each of the eagle's heads. Though in this case the eagle is a snake trying to crush the life out of Bakhmut. You'll notice that in the depiction above, the cross that would normally be at the top of each crown has been replaced by Putin's Z symbol, which we all recall is supposed to be a stylized 77 with the two 7s attached to each other. You can see the double eagle symbolism in this other piece by NEIVANMADE:
СЛАВА!#stopwar #noputin #nowar #standwithukraine#saveukraine #stopputin #peaceinukraine#ukrainenews #handsoffukraine#STOPTHEWAR #PRAYFORUKRAINE#STOPRUSSIA #NEIVANMADE #russiaisaterroriststate #ХЕРСОН #KHERSON #ЗСУ #славаукраїні pic.twitter.com/gZ9cae8WyJ

— NEIVANMADE (@neivanmade) November 11, 2022
Though these eagles have lost their crowns.
The second part of the symbolism is to invoke the baby Heracles who was attacked by a pair of magical snakes sent by his stepmother Hera. He grabbed each by the throat and strangled them when they tried to strangle/crush him to death in his crib. This part of the symbolism also depicts the mighty – Herculean if you will – effort of Ukraine's defenders against the Russian re-invaders.
Anyhow, click across and see all of his art. He's also working on a Ukrainian tarot set for those of you into that sort of thing.
Here's President Zelenskyy's address from earlier today. Video below, English transcript after the jump:
Good health to you, fellow Ukrainians!

Today's morning in several regions and cities of our country was, unfortunately, spoiled by the characteristic sound of the Iranian Shaheds. But most of them luckily fell short of their intended targets, and that made our morning a little better today. 30 Shaheds were shot down – not bad

I thank all our anti-aircraft fighters, pilots, and mobile fire groups for this result and for the protection of the Ukrainian sky. And I am especially grateful to the 96th Kyiv and 208th Kherson anti-aircraft missile brigades, which showed the greatest accuracy today.

These Shaheds, which were used by Russia, are from a new batch of drones. This is the terrorist international of two regimes – they help fight against people.

Well, both of them will be held to account for it.

This week will be quite active for us in terms of international events and negotiations. I held several meetings today regarding these plans. We will fight to strengthen sanctions for all manifestations of terror against Ukrainians and to get additional support for our state and our defense forces.

Today I addressed the leaders of the ten states of Northern Europe united in The Joint Expeditionary Force. This is a format of cooperation initiated by Great Britain. It includes the Baltic states, Finland, Scandinavian countries, the Netherlands, Iceland and the United Kingdom itself. And my appeal today was very specific. Weapons, ammunition, new defense capabilities… Everything that will allow us to speed up the end of this war. Thank you to the participants of the summit for the fact that we were heard today – we are waiting for new decisions regarding the supply of new weapons.

The key task for all of us now – my task, and that of each of our diplomats and officials – is that world support for Ukraine next year not just remains at the same level as this year, but increases. Precisely under those indicators that are necessary to strengthen our defense operations.

This is artillery – we need more guns, shells, these are modern tanks that have not yet been delivered to Ukraine, these are longer-range MLRS, modern and truly effective air defense…

Please, if your opinion is heard in the media, if you support the state in the expert field, you too can help get everything that our defense forces need.

The main thing is to speak for Ukraine with one voice and defend our common interest: everything for the victory of Ukraine, everything to help our defense.

Bakhmut is the hottest spot on the entire frontline – more than 1300 km of active hostilities. Since May, the occupiers have been trying to break our Bakhmut, but time goes by and Bakhmut is already breaking not only the Russian army, but also the Russian mercenaries who came to replace the wasted army of the occupiers.

Just think about it: Russia has already lost almost 99 thousand of its soldiers in Ukraine. Soon there will be 100 thousand of the occupiers' casualties. For what? No one in Moscow can answer this question. And they won't.

They wage war and waste people's lives, other people's lives, not of their loved ones, not their own lives, but the lives of others only because a group in the Kremlin can't admit mistakes and is terribly afraid of reality. But reality speaks for itself.

I thank all our fighters who are heroically holding the Bakhmut direction, Soledar, Avdiivka, Maryinka, Kreminna direction and the entire Donbas region, which was one of the strongest in Ukraine before Russia came, and which Russia is destroying to the scorched ground. Even such cruelty won't give the enemy anything.

Today more consumers than yesterday are disconnected from electricity. Due to several drone hits in the morning.

But repairmen, as always, work very actively, around the clock. They are trying to restore power supply as soon as possible, at least at the level that generation can provide. It will be done.

And one more thing, which is especially important.

Today is Saint Nicholas Day – a traditional day when we all wish peace and warmth, reliable protection and victory.

I believe that Nicholas will hear us.

Today – just on Saint Nicholas Day  – the project by Ukrzaliznytsia and UNICEF started – a joint project that can bring a holiday to Ukrainian children. To those who live near the frontline and in the de-occupied areas. Special festive trains in three directions. Today – Donetsk region. On December 21, such a festive train leaves for the Kharkiv region. On the 23rd – Mykolaiv and Kherson regions. They bring festive performances and more than 30 thousand gifts.

Thank you to everyone at Ukrzaliznytsia, UNICEF and the government who organized this project.

I would also like to thank UNICEF separately for more than 100 million dollars of support for Ukrainian families. More than 120,000 families, in particular those raising four or more children, children with disabilities, can receive financial assistance.

In total, the program will cover more than 600,000 Ukrainians. Thank you for such support!

Thank you to all those who help our people in this terrible time! Thank you to everyone who protects Ukrainians!

And I want to turn now to all our friends and just conscientious people in Georgia.

Probably, everyone could see the health condition of Mikheil Saakashvili now. Therefore, I appeal to the people of Georgia, to the authorities of Georgia – it is necessary to show mercy, especially on the eve of Christmas. What is happening to Mykhailo now is cruelty. This does not suit Georgia. This must be stopped.

Please make a decision that can save his life. Transfer Mikheil Saakashvili to one of the clinics of Ukraine, another European country, America.

It is high time to take this good step.

Glory to Ukraine!
Here's former NAVDEVGRU Squadron Leader Chuck Pfarrer's most recent assessments of the situations in Kremenna and Bakhmut:
KREMENNA AXIS /2200 UTC 19 DEC/ Following artillery strikes on Ploschanka & Makiivka, a Russian assault west on the O-130505 road was repelled by UKR in the early hours of 19 DEC. UKR forces continue operations in the forested areas to the west and south of Kremenna. pic.twitter.com/Jq84IcVDlH

— Chuck Pfarrer | Indications & Warnings | (@ChuckPfarrer) December 19, 2022
NOTE: As the map went to press, reports indicate that UKR forces have pushed RU troops out of the suburbs south of the H-32 HWY. Developing information and updates will follow.

— Chuck Pfarrer | Indications & Warnings | (@ChuckPfarrer) December 19, 2022
Someone in comments last night, I apologize for not remembering who – today was several Mondays stuffed into a single Monday – asked what is the point of the fight for Bakhmut. It's been a long day, and I've got at least two more ahead of me this week, so just a brief answer/explainer. The short answer is that Bakhmut is something of a strategic hub. If the Russians could take and hold it, then they'd protect their own logistical lines while also establishing a more advantageous theater strategic position for a potential late winter/early spring campaign. If the Ukrainians can repulse the Russians, hold it, then further fortify it, they control a railway that runs through it, as well as a number of key highways and roads. You can see that on the map. You've got the H-32 that runs in from west to east into Bakhmut. You've got the rail line. You've got the M-03 that runs just north of Bakhmut and then off to the southeast. And you've got the T-05-13 and the T-13-02. For the Russians, especially the Wagner bubbas, taking and holding Bakhmut is central to whatever actual plans Prigozhin has as he jockeys for position. For the Ukrainians it means ensuring that the Russians cannot control and therefore cannot make use of the rail line and the highways running into, through, and around Bakhmut.
Happy, happy, happy St. Nicholas Day!
It's the beginning of Christmas season in Ukraine 🎄🎄🎄
I'm having a wish for the winter wishmaster – please let Shaheds and Kalibrs fuck off my city.
Thanks.

— Illia Ponomarenko 🇺🇦 (@IAPonomarenko) December 19, 2022
This year, the main Christmas tree in Sofiyska Square was installed thanks to donations from businesses, and it works with power generators. And once can charge gadgets from it.
Even in wartime, there should be a minute of warm Christmas joy.

— Illia Ponomarenko 🇺🇦 (@IAPonomarenko) December 19, 2022
amid total darkness, ukraine lights up a giant menorah at the country's main square in kyiv to celebrate hanukkah — russian terrorism won't break these people

— вареничок.еріставі 🇺🇦🏳️‍🌈 (@maksymeristavi) December 18, 2022
The Associated Press has the details:
KYIV, Ukraine (AP) — Jews in Ukraine waging a "war between darkness and light" lit a giant menorah on Sunday night to start the eight-day Hanukkah holiday as tens of thousands remained without electricity and Russia's nearly 10-month war produced new victims.

Dozens gathered in Maidan Independence Square in the capital, Kyiv, at sundown to light the first candle of what local Jewish leaders say is Europe's tallest menorah. Kyiv Mayor Vitali Klitschko joined ambassadors from Israel, the United States, Japan, Poland, Canada and France in a ceremony organized by the Federation of Jewish Communities of Ukraine. They sang blessings under the flames of the menorah, which towered over the crowd and passing cars in frigid weather.

Rabbi Mayer Stambler, a leader of Ukraine's Jewish community, drew parallels to the story of Hanukkah, an eight-day commemoration of the rededication of the Temple in Jerusalem by the Maccabees after their victory over the Syrians more than 2,000 years ago. When only enough oil was available to keep the temple candles lit for one day and night, the oil inexplicably burned for eight days and eight nights — a feat now celebrated as the Jewish Festival of Lights.

"We are actually now living through the same situation," said Stambler, drawing a parallel with the current blackouts in Ukraine that Russian bombardments have caused. "This is a war between darkness and light."

In congratulating the world's Jews on Hanukkah, Ukrainian President Volodymyr Zelenskyy, who is Jewish, also noted the holiday's inspiration for his people.

"Those who were fewer defeated those who were more. Light defeated darkness. It will be the same this time," he vowed in a video address late Sunday.

Among those watching the Kyiv menorah lighting was 47-year-old Viktoria Herman, who said the festival of lights brought her hope during the December days with the least sunlight of the year.

"There will be light and everything will be fine for everyone. And finally the war will end," she said.

With the holiday symbolism as a backdrop, Ukraine's state-owned power grid operator Ukrenergo said it was still working Sunday to restore electricity knocked out by Russian missile damage. The grid operator said the volume of electricity consumption increased compared to Saturday, due to falling temperatures.

Zelenskyy reported that power had been restored Sunday to 3 million Ukrainians, on top of 6 million the day before.
Much more at the link!
Speaking of light in the darkness, here's some excerpts from an essay by Council for European Policy Analysis fellow and Kyiv Independent correspondent Olga Tokariuk:
If you need an illustration of how everyday life in Ukraine differs from the rest of Europe, consider the elevators.

Power cuts brought on by Russia's attacks against the civilian energy infrastructure are now so frequent, so long and unpredictable, that people are often stuck in elevators for extended periods. Residents of apartment blocks have therefore started leaving boxes with food and hygiene items, such as baby diapers, in elevators for their neighbors in case they are trapped.

Life is difficult across Ukraine. My mom, who is in her 70s and lives in a town in Western Ukraine, now leaves her sixth-floor apartment only when it's strictly necessary. It reminds her of Covid lockdown, she says, but it's worse.

When we spoke recently, she said they had neither electricity, nor running water because the water pumps fail when the power fails. The Mayor of Ivano-Frankivsk, a city in Western Ukraine, has urged residents of apartment blocks to move to villages for the winter; it would be easier to survive there in case of power cuts which might last "for days", he said.

Nine months after the start of the Russian full-scale invasion, Ukraine is bracing itself for the most difficult winter in its post-independence history as Russian missile attacks on its energy infrastructure intensify. On November 23 alone, Russia fired 70 missiles across Ukraine, plunging the capital Kyiv into an almost total blackout and forcing its residents to queue for water and to use snow melt, as the water supply failed. A week earlier, on November 15, more than 100 Russian missiles were fired: the biggest attack since the start of the full-scale invasion. On November 27, President Zelenskyy warned there were more attacks to come.

The Kremlin truthlessly intones that its missiles are aimed at military targets, but like much of its propaganda, this is transparently false. Vladimir Putin and his generals, cheered on by the propagandists who nightly demand attacks on the civilian population, aim to reduce the country to a pre-modern state, without any of the amenities of 21st century life. They hope to bomb Ukrainians into submission.

As a result of Russia's assaults, which have been underway since early October, half of Ukraine's energy infrastructure has been destroyed or damaged, officials said. Entire cities are plunged into darkness from afternoon until morning. Streetlights go off, entire buildings are doused in darkness, and pedestrians use headlamps to be seen. Internet and mobile connections are spotty, and there are disruptions with heating and water supply. People in Kyiv, Lviv, Kharkiv, and other Ukrainian cities and villages stock up on candles, non-perishable goods and, if they are lucky and wealthy enough, portable phone batteries and generators.

But if the Kremlin thinks that Ukrainians are weakening and that the cold and the hardship it inflicts will cause a collapse in the will to fight, they are badly mistaken.

It's exactly the experience of hardship that helps Ukrainians to resist today, when their country faces a threat to erase its existence. Ukrainians will not surrender so much as an inch of their territory. Ukraine is winning on the battlefield and people are aware that Russian missile attacks are a sign of desperation.

Recent images from liberated Kherson, which has been under Russian occupation for eight months, make plain how Ukrainians feel: there were jubilant scenes, kisses, and flowers for the soldiers, grannies pleading with them "never to leave us alone again." There were Ukrainian flags, hidden under the pavement tiles, dug out and reinstated on the streets.

And, inevitably, as the Russians retreated, more atrocities were discovered: the sites of torture chambers uncovered, the bodies of the executed exhumed from mass graves. Just as in Bucha, Izyum, and every other town where the Russians have set foot.

That's why Ukrainians know they cannot surrender: they know Russia's victory would bring greater repression, along with still more death and destruction. Seeing these atrocities makes them even more determined to defend their right to live in a free, independent, and democratic country.

The world must stand with Ukraine, despite the fatigue and the approaching winter. The democratic world has sent more and better air and missile defense systems and they are working well. But Russian and Iranian missiles are still getting through, and more help is needed to protect the surviving infrastructure.

Ukraine is asking for more military equipment, such as advanced combat aircraft, main battle tanks, and longer-range ballistic missiles like ATACMS. The mere presence on Ukraine's territory of weapons capable of destroying Russian missile launcher sites would serve as a powerful deterrent, Ukrainian officials believe. While weapons systems have been arriving, the pace of supply makes little sense unless our Western friends are still more worried about the defeat of Russia than about the defeat of Ukraine.

Such a judgment would be flawed. Ukraine will fight on regardless. Our people have already made the choice that "It's better to live without electricity if it means living without Russians." This quote, from President Zelenskyy, is repeated every day, like a sermon, by millions in the darkness of Ukraine.
More at the link!
I meant to post the following thread yesterday. Sorry for the delay,
I guess, they associate going to shelter with tragedy. These children are from the East of Ukraine, from the cities and villages that have been razed to the ground. Going to shelter means someone might die. But once they were in our shelter they became happy again 2/ pic.twitter.com/4LufIxNnhQ

— Tymofiy Mylovanov (@Mylovanov) December 17, 2022
The presents program is completely run by KSE students. No supervision. Their initiative. They ask KSE students, faculty, and staff to buy presents. And then match them with kids. Soldiers give out the presents on behalf of St Nicholaus. And kids make drawings and give them 4/ pic.twitter.com/xiL8GuePst

— Tymofiy Mylovanov (@Mylovanov) December 17, 2022
Why did Russia start this war? Why are these kids now orphans or refugees? Is it worth it, Russia? I am still emotional, 12 hours after. I asked students if there are more kids who need presents. They said "yes, hundreds, may be thousands, but they only had presents for 50" 6/ pic.twitter.com/4m15PktMgR

— Tymofiy Mylovanov (@Mylovanov) December 17, 2022
Thank you people for your donations. You are absolutely heartbreaking!! In an very good way. Here is the pinned tweet with info. I have just reported 3 accounts impersonating me, too, so I repost this tweet again. You can check that it is pinned, is dated, has a lot of likes https://t.co/uqRZMLMOaU

— Tymofiy Mylovanov (@Mylovanov) December 17, 2022
If there were 144 of this guy, you'd have gross stupidity!
(Context) https://t.co/JDO3pBYDtn

— Michael Vokabre (@Vokabre) December 19, 2022
That's enough for tonight!
Your daily Patron!
There are still no new tweets or TikTok videos from Patron's official accounts. So I'm going to repost his appeal from a couple of days ago:
This is my friend and colleague, Kraken. Today he was injured at work and lost a foot, serious condition. He is alive. Tomorrow, Mykhailo will see him at the hospital. And I want to ask you, if possible, to supplement my fundraising for the treatment of injured sappers 1/3⬇️ pic.twitter.com/4XRtAZaF2U

— Patron (@PatronDsns) December 17, 2022
And I don't know how to do it, but Ukraine needs more heavy demining equipment. The number of injured sappers is increasing every day. I'm asking for help from all countries that have such equipment and can help us. Please support my colleagues and me to stay alive 🙌🏻

— Patron (@PatronDsns) December 17, 2022
And I found this tweet from September with video I'd not seen before:
Teachers who, even despite the war, did not leave their students and continued to teach.

Parents who raise a generation of free and brave.

Ukrainian children who can only be proud of.

Many thanks to each of you!
Glory to Ukraine!

— ТРУХА⚡️English (@TpyxaNews) September 1, 2022
Also, stocking stuffers!
Get a pattern with Patron the dog, kidnapped Lieutenant Raccoon, Bretzel the lion and more at: https://t.co/R9jNCDrAIE
The Charity collection will direct all profits to help the war-affected animals ❤️ pic.twitter.com/NfkBN1hBiP

— UAnimals.ENG 🇺🇦 (@UAnimalsENG) December 17, 2022
Open thread!