A sweet story from Colorado on this third night of Hanukkah:
Because of that final comment about the world's largest Dreidel, I had to find out more about that. Here's that story:
Albatrossity sent this to me and it made me smile:
And someone linked to this on FB – I tracked down the artist -Betty Matsumoto-Schuch – she does cat greeting cards, seems like that might be a hit here: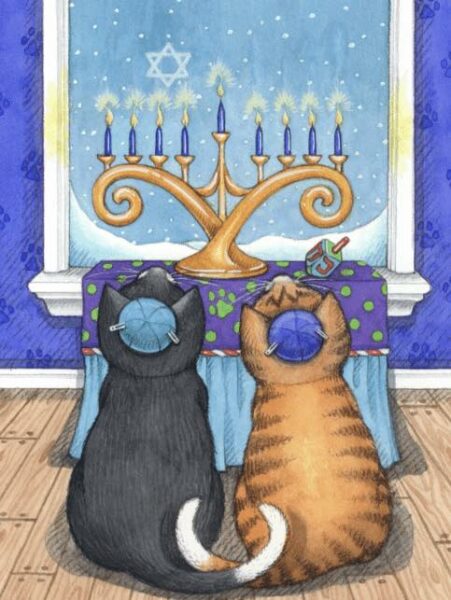 It's going to be in the sub-zero temps for the next few days (and you know what that means). It also means I might have time to post some holiday sweet treats tomorrow since my Solstice plans have been canceled. No promises.
What is getting you through these cold days? How are you coping with the holidays? I've been cooking and baking, as if folks around me haven't been fed since summer. I also put together bags with cash, granola bars, and gloves for those out in the elements. I am going to try and distributed those today. All that has helped to keep the holiday blues at bay this year (as opposed to just cocooning last year). It does feel like the gloom of the last 18 months of constant death and bad news, is finally lifting. A reminder, as Solstice approaches, that the light does return.
This seems like a good resource for coping with holiday stress and depression if you or someone you know is finding it difficult this season.
Consider this a respite open thread