In anticipation of the bomb cyclone that is supposed to hit the region, the stray cat/possum/random critter safe house has been constructed and deployed:
I've got some kibble and water out there, too, and it has a nice warm bed in it. Not that we will need it, because once again the snow gods are fucking with me: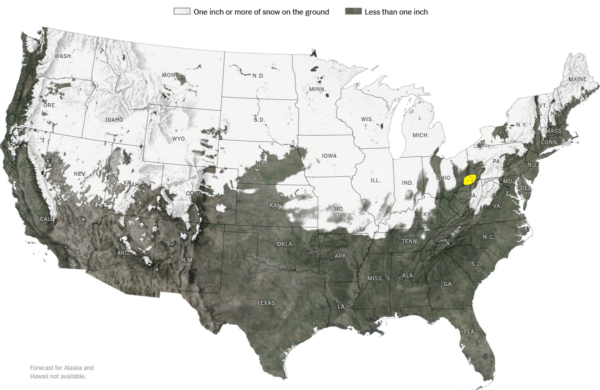 There is nothing I want more than the bomb cyclone to hit and dump snow all the fuck over me. I am ready for the challenge. I am ready to go full caveman. I can take whatever the fuck you throw at me, just bring it. I feel like Lt. Dan hanging on to the sails at this point:
Bring it, you fucker. Try me.
***
So we have officially entered day two of the covid diagnosis, and I have had three doses of the anti-retroviral, and man were you all right about the bad taste associated with paxlovid. It's uniquely awful and unlike anything I have ever had before- my mouth tastes like I chewed advil and washed it down with bitter unsweetened grapefruit juice past its prime, and not that ruby red grapefruit sugar water you bitches drink these days. I'm talking the shit that came in a can in the early 80's that put hair on your chest whether you wanted it or not. The old Juice Bowl stuff that came with the detachable tab that you could use to choke yourself instead of finishing your juice while being threatened with a wooden spoon. Fucking horrendous. I've fought it back with a strict regimen of cinnamon gum.
As far as to whether the drugs are working, here is how I feel- everything I had yesterday is still here, just a little less of it, and I also have a shitty taste in my mouth and an irritable bowel on a hair trigger. So… progress?
***
I am officially over everyone telling me to eat. Fuck off. I'm morbidly obese, I know how to feed myself. It's not like I forgot. I'm just not hungry. Since Tammy died I've had not much of an appetite, and lost 12-15 lbs, but I am not starving to death. Literally the least of my fucking concerns. I could lose fifty lbs and my doctor wouldn't flinch and would tell me "that's a good start!"
Fer fuck's sake- y'all have seen pictures of me. I'm fucking built for a nuclear winter. I'm the human equivalent of a fallout shelter. You skinny cunts will be dead from the famine in a month or so, but my fat ass will be around to plant the next seasons crops, tend them, and harvest them. But hey, you'll always have your bikini pics on instagram.
***
Mentally, I am also fine. I've entered the gallows humor stage of 2022, and honestly have no fucks left to give. As a veteran and Gen Xer, I can tell you that right now I have trained for this my entire life, and my mood can be described as "Really? What-the-fuck-ever" as I go on about my business.
I hope everthing is ok with you guys, though. You'/ll just have to roll with the typos in this post because I'm not proofing it and I don't fucking care. Peace out.