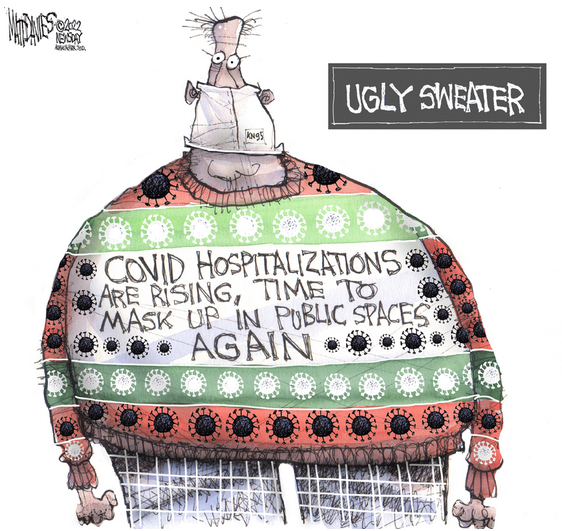 The US government is preparing to drastically reduce its role in fighting the Covid-19 pandemic even as an explosion of cases in China is raising fresh concern about the virus within the Biden administration, @josh_wingrove reports https://t.co/u1Oms0zaLR

— Jordan Fabian (@Jordanfabian) December 22, 2022
… Next year's government funding package includes a brand-new White House Office of Pandemic Preparedness and Response Policy that would have a director appointed by the president and up to 25 staff members.

"They're not simply going to retire the role that [White House Covid-19 response coordinator Ashish Jha] plays when the emergency declaration ends," said J. Stephen Morrison, a senior vice president at the Center for Strategic and International Studies and the director of its Global Health Policy Center. "You can't just keep piling on coordinators, disease by disease."

The new director's main responsibilities would be to advise the president on preparing for pandemics and other biological threats, to coordinate response activities across the federal government — including research into new countermeasures and distribution of medical supplies — and to evaluate the government's readiness. The director would also be a member of the Domestic Policy Council and the National Security Council…

The provision that would create the new office was part of a larger pandemic preparedness package assembled by Senate health committee leaders Patty Murray (D-Wash.) and Richard Burr (R-N.C.). Lawmakers are aiming to pass the broader government funding package by Friday to avert a shutdown.

"We routinely underinvest in, and underappreciate, these key dimensions of preparedness. Having a pandemic response office, with a director appointed by White House, is an important development," Morrison said.
======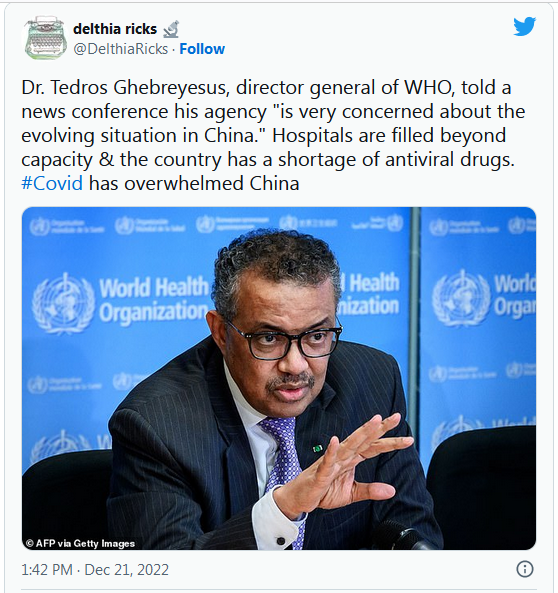 (link)
WHO's emergencies director Mike Ryan: "In China, what's been reported is relatively low numbers of cases in ICUs, but anecdotally ICUs are filling up…I wouldn't like to say that China is…not telling us what's going on. I think they're behind the curve."https://t.co/OEXzmx4XTB

— Jonathan Cheng (@JChengWSJ) December 22, 2022
Bloomberg: #China is likely experiencing 1 million #but Covid infections and 5,000 virus deaths every day as it grapples with what is expected to be the biggest outbreak the world has ever seen, according to a new analysis https://t.co/ZB9zoTrUUZ via @bpolitics

— Patricia M Thornton (@PM_Thornton) December 22, 2022
After years of enforcing harsh measures to stamp out the coronavirus, President Xi Jinping's abrupt abandonment of zero-COVID in the face of protests and a widening outbreak has left China scrambling to avert a collapse of its public health system https://t.co/gASfISdaxd pic.twitter.com/OuSqratE4F

— Reuters (@Reuters) December 23, 2022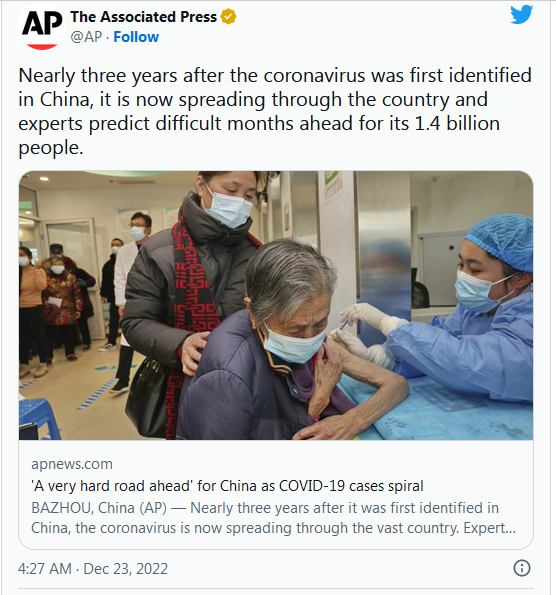 (link)
China's narrow criteria for identifying deaths caused by COVID-19 will underestimate the true toll of the pandemic's current wave there and could make it harder to communicate the best ways for people to protect themselves, foreign health experts warn. https://t.co/VWqlqinuAp

— Reuters Health (@Reuters_Health) December 22, 2022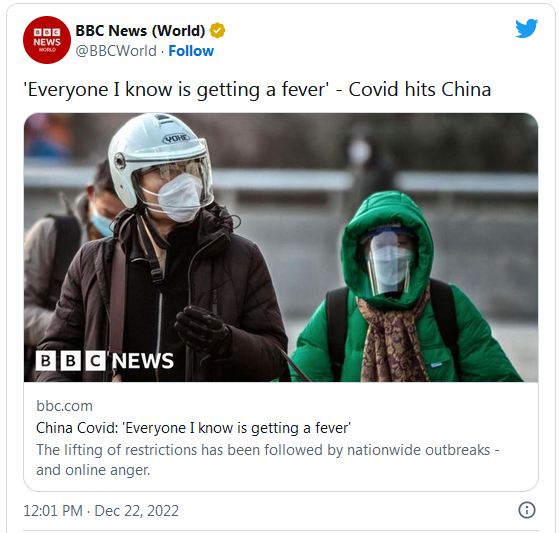 (link
)
'a China watcher and a news junkie, ex-South China Morning Post'
My latest #ThoughtofDayonChina: Fever meds in short supply, hospitals overwhelmed, blood shortage, death tolls soaring among the elderly, morgues overflown with body bags –Why China has a man-made crisis after "sudden reopening"https://t.co/j3y7I0z2nh pic.twitter.com/Hml9eLLChl

— Wang Xiangwei (@wangxiangweihk) December 22, 2022
The good news is we have the lowest average age of any city in China, we also have relatively few disabled people, so most Shenzheners will be fine.

— Naomi Wu 机械妖姬 (@RealSexyCyborg) December 21, 2022

(Chinese New Year 2023 begins January 22.)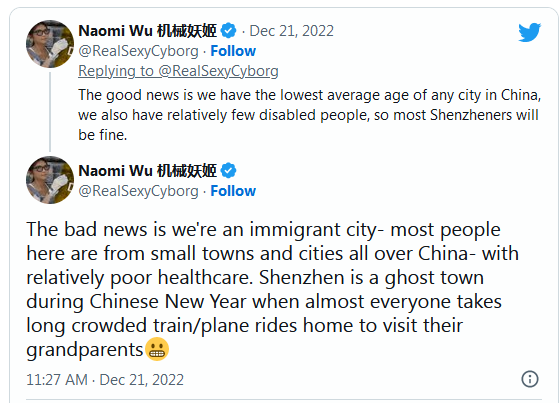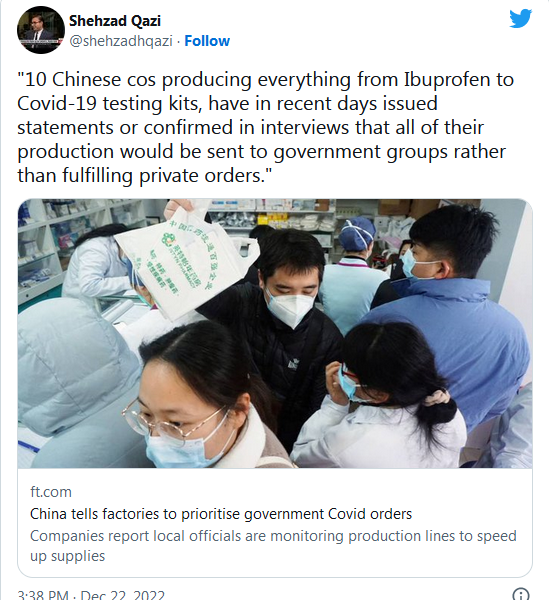 (link)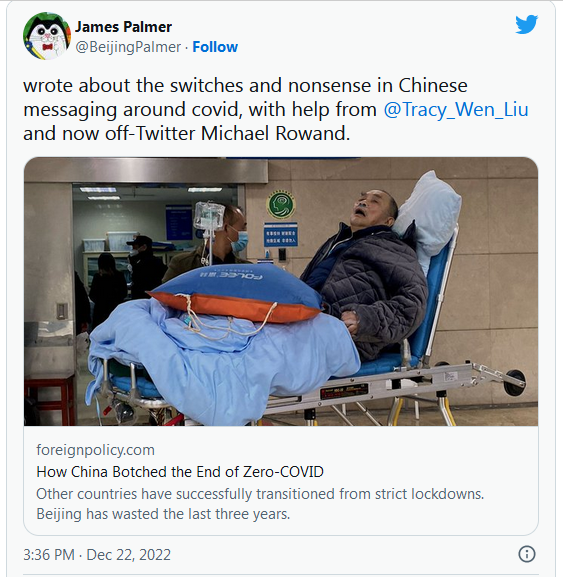 Since successfully containing the first Wuhan outbreak in April 2020, China has had more than two and a half years to prepare for the end of its zero-COVID policy, which placed strict restrictions on a public increasingly tired of life under lockdowns. But Beijing hasn't used that time wisely. The COVID-19 wave now surging across the country is hitting a deeply underprepared health care system. Streets once empty because of lockdowns are now empty because people are only venturing out to get medicine. Other countries, such as Australia, New Zealand, and South Korea, abandoned strict containment policies but were able to contain hospitalizations and deaths because they had used the time they bought for themselves to vaccinate their citizens, educate their publics, and build up health care supply chains. These countries escaped the extremely high infection rates of the first year of the pandemic in countries such as the United States despite omicron waves, putting their decision-making in stark contrast to China's.

China's comparative success or failure won't be clear for years, if ever, but the picture on the ground so far ranges from disappointing to frightening. The years of the pandemic were spent shoring up zero-COVID controls to extremes, not expanding the health care system. Overconfidence and over-investment in zero-COVID measures, combined with political demands and propaganda, have left health care workers uncertain as to what to do and the Chinese public dangerously vulnerable.

Reliable numbers are impossible to obtain. The official figures are an increasingly ludicrous fiction. The withdrawal of the onerous testing system has moved China from one extreme to another, with citizens forming social media groups to work together to find testing kits which are suddenly in short supply. China maintains that there have only been seven deaths since the zero-COVID policy effectively ended on Dec. 7, even as the bodies pile up in crematoriums and fever clinics. In part, this is because of China's extremely narrow definition of COVID-19 deaths, a policy choice that continues the country's past undercounting of flu deaths. Virtually any pre-existing condition is being seized on to avoid classifying a death as due to COVID-19, while other fatalities are being attributed, as with flu, to "pneumonia" or "cardiac arrest" rather than the trigger of COVID-19…

As a result of both the failure to prepare and the unwillingness to publicly admit the extent of the crisis, health care workers are struggling to cope. In some cases, Chinese medical staff are calling their U.S. counterparts through personal contacts to try and determine best treatment methods. One doctor in a small northeast town with whom we spoke (who asked, like other sources, for anonymity for fear of possible political consequences) talked of soaring case numbers and hospital authorities improvising to develop triage and treatment protocols with little guidance either from government bodies or the body of literature and experience that has been developed across the world over the last three years.

She stated that the first case of the latest wave of COVID-19 she saw was on Nov. 28. Now, approximately one-third to one-half of admittees in the in-patient section of her hospital were positive for COVID-19 and about 60 percent of the staff, including herself, had caught it. "I feel like the hospital is sort of struggling because of how many workers are sick with the coronavirus," she said…

Underlying the outbreak is a spotty vaccination record. The two-dose rate is more than 90 percent but much lower among older Chinese, especially the over-80s. Only around 40 percent of the public has received a booster shot. While some analysts have blamed the government for not pushing vaccinations more heavily, resistance to vaccination among the public is strong, despite repeated persuasive efforts by local authorities. Thanks to safety scandals in the past, China's health care system suffers from a long-time crisis of trust.

The fragmented nature of government in a huge nation has also contributed. Older Chinese tend to live in more rural areas, and COVID-19 measures have been far tougher in the cities than in the countryside. Rather than demanding vaccination directly, city authorities, with some exceptions, have normally required proof of vaccination as part of the ubiquitous (until recently) health-code app system. Even that usually only required the first round of vaccination, not boosters. And older people who live in rural areas have often avoided the health-code app system altogether since they don't travel.

The government has also failed to approve or import the more effective mRNA vaccines. Part of this may be the desire to promote domestic solutions and technology. But biological paranoia may have played a role too. Since well before the pandemic, Chinese military academics and other public figures have promoted the idea that the United States is developing viruses to genetically target Han Chinese. Far-right anti-vaccine conspiracy theories and Russian propaganda about biowarfare in Ukraine have also widely circulated in China. One idea commonly heard from ordinary Chinese people is that the mRNA vaccine will alter your DNA. While much of this is deliberate propaganda, people in parts of the Chinese government may also sincerely believe in such ideas…
Indian reporter in Beijing:
Read this interview with Dr Randeep Guleria why India is not likely to see a spread as in China at the moment – with some alarm at the prospect – because these are two completely different contexts wrt immunity.https://t.co/jpqPHtzrgB

— Ananth Krishnan (@ananthkrishnan) December 21, 2022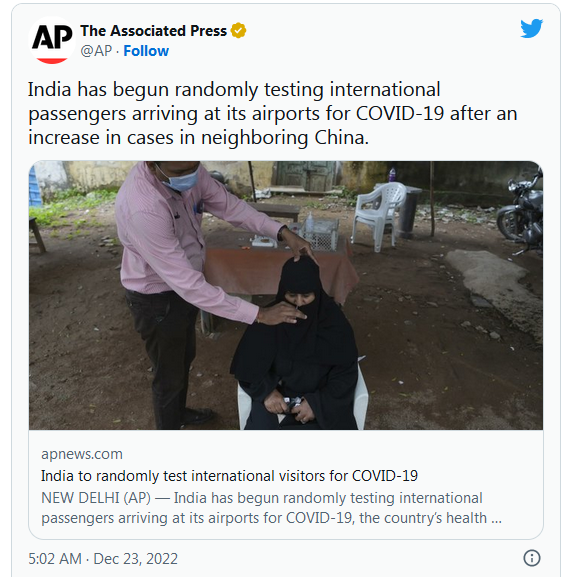 (link)
Indian Prime Minister Narendra Modi cautions India amid China coronavirus surge https://t.co/oJIS65r0el

— BBC News (World) (@BBCWorld) December 23, 2022
======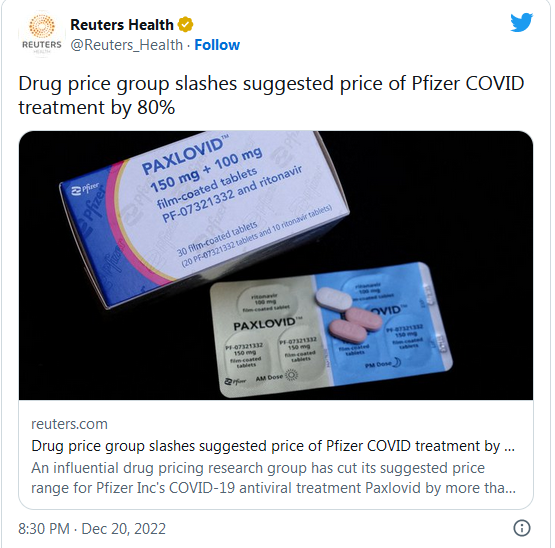 (link)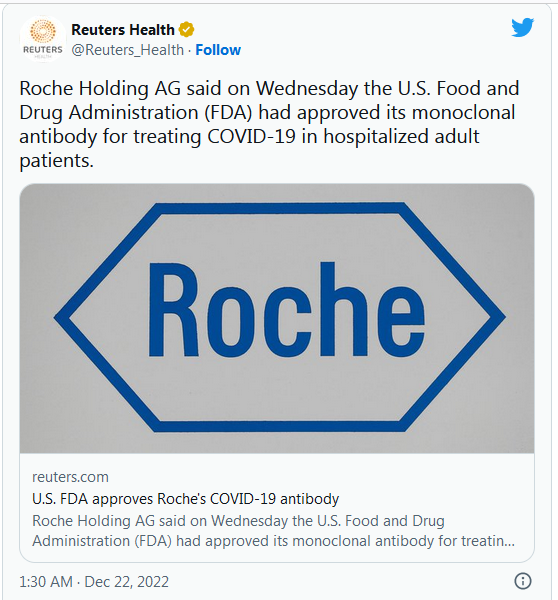 (link)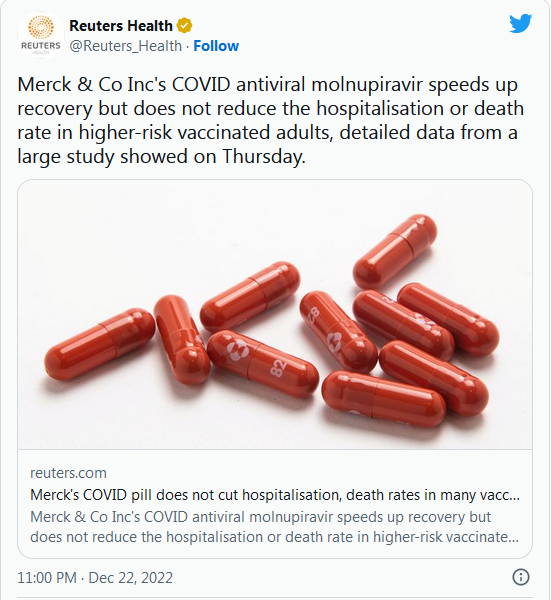 (link)
Dogs were trained to rapidly detect SARS-2 in the sweat of concert goers. They achieved a diagnostic specificity of 99.9% and sensitivity of 81.6%. The overall rate of concordant results (between the dogs and PCR tests) was 99.7%. h/t @SamWangPhD https://t.co/chqtm7vRRj pic.twitter.com/EXi2wi9zt0

— Nicholas A. Christakis (@NAChristakis) December 21, 2022
Another reason you don't want to catch the #coronavirus: #Covid can affect vision & depth perception. The ongoing internat'l research is using animal models to determine the eyes susceptibility to SARS2 & exploring whether it infects the eyes directly https://t.co/FTrw6LtP5o pic.twitter.com/Z5FnNiPoda

— delthia ricks 🔬 (@DelthiaRicks) December 21, 2022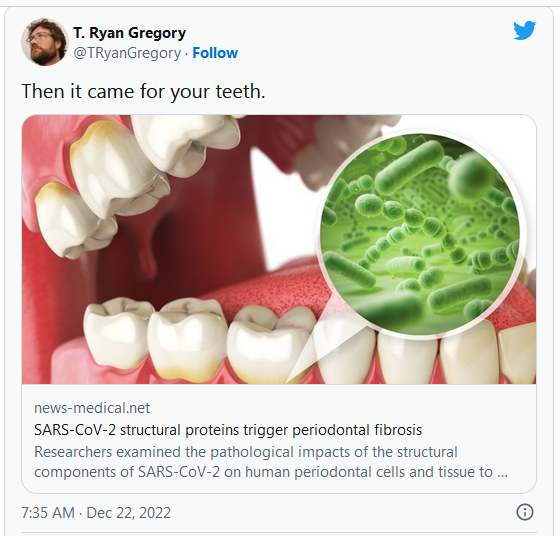 (link)
======
SHEA, the Society for Healthcare Epidemiology of America, is suggesting hospitals no longer routinely test asymptomatic patients for #Covid. Juice not worth the squeeze, they say.
IPC folks: Good idea? Bad idea? https://t.co/MWcVtczKkw

— Helen Branswell 🇺🇦 (@HelenBranswell) December 22, 2022
Anecdotally, it's harder to get the new bivalent booster. Spousal Unit & I finally got ours Wednesday; there are no walk-in appointments available here, and our last appointment was cancelled because the only available pharmacist called in sick that day…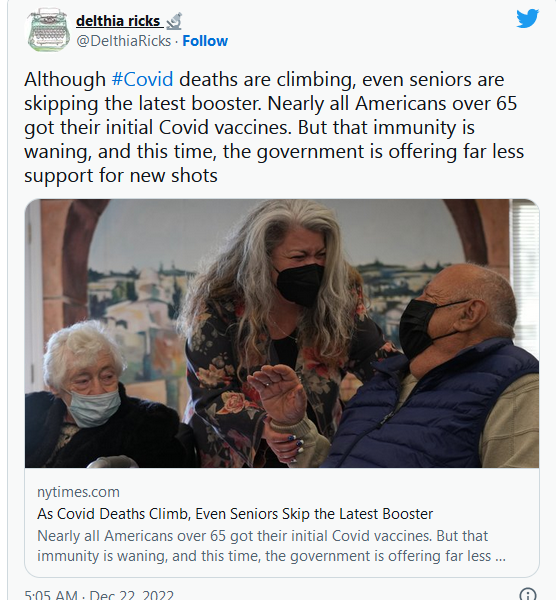 (link)
Highest Covid hospitalizations in New York since January and soaring in seniors, as the XBB variant with added mutations gains growth advantage https://t.co/cz0BwwaIM3 pic.twitter.com/AE7Gh7fQ1P

— Eric Topol (@EricTopol) December 22, 2022
GREAT NEWS: If you're experiencing symptoms and don't know what you have, now you can go to any of dozens of mobile "Test to Treat" sites around NYC and get tested for covid, flu & rsv AND if you need it get an Rx for paxlovid or tamflu *on the spot*.

Locations/times by borough: pic.twitter.com/9CS5weKBJb

— Mark D. Levine (@MarkLevineNYC) December 21, 2022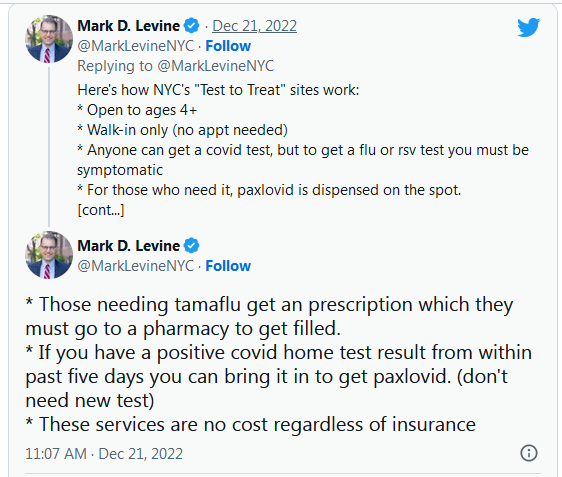 (link)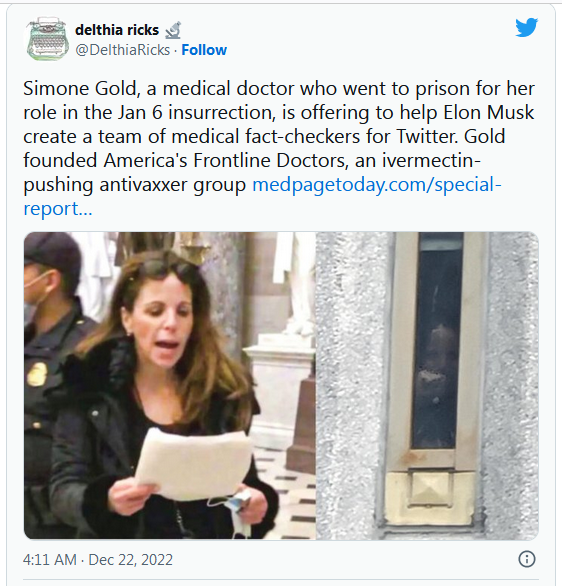 Reader Interactions