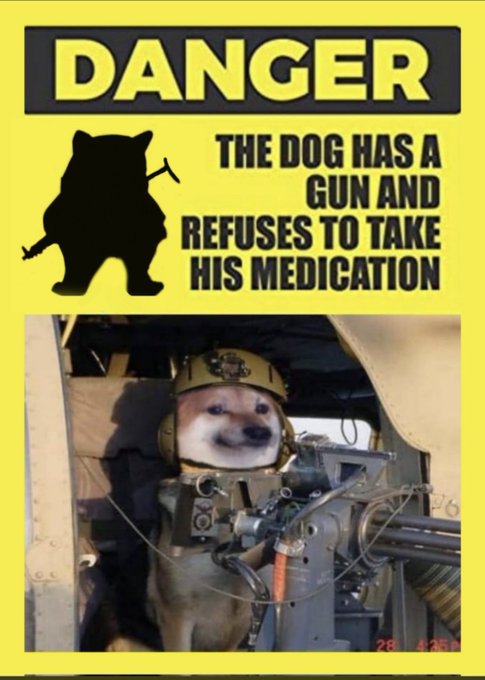 We have, thank someone's, anyone's, or for the atheist's no one's, Deity or Deities for the polytheists, made it to the weekend! I'm fried. I'm sure everyone else is fried. So I'm going to keep tonight's post as short as possible.
Before I dive in though, I want to address a comment that came in either very late for last night's post or very early if you go by when it was made. The comment was in response to the news that the Ukrainians had put a 155mm round on where Rogozin was celebrating his birthday in Russian occupied Donetsk on Wednesday. And it was framed as a question – and I'm paraphrasing – that I was telling the commenter that Ukraine targets civilian targets. I don't know if this was a cynical comment, a sarcastic comment, or the commenter – and I'm not going to look – was actually serious, but I'm going to play it straight and answer the question. The answer is that the Ukrainians had two legitimate military targets – the former Russian Deputy PM and head of Roskosmos and a senior leader in the separatist movement who served in a high position in the breakaway and Russian aligned government in Russian occupied Donbas. In addition to these two targets, they also had their bodyguards, and their friends and other invited guests to Rogozin's birthday party. All of these are separatists, collaborators, actual Russians and/or people working for them. They have been involved in planning, executing, and in some cases profiting from Russia's eight year occupation of the Donbas and all the atrocities, crimes against humanity, and war crimes that has entailed. If the Allies in WW II had the chance to take out a high NAZI official who had rented a restaurant in NAZI occupied France for his birthday even if that would also most likely take out the others attending the party, that would have been a legitimate target to strike. Just as it was for the Ukrainian military on Wednesday. I trust I won't have to address this again.
Here is President Zelenskyy's address from earlier today. Video below, English transcript after the jump.
Dear Ukrainians, I wish you health!

I held a meeting of the Staff today. It was as always substantive, but today more news for the troops after a visit to the United States.

We are preparing for the coming months and next year in general. Our tasks are unchanged. It is the liberation of our land. Safety for our people. Restoration of our country after the Russian strikes. These are the elements of the Ukrainian victory, which we are approaching step by step.

We heard today the commanders' reports at the Staff meeting. We see prospects at the front. We are preparing for different variants of actions of the terrorist state, we see its intentions. And we will respond.

The situation in the energy sector was discussed separately.

Today I held an important annual meeting with the ambassadors of Ukraine – the entire diplomatic corps of our country received tasks for the next year.

We are preparing to step up Ukrainian diplomacy in several directions.

The first are the countries in which our influence is still less than we need from the point of view of the national security of Ukraine and the interests of our people. First of all, these are the countries of Africa and other parts of the Global South – Latin America, Asian countries, and the Pacific region.

This is a huge economic potential, and it is also a significant diplomatic opportunity. For example, during the voting of the UN General Assembly for resolutions that protect our territorial integrity and international law. We will strengthen Ukraine's position.

The second aspect of Ukrainian diplomacy is to increase cooperation with our traditional partners so that the next year will really be decisive in this war and Ukraine will achieve all its goals.

We are preparing to upgrade the diplomatic service, we will strengthen the Ukrainian embassies.

There was also a non-public part of our meeting with diplomats today – I focused on several important, sensitive points in communication with the ambassadors.

I spoke today with Prime Minister of the Netherlands Mark Rutte. I am grateful for the new support package – very important, timely EUR 2.5 billion for Ukraine. Of course, our joint actions with the Netherlands next year were also discussed. We are coordinating the steps as much as possible, and I believe that there will be a tangible result, especially in the matter of bringing to justice all those who are guilty of this aggression against Ukraine.

And one more.

It was an honor for me to congratulate those people who, together with their colleagues, are restoring our systems after the Russian strikes. I believe that all of us should thank more often those who work for the preservation of our well-being and normal life. Not political at all. Maybe not always visible to most. But thanks to many of these people, Ukraine is living.

In particular, anyone and everyone who repairs the grids and generation facilities damaged by the strikes, before the air alert has even ended, to give people power faster, is the true hero. Everyone who goes to the de-occupied and front-line areas to return everything for normal life to people is the real hero. Everyone who stabilizes our power system every day and every night, ensures the supply of electricity, the operation of plants and other energy facilities – all of them, along with others who fight and work for Ukraine, guarantee Ukraine's future. Thank you for that!

I signed decrees on awarding our troops. 215 soldiers of the Armed Forces of Ukraine were given state awards.

Glory to all who defend our state!

Thanks to all our partners who help us and together with us are securing victory over tyranny!

And please remember who is fighting against us. With the approaching holiday season, Russian terrorists may become active again. They despise Christian values and any values in general. Therefore, please heed the air raid signals, help each other and always take care of each other.

And more. Citizens of Russia must clearly understand that terror never goes unanswered.

Glory to Ukraine!
Looks like Ukrainian SOF and the Ukrainian partisan underground have reached out and touched someone. A couple of someones:
NO PLACE TO HIDE: ON 23 DEC, an explosion ripped apart the engine compartment of a Renault Duster as it was driven in the center of Melitopol. The blast occurred at 1213 (Local) at the entrance to Gorky Park. UKR reports the blast targeted two Russian FSB personnel. pic.twitter.com/N1oxewoLyQ

— Chuck Pfarrer | Indications & Warnings | (@ChuckPfarrer) December 23, 2022
And here is former NAVDEVGRU Squadron Leader Chuck Pfarrer's most recent assessment of the situation in Bakhmut:
BAKHMUT /1940 UTC 23 DEC/ RU forces continue a well-established pattern of disjointed company and platoon sized assaults in the Bakhmut Area of Operations. UKR gov't sources report more that 500 RU troops were killed in the last 24 hours; several hundred of them in Bakhmut. pic.twitter.com/2LCBDS1VB6

— Chuck Pfarrer | Indications & Warnings | (@ChuckPfarrer) December 23, 2022
The Financial Times has published a detailed interview with Ukrainian First Lady Zelenska. I'm going to cover it in tomorrow night's update as I want to make it the sole substantive focus.
In the meantime, here are some excerpts from a great analytical op-ed written by Kier Giles and published by CNN. Giles is the author of Russia's War on Everbody: And What It Means for You".
Almost 10 months into Russia's full-scale invasion, the vital battle for the future of Ukraine is not on the front line.

Instead, it is in protecting the civilian population from Russia's drone and missile campaign against critical civilian infrastructure – a campaign designed to end Ukrainian resistance by making the country uninhabitable.

Air and missile defense are Kyiv's greatest needs at this stage in the conflict. And reported US plans to supply Ukraine with the advanced Patriot missile defense system are an essential element for keeping Kyiv in the fight.

Of course, Russia and its backers around the world will present this as a massive and dangerous escalation. That's nonsense, but it's highly effective nonsense.

The escalation game
Since well before February's invasion, portentous but vague threats from Russia of unspecified but alarming responses have been sufficient to serve as a massive brake on Western support for Ukraine.

And for almost a year afterward, Western powers were careful not to give the Ukrainian armed forces weapons that could threaten Russia itself.

In doing so, the West has played along with the Kremlin's pretense that it is not at war, only waging a "special military operation." In effect, it has protected Russia from the consequences of its own aggression.

In fact, repetition of the narrative that any one of a wide range of events that Russia would dislike will ensure "guaranteed escalation to the Third World War" has been highly effective in shaping US and Western behavior.

The US in particular has felt its way forward through incremental increases in the capability of weapons supplied to Ukraine, wary at each stage of Russia's supposed "red lines" – but finding in each case that the red lines evaporate, and all Russia's threats are empty bluster.

But Russia will keep doing this because it works. And US President Joe Biden and other Western leaders consistently reassure Russia that it works by explicitly referring to the fear of escalation – precisely the fear Russia wants to stoke.

Russia's most effective tool of deterrence remains nuclear threats. Loose talk from Russia about using nuclear weapons has died down a little recently, but a decade or more of driving home the message of inevitable nuclear response if Russia is cornered or humiliated has already had its effect.

Russia's efforts at deterrence continue to bring success in the form of arguments for a ceasefire as a preferable outcome to a Ukrainian victory – based on fear of the consequences of Russia suffering a defeat.

Changing the terms of conflict
Supplying a high-end capability like the Patriot missile defense system to Ukraine is a solid sign of commitment by the US – and, as such, another step in the US steadily overcoming Russia's successful efforts at deterring it from aiding Ukraine.

But increasing air defense support and propping up Ukraine's vital civilian infrastructure are addressing the symptoms of the problem, not its cause. Responding only in this way is playing Russia's game by Russia's rules, and telling Moscow that the West finds its way of warfare acceptable.

Sanctions have not been enough to shake Russia's determination to restore its empire at the cost of peaceful neighboring states. Instead of continuing to set up more targets for Russia to knock down, the US and Ukraine's other Western backers should change the terms of the conflict. The international community must do more than simply tolerate Russia's naked aggression and the savagery with which it is pursuing its war of colonial reconquest. More direct intervention is long overdue.

It is past time for the West to tell Russia that if it continues down this path, its fantasy of a hostile West seeking the overthrow of Putin will become a reality. Russia could hardly claim this, too, was an escalation, when it has long told the world and itself that it is already at war with the West.

It's hard to imagine any other country being permitted by the world to wage the kind of campaign Russia has in Ukraine (and in Syria before it); still less with an overt agenda of exterminating the Ukrainian people.

And yet, Russia's UN Security Council veto and the fear it has instilled through nuclear propaganda have given it a free pass to behave as it wishes, without fear of interference from a global community looking on in either ambivalence or helpless paralysis.

That sets a disastrous example for other aggressive powers around the world. It says possession of nuclear weapons allows you to wage genocidal wars of destruction against your neighbors, because other nations won't intervene.

If that's not the message the US and the West want other aggressor states around the world to receive, then supply of Patriot should be followed by far more direct and assertive means of dissuading Moscow.
Giles is 100% right. And the sooner everyone realizes we have been in World War III since at least 2014 if not late 2011/early 2012, that just because the war hasn't been evenly distributed yet, doesn't mean it isn't happening, and begins to respond accordingly the better off Ukraine and the world will be. Putin has turned Russia into a persistent international menace and what was said of Cathage should be said of Moscow and the rest of the Russian Federation: delenda est!
We will. By Andriy Yermolenko pic.twitter.com/7gVhoThkU6

— Liubov Tsybulska (@TsybulskaLiubov) December 23, 2022
Kyiv's Podil right now.
Almost everything's working, even the smallest shawarma places. The city of power generators! pic.twitter.com/FPou81nHrW

— Illia Ponomarenko 🇺🇦 (@IAPonomarenko) December 23, 2022
That's enough for tonight.
Your daily Patron!
Video congratulation from me for the question 💫

Only on my secret Patreon this week you can ask me ANY question and get an honest answer! For the most interesting question, I will record a personal New Year's greeting for you!

Join and ask: https://t.co/U5SKtrKTfK pic.twitter.com/ott1ZPUYdx

— Patron (@PatronDsns) December 23, 2022
And a new video from Patron's official TikTok!
The caption machine translates as:
Eyes are the mirror of the soul😌 #PatrontheDog
Open thread!