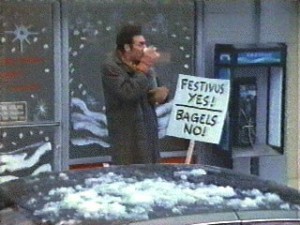 Happy Festivus. I've decided this year has sucked enough that I will be airing grievances slowly, one at a time, until next Festivus, doling them out carefully like a charming little bed mint on the pillow at a nice hotel.
Today started out lovely, slept in until 10 am drugged on a witch's brew of pharmaceuticals. Alas, they were all legally prescribed because I am as old as fuck and don't think I have the heart for cocaine anymore and definitely have too much trauma packed down to be fucking around with psychedelics. Things are shitty enough without unleashing THAT emotional kraken.
Turned the water on in the shower, let it heat up for a bit, and started to lather the hair with shampoo and the power went out. Just sat down on my shower stool for olds for a while and had a laugh/cry. Finished showering, weighed my options, and decided I would go sit in the car and charge my phone and figure out my life.
Called the Mayor, and she said the power was supposed to be back on at 2:30, so I decided I would go to town and get a hot tea at some drive through, and then just sit in the car somewhere until the power came on. Ended up driving around long enough to drink two teas, got home at 2:20, and the power was still off.
In the 2+ hours I had been gone, Thurston went total lord of the fucking flies and knocked over the kitchen trash can and pulled out all the old cat food tins and everything else and licked them and everything else smelly clean and then deposited them all over the god damned house. Guess he thought this was the end and he wanted to get fortified for the famine. Dog is absolute shit in a crisis.
Also, his food bowl was full.
Decided the best course of action was to get in bed, as the house was now down to 43 degrees, so I piled a bunch of blankets on top of myself and just lay there until the power came on a couple hours later. House got down to 38, but the furnace has been running non stop and we are back up to 63.
As I said above, it's cold as shit, so I made sure there is kibble on the porch, birdseed in the feeders, and I threw about two dozen apples over the fence for the deer. The heated bird bath is plugged in and operational, so hopefully we will keep the fatalities down tonight.
In other news, I still feel like shit and am in such a fucking mood I can not honestly tell if I am better than yesterday but I think I am. My nose still itches and that is driving me bonkers.
Watching some of the new season of Jack Ryan on Amazon, while browsing for "winter+hits+for+massive+heads" and decided I am going all in and getting one of those ridiculous furry ones with flaps you see in eastern europe because I have no fucks left to give and maybe it will make someone laugh to see me stomping around in overalls and that thing on.
What about you all?