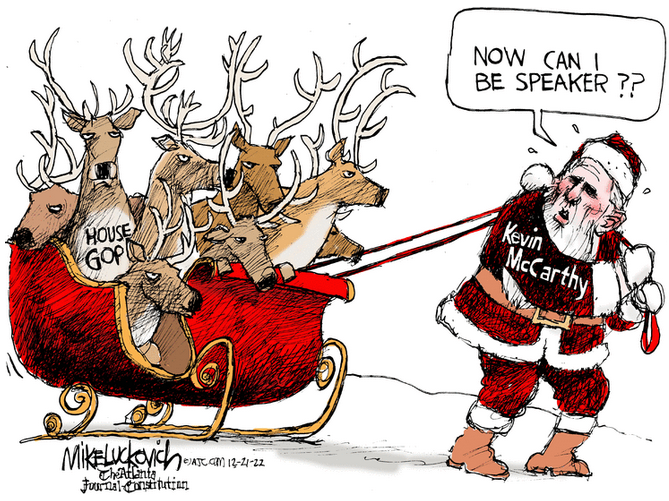 Okay, yeah, not so much a 'blue wave' as a failed red one. A blue wall would spoil the joke, though. I keep updating this post on Kevin McCarthy, Speaker Pelosi's doomed maybe/probable replacement, but it's what the journalists refer to as 'a rapidly evolving story'. Not to mention — for us Democrats — schadenfreudeliciously entertaining!
Dana Milbank, at the Washington Post — "Is Kevin McCarthy okay?":
… A group of House Republican moderates (yes, a few specimens still survive in the wild) met with Kevin McCarthy this week to help him right his listing bid for the speakership. In a show of support, they passed out pro-McCarthy lapel buttons: stars on a field of blue with a red band in the middle that proclaimed, simply, "O.K."

The letters were meant to signify "Only Kevin," CNN's Melanie Zanona reported, as a rejoinder to the Never-McCarthy hard-liners on the right. But the message had an unfortunate double meaning that highlighted the doubts about the always-a-bridesmaid-never-a-bride candidate for speaker. McCarthy is just that: Okay. As in: not great. Not even above average. Just okay…

The "O.K." buttons may have been the biggest messaging misfire since McCarthy, called a "moron" by Speaker Nancy Pelosi over his resistance to pandemic safety measures, removed all doubt about the charge by selling T-shirts with large letters proudly announcing: "Moron."…
McCarthy has a knack for garbled messages. If he does succeed in his speakership quest (which is likely, if only for the lack of an alternative), he will earn the distinction of being the first speaker in U.S. history not to speak fluent English…

Now he's making another lunge for the top job, and words continue to bedevil him. "We're Christmas season," he announced this week. We are? He continued: "A talk of the majority right now who wants to put a small continuing resolution to bump all the members up two days before Christmas, to try to vote on a package they cannot read, written by two individuals who will not be here, on spending for the entire government…"
McCarthy, after railing against the omnibus, gets a standing ovation from the ~ dozen Republicans in the chamber.

McGovern responds: "After that speech, it's clear he doesn't have the votes yet."

— Emily Cochrane (@ESCochrane) December 23, 2022
Ed Kilgore, at NYMag — McCarthy Makes Weird Threat to Thwart GOP Senators:
There are two important things we know about the dynamics between House and Senate Republicans heading into the New Year. First, House Republicans are, on average, always more partisan and ideologically extreme than their Senate counterparts because of the way the two chambers operate. The House is characterized by party discipline and the Senate is defined by dealmaking, thanks to the leverage given to the minority by the filibuster. Second, Kevin McCarthy is struggling to become the next Speaker on January 3, and because Republicans only have a four-vote majority, he will need the votes of most of the hard-right House Freedom Caucus.

So heading into the January 3 balloting for Speaker (and likely beyond), McCarthy has a lot of incentive to cut clownish capers illustrating his contempt for the RINO squishes of the upper chamber. But the particular gambit with which the Californian has chosen to express this sentiment is pretty far out there and largely unprecedented: He's threatening to kill any bill sponsored by a Senate Republican who backs the $1.7 trillion omnibus appropriations bill….

The very next day, the Senate voted to take up the omnibus bill by a 70-25 margin, with 21 Republicans voting "aye." It's a pretty good bet all of them, and perhaps more, will vote for the bill's final passage today or tomorrow. So according to the solemn vow of the top House Republican, any legislation sponsored by these traitors will die in the House that he will soon run (if he's not purged in favor of someone even less reasonable). The list of alleged crypto-liberals includes not just Mitch McConnell, Susan Collins, and Lisa Murkowski, but John Cornyn, Tom Cotton, Tommy Tuberville, Lindsey Graham, Todd Young, and several other senators who've played rounds of golf with Donald Trump and regularly rant and snarl at Democrats…
Human botfly Tara Palmeri, at Puck, ever sensitive to the scent of an open wound:
While Kevin McCarthy has floundered for weeks trying to shore up enough support to become Speaker of the House, perhaps the strongest argument for his bid has been the conspicuous lack of any viable alternative. Sure, there were names floated by the "Never Kevins," like House Freedom Caucus renegade Andy Biggs, former NASA chief Jim Bridenstine, outgoing House member Lee Zeldin, and even former Speaker Newt Gingrich, but none of these people were going to get more than 10 votes. It was laughable and seemed to indicate that the Freedom Caucus had no real strategy to take down McCarthy beyond extracting a few concessions and delighting in making his life hell for a bunch of news cycles.

Then, earlier this week, one of the five public "Never Kevins" said the quiet part out loud. Matt Gaetz declared that there was another member that his caucus would support for speaker: Steve Scalise. That admission, from the pied piper of the Never Kevin crew to the New York Post, sent chills through the Capitol and indicated that the speaker's race had a second horse.

By suggesting Scalise, the Never Kevin bloc has subtly demonstrated that they're not just interested in chaos for chaos' sake. They have a real viable alternative, and it's not just anybody: Scalise, after all, is one of the most popular, well-liked members of the House, who came out of the conference vote unanimously elected as Majority Whip, or McCarthy's No. 2. Meanwhile, McCarthy himself hobbled out of the same vote with at least 36 members not willing to vote for him. "It's signaling to the conference that we're not saying we need Lauren Boebert for speaker, we're saying we would take the number two in leadership," said a source close to leadership. "Someone that's very popular in the conference. He's a legitimate candidate if he were to run."

In truth, Scalise has always been waiting in the wings. And while there have been real questions about whether the five or so "Never Kevin" voters would support any candidate who is not a member of the House Freedom Caucus, their animosity for McCarthy is as much about his personality as his politics. "They just hate Kevin, and he's not Kevin," the source said. "Scalise is not going to light the world on fire," agreed a source on the Hill. "But he's a super likable guy. And Scalise has benefitted from not putting a marker down as many times as Kevin." As a source close to leadership put it, "If you're Scalise you are not lifting a phone for Kevin." (Scalise's office declined to comment and pointed to the many statements of support for McCarthy.)…

So how will this all play out? Let's say that McCarthy walks out onto the House floor on January 3 and is shot down by the five "Never Kevins"—Gaetz, Bob Good, Andy Biggs, Ralph Norman and Matt Rosendale—on the first ballot for speaker. Perhaps he licks his wounds and makes a few deals to hand over more power to the House Freedom Caucus. But what if the initial vote is perceived as a weakness to the seven or so other House Freedom Caucus members who haven't said publicly they're "Never Kevin," but have issued him their own list of demands, like Chip Roy and Scott Perry?…

Politico reported on Tuesday that members have told Scalise to be ready for the moment when McCarthy falters. But really there's not much Scalise can do. He can't be seen as provoking the situation at all. He's publicly behind McCarthy, with statements like this one to CNN: "No, I'm not going to get into speculation. Obviously, our focus is on getting it resolved by January 3. And there's a lot of conversations that everybody has been having—Kevin [has], surely—with the members who have expressed concerns."…
As a proud Libertarian, Justin Amash can always be counted on… to be a pest:
Pelosi understood her role and was extremely good at it. https://t.co/BQRgbxk57l

— Jean-Michel Connard (@torriangray) December 19, 2022
And speaking of a tenuous grasp on the English language, clip from a 25-tweet (!) thread:
of their amazing ability to work together in-spite of their differences.

Not us, we're the Party of Never and it's ruining everything.

It's also lying to the base about a "plan" that doesn't exist, no candidate, & no way of working that I refuse to be part of and silent about.

— Rep. Marjorie Taylor Greene🇺🇸 (@RepMTG) December 20, 2022
Ho-ho-ho!
He's checking his list.
Checking it twice.
Nope. Qevin McCarthy still doesn't have votes to become the Speaker. pic.twitter.com/E4uucWAcde

— KAMALA LA LA LA 🎄⛄️ (@KamalaNation) December 18, 2022