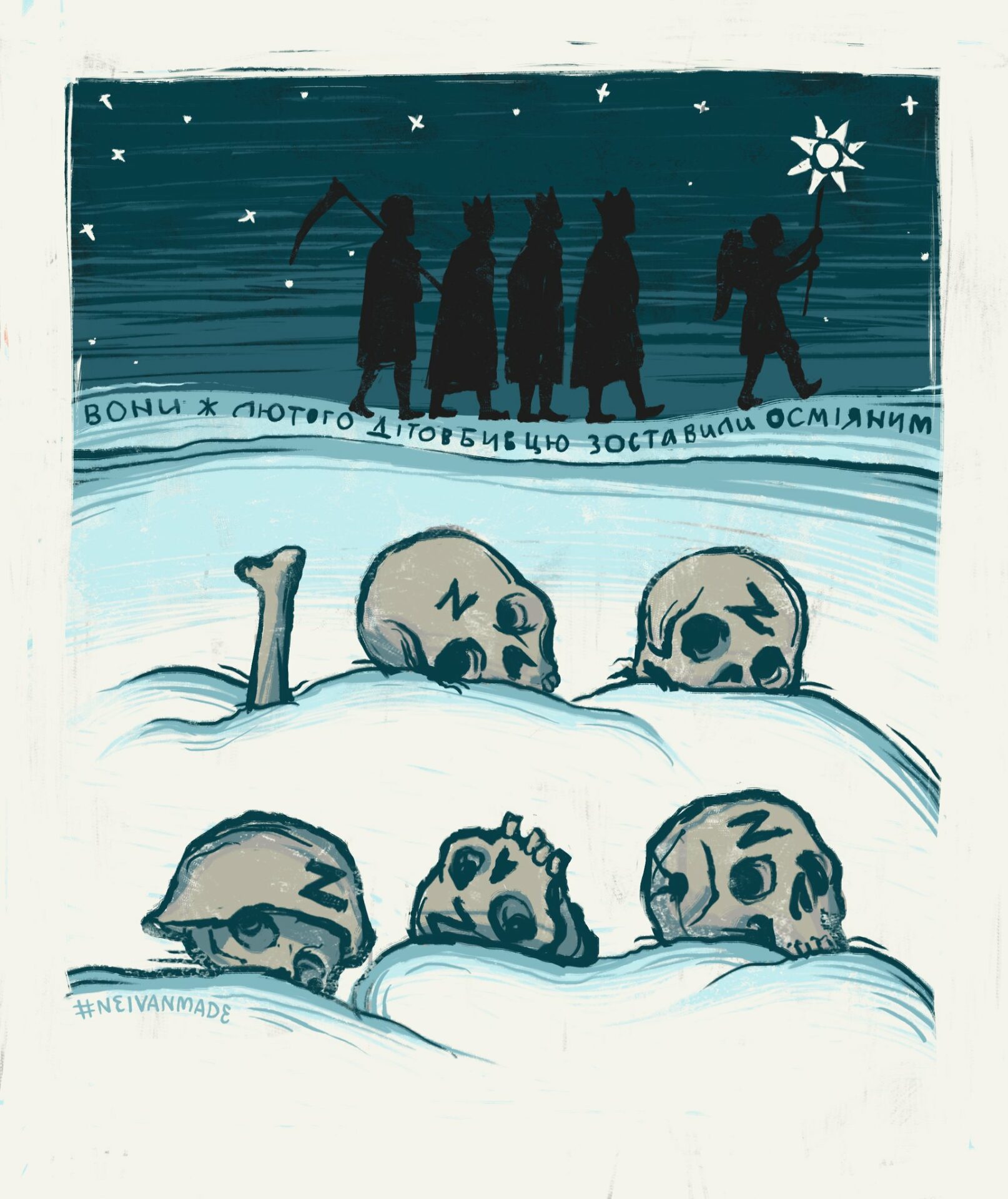 I'm going to keep tonight's post short.
Here's President Zelenskyy's address from earlier today. Video below, English transcript after the jump:
Ukrainians!

Today, millions of people celebrate Christmas according to the Gregorian calendar. And I once again congratulate everyone who is celebrating right now, these days.

And I want us to once again express gratitude – together – to all those who both these days and at any other time are doing everything so that we can live. Live our life and in our country.

I thank each of our warriors – all military personnel. All fighters of the Air Forces, anti-aircraft fighters, intelligence officers, border guards, national guardsmen, warriors of the territorial defense, Naval Forces. Thank you to every soldier and sailor, to every sergeant and sergeant-major, to every officer and general who are holding the front and trying to push it further – to our borders that we have to reach.

Thanks to everyone who repairs and supplies equipment. To everyone who volunteers.

Thanks to all our medics and everyone who saves the wounded on the battlefield. Thank you to all the nurses who perform their work selflessly under any circumstances.

Thank you to everyone who helps provide hospitals with everything necessary. To all those who come to donate blood for the wounded… And to all those who came now in Kherson to help. To save the wounded from the attack of terrorists on Christmas… Artillery and mortars against ordinary streets of Kherson… Savages!

We will find every Russian murderer. And I thank everyone who works for this: all investigative teams, all prosecutors, officials and diplomats.

Thank you to each and everyone who helps get Ukrainians out of captivity.

Thank you to all our energy workers and repairmen, sappers, policemen, employees of the State Emergency Service, utility workers.

Thank you to the educators who continue to build our future and the builders who take care of our present.

Thank you to the transporters who keep our economy alive and the financiers who maintain our stability.

Thank you to the IT specialists who chose Ukraine.

Thank you to officials who care about people and businesses who help society to be resilient.

Thank you to our farmers, thank you to the agrarians who did not give up last spring and are preparing for the next one.

Thank you to all journalists who spread the truth and public figures who help our people to keep faith in themselves and in victory.

Thank you to all the leaders and peoples of the world, who this year, together with Ukraine, became leaders in the defense of freedom and next year, I believe, together with us, will do everything to become leaders of peace. It's possible.

Fellow Ukrainians!

There are only a few days left this year. We must be aware that our enemy will try to make this time dark and difficult for us. Russia lost everything it could this year. But it is trying to compensate for its losses with the gloating of its propagandists after the missile strikes at our country, at our energy sector.

I know that the darkness will not prevent us from leading the occupiers to their new defeats. But we have to be ready for any scenario.

Please pay attention to air alarms these days. Search again and remember where the nearest Point of Invincibility is located.

Tell your parents how to find the Point of Invincibility if needed. More than 5,500 points have already been opened throughout the country.

Please take care of yourself. And be ready to help others.

When Ukrainians are together, when Ukrainians are grateful to each other, we cannot be defeated. May it always be so! And it will be so, I'm sure!

Glory to our strong, beautiful, best people!

Glory to Ukraine!
Merry Christmas to those who celebrate. We had two air alerts in Ukraine today. But Russians failed to stop us from singing carols and spending time with family. Many of us also had electricity because energy workers did their best to make our Christmas bright. So grateful 🙏 pic.twitter.com/AcFyLhLlf0

— Olga Tokariuk (@olgatokariuk) December 25, 2022
I have absolutely no Christmas mood this year, but despite this I attended an event where we sang Christmas songs, including the famous Shchedryk (Carol of the Bells). Some bright colors in dark times. Merry Christmas, friends. Thank you all for being here with me & with Ukraine. pic.twitter.com/Qmn9ZQjTy7

— Iryna Voichuk (@IrynaVoichuk) December 24, 2022
Christmas Eve on the front line pic.twitter.com/n6OtITz2dy

— Defense of Ukraine (@DefenceU) December 25, 2022
Merry Christmas.

p.s. Preparing New Year's gifts for the 🇷🇺 occupants
💥🥳 pic.twitter.com/vTj7kpQ69M

— Ukrainian Air Force (@KpsZSU) December 25, 2022
Kherson blood donation center.
People have gathered to help their fellow city residents injured by yesterday's russian terrorist attack.
Anger.
Invincibility.
Compassion.
Victory. pic.twitter.com/8t3JAwNkHK

— Defense of Ukraine (@DefenceU) December 25, 2022
93yo pani Olena made herself more than 500 candles for soldiers in trenches. They use them to get warm & cook food. She is frustrated that can't help more. Whom russians want to defeat?
Video BBC pic.twitter.com/Ypfv8lMb5r

— Olena Halushka (@OlenaHalushka) December 25, 2022
https://mobile.twitter.com/RabbiUkraine/status/1606276517591502848
Blessings from Hero City Kyiv, Ukraine! The Eighth Chanukah candles lighting! pic.twitter.com/kDS65pCVPD

— Chief Rabbi Of Ukraine (@RabbiUkraine) December 25, 2022
This is interesting:
Summer of 2022. Izyum. A unique rescue operation carried out by soldiers of the 93rd «Kholodnyj Yar» brigade in the documentary film by Ukrainian film director Lubomir Levytskyi.
1/3 pic.twitter.com/JH8IA9Zsu6

— Defense of Ukraine (@DefenceU) December 25, 2022
Two saved lives in the most dynamic documentary thriller of Ukrainian cinema. In which the heroes are not only people, but also machines.
3/3 pic.twitter.com/hoLqaaShMm

— Defense of Ukraine (@DefenceU) December 25, 2022
Here's some Ukrainian Christmas music to keep you going:
Your daily Patron!
Merry Christmas 🎄 And Happy Hanukkah 🕎 Show me your celebrations below ⬇️ I'll be happy to join you 🫶🏻 pic.twitter.com/RgojFGOxt8

— Patron (@PatronDsns) December 25, 2022
Lot's of replies from Patron to the people replying to him, so click through and give it a look.
Do you remember this guy? Yes, this is Kraken, the sapper from my team who was recently injured 😞 He lost his leg, but he didn't lose his smile and many life plans. He said to send you hello and дякую (which means «thank you» in Ukrainian)❤️ pic.twitter.com/yDT8ShSdHL

— Patron (@PatronDsns) December 25, 2022
There isn't a new video tonight on Patron's official TikTok, so here's last night's again:
The caption (still) machine translates as:
Briefly about how I love my new pillow🤭 #PatrontheDog #PatronDSNS
I hope everyone is having a merry Christmas and/or enjoyable long weekend.
Open thread!