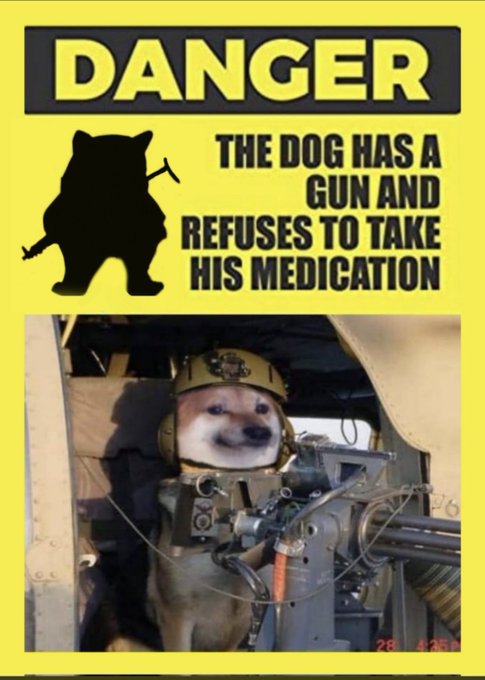 Today in 1985, Rocky Balboa won the Cold War. Thank you for your service. pic.twitter.com/fIO2S2Swv6

— Super 70s Sports (@Super70sSports) December 25, 2022
It really is Boxing Day! Who knew?
And this was yesterday!
By the way, yes https://t.co/WvtWIphimk

— Illia Ponomarenko 🇺🇦 (@IAPonomarenko) December 26, 2022
Here is President Zelenskyy's address from earlier today. Video below, English transcript after the jump:
Good health to you, fellow Ukrainians!

A brief report on today – another day of another week of our resistance.

First. The frontline. Bakhmut, Kreminna and other areas in Donbas, which now require maximum strength and concentration.

The situation there is difficult, acute. The occupiers are using all the resources available to them – and these are significant resources – to squeeze out at least some advance.

And I thank all our guys who hold their positions firmly, stand strong, and who nevertheless find opportunities not only to not lose anything, but also to drive the occupiers out, to "subtract" them.

Today I want to celebrate the 10th separate mountain assault brigade for capturing the occupiers in the Donetsk region. It is very important. This will enable us to release more Ukrainians.

I will also celebrate the 80th and 95th separate airborne assault brigades for the successful destruction of the enemy force in the Lyman direction. Well done, guys! The more the occupiers lose, the more time we all gain for Ukraine.

Second. Energy sector.

I want to thank all the workers of the energy companies, all the repair crews for the fact that this Saturday and Sunday – on Christmas Eve and Christmas – it was possible to give people more energy.

Of course, deficits remain. Shutdowns continue. As of this evening, about 9 million people are disconnected in various regions of Ukraine. But the number and duration of outages is still gradually decreasing. I am thankful to each and everyone who made this result possible.

Today I held a special meeting with government officials regarding the situation in the energy and infrastructure spheres. We are preparing for the next year – and not only for the winter months. There are threats that we have to eliminate. There are steps that need to be taken. And the state will definitely take them.

Third. Today I held an extended meeting on the results of the visit to the USA and the implementation of the agreements.

We will not waste time. We will quickly implement everything that was agreed upon in Washington. As much as possible.

And one more thing. Today I spoke with the Prime Minister of India. Next year, it will be India that will preside over the G20. I wished Mr. Modi a fruitful presidency, and fruitful not for someone in particular, but for everyone in the world who values peace.

India can be more active in efforts to end aggression, so I hope we can do more together for global stability in the coming year.

Thank you to everyone who works for Ukraine regardless of whether it's a holiday, a weekend, or a weekday! Thank you to everyone who fights for Ukraine!

Thank you to everyone who helps our country!

And please don't forget to be prepared for Russian missile attacks or provocations. Air defense is preparing, the state is preparing, and everyone must prepare. Please pay attention to the sirens.

Glory to Ukraine!
Here's former NAVDEVGRU Squadron Leader Chuck Pfarrer's most recent assessments regarding the situations in Kherson, Izium, Bakhmut, and Kremenna:
KHERSON AXIS/1315 26 DEC/ RU artillery and (MLRS) continue a campaign of revenge shelling against the city of Kherson. On 24 DEC, RU artillery deliberately targeted market areas of Kherson city, killing eight civilians during preparations for Christmas. pic.twitter.com/Rx3tDwm2Xz

— Chuck Pfarrer | Indications & Warnings | (@ChuckPfarrer) December 26, 2022
IZIUM AXIS/1430 UTC 26 DEC/ North of Svatove, UKR forces have advanced across the H-26 HWY at Krokhmalne and then again from Kryvoshyivka to Kuzemivka. The interdiction of the H-26 and the rail from the north increases pressure on Svatove. pic.twitter.com/LlGigXmjLM

— Chuck Pfarrer | Indications & Warnings | (@ChuckPfarrer) December 26, 2022
BAKHMUT /1640 UTC 26 DEC/ @Vijesti11111 reports that the UKR Sheck Mansour Battalion, the 71st Jaeger Brigade and the Georgian Legion are engaged at Optyne and Ivangrad. UKR has captured RU positions E of the T-05-13 HWY. pic.twitter.com/7gCRQsjkBO

— Chuck Pfarrer | Indications & Warnings | (@ChuckPfarrer) December 26, 2022
KREMENNA AXIS/ 2200 UTC 26 DEC/ West of the P-66 HWY a RU assault on the village of Nevske was repelled by UKR on 25-26 DEC. This follows an aborted RU assault on Makiivka earlier. RU forces conducted fire missions on UKR positions in Dibrova. pic.twitter.com/qyyW2jvpBq

— Chuck Pfarrer | Indications & Warnings | (@ChuckPfarrer) December 26, 2022
There's also reporting that a former Russian senior military leader and a Russian oligarch have both contracted windowitis.
Here's the update on the second Ukrainian strike on the Engels air base in Russia.
Happy Russian Air Defense Day!!
The Engles airfield has been hit.
AGAIN.

— Illia Ponomarenko 🇺🇦 (@IAPonomarenko) December 26, 2022
ENGLES AIRFIELD DAMAGE: @YAmzallagh reports that RU telegram channels have admitted to 17 dead, 50 wounded and 5 Russian strategic bombers and other aircraft heavily damaged in Ukraine's 2nd attack on the base. The video shows the moment of the attack. https://t.co/Du7wmsNiNL

— Chuck Pfarrer | Indications & Warnings | (@ChuckPfarrer) December 26, 2022
It's been well documented that Prigozhin does not think very highly of Russia's military leadership; especially Gerasimov and Shoigu. So this really isn't that surprising:
Wagner mercenaries call Russian MoD's Chief of Staff "piece of shit" on camera. "You are a piece of shit ..where are the shells? We have no shells anymore here [at Bahmut]".
Prigozhin says he has "nothing to say about this video", essentially endorsing the attack on Gerassimov. pic.twitter.com/wObdezaHmZ

— Christo Grozev (@christogrozev) December 26, 2022
I'm rooting for injuries!
Some people in Ukraine celebrate #Christmas today. Some decided not to celebrate. But we have a choice. And we should remember whom we should thank for this choice.#ThanksToZSU pic.twitter.com/GFVvYvLrkx

— Alexander Kamyshin (@AKamyshin) December 25, 2022
An underdog who wins against the bad guys. This is the kind of story we all enjoy.
Dedicated to all the die hards on the front line.
Ukraine will win!
Yippee Ki-Yay…! pic.twitter.com/JaZzqlOZA7

— Defense of Ukraine (@DefenceU) December 26, 2022
I meant to include parts of the following thread last night, but we were running long as it was, so:
Celebrating Christmas on Jan 7th, along with Eastern Orthodox Church and Russian adherents, has been tradition.

But this year many are celebrating on Dec 25, and the West, as a political point.

For e.g., the General Staff of the Ukrainian Armed Forces:https://t.co/TSsB015iAD

— Tim Mak (@timkmak) December 25, 2022
"People came to me and said, Rabbi, so many Jews have left here. Is there a future for this synagogue, the community, the country?" Wolff told us.

— Tim Mak (@timkmak) December 25, 2022
Wolff explains why he's expanding his synagogue in a time of war:

"God will hear us and bring war to an end in this country. And people will come back because we show them that we believe there is a future."

— Tim Mak (@timkmak) December 25, 2022
Wolff told a story that showed just how deeply connected Odesa is to its Jewish traditions.

Wolff and some of his assistants have bolted battery-powered menorahs to the top of their cars pic.twitter.com/gYehWdM8sN

— Tim Mak (@timkmak) December 25, 2022
Spotted in Kyiv, two of my favorite things: pic.twitter.com/buuLtLP6U7

— Tim Mak (@timkmak) December 25, 2022
Do click across and give the whole thread a read, it's worth the three or four minutes!
The Times of Israel has an interesting article about the Mariupol Defenders:
You shall not pass. The fellowship of the steel

A true story of the Mariupol siege and its heroic defenders

I was waiting for an arrival of a delayed flight from Warsaw in the heart of Ben Gurion Airport. People around eagerly awaited their beloved ones from abroad. Everything around was the usual airport routine. But we were waiting for extraordinary guests from Ukraine – Lt. Illia Samoilenko (Special Operations Detachment "Azov") and Yulia Fedosiuk (deputy head of The Association of Azovstal Defenders Families). This is their first joint mission abroad as representatives of both military and civil parts of the Azovstal defenders movement. I would also say that this is a very symbolic and significant visit to Israel that shatters the myths of Russian propaganda about the "Azov" regiment.

"Azov" vs Propaganda

Since 2014 Russian propaganda has been working on creating the myth about "Ukrainian Neo-nazis" in military uniform, which was supposed to legitimize their full-scale invasion of Ukraine in 2022. Russian media has extensively demonized " Azov, " which poisoned people's consciousness worldwide. Sadly, some international journalists were covertly exploited by Russians, leading to several articles and investigations whose only sources were "unnamed whistleblowers." Other journalists, naming themselves independent investigators, can not even figure out the difference between the "Azov" regiment and the political party created by the veterans of this unit. It looks like someone is writing an article about Likud, claiming it's a logical continuation of The Irgun. From my point of view is better to read and analyze local researchers than try to focus on and quote some "Instagram investigators." E.g., Michael Colborne is known in the western media but is not experienced enough and qualified for such research due to the lack of sources and understanding of Ukraine's political and military processes.

Nevertheless, I can not deny that some of the far-right activists from Ukraine, Russia, and Belarus joined the unit in 2014 (when it was founded). According to my sources, among "Azov" veterans and acting soldiers, most of those who shared the far-right ideology left the unit back in 2015. Most of these radical adventurists who tried to bring intolerance ideology into the newly arranged battalion were originally from Russia, claiming they were fighting against Putin's regime in Ukraine.

However, these shady people disappeared less than a year after joining the unit for unknown reasons. Leaving only a trace of the unpleasant stories they created for the media through their appearance in the battalion (at that time). Knowing the methodology of Russian propaganda very well, I would assume that these people were "moles" in the regiment. Their main task was to damage the reputation of the newly created unit, and they did this very well. As Illia Samoilenko told me once: "They (Russians) only can do two things well. They can lie good, and they can intimidate." Since 2017 new commander of the regiment Denys Prokopenko ("Redis"), has organized a strict set of measures to implement NATO standards in unit training, hierarchy, ideology, and methodology of warfare.

In conclusion to these arguments, I would like to quote Vyacheslav Likhachev (Ph.D. in history, journalist, political scientist, and social activist). Mr. Likhachev has been monitoring right-wing movements, xenophobia, and antisemitism for over 20 years in Ukraine. His fundamental researches provide the most profound and balanced understanding of Ukraine's ongoing respect for human rights.

"Firstly, the radical far-right background of some of the founders of "Azov" is true. However, this was not reflected in the activities of "Azov" in any way. E.g., there was a large Jewish community in Mariupol, a functioning synagogue, which in eight years never encountered any problems with any "Azov" fighter. The situation is similar with the Muslim and Greek communities. The biggest danger for the ethnic communities of Mariupol and all local residents was the Russians' indiscriminate use of heavy weapons against civilian infrastructure. But the fact that the founder of "Azov," Andriy Biletskyi, continued to exploit the name of the regiment for years while creating new political projects of a nationalist direction further confused the outside observers.

Secondly, Russian propaganda does not neglect lies and makes an impressive picture. This picture is virtual, but do not underestimate Russian propaganda. It is systematic, professional, and convincing, especially in Western society, which is not used to such blatant lies. Western culture tends to abandon the black-and-white vision of the world and consider more complex models. It is typical for them to look for the truth somewhere in the middle between polar points of view. And the truth, as Adam Michnyk said, does not lie in the middle, it lies where it lies."

Jews within the ranks of the "Azov" regiment

Considering that many people still believe in Russian propaganda, I decided to share 3 stories of Jewish "Azov" soldiers I contacted personally.
Those three stories and much, much more after the link!
That's enough for tonight.
Your daily Patron!
Here's a new video from Patron's official TikTok!
The caption machine translates as:
A dearest wish…🇺🇦 #SlavaUkraini #PatrontheDog
Open thread!