Woke up this morning feeling, by any objective measure, ok, but compared to the last week, feeling phenomenal. Voice has gone from Barry White meets Tom Waits to something resembling normal, and the crushing fatigue has subsided. So I got that going for me.
Everyone keeps talking about rebound covid, so I have been taking it easy all day and probably will throughout the New Year. I'm basically acting like I am still sick- lots of fluids, sleeping as much as I can, soup, popsicles, etc. In any fair analysis, my behavior when I am sick is PRETTY FUCKING AWESOME if you are not sick. Sitting, sleeping, and not being fucked with are my three favorite things in the world to do, and doing them while feeling ok is pretty damned awesome.
Still have a great deal of work to do with the family, who still do not seem to understand that me not answering a text in the family text in under fifteen minutes does NOT mean that I am dead and to alert interpol, but maybe I am sleeping. So I am now sending messages like this whenever I have the nerve to take a nap: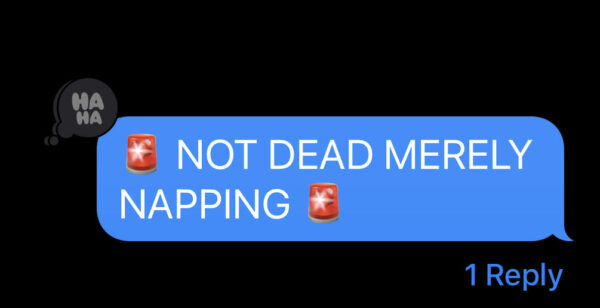 Covid might not get me but my family surely will in the end.