The Wall Street Journal had an excellent article earlier this week on the next round of super high cost drugs that are either recently approved or nearing the approval decision point. There is a key point — how do we pay for these drugs as the current insurance model is not incentive compatible with the new mechanisms. [DISCLOSURE: Quite a few of my Duke Margolis colleagues and co-workers are getting paid from a variety of sources to think long and hard about these problems. A portion of  my stipend/grad student funding was charged to these accounts in 2022]
Since August, U.S. or European health regulators have approved four new products intended as one-time treatments for rare genetic diseases that carry list prices of at least $2 million a patient, including two from Bluebird Bio Inc.

The most recent one approved in the U.S. set a price record: $3.5 million for CSL Ltd.'s Hemgenix, a treatment for the blood disorder hemophilia B…

Some of the new therapies could produce long-term savings, the companies say, by sparing patients from having to take older treatments repeatedly for the rest of their lives…

health insurers say they aren't set up to handle such big payouts. They are accustomed to paying for older, chronic treatments on a recurring basis over time, rather than paying a high price for a single treatment that could have lasting benefits.
This is the crux. Let's assume for the sake of the blog post that these treatments actually do what the companies claim AND that the positive effects are persistent. From a financial point of view, what the companies are doing is collapsing ten, twenty or thirty years of spending into a single year. Using an appropriate discount rate and a broad societal perspective, the multi-million dollar one time charge could quite conceivably have a lower net present value than the long duration, recurring annual payments.  This type of thinking makes a ton of sense in a British National Health Services setting or the US Veterans Administration setting.  It makes a decent amount of sense in the Medicare and Medicaid context.
However, it is a hard thought process to make sense in the context of the US commercial health insurance space.  Health insurance contracts are overwhelmingly one year contracts in the United States.  People with employer sponsored insurance through work typically don't stay with the same insurer for more than a few years because either the employee changes jobs or the employer changes insurers.  This is not particularly relevant for large group self-insured employers where the insurer is merely an administrative entity, but for smaller groups where the insurer takes on full payment risk, this is problematic.  In the individual ACA market, people move fast.  Below is an appendix table from a recent JAMA Health Forums paper by Wolf et al that looks at the probability someone is insured on Covered California by months after initial sign-up.  NOTE this is Covered California so it is not accounting for within marketplace switching from say Blue Cross to Health Net or vice versa.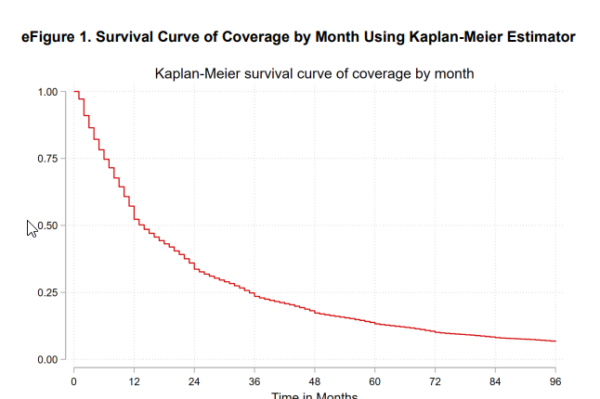 The key thing to note is that about half of enrollment disappears in just over a year.  75% of enrollment disappears in 35 or 36 months.
Insurers that have full risk have no business case to care about avoided costs more than a few years out.  The "few" may vary by line of business and how good risk adjustment is, but a $3 million dollar treatment that is close to curative which will reduce life time, properly discounted expenditures by $5 million can be a huge social win and also a massive money loser for the insurer pays for that cure because there is no chance in hell of $3 million dollars in avoided claims occuring within two or three years after the procedure.  Assuming that these treatments become common, insurers are going to play hot potato with patients who are likely eligible for these treatments.  The insurers' incentives are to make someone else pay for these treatments and then collect back end risk adjustment payments for history and status codes while not paying for treatments.
We will need to figure out how to payment and churn incentives align while also thinking about how risk adjustment works.