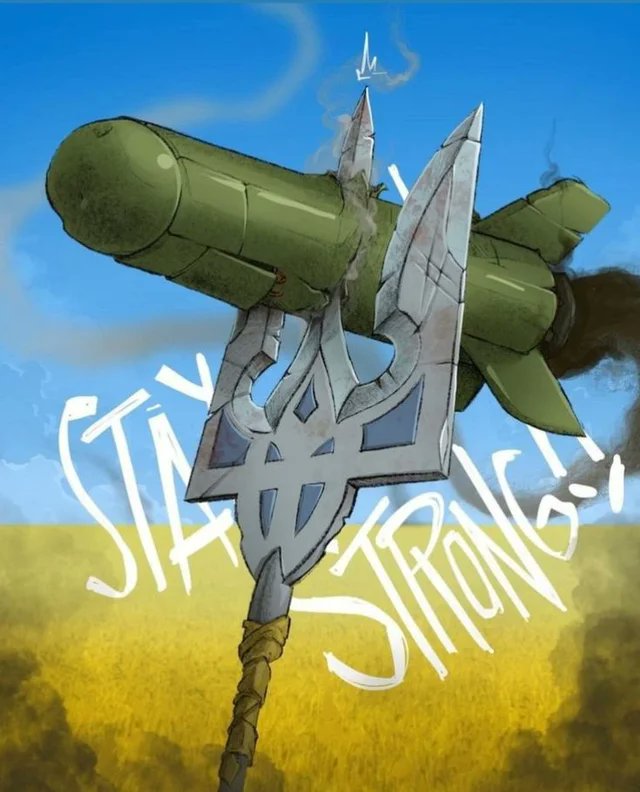 UPD: according to fresh data, there have been 69 missiles so far. 55 have been downed.

— Illia Ponomarenko 🇺🇦 (@IAPonomarenko) December 29, 2022
Here's the infographic the Ukrainian Air Force put out on their Facebook page: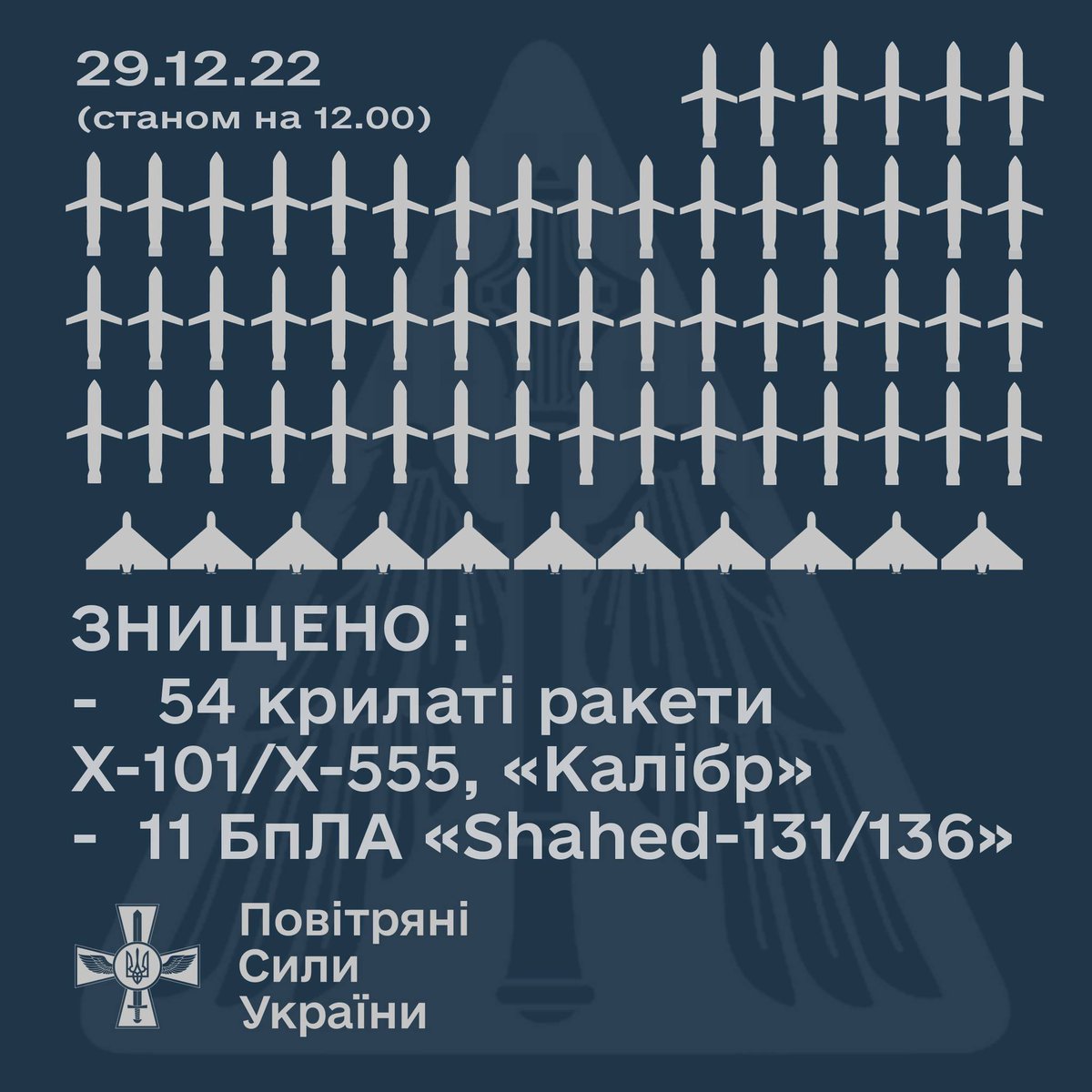 That's 54 Kh101s/Kh555s and 11 Shaheed 131s/136s brought down by Ukrainian Air Defense.
Here's one of those kills:
Yeaaaaah!!! https://t.co/BUcygQzQ55

— Illia Ponomarenko 🇺🇦 (@IAPonomarenko) December 29, 2022
Here's President Zelenskyy's address from earlier today. Video below, English transcript after the jump:
Good health to you, fellow Ukrainians!

First of all, I want to thank our Air Forces servicemen, Ukrainian air defense, which successfully repelled another Russian attack today.

54 missiles and 11 attack drones were shot down.

Our warriors all over Ukraine distinguished themselves, and I thank all our Air Commands: Center, South, East and West.

And especially we are grateful to the warriors of the 96th Kyiv, 160th Odesa, 208th Kherson anti-aircraft missile brigades, whose results are the best today.

Unfortunately, there were several hits. Our power engineers and repair crews are doing everything to make Ukrainians feel the consequences of the terrorists' strike as little as possible. And I thank everyone who is working to restore energy supply.

As of this evening, there are power outages in most regions of Ukraine. It is especially difficult in Kyiv region and the capital, Lviv region, Odesa and the region, Kherson and the region, Vinnytsia region and Zakarpattia.

But this is nothing compared to what could have happened, if it was not for our heroic anti-aircraft troops and air defense.

With each such missile strike, Russia is only driving itself deeper into a dead end. They have fewer and fewer missiles. Instead, the status of the biggest terrorist in the world will have consequences for Russia and its citizens for a long time. And each missile only confirms that all this must end with a tribunal. And that is exactly what will happen.

And despite all the strikes, the state works every day. The Office, the Cabinet of Ministers – everyone is working.

In particular, today I had two large meetings, economic and defense. We are working to ensure that our defenders have more opportunities, more weapons, more drones.

The situation on the frontline remained without significant changes over the last day.

The most acute situation is in Bakhmut, Soledar, over the entire line in the Donetsk region. The enemy has not abandoned the insane idea to capture the Donetsk region… Now they set themselves a task – for the New Year.

I am grateful to all our guys who have been proving to the occupiers for months that it is us who  will set and achieve goals on our land.

I am grateful to everyone who defends the Ukrainian Donbas! To all who defend our Kharkiv region! To all who keep our south! Who protect our border…

And, by the way, I thank those border guards who, together with all the defense forces, are fighting the enemy at the front. I thank the warriors of Bilhorod-Dnistrovskyi and Mukachevo border guard detachments.

Dear Ukrainians! 

There are two days left in this year. Perhaps, the enemy will try once again to make us celebrate the New Year in darkness. Perhaps, the occupiers are planning to make us suffer with the next strikes at our cities.

But no matter what they plan, we know one thing about ourselves: we will endure. For sure. We will drive them out. No doubts about that. And they will face punishment for this terrible war. The maximum punishment.

I thank everyone who defends our state! I thank everyone who fights for our independence!

Glory to Ukraine!
Here is former NAVDEVGRU Squadron Leader Chuck Pfarrer's most recent assessments of the situations in Izium and Bakhmut:
IZIUM AXIS/ 1800 UTC 29 DEC/ RU is attempting to reduce pressure on Svatove with a series of attacks west of the urban area. Staging from the salient near the Andriivka reservoir, RU launched a number of company-sized attacks between Kryvoshyivka and Andriivka pic.twitter.com/OUUUjhba7I

— Chuck Pfarrer | Indications & Warnings | (@ChuckPfarrer) December 29, 2022
BAKHMUT AXIS /2050 UTC 29 DEC/ After a lull, RU has resumed piecemeal attacks against the eastern suburbs. UKR forces are in contact near Podhorodne, north of the M-03 / T-13-02 intersection, and east of the O-0507 cut-off in the industrial area. pic.twitter.com/c6lWlvk5oA

— Chuck Pfarrer | Indications & Warnings | (@ChuckPfarrer) December 29, 2022
For the last time, DougJ, stay out of my lane!!!
CLUELESS: The NYT says UKR's 'hard line' position is an obstacle to peace. Let me review: In 2014 Russia launched an unprovoked invasion of Luhansk, Donetsk & Crimea. In 2022 RU invaded again, destroying dozens of UKR cities. Kyiv wants RU to leave Ukraine. Is that unreasonable? pic.twitter.com/ddXKOVqSuK

— Chuck Pfarrer | Indications & Warnings | (@ChuckPfarrer) December 29, 2022
I kid, I kid!
Ukrainska Pravda did an interview with one of the Ukrainian Air Force fighter pilots. Dmitri at WarTranslated translated it into English. Here's a bit of the interview:
Interview with a well-known Ukrainian pilot Vadym Voroshylov with a call sign "Karaya".

(Yevhen Rudenko): Vadym, when I first saw you in the media, I remembered the Russian pilot captured in Chernihiv. He was so… chubby. Is it the enemy's problem with physique, or is it my stereotype about aviators who supposedly all have to be athletes?

(Vadym): (Smiles). It was Krasnoyartsev. I would not say that they have such a problem. But, indeed, we already have a new concept of flight personnel training. After 2014, the emphasis is more on young people as the main force of strike aviation. From the statistics of aircraft shootdowns, from those militaries who we captured, we see that these are… I can't even say "boys" – adult men. We must understand: the younger a person is, the faster the brain works. It is very important in aviation.

(I): Some Russian pilots who were captured tried to convince that they did not know about the bombing of residential buildings because they were working according to the coordinates provided to them. Is it possible to believe this?

(V): I do not believe it at all. They have ordinary navigation systems like Garmin, touristic, in various modifications. Perhaps their public accepts propaganda (that Russian aviation does not hit peaceful targets – remark), but our society is quite literate. You do not need to be an aviator to understand: if a person enters latitude and longitude in a tourist navigator, they clearly see what is there. Of course, if the coordinate is entered within a certain settlement, it is immediately clear that you are working on the settlement. They do it like railway lines, as people say. This is an ordinary aircraft bomb, which has just a flight trajectory, and the accuracy of bombing depends on a bunch of factors, ranging from the skills of the pilot to meteorological conditions. Therefore, I do not believe in this legend.

(I): What is considered an accurate strike with low-precision weapons?

(V): I can say roughly: according to the standards, the enemy's bombing is considered "excellent" if it is within plus or minus 50 meters. In urban conditions, even this is a huge error.

(I): Let's imagine a hypothetical situation: you are ordered to bomb targets within residential areas. What will you do?

(V): We have already discussed this with our sworn brothers. Firstly, I do not want to talk about it hypothetically because it is impossible in theory. Our military and political leadership will not allow it. If we look at it more abstractly, the pilot and navigator in the Su-34 (the downed plane of Krasnoyartsev – UP) always see the target's location, at least through navigation. Yes, they are given a task to perform. But no one will fire them, and no one will put them in prison if they drop bombs, for example, in an open field, at a distance of a kilometer or two from residential buildings, with overflight or underflight. It will just be a "mistake in piloting technique and poor training" – that's all! So that's all there is to it. But such an option could be considered if they were people. They fully and completely understand what they are doing. This is their traditional scorched earth tactic. This is what they have done before in Ichkeria, in Georgia, in Syria.

(I): How did you formulate your attitude toward the enemy? Is there something like respect for their pilots?

(V): We treat them not as a specific, living person but as air targets. They turn only into dry figures in the daily summary of the General Staff (losses of the Russian army – remark), no more.

Of course, there were cases of respect for enemy pilots in history, but a long time ago, in the First World War. Then there were more noble relations, if I may say so.

Back then, they declared war, signed the act of war, and then went to their positions. Now the enemy has been saying for several months that he was not going to attack, and then insidiously attacked peaceful cities of Ukraine in the morning.

(I): Is there something that most distinguishes our pilots from the enemy?

(V): There is a lot to say, but I will only say that we perform such tasks that technically were not even considered at the design stage of our aircraft.

We have very limited technical capabilities, but we do everything to destroy the enemy. We try to work effectively in more extreme conditions and are absolutely ready for anything.

The enemy, having an advantage, works as it is written in the textbooks on tactical and fire training. We use more modern methods, which are not written in any textbook of any country in the world.

(I): So, NATO pilots will have something to learn from ours after this war?

(V): Yes (smiles).

(I): Is it playing a cruel joke with the Russians that they have so much equipment? Do they act, as they say, "at ease" or not?

(V): You are right. But do not underestimate the enemy. He is dangerous. I have a negative attitude to the statements that there are some "chmony" and the rest. No! This is the enemy. They have a significant advantage in aircraft and ground air defense. They know how to work and learn from this war, just like we do.

When we talk about comfortable conditions for the enemy, we mean the ability of their fighter aircraft to operate without entering our air defense zone. But when they get into this zone, every time in the reports from the General Staff you see pluses opposite the destroyed air targets.

(I): Is there anything surprising among them? Maybe some specific types of aircraft?

(V): Yes, but not aircraft. It should be understood that a plane is more of a platform, a carrier of aviation means of destruction and that it is these means that can give an advantage in the air.

Recently, the Russians have developed long-range air-to-air missiles R-37M. We can say that this is their newest weapon, although it is a Soviet development, which they have modernized. Their declared range of air targets is very serious – up to 400 kilometers. In fact, we see smaller figures, but this means of destruction is still very dangerous.

However, we constantly analyze air battles with these missiles and find methods to combat them.
Much, much, much more at the link!
That's enough for tonight.
Your daily Patron!
Here's a new video from Patron's official TikTok!
The caption machine translates as:
Link to my YouTube in the profile header!🐾 #PatrontheDog #PatronDSNS
Well you know what that means!
Here's the link to Patron's official YouTube page. So far the only video is the trailer, which I posted last night, for Patron's soon to debut cartoon series:
Open thread!