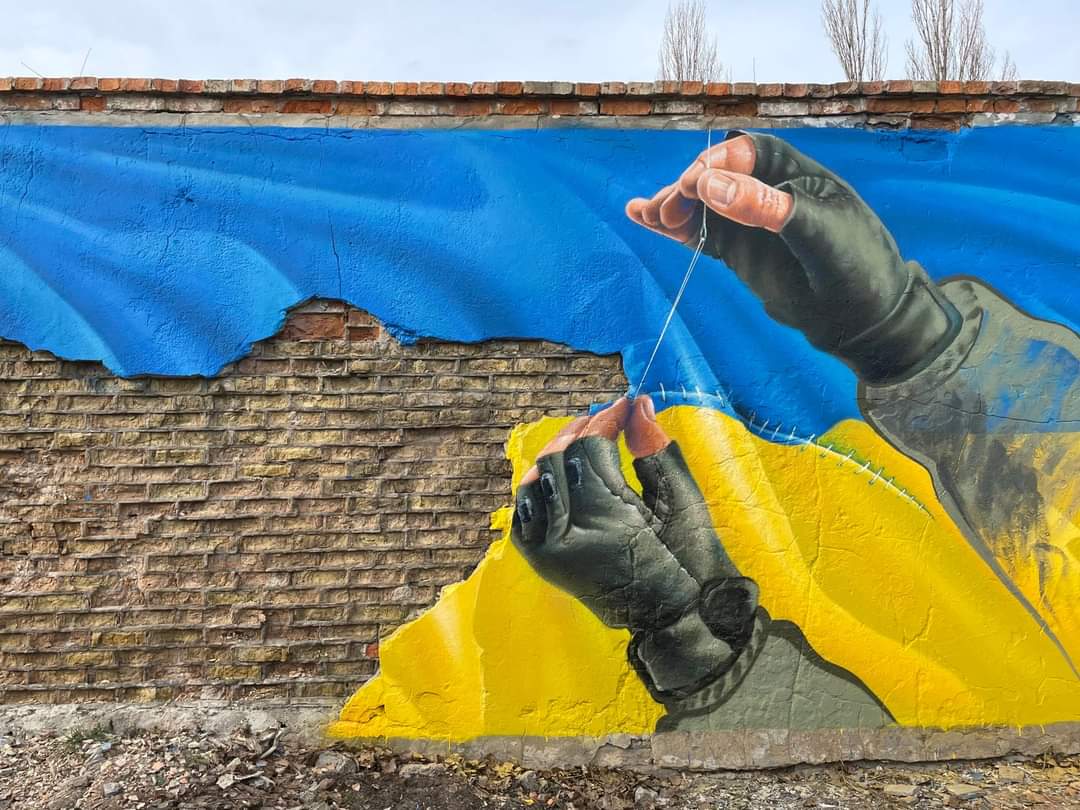 I hope everyone had a nice New Year's Eve. I've got the first workout of the year – chest, back, legs, and core functional strength training and 40 minutes on the ArcTrainer at level 10 – in the books. It is all down hill from here! I also had a lovely nap this afternoon! And now, on to the update!
Here is President Zelenskyy's address from earlier today. Video below, English transcript after the jump:
I wish you health, dear Ukrainians!

New year, new day, new summaries. 45 "Shaheds" were shot down on the first night of the year.

I thank our Air Forces – pilots, anti-aircraft warriors. 33 "Shaheds" are on their account. Gratitude to the air defense of our Ground Forces for another 12 downed Iranian drones. Well done, guys!

Russian terrorists were pathetic, and they entered this year staying the same. Our defenders were awesome, and on January 1 they showed themselves very well.

You know, these days it was clearly seen how far we have moved away, mentally, humanly from what Russia is "boiling" in. Our sense of unity, authenticity, life itself – all this contrasts dramatically with the fear that prevails in Russia.

They are afraid. You can feel it. And they are right to be afraid. Because they are losing. Drones, missiles, anything else will not help them. Because we are together. And they are together only with fear.

And they will not take away a single year from Ukraine, they will not take away our independence. We will not give them anything.

I thank everyone who is fighting the enemy at the frontline every day and every night! We respond to every Russian strike at Kherson, Nikopol, Kharkiv region, all our cities and communities. It is very tangible for them.

I am grateful to all our energy workers, utility workers for stable energy supply and a minimum of outages – taking into account all the existing circumstances. Wherever transmission lines and other energy facilities are damaged by shelling, the restoration continues around the clock. Today as well.

And it is very important how all Ukrainians recharged their inner energy this New Year's Eve.

And how we thanked our warriors. How we thanked our loved ones. How millions of times all over Ukraine, all over the free world, our wish – the wish of victory – has sounded and still sounds.

We will do everything to make it so!

Glory to all our warriors!

Glory to each and everyone who works for the victory of Ukraine!

Glory to Ukraine!
Instead of New Year's fireworks. russia launched 45 Iranian-made kamikaze drones at Ukraine throughout New Year's Eve.
All 45 of them were shot down.
The kremlin terrorist cannot waver the determination of Ukrainians.
2023 is the year of new victories.

— Defense of Ukraine (@DefenceU) January 1, 2023
Here's former NAVDEVGRU Squadron Leader Chuck Pfarrer's most recent assessments of the situations in Bakhmut and Izium:
BAKHMUT /1620 UTC 1 JAN/ RU has temporarily throttled back operations near Bakhmut. UKR forces drove away RU attacks at Bakhmutse, Podhorodne and east of the O-0507 cut-off in the industrial area. Early reports suggest Kurdiumivka has been liberated. pic.twitter.com/IUYuWrcj69

— Chuck Pfarrer | Indications & Warnings | (@ChuckPfarrer) January 1, 2023
IZIUM AXIS/ 0145 UTC 01 JAN/ RU has apparently discontinued an unsuccessful series attacks across the H-26 HWY north of Svatove. UKR forces repelled a RU assault at Ploshchanka. UKR reports that Russia suffered 760 troops Killed in Action (KIA) during the period 31 DEC- 1 JAN. pic.twitter.com/Pl5JaNZYAY

— Chuck Pfarrer | Indications & Warnings | (@ChuckPfarrer) January 2, 2023
Speaking of Bakhmut:
7-year-old Stas from #Bakhmut to 🇺🇦defenders:"All these days I was praying&waiting for evacuation".
His family is now safe in Western #Ukraine. It's hard to imagine what this boy has gone through. His town has become a real hell.
🇺🇦heroes bravely fight against #russian terrorists pic.twitter.com/1jlmtZtB5n

— Emine Dzheppar (@EmineDzheppar) December 30, 2022
Here's an in depth interview of First Lady Zelenska:
The description machine translates as:
The First Lady of Ukraine Olena Zelenska talked about the directions of her activities in 2022 in the conditions of Russian aggression against Ukraine. In an interview with Vadym Karpiak on the telethon "Edyni Novyni", the wife of the President emphasized that the duties of the first ladies, especially during the war, are not regulated, so she had to decide for herself what is a priority for the country and where she will be able to bring the greatest benefit. Therefore, her work was concentrated in several directions.
It's HIMARS O'Clock!
Surprise! pic.twitter.com/R0gSLvm2LN

— Defense of Ukraine (@DefenceU) January 1, 2023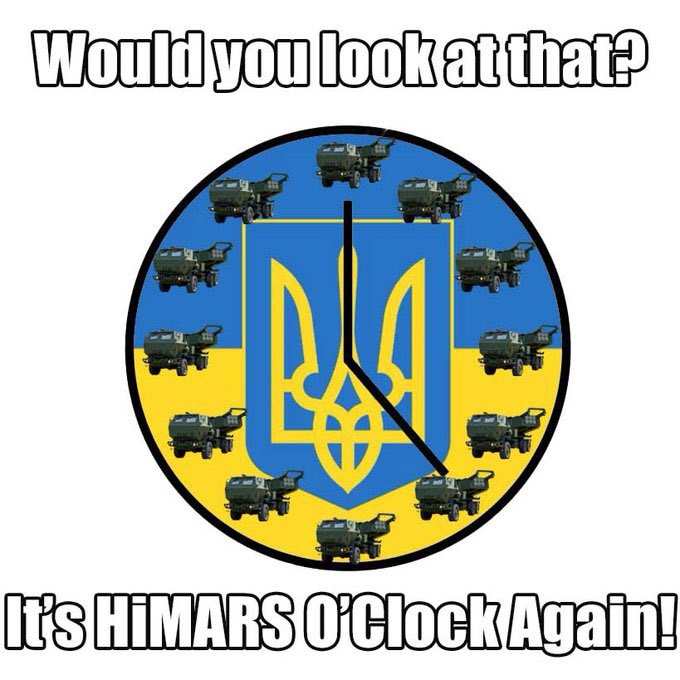 Also, obligatory:
For you weather afficionados:
Having +12 degrees Celsius in Bucha on New Year's Day is a bit weird

— Illia Ponomarenko 🇺🇦 (@IAPonomarenko) January 1, 2023
You know who you are… And so do the rest of us because right now this is you: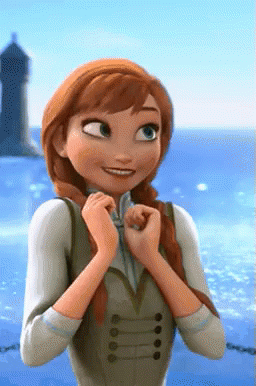 Carlo Graziano passed this op-ed by Nigel Gould-Davis, Phd; Senior Fellow at the International Institute for Strategic Studies published in The New York Times. Here's some excerpts:
"What are Putin's red lines?"

This question, asked with growing urgency as Russia loses its war in Ukraine but does not relent in its aggressions, is intended to offer analytical clarity and to guide policy. In reality, it is the wrong question, because "red line" is a bad metaphor. Red lines are red herrings. There are better ways to think about strategy.

"Red lines" implies there are defined limits to the actions that a state — in this case, Russia — is prepared to accept from others. If the West transgresses these limits, Russia will respond in new and more dangerous ways. A red line is a tripwire for escalation. Western diplomacy must seek to understand and "respect" Russia's red lines by avoiding actions that would cross them. Russia's red lines thus impose limits on Western actions.

There are three flaws to this reasoning. First, it assumes that red lines are fixed features of a state's foreign policy. This is almost never the case. What states say, and even believe, that they would not accept can change radically and quickly.

In truth, red lines are nearly always soft, variable and contingent — not etched in geopolitical stone. While national interests, as Henry Temple, Viscount Palmerston, said, may be eternal, the way they manifest themselves as specific commitments will reflect temporary, shifting circumstances — among them, relative power, perceptions of threat, domestic calculations and wider global trends.

The second flaw of "red line" orthodoxy is that, in fixating on a state's escalatory response, it considers only the risks and dilemmas this would impose on an adversary, and not those that the escalating state itself faces. For escalation means acting in ways that are more dangerous for everyone, and that had previously been judged too risky to contemplate. Such a decision must take into account the likely costs as well as benefits. Escalation is a choice, not a tripwire — one an adversary can deter by credibly conveying the costs this would incur.

The third flaw is that preoccupation with red lines invites deception. A state will seek to manipulate an adversary's desire to restrain itself by enlarging the range of interests it claims are "fundamental" and actions it considers "unacceptable." Fear of escalation thus encourages an escalation of bluff.

Exposing these flaws can help craft better policy. Concerns about Russia's "red lines" are driven above all by the fear that Russia might resort to nuclear escalation. The West should avert this by deterring Russia rather than by restraining itself — or pressuring Ukraine to do so — for fear of "provoking" Russia. It can do so by communicating the certainty of severe consequences should Russia use nuclear weapons. Russia has tried and failed to impose red lines with nuclear threats several times since the war began — most recently in November, when Ukrainian forces liberated Kherson just six weeks after Vladimir Putin had declared it part of Russia. Ukraine and the West rightly rejected these bluffs, and should continue to do so.

But to apply the special case of negotiation — with few parameters and a narrow range of outcomes — to a complex, fluid and much wider geopolitical rivalry is a category error. While the danger of Russian nuclear escalation may rise and should be studied carefully, there is no special, separate category of actions that the West or Ukraine might take that would automatically trigger it. Russia has no red lines: It only has, at each moment, a range of options and perceptions of their relative risks and benefits. The West should continually aim, through its diplomacy, to shape these perceptions so that Russia chooses the options that the West prefers.

America should focus on three things. First, it should no longer declare that there are measures it will refrain from taking, and weapons systems it will not provide, to support Ukraine. To signal unilateral restraint is to make an unforced concession. Worse, it emboldens Russia to probe for, and try to impose, further limits on U.S. action — making the war more, not less, risky.

Second, America, with its partners, must make clear that time is working against Russia — not in its favor, as Mr. Putin still believes. The West should demonstrate readiness to mobilize, and quickly, its huge economic superiority to enable Ukraine to defeat Russia and to impose further severe sanctions. The military and economic costs to Russia will drain its far more limited resources and place greater strains on the regime.

Third, the West should make clear to a wide range of Russian audiences that it is safe to end the war by leaving Ukraine. An orderly withdrawal is unlikely to lead to regime change, let alone the breakup of Russia. Neither outcome is an official goal of Western policy, and talk of them is unhelpful and even counterproductive. Some in the West will resist the idea of any such reassurance. But if Russia's elites conclude that it is as dangerous for Russia to leave Ukraine as to stay, they have no incentive to press for an end to the war. Reassurance does not mean compromise.
Much, much more at the link. I want to compare Dr. Gould-Davis's analysis with this reporting from The New York Times that we covered in the update on 17 DEC 2022:
People who know Mr. Putin say he is ready to sacrifice untold lives and treasure for as long as it takes, and in a rare face-to-face meeting with the Americans last month the Russians wanted to deliver a stark message to President Biden: No matter how many Russian soldiers are killed or wounded on the battlefield, Russia will not give up.

Mr. Putin's spokesman, Dmitri S. Peskov, blames the West, and the weapons it has given Ukraine, for Russia's unexpected difficulties in the war.

"This is a big burden for us," Mr. Peskov said, depicting Russia as taking on all of NATO's military might in Ukraine. "It was just very hard to believe in such cynicism and in such bloodthirstiness on the part of the collective West."

To Mr. Putin, Ukraine is an artificial nation, used by the West to weaken Russia. He describes it as a cradle of Russian culture, a centerpiece of Russian identity that must be wrested back from the West and returned to Russia's orbit.

In his eyes, that is the biggest unfinished mission of his 22 years in power, people who know him say.
There's nothing to negotiate here and no one to really negotiate with. As long as Putin remains in control of Russia he will spend an unlimited amount of money and lives to achieve his goal: taking Ukraine. It is important to remember the flip side of this, which I've been stating repeatedly since the re-invasion began: if Putin cannot have Ukraine than no one else gets to have it either. And that includes the Ukrainians. The strategic reality is that Putin is going to do what Putin is going to do regardless of what we do, what our EU and NATO allies do, regardless of what our non-EU and non-NATO allies do, and regardless of what the Ukrainians do. Right now what we're willing to do is the result of our constraining ourselves due to an exceedingly limited appetite for assuming risk. Our self imposed limitations and the fear we've created for ourselves is a gift to Putin that prolongs the war and actually increases his chances of achieving his objectives.
That's enough for tonight.
Your daily Patron!
There are no new tweets or videos from Patron, so I'm reposting last nights:
Happy New Year! Happy Victory Year. Glory to Ukraine! Thank you, all Ukrainian friends ❤️🎊 pic.twitter.com/s6O15dH0MK

— Patron (@PatronDsns) December 31, 2022
The caption (still) machine translates as:
Happy New Year to everyone, my dears!🎄✨
Open thread!