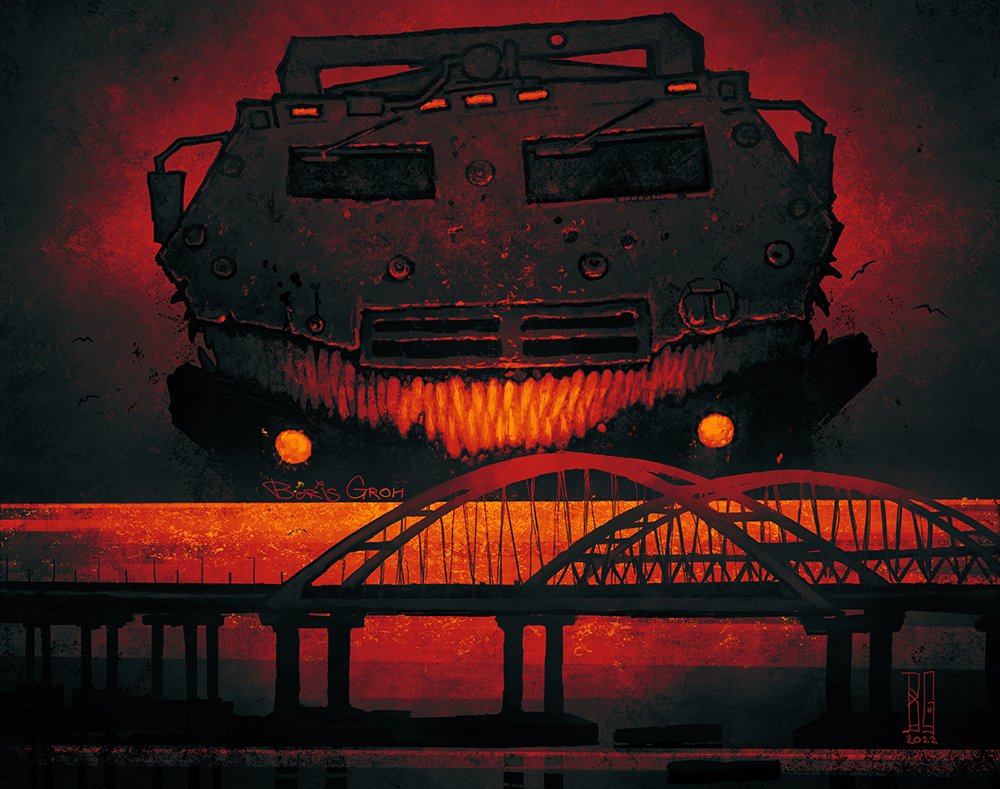 Yesterday the Ukrainians struck a Russian position in Russian occupied Makiivka:
These people were watching Putin's propaganda video (the one where he's standing in front of actors dressed as soldiers) when the strike occurred. pic.twitter.com/suH6UqacRW

— Michael MacKay (@mhmck) January 1, 2023
Before and after

Vocational School No. 19 in Makiyivka – a city that has been occupied by the Russian fascist invaders since 2014 pic.twitter.com/oWEKo1pUpP

— Michael MacKay (@mhmck) January 1, 2023
The Guardian has the details on the strike:
A New Year's Day attack on a complex in the Russian-controlled Ukrainian city of Makiivka has killed scores of recently mobilised troops sent by Moscow, in one of deadliest single strikes against Russia's forces since the war began.

Russia's defence ministry, in a rare admission on Monday, said 63 Russian soldiers died when Ukraine hit "a temporary deployment facility" with four US-supplied Himars missiles.

Without claiming the strike, Ukraine's military command said up to 400 Russian soldiers were killed in the city, which is in a Moscow-controlled area of the Donetsk region.

Even if the total numbers are lower, the strike in Makiivka would be one of the deadliest attacks involving conscripts and will add further pressure on Moscow's military leaders.
Reuters has some more:
Russia's Defence Ministry acknowledged the attack only in the final paragraph of a 528-word daily roundup, more than 36 hours later.

Even then, it did not address some of the allegations made by pro-war bloggers, who said casualties were far higher, and that the military had not only failed to hide its soldiers from the enemy but also stored ammunition close by.

Nationalist bloggers and chat-show hosts with hundreds of thousands of followers have had licence from the Kremlin to publicise the failings of the army – a potential criminal act under a law passed shortly after the invasion of Ukraine in February.

Ukraine had alleged that 400 Russians had been killed, a number dismissed as an exaggeration by Russian bloggers.

A pro-war blogger known as Rybar, with more than a million subscribers on Telegram, said that, besides around 70 confirmed dead, more than 100 had been wounded. He said about 600 people had been in the building.

Igor Girkin, a former commander of pro-Russian troops in east Ukraine who has become a high-profile critic of Russia's military, said on Telegram that there were "many hundreds" of dead and wounded.

Like Rybar, he said ammunition had been stored at the college, potentially accounting for its extreme devastation, and that the military's presence had not been disguised.

Archangel Spetznaz Z, another Russian military blogger with more than 700,000 followers on Telegram, wrote:

"Who came up with the idea to place personnel in large numbers in one building, where even a fool understands that even if they hit with artillery, there will be many wounded or dead?"

Reuters was unable to verify the battlefield accounts, but did confirm the location of the video from the buildings and road layout seen in the footage, although not the date that it was filmed.
Here's Girkin's actual response courtesy of Dmitri at WarTranslated: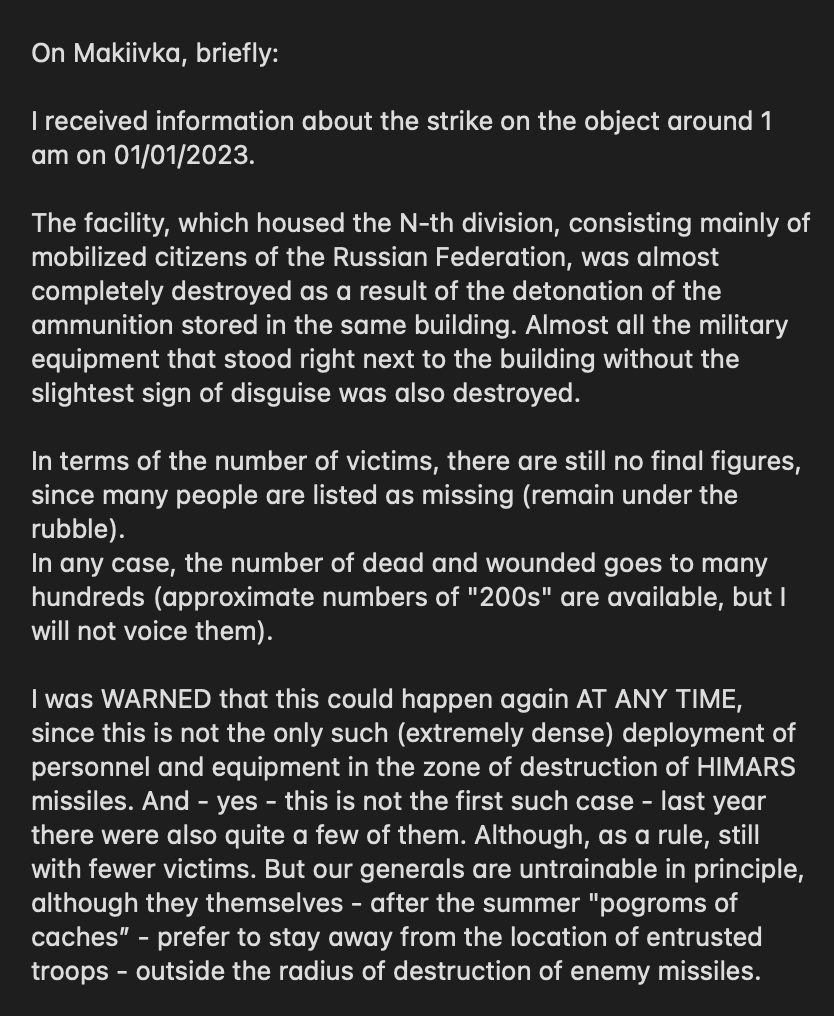 President Zelenskyy's address, both video and English transcript, will be after the jump today.
I wish you health, dear Ukrainians!

Only two days have passed since the beginning of the year, and the number of Iranian drones shot down over Ukraine is already more than eighty. This number may increase in the near future. Because these weeks the nights can be quite restless.

We have information that Russia is planning a prolonged attack with "Shaheds". Its bet may be on exhaustion. On exhaustion of our people, our air defense, our energy sector.

But we must ensure – and we will do everything for this – that this goal of terrorists fails like all the others.

Today, I would like to mention the Air Commands "Center", "South" and "East" for the successful protection of the sky these days. And especially – the warriors of the 96th Kyiv, 208th Kherson and 138th Dnipro anti-aircraft missile brigades, the 301st Nikopol anti-aircraft missile regiment of the Air Forces, as well as the warriors of the 39th anti-aircraft missile regiment of the Ground Forces.

Of course, I am grateful to our pilots, the pilots of our fighters and warriors of mobile firing groups.

Now is the time when everyone involved in the protection of the sky should be especially attentive.

The Russian regime needs mobilizing emotions. Something that they want to demonstrate to their country in order to continue lying that everything is going "according to the plan". And our task is to give Ukraine every day successes, achievements, even small, yet victories over terrorists and terror. Each shot down drone, each shot down missile, each day with electricity for our people and minimal schedules of blackouts are exactly such victories.

And every step forward of our servicemen at the front, every saved position is such successes that are of strategic importance now.

We must increase the price of new mobilization and war in general for the terrorist state as much as possible. I am grateful to every warrior of ours who ensures this!

I am grateful to everyone who stands near Bakhmut! I am grateful to everyone who despite everything holds positions in Soledar and other areas!

Thank you for the Luhansk region, for the south!

No matter how difficult it is now, we must endure it. For it to be easier at the end of this winter.

Today I spoke with President of the European Commission Ursula von der Leyen. I am glad that the first international conversation in the new year was held with the head of the European Commission.

We equally understand the challenges of this winter, this year for Ukraine and the whole of Europe. We have discussed financial support for our state – in January, we expect the first tranche of macro-financial aid, as was agreed upon last year.

This is extremely important right now, when Russia is trying to gather new forces for aggression.

We have also discussed the preparation of the Ukraine-EU Summit to be held in early February. I believe that at this summit, we will be able to outline the key new steps for this year for our common resilience, for our common victory.

Today, I held a special preparatory meeting with members of the NSDC and representatives of the Cabinet of Ministers, the Verkhovna Rada and the Office on global trends for Ukraine this year and in the future. I instructed to elaborate draft decisions of the NSDC for the internal transformation of our state to continue and for us to ensure security and leadership of Ukraine under any external conditions.

I am grateful to everyone who will be on duty at combat posts tonight! 

I am grateful to all who are fighting for our native Ukraine!

I am grateful to everyone who helps!

Glory to Ukraine!
Here is Major General Budanov's take on the strikes on the Engels airbase in Russia:
Here is former NAVDEVGRU Squadron Leader Chuck Pfarrer's most recent assessment of the situation in Kremenna:
KREMENNA AXIS /2340 UTC 2 JAN/ Heavy fighting is reported around the village of Dibrova. As UKR forces advanced, RU conducted fixed and rotary aviation strike missions west of Kremenna on 1 & 2 JAN. UKR units are also reported in contact N of Bilohorivka. pic.twitter.com/AepSXnpP2j

— Chuck Pfarrer | Indications & Warnings | (@ChuckPfarrer) January 2, 2023
To reapply Abba Eban's famous quote regarding the Palestinians, the Israelis never miss an opportunity to miss an oppurtunity:
2 In his speech Cohen hinted that unlike his predecessor Yair Lapid he will not condemn Russia publicly. "On the issue of Russia and Ukraine we will do on thing for sure – speak less in public"

— Barak Ravid (@BarakRavid) January 2, 2023
4 Why it matters: Cohen's predecessor Yair Lapid led a tough line Russia, condemned it publicly & even said the Russian military committed war crimes. Since the invasion Lapid didn't speak to Lavrov & after he assumed office as caretaker prime minister he didn't speak to Putin

— Barak Ravid (@BarakRavid) January 2, 2023
Don't make vodka at home in the bathtub from whatever you've got lying around!
Mother of metal. https://t.co/sy1l7NaFw1

— Illia Ponomarenko 🇺🇦 (@IAPonomarenko) January 2, 2023
Also, whoever got into my storage pod, stole my table cloth, and made it into a dress has some explaining to do!
The Financial Times editorial board gets it right!
Ukraine's battlefield successes do not mean its allies can ease up on support. There are signs Moscow plans a new offensive. Even if that does not materialise, a festering stalemate could play into Putin's hands. For him, long-term destabilisation of Ukraine is a win.

Nor is this the time to entertain the idea of ceasefires or negotiation. With Russia still in control of much of the four regions it "annexed" in October, plus Crimea and parts of the eastern Donbas seized in 2014, the conditions are not right for Kyiv to come to the table.

Ukraine's allies should instead do everything possible to ensure it can repel any renewed onslaught, and regain more territory. The aim is to put Kyiv in a position where it feels able to negotiate, with the strongest possible hand. That means budget support and accelerated financial help with repairing infrastructure.

It also means more sophisticated defensive weapons, such as the Patriot missile defence system now approved by Washington, and offensive arms. Ukraine needs longer-range missiles, helicopters and tanks. The US and others have balked at supplying such weapons for fear they could be used to hit targets inside Russia, potentially triggering a Nato-Russia conflict, or in an effort to retake Crimea that Putin has hinted might provoke a nuclear stand-off.

It is fair for Washington to agree privately with Kyiv on rules of engagement for weapons it provides. But the objective should be to push Russia back at least to pre-February 24 lines. Retaking southern regions would put Kyiv in striking range of Crimea, giving it a robust negotiating stance. Ukraine's people were in 2022 an example to the world of fortitude and resilience. They deserve redoubled support in 2023.
Much more at the link!
That's enough for tonight.
Your daily Patron!
The beginning of the year is a great time to study. I always learn something new. And you? What did you do today? ☺️ pic.twitter.com/13TZpjK0zq

— Patron (@PatronDsns) January 2, 2023
There is no new video tonight from Patron's official TikTok.
Open thread!