On the Road is a weekday feature spotlighting reader photo submissions.
From the exotic to the familiar, whether you're traveling or in your own backyard, we would love to see the world through your eyes.
StringOnAStick
We recently returned from a trip to a backcountry ski lodge in the Monashee Mountains of interior B.C., Canada.  There are a lot of these lodges now, where you fly in via helicopter and spend your days with licensed ski guides doing what I explain as "hike up and ski down" skiing, not heliskiing, a significantly more expensive sport plus my husband and I like the hiking up part.  There are plenty of heliskiing and snowcat skiing lodges too if you aren't into the climbing uphill thing and have a lot more cash to spare.  After 4 days to a week or however long a holiday you booked, the helicopter comes back and returns you to where you left your car, while a new group of eager skiers rotates into the lodge for their turn.
We used to do one of these trips every winter, but 8 years ago there started a long hiatus due to illnesses and losses in my husband's family.  We were invited to join some folks we had met over 18 years ago on one of these trips, so we agreed.  These are popular enough now and with pent up demand from Covid and the favorable (to US citizens at least) exchange rate that you have to book a year in advance now.  We enjoyed our trip but we also realized that now that we are retired, we don't need to (and shouldn't for many reasons, one of which is the helicopter aspect) spend this kind of time or money, and when we retired we moved to a town in central Oregon that lets us take advantage of excellent backcountry skiing when conditions are good, so there is little need to "vacate" from the life we've built here.  Still, it was nice to do one last ski lodge trip to B.C.
This trip started with a very heavy snowfall on a very thin, drought conditions snowpack so it was tricky skiing given the hidden rocks and tree tops.  The first few days were very snowy or foggy, also tricky conditions due to poor visibility but we did get some sunshine and settled snow by the last few days.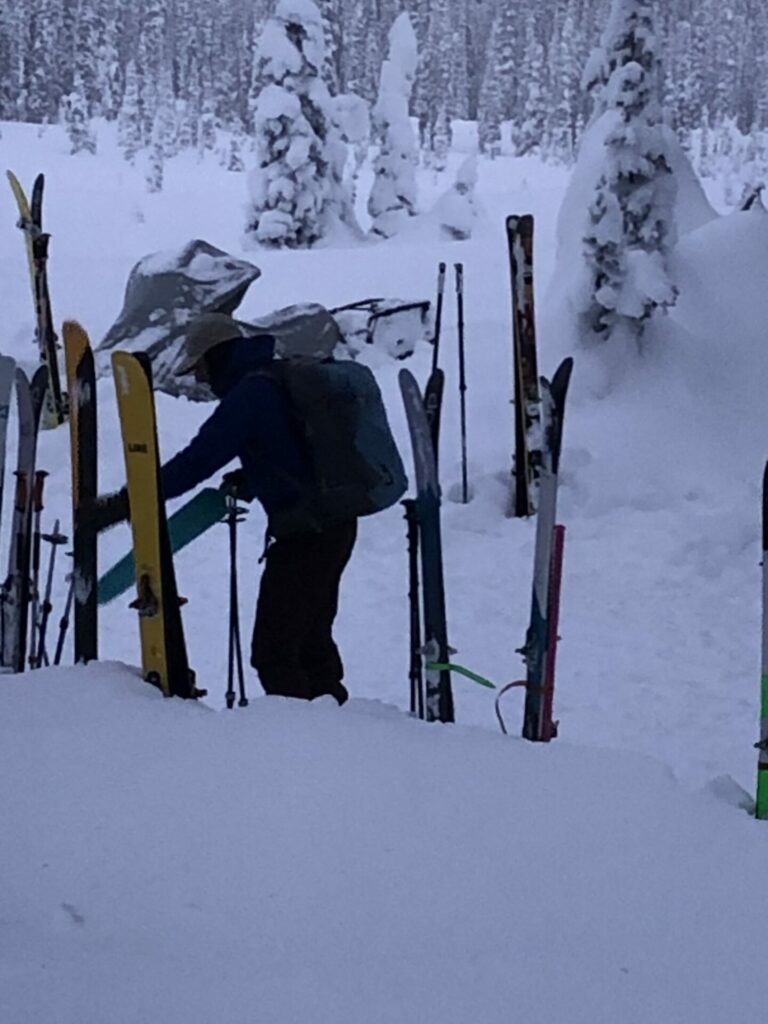 Just outside the lodge
December 15, 2022
I included this one just for informational purposes.  This shows my husband taking his climbing skins off his skis as the last light of day fades away.  Climbing skins are like "directional velcro" sheets that have a reusable glue and attachment hardware that you stick to the bottom of your alpine touring skis; they allow you to easily walk uphill on snow.  When you reach the top of your chosen downhill run, you take off the skins, stash them in your pack, lock your heels down in your multipurpose specialized ski bindings and now you have the same thing as a typical downhill skiing set up, but the skis are specially designed to be much, much lighter because you do have to drag them uphill for every downhill run.  Most alpine touring ski setups include specialized light but strong ski boots that have special fittings that are part of the alpine touring ski binding so you can have as light a ski/boot combo as possible while sacrificing as little performance as possible.  The gear has gotten so good that I'd say very little is being left on the table as far as performance goes now.
Some days you left the lodge and climbed upwards to start the day, and other days you first went downhill and then put climbing skins on to get to the top of the next run but on the other side of the valley.  The goal is always to find fresh powder snow to ski.  Most days involved 3 to 6 miles of travel and usually around 3,000′ of climbing during the day though one big day was closer to 4,000′ on this trip.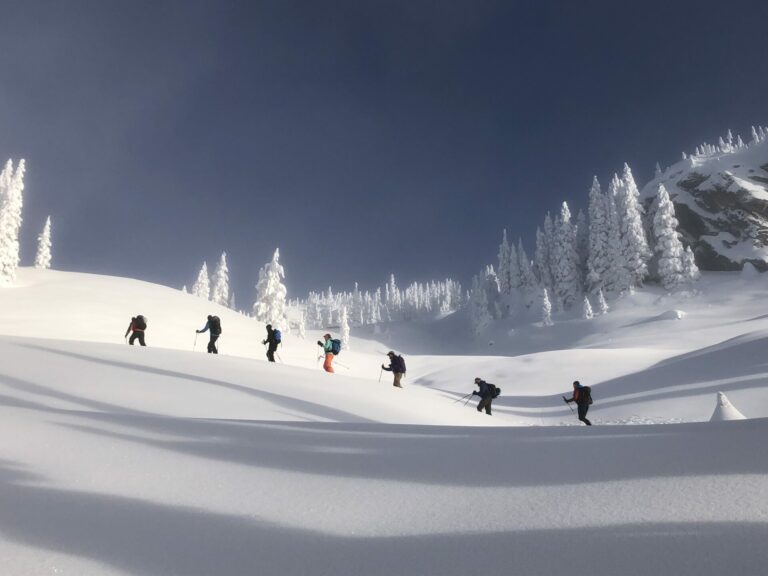 Going to terrain higher than the lodge
December 15, 2022
We had a day of glorious sunshine after several of valley fog, so we took advantage of that and went to the higher parts of the lodge permit area.  This is the line of folks working their way upwards, professional ski guide providing trail breaking and proper slope selection services.  These ski guides are amazing athletes; they are carrying food, water and space clothing like we all do, but in addition they have full rescue gear and can spend a night out with a guest if they get injured too late to get a helicopter in for a rescue before darkness falls, so their packs weigh upwards of 35 lbs.  They also do all the trail breaking, and when we first landed they were doing this in new snow that was over 2′ and in some places 3′ deep.  These are professional, working athletes who are also snow scientists and always incredibly hot skiers.  Becoming a certified ski guide in Canada is a lengthy (multi  year) and difficult undertaking; people's lives are going to be in their hands and this is taken very seriously by everyone involved, especially the licensing authority.  Training to become a guide is no guarantee that you'll ever pass the extremely difficult exam process; some never do and move on to another career.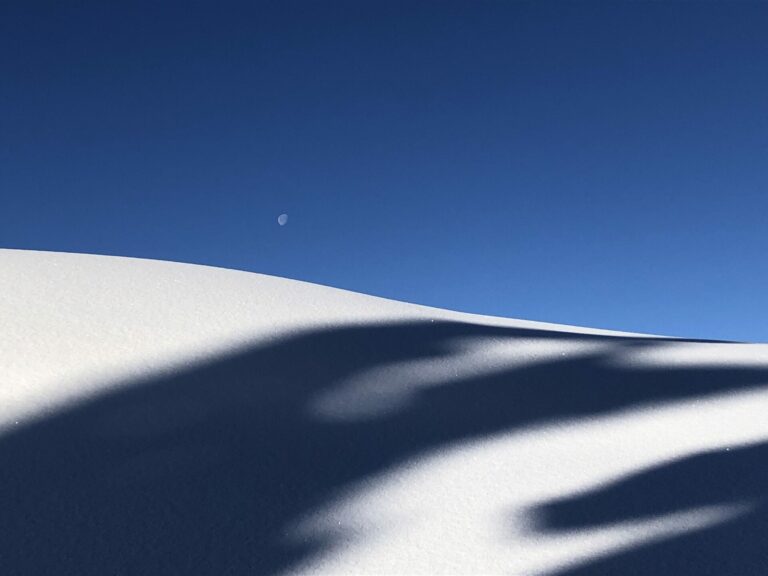 South facing slopes
December 15, 2022
This is more art than skiing; with a moon high in the sky and shadows from the tall, thin, conifers making for an interesting abstract pattern.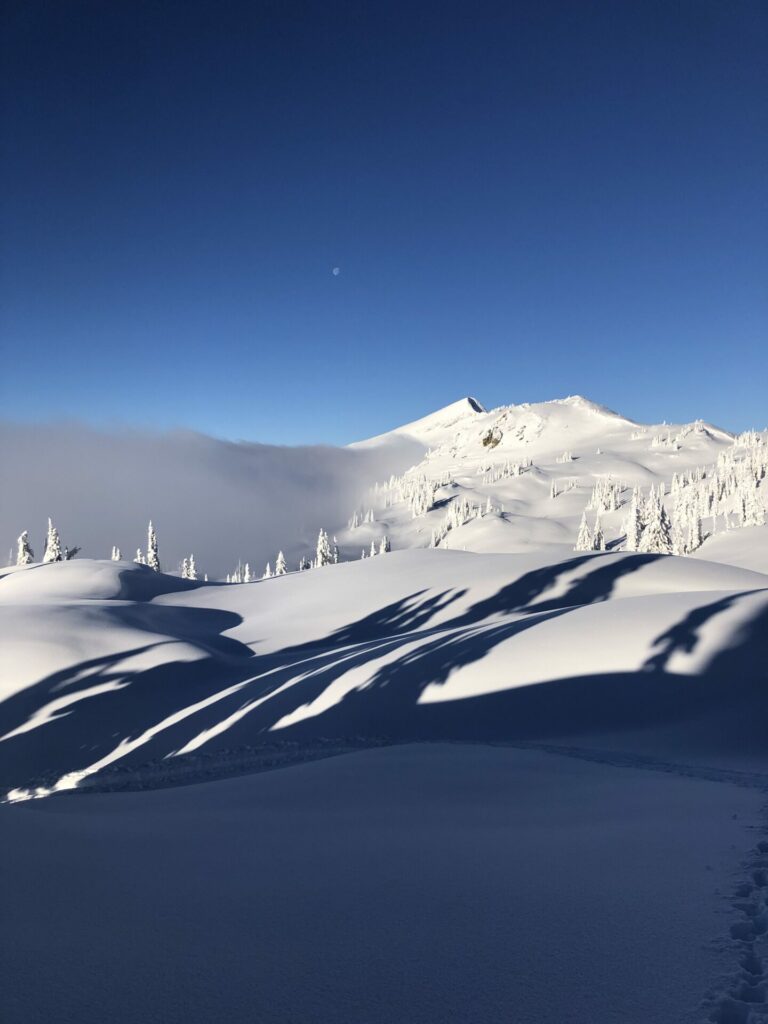 The south facing slopes
December 15, 2022
Similar view to the last, but now you can make out the fog rising up from the valley in the left side of the photo, and better make sense of the tree shadows from the prior photo.  The only trees at this altitude are subalpine fir.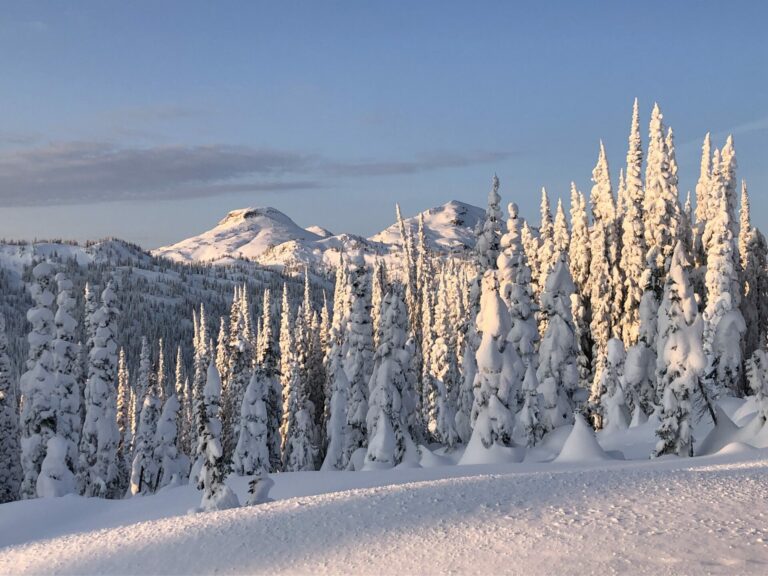 Looking west into Monashee Provincial Park
December 15, 2022
The peak in the distance is skiable on the left flank when the snowpack is much deeper and when avalanche risk is low, but otherwise it is best admired from afar.  The trees are subalpine fir at this elevation, the highest elevation tree type in this area.  They are perfectly adapted to this high snowfall environment, growing in a very narrow but tall shape plus having branches that exhibit low turgidity in winter so they droop and shed snow easily, but high turgidity in the summer, when they become stiff and slightly higher than horizontal so they can gather as much sunshine as possible.  One night on a bathroom run I looked out the window to see a half moon glowing and three trees closest to the lodge gently swaying in the wind across the face of that bright moon; gorgeous!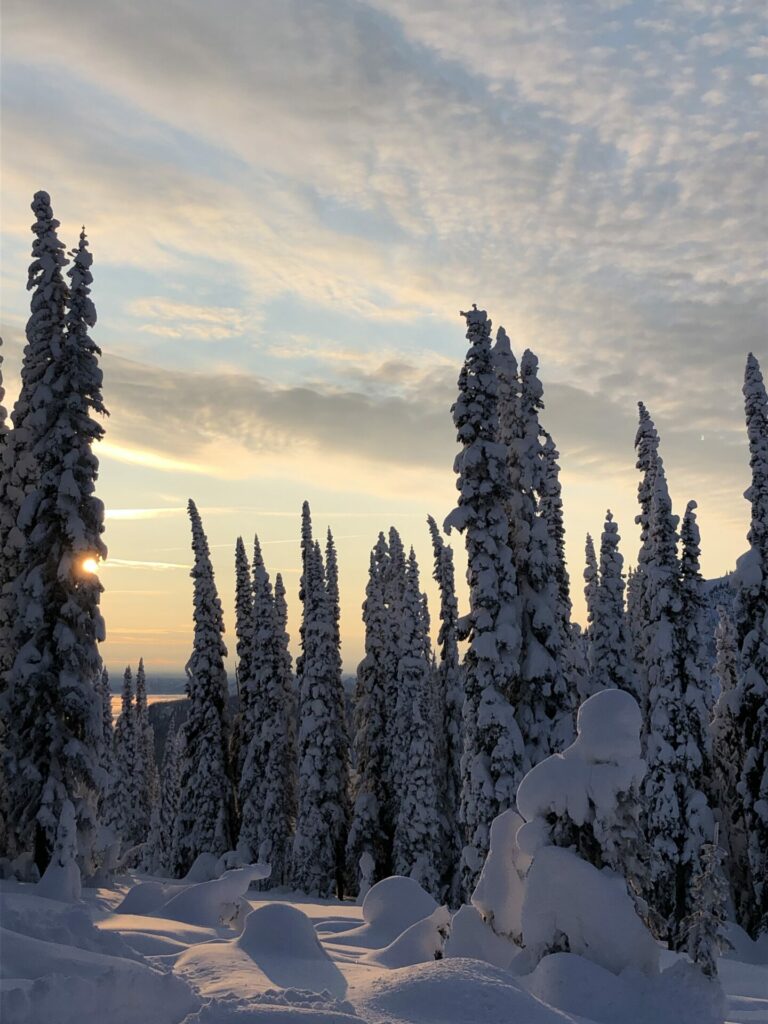 Looking east towards the sunrise
December 16, 2022
These are the trees I saw swaying in the moonlight, but as the sun was rising the next day and the day we were set to fly back to our car and start the drive back home.  It's a short hop in a helicopter to a place that is unreachable otherwise in the winter months due to it being so far from any road or access point.  In the summer, this lodge can be reached for mountain biking or hiking after a few hours on a 4WD logging road, which is when heavy materials and consumables that can be stored are brought in for the winter months.  Helicopters are very expensive so what is brought in and out on every flight is monitored for weight and if it is actually needed or not.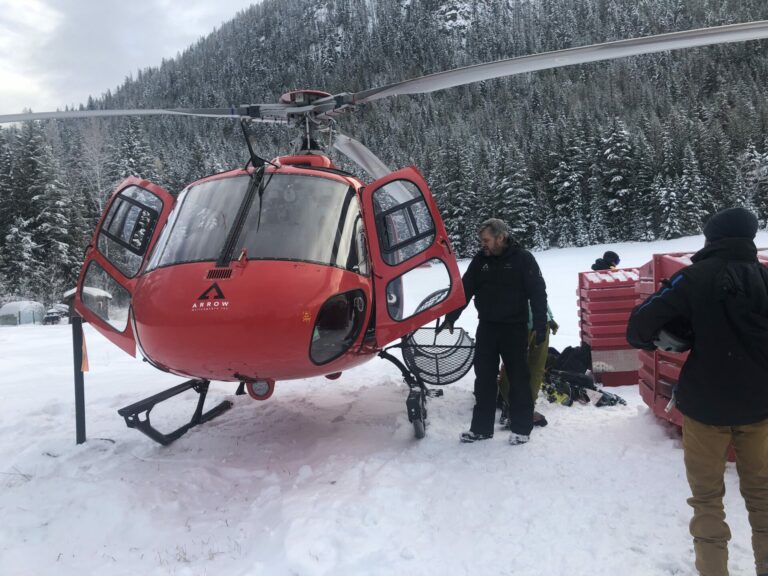 Helicopter landing area and car parking, somewhere off a logging road
December 10, 2022
This is the helicopter used to make the guest transfers to the lodge, the pilot is giving the safety briefing that is required before anyone gets on board and he fires it up again.  The wire basket behind him is where the skis and poles are carried, the doors behind the people compartment are where the guest bags and backpacks plus fresh food are carried.  The capacity is 1 pilot, 5 guests per transfer.  Guests are limited to 20lbs in a soft sided duffle for easy stuffing into the odd shaped cargo bay, plus their backpack and you arrive and leave in full ski clothing plus ski boots (bring slippers for inside the lodge) because it is more than a little chilly on the ride in or out.  Our group also brought in 2 guitars and 1 ukulele (mine) but we were allowed to carry those on our laps.  We had a violinist too so we had some fun jazz performances and some alt folk as well; such a great time.
The helicopter ride is where the biggest danger of these trips lies, because weather is always a factor, and let's face it, helicopter rides involve some risk.  We have flown in during snowstorms but if it is foggy, no one flies because that is how they end up flying into the side of a mountain.  Sometimes it requires finding windows and holes in fog to fly through and picking your way based on recognized landmarks, but thankfully we've only experienced that once and you could feel the tension rising.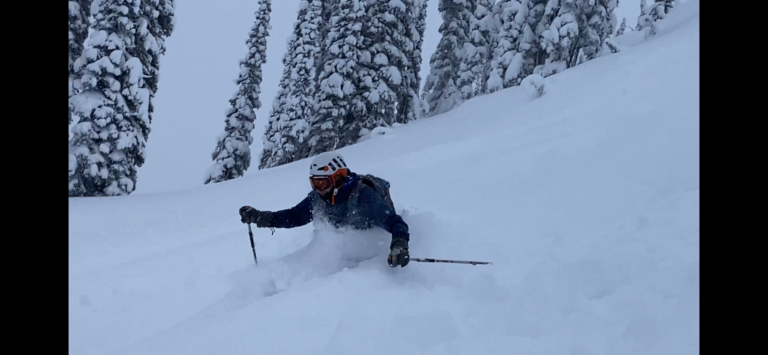 Somewhere in the lodge permit area
December 13, 2022
This is why we do this: my husband having a great, deep powder run.  It's a bit dark because it was very cloudy this day and since it was the week before solstice, the sun was very low in the sky even at mid day.  It ight be dark but you can see that the fresh snow was very deep that day.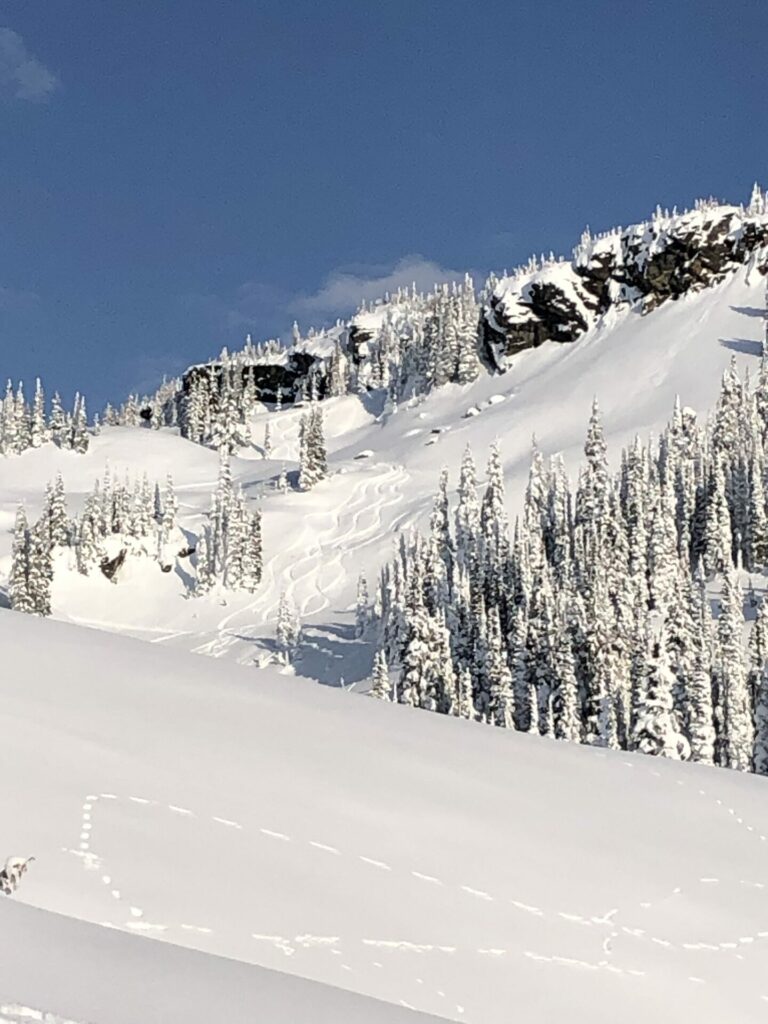 South facing slope
December 15, 2022
This is what the slopes look like after a group of 6 powder hounds have had a chance at it, and what these trips are all about.  The tracks in the foreground are from the various critters in the area, including a pine martin who ran off down the trail in front of us one morning after getting rousted from the sauna building.