So much right about this photo:
ETA- made the CSPAN feed!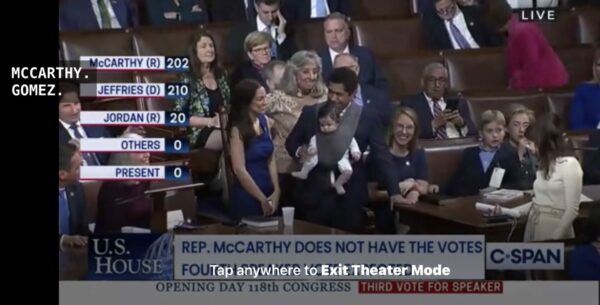 Adjourned. We'll be back tomorrow with an even cuter outfit. #StayTuned https://t.co/7rxsCl2i71

— Rep. Jimmy Gomez (@RepJimmyGomez) January 3, 2023
They are scheduled to begin around noon EST. If I find a live feed once it starts, I'll add here
Here is the only live feed so far:
Other live feeds possible:
Getting ready to watch the next round of votes for Speaker. pic.twitter.com/v1tS5CJCWx

— Ana Navarro-Cárdenas (@ananavarro) January 4, 2023
Split Screen of the day:

"President leads through bipartisanship, rebuilds the nation."

vs

"GOP throws feces at each other, badly." pic.twitter.com/HkpTxLFhFV

— (((Evan Shapiro))) (@eshap) January 4, 2023
I've got end-of-the-year stuff to keep me busy, and I'll have MSNBC on in the background.
This is a while we wait open thread