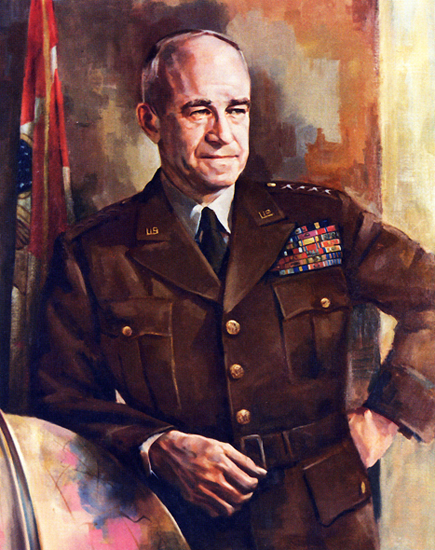 (Portrait of General of the Army Omar N. Bradley by Clarence Lamont MacNelly, 1972. Image found here.)
We're sending 50 Bradleys to Ukraine! The infantry fighting vehicles, not the dapper gent above. And Germany is sending Marder personnel carriers and a Patriot battery!
A joint press statement from President Biden and Bundeskanzler Sholz:
Joint Press Statement Following a Call between the President Joe Biden and the Chancellor of the Federal Republic of Germany Olaf Scholz

President Joseph R. Biden, Jr. and Chancellor Olaf Scholz spoke by phone on January 5, 2023 to exchange views on the ongoing war of aggression waged by Russia against Ukraine. They reiterated their support for Ukraine's sovereignty and independence. They reaffirmed their unwavering solidarity with Ukraine and the Ukrainian people in the face of Russia's aggression.

President Biden and Chancellor Scholz expressed their common determination to continue to provide the necessary financial, humanitarian, military and diplomatic support to Ukraine for as long as needed. To this end, the United States intends to supply Ukraine with Bradley Infantry Fighting Vehicles, and Germany intends to provide Ukraine with Marder Infantry Fighting Vehicles. Both countries plan to train Ukrainian forces on the respective systems.

In light of Russia's ongoing missile and drone attacks against Ukraine's critical infrastructure, President Biden and Chancellor Scholz affirmed their intention to further support Ukraine's urgent requirement for air defense capabilities. In late December, the United States announced its donation of a Patriot air defense missile battery to Ukraine. Germany will join the United States in supplying an additional Patriot air defense battery to Ukraine.

President Biden and Chancellor Scholz expressed appreciation for the military support provided by other Allies and partners to Ukraine, endorsed the ongoing coordination efforts of the Ukraine Defense Contact Group, and welcomed additional donations of air defense systems and combat vehicles.
Here is The Kyiv Independent's defense correspondent Illia Ponomarenko's response to the news out of Germany:
What.
Is.
Happening.
Today.
!!!!!!!!! https://t.co/sio1wS3yHp

— Illia Ponomarenko 🇺🇦 (@IAPonomarenko) January 5, 2023
Here is President Zelenskyy's address from earlier today. Video below, English transcript after the jump:
I wish you health, dear Ukrainians!

Today was another active diplomatic day – four more leaders of partner states were fully informed about Ukraine's defense needs and the nearest plans of the terrorist state.

Russia will not be able to conceal in silence its preparations for a new wave of aggression against Ukraine and the whole of Europe. The world will know in all details – how and when the aggressor is preparing a new escalation in this war. And every new mobilization step of Russia will be known to the world even before Russia makes it. We will ensure this.

And we strengthen the defense of Ukraine every day.

I always discuss two things with all leaders – more defense support for our state, that is, more weapons for our army, and more protection for all Ukrainians – protection on the ground, in the sky and at sea.

My conversation with Prime Minister of Croatia Plenković today was not only meaningful, as always, but also quite inspiring.

I heard the full support for our state, as well as the readiness of Croatia to be a leader in the implementation of those steps that guarantee the return of security elements to Ukraine and Europe in general. Croatia is ready to be a leader in those efforts that are necessary to clear our land from Russian mines and unexploded shells. This is one of the vital tasks for our country and all Europeans.

No part of Europe should be – and will not be – contaminated with mines, no matter how hard Russia tries to fill our land with its instruments of death.

My today's conversation with the President of Latvia was also devoted to the path that our entire continent must take to ensure truly reliable security after the defeat of Russian aggression. We discussed the points of the Ukrainian Peace Formula – security, restoration of our territorial integrity and full force of the UN Charter, as well as the fair responsibility of Russia and all its murderers for the terror against Ukrainians.

I would also like to mention the conversation with President of Türkiye Erdoğan – it concerned many elements of security in our Black Sea region.

Of course, we talked about the necessary steps to ensure food security and what needs to be done for nuclear safety and prevention of any radiation incidents, the threat of which Russia has made, unfortunately, quite real.

We also talked about the dynamics of the situation in our region – about the fact that the masters of Russia are now in a rather desperate situation due to the defeats of the occupiers at the front and are ready for various manipulations.

I am grateful to President Erdoğan for supporting our state and the necessity of fair restoration of the security of Ukraine and the whole of Europe based on the restoration of our territorial integrity.

My conversation with Prime Minister of Spain Sánchez was very meaningful and timely. On the eve of the new meeting in the Ramstein format, it is very important for each of our partners to know 100% the real situation on the frontline and what our Defense Forces are ready for. I thank Mr. Prime Minister Sánchez and all Spaniards for their unwavering support of our commitment to defend freedom.

And today I would like to express separate gratitude to President Biden and Chancellor Scholz for the decision to strengthen our defense, a very important decision. We will have another Patriot battery and powerful armored vehicles – this is truly a great victory for our country. All details and terms will be announced tomorrow – after my conversation with Mr. Chancellor.

Today, I also held a meeting of the Staff devoted primarily to the needs of the Armed Forces of Ukraine and all our defense and security forces. We understand that we must use the nearest time – January and the beginning of February – to be ready for any attempts of terrorists to use new mobilization resources of Russia.

Today, I would like to commend our fighters of the 54th separate mechanized brigade who have been successfully holding positions in the Bakhmut direction for many months. And also – the fighters of the 35th marine brigade for the gradual, step by step liberation of our territories in the Donetsk direction. Thank you, warriors!

I am grateful to each and everyone who provides us with the much needed resilience and progress in the Donetsk and Luhansk regions!

And one more thing I want to remind the citizens of Russia today.

On November 15, the Ukrainian Peace Formula was presented. One of its points provides for the withdrawal of Russian occupation troops from the territory of our country. This is a guaranteed and reliable way to cease fire, stop casualties and war in general.

As of the morning of the same day, the number of Russian soldiers killed was 82,000.

On December 12, Russia received an offer to begin implementation of the Peace Formula with the withdrawal of occupation troops just on Christmas Day.

As of that day already, the number of Russian soldiers killed was almost 95,000.

Apparently both of our proposals have not been heard by the leaders of your country… In the place where they are, apparently, it is too deep to hear.

As of today, you have already lost almost 110,000 of your soldiers killed in this war.

Those who continued the terror against our country and sent all those people of yours to the slaughter, rejecting our offers to stop the Russian aggression, certainly do not value life and definitely do not seek peace.

Now they want to use Christmas as a cover to at least briefly stop the advance of our guys in Donbas and bring equipment, ammunition and mobilized men closer to our positions. What will this bring? Just another increase in the death toll.

Everyone in the world knows how the Kremlin uses respites at war to continue the war with renewed vigor. But to end the war faster, that is not what is needed at all. What is needed is the citizens of Russia who will find the courage to free themselves of their shameful fear of one man in the Kremlin, at least for 36 hours, at least at Christmas time.

Your fear of him destroys your country, which is also already deep… But not in a bunker.

To end the war is to end your state's aggression. Even when your missiles and drones are not hitting our cities, the terror in the occupied territories continues. You don't give Ukrainians any respite. People are tortured, electrocuted, raped. This continues every day while your soldiers are on our soil.

And the war will be over when your soldiers either leave or we drive them out.

So, let them take the toilet bowls – they'll need them on the road – and go back home. Behind our border of 1991.

I thank everyone who helps our people defend freedom!

I thank everyone who fights and works to defeat terrorists!

Glory to our strong people! 

Glory to Ukraine!
Here is former NAVDEVGRU Squadron Leader Chuck Pfarrer's most recent assessments of the situations in Bakhmut and Kremenna:
BAKHMUT AXIS /2140 UTC 5 JAN/ UKR air defense is confirmed to have shot down a Russian Su-35 strike aircraft near Vasela Dolyna. Initial reports suggest that the pilot was captured by UKR ground forces. pic.twitter.com/CpzofA6Fps

— Chuck Pfarrer | Indications & Warnings | (@ChuckPfarrer) January 5, 2023
MANY THANKS: To @COMCEN76 for working to create these unique and updated topographic renderings– the new base maps show important details. And thanks to the many readers who asked for better renderings of terrain and features.

— Chuck Pfarrer | Indications & Warnings | (@ChuckPfarrer) January 5, 2023
KRIMENNA AXIS / 2145 UTC 5 JAN/ UKR forces operational south of Krimenna urban area. RU Wagner Group units stage failed attack against Bilohorvika. RU Mi-8 helicopter confirmed downed by UKR air defense. pic.twitter.com/T46YWFypCn

— Chuck Pfarrer | Indications & Warnings | (@ChuckPfarrer) January 5, 2023
Here is The Kyiv Independent's defense correspondent Illia Ponomarenko's recent reporting from Bakhmut:
BAKHMUT, Donetsk Oblast — It's the last days of December and the heat of the holiday season. But an artillery battalion with Ukraine's 24th Mechanized Infantry just couldn't care less.

For them, it's like Groundhog Day – just another day of war that keeps repeating over and over.

From their place in an abandoned village in Donetsk Oblast, they support Ukrainian infantry repelling Russian frontal attacks in Bakhmut. The site of the most grueling battle of Russia's war in Ukraine so far, Bakhmut has been drawing comparisons with World War I's deadly Battle of Verdun.

A 122-millimeter 2S1 self-propelled howitzer Gvozdika is waiting in the bushes, the dry grass around it charred after the gun's multiple shots on the spot.

The gun is on standby. The artillerymen are in an abandoned house nearby, where they try to keep close to the cellar. The radio buzzes: A warning comes that Russians counter-shot some of this battery's guns this morning, "so you guys better watch out."

Time after time, other Ukrainian howitzers rattle the air. The thunder of impact rolls through the steppe, and plumes of whitish smoke rise on the horizon. The artillery duel between Russians and Ukrainians is brutal. Russian artillery is attacking from Opytne, a town just south of Bakhmut.

"Hey, did you see what happened to those dudes from our regiment the other day?" one of the crew tells his mates.

"By some miracle, the recon told them Russians were about to target their area. So they took cover at the last minute. But their machine is absolutely down. A knock-out hit."

He pulls out a picture of a burning 2S1 howitzer on his smartphone.

"Shit happens, but they are all fine now."

Tanks, Humvees, and seen-it-all 4×4 trucks roar time and again near the house as they try to dash through the unbelievable swamps of dirt roads.

The radio buzzes again.

"Ah, fuck," the artillerymen drop their cigarettes and rush to the gun.

Two rounds are requested. The infantry fighting in Bakhmut need urgent support.

The howitzer gets loaded. The coordinates have been adjusted.

"Fire!" the gun's commander shouts.

The old Soviet howitzer spits out a shot, instantly filling the air with smoke and the smell of expelled propellant. And one more time. The work is done — for now.

The crew get back to the same rhythm of waiting in a cold abandoned house for command. The wait may last a few minutes or painfully endless hours.

The grueling Battle of Bakhmut lasts for five months, but Russian forces, despite insane pressure and massive losses, have not yet managed to capture the important city, the local transportation hub and one of key fortresses of Donbas. Their slow advances finally got them to the city's outskirts – in many ways due to their overwhelming artillery power.

But over recent weeks, Russian advances in the area have been dying down.

The Battle of Bakhmut is likely culminating.

According to international monitors, Russian forces appear to be losing their biggest advantage over Ukraine — the seemingly near-endless stocks of artillery munitions. After so many months of inadequately costly effort to encircle the Ukrainian fortress city, even popular Russian war bloggers admit the acute munitions hunger that is now impeding their advances.

Ukrainian forces on the ground confirm the rapidly decreasing activity of Russian artillery.

But meanwhile, Ukrainian artillery, despite extensive Western supplies, also struggles to make its best due to lack of munitions, especially when it comes to old Soviet standards.

On the ground, this results in horrific losses among Ukrainian infantry holding the ground for months.

Behind this grid of artillery guns pounding Russian lines around the clock, there's just one man.

He sits at a desk in front of a laptop and an iPad in a townhouse close to the howitzers. The room is heated hot with a stove, and he is sipping coffee from his mug. This humble working place is a priority target for Russian counter-battery activity.

The man, Stepan, is watching the real-time picture of the battlefield, transmitted by the drones in the air. He coordinates the artillery strikes delivered at requests of infantry.

His iPad shows fields of black and green surrounding Bakhmut. As far as the drone's electric eye can see, everything up to the horizon is a giant moonscape of black impact holes.

Time and again, new plumes of smoke rise up in the field from fresh impacts.

"Our godawful Starlink just isn't working the way it should," the specialist says as he angrily digs into his laptop.

"How am I supposed to work when the internet is so damn slow?"

As simple as that, the Ukrainian military shares the picture from drones with other units via link-only live streams on YouTube.

After five months of fighting, Russian forces near Bakhmut have only advanced between 6 and 12 kilometers east and south of the city. Since September, they have stood at the eastern outskirts of Bakhmut.

But neither frontal attacks nor attempts to isolate the Bakhmut garrison from the north (via Soledar) and the south (via Kurdiumivka) have had limited results, although they put the city closer to the downfall.

According to Ukrainian intelligence, in December, Russia had concentrated 40 battalion tactical groups and the largest artillery force in the area.

After the Russian military's spectacular failures in Kharkiv and Kherson, the battle for Bakhmut has become the Kremlin's only realistic chance to get a victory that can be used to reinforce the pro-war propaganda.

For this sake, the Wagner Group, headed by increasingly powerful Kremlin insider Yevgeniy Prigozhyn, is going as far as the mass recruitment of convicts in Russian prisons to be thrown in the meat grinder of Bakhmut.

In December, it felt like Bakhmut might fall soon.

Russian forces made gains south of the city, aiming to sever the vital road running west to the city of Kostyantynivka. Had they succeeded, Ukrainian forces would have to withdraw from the city to avoid a death trap.

Russian forces managed to enter the eastern outskirts of Bakhmut in December. But on Dec. 21, the day after President Volodymyr Zelensky made a surprise visit to the city, Ukrainian forces managed to carry out a tactical counter-attack and drive Russia out of the city.

And then on Dec. 27, the head of Ukraine's military intelligence General Kyrylo Budanov was seen visiting his scouting troops deployed in Bakhmut just 600 meters from Russia's lines.

Many indicators allege that Russia's pressure in Bakhmut is finally reaching its limits.

Ukrainian forces are sustaining between 3 and 8 infantry attacks in the area daily, according to troops on the ground. But over the last few weeks, Russians were seen switching to using small squads of between 10 and 15 men instead of company or battalion-sized tactical groups.

Besides, Russian airborne units were also reportedly deployed to the Bakhmut area to augment the Wagner Group, seriously degraded after months of costly attacks.

Another factor is the reportedly diminishing Russian artillery power.

In late December, Budanov said that the daily spending of Russian artillery in combat dropped from 60,000 to between 19,000 and 20,000 rounds by the end of 2022.

Moreover, according to the general, by March 2023, these issues will be even more obvious.

On Dec. 24, the United Kingdom's Ministry of Defense also said Russian forces currently lack the necessary stockpile to support large-scale offensive operations and sustain defensive operations in Ukraine.

Rumors on deteriorating munitions have been circulating for quite some time in Russian pro-war Telegram channels. An escalation came on Dec. 27, when the Wagner Group released a video in which two militants insult Russia's Chief of General Staff Valeriy Gerasimov and accuse him of severe lack of artillery munitions in the Bakhmut area.

Conflict Intelligence Team (CIT), an open-source investigations group, however, says the current situation is precipitated by poor and ineffective logistics rather than the physical absence of munitions in Russia's stockpile per se.

"The intensity has definitely dropped several-fold, that's true," artillery specialist Stepan told the Kyiv Independent near Bakhmut, as Ukrainian howitzers kept booming behind the house windows.

"Including in terms of counter-artillery activity. Which is good for us."

From the Ukrainian side, however, the situation is no better.

Especially when it comes to Soviet-standard munitions, the main stocks of which had been largely depleted back in summer. According to the 24th Brigade artillerists, at the beginning of Russia's war, each battery used to get up to 150 full loads of munitions a day (which corresponds to up to 6,000 rounds). Now they're getting only up to 30 full loads a day.

"We need every single 122-millimeter round anywhere in the world so we could go on helping our infantry. We do everything we can, but we don't have much ammo," Ukrainian artillerists say.

"You just can't have enough rounds in this war."
Much, much more at the link!
More from Bakhmut:
New #satelliteimagery of the besieged city of #Bakhmut, #Ukraine. The city has been the focus of intense battles between Russian & Ukrainian forces for the past 6 months & the imagery reveals extensive damage to buildings & infrastructure. Before Aug 1, 2022, after Jan 4, 2023. pic.twitter.com/iZckjYkF7R

— Maxar Technologies (@Maxar) January 5, 2023
Putin asked for an Eastern Rite Christmas ceasefire. He is not going to get it.
First. Ukraine doesn't attack foreign territory & doesn't kill civilians. As RF does. Ukraine destroys only members of the occupation army on its territory…
Second. RF must leave the occupied territories – only then will it have a "temporary truce". Keep hypocrisy to yourself.

— Михайло Подоляк (@Podolyak_M) January 5, 2023
Another sort of galaxy brains — those who will accuse Ukraine of 'warmongering' and 'failing to strive for peace' if Ukraine tells Putin to fuck off.

— Illia Ponomarenko 🇺🇦 (@IAPonomarenko) January 5, 2023
Based. https://t.co/aFPGshgWoN

— Illia Ponomarenko 🇺🇦 (@IAPonomarenko) January 5, 2023
It's not playing well with the rabidly pro-war Russian mil-bloggers either:
"The ceasefire will be a disaster. This logic has never worked."

— Will Vernon (@BBCWillVernon) January 5, 2023
"What f*cking ceasefire? What f*cking holidays? Will you bring back my friends, who are no longer with us because of your criminal orders?"

— Will Vernon (@BBCWillVernon) January 5, 2023
Wait for it. Wait for it!!!
Good falcon hunting by #UAarmy.
Watch until the end.
🎶 @the_prodigy pic.twitter.com/MUEX1xL7iC

— Defense of Ukraine (@DefenceU) January 5, 2023
That's enough for tonight.
Your daily Patron!
Patron retweeted this:
Security Dogs of Ukraine. pic.twitter.com/JW7ZzdyAx6

— Defense of Ukraine (@DefenceU) January 4, 2023
And a new video from Patron's official TikTok:
I'm pretty sure the caption is self explanatory.
Open thread!