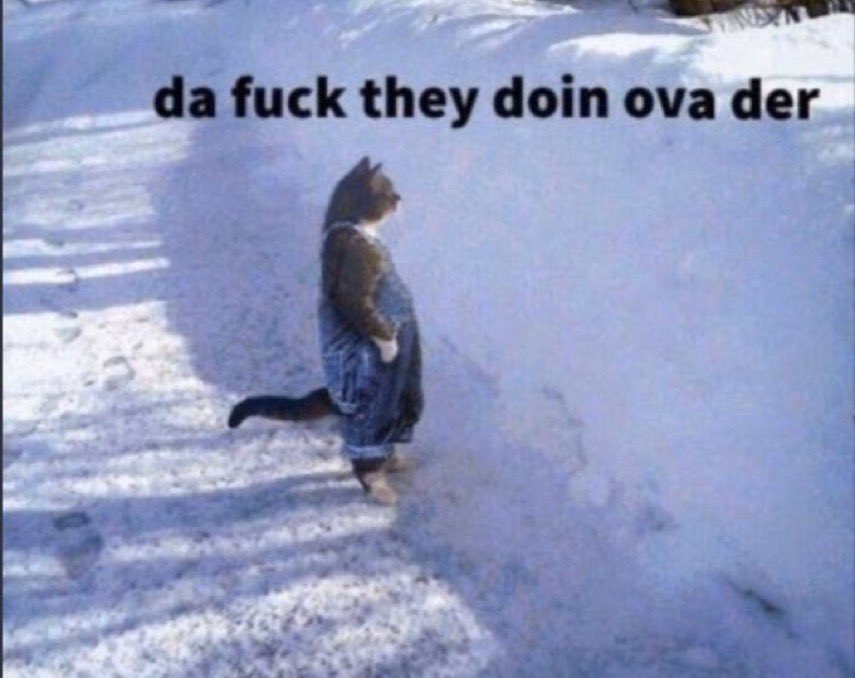 It's been a week… Before we start I'm asking for help from the collective brain trust. Back in October I changed my cell # over from the one I'd been using since before I went to work in national security back in 2007 to a new one local to where I'm at. This, of course, locked me out of my gmail accounts because the 2 factor authentification were linked to the old number and, as one does, I hadn't given it a moment's thought that I should log in before the number was changed, turn the 2FA off or set it to some other option, and then proceed. Anyhow, after several weeks of banging my head against the wall I was able to find a work around for my primary gmail account – put the Google app on my iphone, go to log in, and you can bypass the 2FA number the first time, get a 2FA code sent to your email address, then log in with that and change the number on the account. Which I did. Unfortunately this didn't do it for the account I use for Balloon Juice email. No matter what I do it won't let me do that trick again on my iphone or ipad with the app. And the problem is I've just gotten and set up a new MacBook. Which I waited to do until I could find a solution to the log into gmail problem. iCloud account set up, no issue. Primary gmail set up, no issue. Balloon Juice gmail account, round and round and round I go never able to get to anything that lets me solve the problem.
It's still set up and running on my iPad, but that's only going to last until I get a new iPad. So if anyone has any useful suggestions – and since this is Balloon Juice, the emphasis as useful – please let me know in the comments. Right now my Balloon Juice email account of the accounts that John set up for us so you could contact us is set to forward to that gmail account. Which is what I was using as my contact a front pager account until John set up the special ones for us. If necessary I'll just have him stop the forwarding, then set up that account on my new MacBook and on my iPad and iPhone and let my Balloon Juice gmail account go. But if I don't have to, I'd rather not have that happen. So any useful suggestions are most appreciated.
And since I've now spent the past three and half hours trying to figure out how to fix this meshugas, and even though the rest of the set up including moving all of my stuff from my old 2013 MacBook Pro went smoothly thanks to easy to follow instructions from our own IvanX – remember jackals, IvanX for all your personal and professional computing needs!!!! – I'm now pretty fried and a fairly easy Friday has ended in frustration despite how nice this new machine is, which IvanX patiently provided guidance on so I'd get exactly what I needed! So I'm going to keep this short tonight so I can go put my head through cinder blocks or something else less painful than going round and round with Google's "try another way" tab!
Here is President Zelenskyy's address from earlier this evening. Video below, English transcript after the jump:
Dear Ukrainians, I wish you health!

Finally, we can say that we have managed to bring Ukraine's strength and defense cooperation with partners to a new level. The one we really need right now.

Now, our soldiers will have even more weapons, equipment, rounds, defense systems, which will make us much more prepared for any escalating plans of Russia and those strikes that the terrorist state inflicts, regardless of whether it is a holiday or a weekday.

I thank everyone who helps us protect our country and Ukrainians!

Since I visited the United States two weeks ago, there have already been more than 20 stages in our diplomatic marathon.

It's my communication with the leaders of Germany, Sweden, Japan, Croatia, Spain, Latvia, Turkey, France, Denmark, Romania, Canada, Norway, the United Kingdom, the Netherlands, Israel, Greece and India. In addition, my first negotiations this year with the President of the European Commission. Also constant contact with US representatives. For example, today a delegation of the Senate was in Kyiv, and also a conversation between the defense minister of Ukraine and the secretary of defense of the United States was held.

And today, a new package of US defense assistance for our country was announced – and a very powerful one!

For the first time, we will get Bradley fighting vehicles – this is exactly what is needed. New guns and projectiles, including high-precision ones. New missiles. New drones. It's timely and strong. The total amount of this support package from the United States is almost $3 billion.

I thank President Biden, I thank the congressmen and all Americans who value freedom, and who know that freedom is worth protecting, and who heard Ukraine during my visit to Washington. We see absolutely concrete results of this visit and our negotiations.

We now have a significant step forward by Germany to strengthen the security of not only Ukraine but also the whole of Europe, especially the entire region bordering Russia. Strengthening our air defenses is a direct de-escalation effort here and now. The fewer opportunities Russia has to terrorize peaceful cities, the less the overall potential of Russian aggression will be.

I thank Chancellor Scholz for the decision to provide Ukraine with the Patriot air defense system! Together with the brilliant German IRIS-T, the Patriot system will make Ukrainian and European skies much safer.

Also today, with Mr. Chancellor, we discussed other aspects of our defense cooperation, in particular, 40 Marder vehicles and other things that are necessary to stop Russian aggression.

A very important talk was held today with Prime Minister of Japan Kishida.

Last year, Japan became a leader among Asian countries in the protection of freedom and international law. I am sure that this year too – especially with Japan's chairmanship of the Group of Seven, which began in January – we will be able to do even more together for our common security. Actually, today we agreed on priorities for cooperation this year.

And I thank Mr. Prime Minister for a very serious package of energy assistance – powerful generators for our country and people.

Today's conversation with the Prime Minister of Sweden can also be called strategic. The Swedish Presidency of the Council of the European Union has now begun, and we expect to begin negotiations on Ukraine's membership in the European Union during the Swedish presidency. It's an important motivational element for Ukraine and all Europeans. Despite any attempts by Russia to destabilize Europe, together we become even stronger in all aspects, including institutional ones.

So, as of now, for Ukraine, there is more air defense, more armored vehicles, for the first time – Western tanks, more guns and rounds, more energy and political opportunities. And all this means more protection for Ukrainians and all Europeans from any manifestations of Russian terror.

Ruscism must lose this war – in everything and everywhere. On land, in the sky, on the sea, in energy, in the economy, in politics, and finally – on the dock in the international tribunal for this aggression against Ukraine. Every day, together with our partners, we bring this sentence for terrorists closer. Peace is getting closer every day.

I will continue our diplomatic marathon next week. Let's make Ukraine even stronger!

I thank everyone who defends our country! Thanks to everyone who keeps Bakhmut and Donetsk region! To everyone who is moving forward in Luhansk region! To all who hold the south! To all who defend our sky!

Dear Ukrainians!

Please remember what evil is at war against us. Pay attention to the air raid alerts, and especially during these holidays. Our air defense fighters will do everything possible. But please help them by taking care of your own safety.

Glory to Ukraine!
The US announced a new $3 billion aid package for Ukraine, which included the Bradley's we mentioned yesterday.
RELEASE
IMMEDIATE RELEASE
More Than $3 Billion in Additional Security Assistance for Ukraine
Jan. 6, 2023 |

Today, the Department of Defense (DoD) announces the Biden Administration's commitment of $3.075 billion in additional security assistance for Ukraine. This includes the authorization of a Presidential Drawdown of security assistance valued at up to $2.85 billion to meet Ukraine's critical security and defense needs, as well as the Department of State's announcement of $225 million in Foreign Military Financing to contribute to the long-term capacity and modernization of Ukraine's military.

The Presidential Drawdown is the twenty-ninth such drawdown of equipment from DoD inventories for Ukraine that the Biden Administration has authorized since August 2021. Capabilities in this package include:

50 Bradley infantry fighting vehicles with 500 TOW anti-tank missiles and 250,000 rounds of 25mm ammunition;
100 M113 Armored Personnel Carriers;
55 Mine Resistant Ambush Protected Vehicles (MRAPs);
138 High Mobility Multipurpose Wheeled Vehicles (HMMWVs);
18 155mm self-propelled Howitzers and 18 ammunition support vehicles;
70,000 155mm artillery rounds;
500 precision-guided 155mm artillery rounds;
1,200 155mm rounds of Remote Anti-Armor Mine (RAAM) Systems;
36 105mm towed Howitzers and 95,000 105mm artillery rounds;
10,000 120mm mortar rounds;
Additional ammunition for High Mobility Artillery Rocket Systems (HIMARS);
RIM-7 missiles for air defense;
4,000 Zuni aircraft rockets;
Approximately 2,000 anti-armor rockets;
Sniper rifles, machine guns, and ammunition for grenade launchers and small arms;
Claymore anti-personnel munitions;
Night vision devices and optics;
Spare parts and other field equipment.
The Bradley infantry fighting vehicles and other armored vehicles and artillery systems will complement the recent commitment of combat vehicles to Ukraine by Germany and France. DoD also welcomes Germany's commitment to join the United States in supporting Ukraine's urgent requirement for air defense capabilities by also supplying one Patriot air defense battery to Ukraine.

The Biden Administration will continue to encourage Allies and partners to make additional donations of air defense systems, artillery, combat vehicles, and other critical capabilities to support Ukraine in defense of its sovereignty and territorial integrity for as long as it takes. Toward that end, the Department of State also announced today $682 million in additional Foreign Military Financing to incentivize and backfill donations of military equipment to Ukraine by Allies and partners.

In total, the United States has committed more than $24.9 billion in security assistance to Ukraine since the beginning of the Biden Administration. Since 2014, the United States has committed more than $27 billion in security assistance to Ukraine and more than $24.2 billion since the beginning of Russia's unprovoked and brutal invasion on February 24.
I welcome the all-time 🇺🇸 defense aid package. Thank you @POTUS for the completely new weaponry, incl Bradley vehicles, anti-aircraft missiles. It'll strengthen 🇺🇦 Army on a battlefield. Awesome Christmas present for 🇺🇦! Together with 🇺🇸 people we're approaching a common victory!

— Володимир Зеленський (@ZelenskyyUa) January 6, 2023
Americans, you can't even imagine how much we love you! ❤️ 🇺🇸

— Defense of Ukraine (@DefenceU) January 6, 2023
Discussed details of the new US package of security assistance for 🇺🇦 and next #Ramstein meeting with Lloyd J. Austin III.
Largest 🇺🇸 aid package gives us new capabilities to liberate our territory in the East and South.
Thank you to @POTUS @SecDef and the 🇺🇸 people.
🇺🇦 will win. pic.twitter.com/lGn59qIX55

— Oleksii Reznikov (@oleksiireznikov) January 6, 2023
Here is former NAVDEVGRU Squadron Leader Chuck Pfarrer's most recent assessment of the situation in Bakhmut:
BAKHMUT AXIS /2230 UTC 6 JAN/ North of Bakhmutse, and slightly outside the coverage of this map, RU is reported to have registered gains in and around Soledar. RU social media posted photographs purporting to show RU troops in the vicinity of the salt mining complex. pic.twitter.com/5IeU39l6TJ

— Chuck Pfarrer | Indications & Warnings | (@ChuckPfarrer) January 6, 2023
If you're wondering why there's no real pressure from Russians on their government to put a stop to this stupidity, Max Seddon at The Financial Times provides some answers:
It's the holiday season in Moscow, where the city has put up symbols of Vladimir Putin's invasion of Ukraine outside the entrance to Gorky Park: the Latin letters Z, V and O in throbbing neon, looming over slogans urging Russians to think of "victory" and their "valiant" soldiers as they head off to the park's ice rink.

We're almost a year into the war, and the Kremlin still has yet to explain what exactly the letters — first seen spray-painted on Russian tanks — are meant to signify. But set alongside the snow-capped firs and kitschy grottoes, their meaninglessness is their defining feature; they are just part of the fabric that lets Muscovites go about their lives as if nothing has happened.

Missiles rain down on Kyiv almost daily. Entire towns in eastern Ukraine have been razed to the ground. Villages in Russia's far-flung backwaters have lost much of their male of-age population to the military draft. But if there's one city that Putin's war doesn't seem to have changed much, it's Moscow. Instead of a wartime imperial stronghold, the city has become the capital of Putin's "special operation", the euphemism that suggests far-off commando deployments in Idlib or Bangui rather than the carnage that Russia is wreaking in the "brotherly nation" next door.

It's an illusion strictly upheld by the Kremlin — questioning it can land you 15 years in prison for "discrediting the armed forces". But that illusion couldn't exist if Muscovites didn't want to believe in it. "Nobody is doing any self-reflection. What's the point? If you pause to stop and think about it, things just get worse," one Kremlin-connected businessman grumbles to me.

One friend likened the experience of living in Moscow to the classic 1978 remake of Invasion of the Body Snatchers, where fear and paranoia grip the human protagonists as they struggle to work out which of their friends have been replaced by monsters. It could be the mother hauled in for a parents' evening at her daughter's dance school, where teachers put on a conspiracy-laden video warning of western plots to destroy Russia. It could be the Skabeyeva viewers in the family of a senior Russian businessman who educates his children in Europe. "They say, 'Fuck everyone! Let's nuke Holland! Let's bomb London and Washington! Send the missiles!' I say, What about your nephew, my son? He lives there! And they say, 'Let them live in their own country.'"

The antiwar Russians who have not left the country have opted for a Soviet tactic, "internal emigration", whereby the kitchen table has once again become the only arena for civic discourse. "There's no way to organise anything," my friend Sergei*, a biologist, says of protests he attended. "Even all the third-rate opposition leaders have fled or been jailed or been killed."

While they wait for their European visas and Israeli passports to come through, my friends are finding new ways to cope. One finds solace in days-long meditation retreats. Others have turned to various forms of casual debauchery — drugs, alcohol, sex. After the protests failed, these were the only transgressive acts they felt they had left to them. "I just felt like I had to do something bad," says Anya*, an artist.

"I'm against the war, but . . . " is the refrain I must commonly hear. "People are biological creatures and have to adapt," a sanctioned oligarch says. Another laments: "The sanctions against me are like the yellow star the Nazis had for the Jews." The heavily documented atrocities in Bucha, a town near Kyiv where Russian occupying forces allegedly raped, tortured, and murdered hundreds of civilians, "are fake", one senior state banker argues, without evidence. "It was all staged. Just look at the camera angles."
Much, much more at the link.
Boizhe moi!
Galactic brain. pic.twitter.com/3v3mmEMLAp

— Illia Ponomarenko 🇺🇦 (@IAPonomarenko) January 6, 2023
Awkward!
It's Russian Orthodox Christmas today, and Putin is spending it alone in the Kremlin at a service seemingly not attended by anyone else pic.twitter.com/eV3i5RxHsZ

— max seddon (@maxseddon) January 6, 2023
Ukrainian carols, military style. pic.twitter.com/zwXRPLZeIM

— Defense of Ukraine (@DefenceU) January 6, 2023
This was linked to in the comments last night, but it deserves its own spot in the update:
The Russian military took a dog named Adik from a Ukrainian servicewoman from Azovstal in Mariupol after she was taken prisoner. The animal was gifted to the Chechen leader Ramzan Kadyrov as a "trophy".

He has been included in a recent prisoner swap and reunited with the owner. pic.twitter.com/F9wP1x9tHl

— Yasmina (@yasminalombaert) January 6, 2023
Look at that butt wiggle with joy!!!!!
That's enough for tonight.
Your daily Patron!
Why can't we trust the terrorists that they will stop firing?Because we know them for many centuries, and they always break their word. In the photo, the State Emergency Service in the Kherson region is under attack. Today. Wounded and dead rescuers😔 Photo: @libkos(Inst) pic.twitter.com/TRffo4GF4L

— Patron (@PatronDsns) January 6, 2023
And a new video from Patron's official TikTok!
I think by now we can all read the Ukrainian caption, but just in case the first hashtag is SlavaUkraini and the second is PatrontheDog.
Also, look at them pupper paws!!!!!
Open thread!