Marion Hammer, the ghoulish octogenarian who retired last year after four decades as the NRA's chief lobbyist in Tallahassee, is known primarily for the work she did to make Florida more violent and less safe. But despite being a bird enthusiast, I didn't know until I read a recent (paywalled) Orlando Sentinel column that Hammer also wielded her influence to stop legislators from changing Florida's state bird.
Yes, you read that right. In addition to amassing a nationwide body count with advocacy that inspired other GOP-controlled states to enact Hammer-like laws that loosened gun restrictions and encouraged vigilantism, Hammer has also controlled the state bird!
Over her interminable career as an NRA shill, Hammer developed a legendary grip on the wizened wedding tackle of statehouse Republicans. I think the only time she ever lost a fight was after the Parkland massacre, when MSDHS survivors shamed the GOP governor and statehouse into passing watered down and inadequate (but better than nothing!) gun safety laws over Hammer's loud objections and threats.
Currently, the state bird is the mockingbird, and every now and then, there's a call to change that because, while mockingbirds are delightful, they are not particularly associated with Florida. With an un-Florida-like official name, the Northern Mockingbird is found throughout the U.S. plus parts of Canada, Central America and the Caribbean. The mockingbird is also the state bird of several other U.S. states.
For the past couple of decades, Florida high school students have occasionally lobbied the statehouse to change the state bird to the Florida Scrub Jay, a bird that is found only in Florida. They are lovely birds, as you can see below. Scrub jays are also friendly critters — you can feed them by hand (though perhaps you shouldn't), and they'll land on your head if you make a handy vantage point.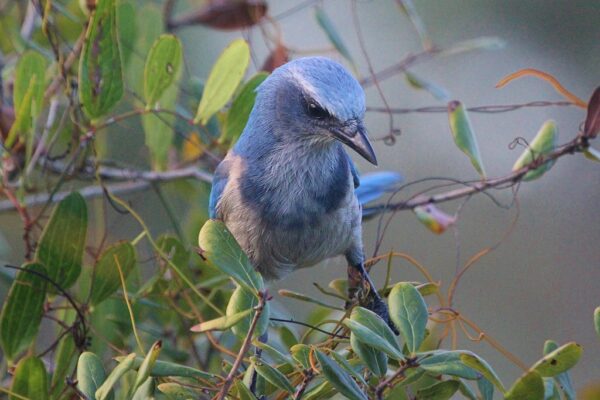 The students who want to make the change reason that in addition to scrub jays being endemic to Florida and therefore a more appropriate choice, state bird status might make Florida citizens more aware of the scrub jays' plight — the birds need protection because their species is threatened due to habitat loss — and encourage ecotourism.
But weirdly, Marion Hammer hates scrub jays. It's not that she just likes mockingbirds more, she actively despises scrub jays. We know this because over the years, she has relentlessly defamed the birds and said misleading things to compare scrub jays unfavorably with mockingbirds:
Hammer once appeared before a committee to argue that the bird's friendly behavior and willingness to eat out of human hands just proved the bird had a "welfare mentality." (Orlando Sentinel)

"Mockingbirds are remarkable song birds that are known to sing up to 200 songs. And, unlike the Mockingbird, the Scrub-Jay can't even sing – it can only squawk…"

"Scrub-Jays are evil little birds that rob the nests of other birds and eat their eggs and kill their babies.* One might call that street gang behavior in the avian community. The state bird is about representing Florida and that is the greater purpose. The Scrub-Jay simply doesn't fit that purpose." (Palm Beach Post)

"Since being designated the state bird in 1927, the mockingbird is a well-established, independent, prolific bird that has never needed government protection or our tax dollars to survive. It can be seen, watched, studied, and enjoyed by children and adults in all areas of Florida." (Tallahassee Democrat)
We don't know for sure that Hammer is the sole reason statehouse Republicans have killed multiple bills to make scrub jays the state bird. But it's not a stretch to suspect it, given how deranged she seems on the topic and her well-known predilection for intimidating lawmakers to bend them to her will.
Now that the ghastly gunslinger no longer stalks the halls of the Twig & Two Berries Capitol Complex,** Hammer may find herself foiled by a group of kids on the scrub jay issue too — there's a new bill up for consideration thanks to Seminole High School students' wildlife conservation club. The kids persuaded a Republican to sponsor the bill and are actively lobbying other lawmakers to support it.
Hammer is squawking about it as usual (she can't even sing — she can only squawk!), but it looks like the kids have the momentum. Here's hoping the Seminole High students deal the bellicose gun-fondler another rare defeat.
Open thread.
*According to Cornell Lab, Florida Scrub Jays eat "insects, acorns, berries, and small vertebrates such as snakes, mice, and lizards." There's no mention of the birds eating eggs or nestlings. The Wikipedia entry for the species says scrub jays also "have also been occasionally observed to eat other birds' eggs or nestlings, but this occurs rarely." Observed by whom, one wonders? Maybe it's true, but I wouldn't put it past Hammer to have a grandchild edit the birds' Wikipedia entry. //s
**Seriously, this is Florida's capitol complex, and it's architecturally appropriate because the symbolism of the supervillains who toil there working in buildings that immortalize their junk in concrete is PERFECT.