Look at these photos.



If you just look at the faces, with no context, the first guy looks like he might be constipated, but the guy on the right seems happy enough.
In the full picture, I see a very gracious man handing over the symbol of power, and another guy saying "gimme that!"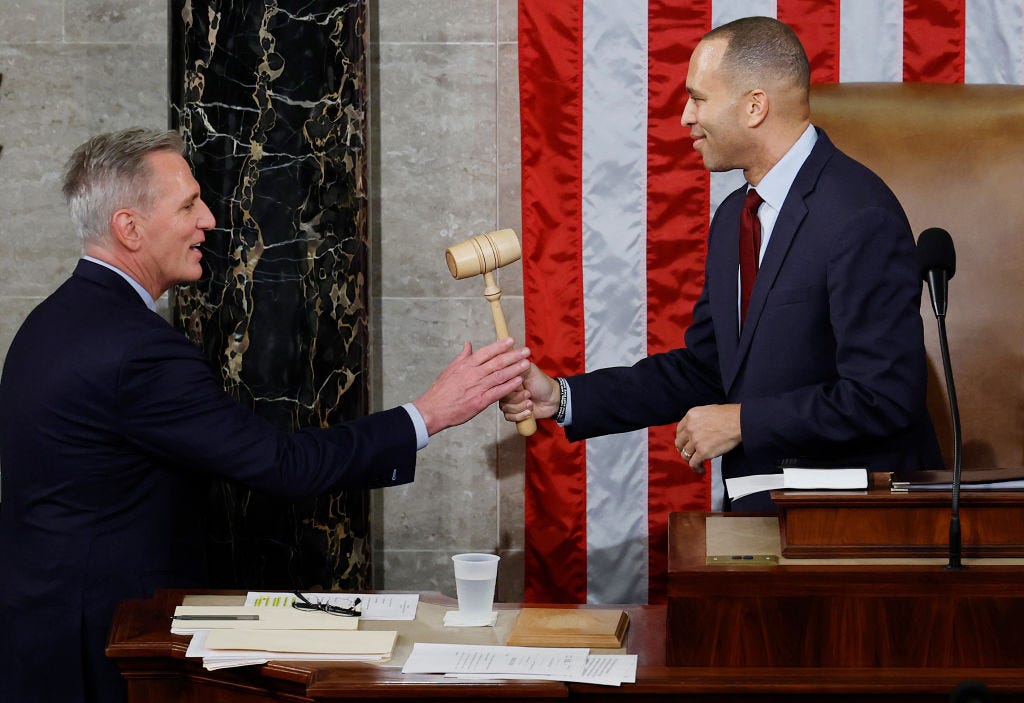 Leader Jeffries:
As Democrats we do believe in a country for everyone….
We believe that in America, our diversity is a strength.
It is not a weakness.
It is an economic strength. A competitive strength. A cultural strength.
Our diversity is a strength.
It is not a weakness.

We are a gorgeous mosaic of people from throughout the world. As John Lewis would sometimes remind us on this floor, we may have come over on different ships. But we're all in the same boat now.

We are white.
We are black.
We are Latino.
We are Asian.
We Are Native American.

We are Christian.
We are Jewish.
We are Hindu.
We are religious.
We are secular.

We are gay.
We are straight.
We are young.
We are older.

We are women.
We are men.

We are citizens.
We are dreamers.

Out of many, we are one.
That's what makes America a great country.
Squeaker McCarthy:
Okay, I confess.

I couldn't listen to McCarthy.

If someone did listen and wants to share a short summary in the comments, I can add it to the post.
This week will certainly tell us a lot – a lot about the rules themselves, a lot about whether republicans will vote in lock step, a lot about what we can expect to see from the various factions in the republican party.  Can they get rules passed?  Will the rules be passed as a package, take it or leave it?  Or will there be votes on the rules, one by one?
Might we see a repeat of sorts of the 15 votes for Squeaker?
Thoughts and predictions?  It would be irresponsible not to speculate!
For my money, I think the big fight will be related to committee chairs – isn't that what the (near) fisticuffs was about on Friday night?   I think the political terrorists do not get their promised positions as chairs, and then because of that they set the whole thing on fire.  I don't always have to be right, but please please let me be right on this.
Open thread.