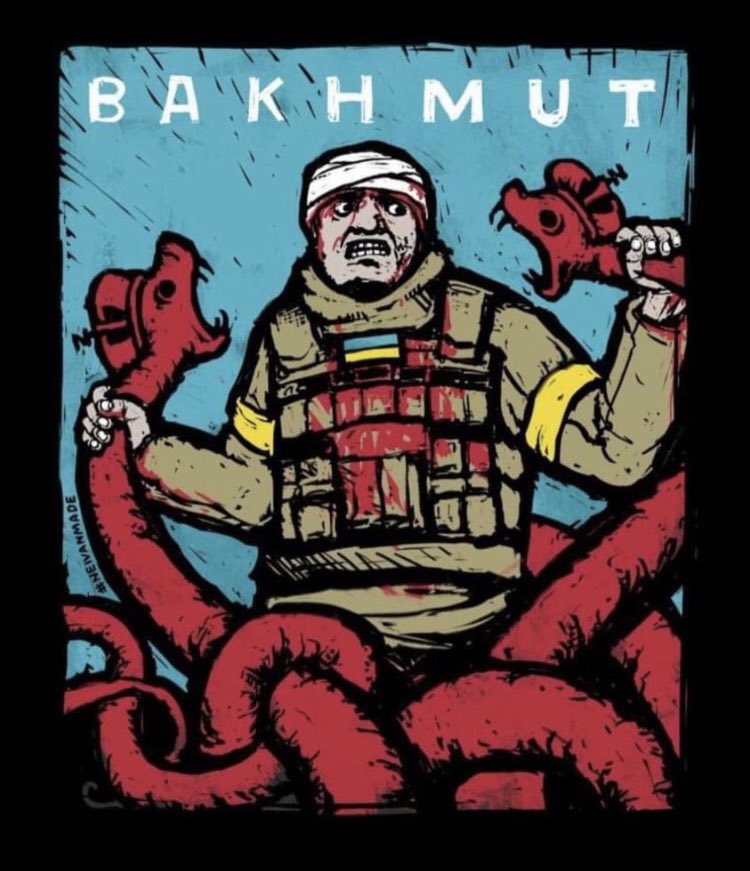 (Image by NEIVANMADE)
A lot of the focus today was on Soledar, which is north and a little east of Bakhmut. Here's the two most recent assessments regarding the situation there from NAVDEVGRU Squadron Leader Chuck Pfarrer. Oldest first:
BBC REPORTS: Russia is "likely" to finally control most of the salt-mining town of Soledar in Ukraine's east after a months-long battle with Ukrainian forces. The UK's MoD says. RU troops andWagner Group have made advances. https://t.co/fvo6BKpAuT

— Chuck Pfarrer | Indications & Warnings | (@ChuckPfarrer) January 10, 2023
BAKHMUT /1630 UTC 10 JAN/ RU's 6th Separate Cossack Motorized Rifle Reg has entered the E sectors of the mine areas. The UKR 46th Air Mobile Brigade has made small advances to the SE of mines 3 and 4. RU forces have suffered heavy casualties under UKR artillery and air strikes. pic.twitter.com/rE8b3jyBhZ

— Chuck Pfarrer | Indications & Warnings | (@ChuckPfarrer) January 10, 2023
I'll post his full sized imagery after President Zelenskyy's address with links back to his tweets so you can get a better view without having to click through.
Here's President Zelenskyy's address from earlier today. Video below, English transcript after the jump (emphasis mine):
Good health to you, fellow Ukrainians!

Today is a new stage of our diplomatic marathon. Four more conversations with European leaders: President of the European Council, Prime Minister of Belgium, President of Estonia and Prime Minister of Ireland.

I informed them about the situation on the battlefield – about the difficult situation in the Donetsk region, about the constant Russian attacks and the fact that Russia does not count its people, does not spare the locals and does not stop before any criminal actions.

This can – and must! – be countered only by a new level of modern military equipment that Ukraine can receive from partners. I thank all the leaders who help us for understanding that now is the time for new powerful decisions, for new powerful support.

The free world has everything necessary to stop Russian aggression and bring the terrorist state to a historic defeat. And it is important not only for us. It is important for global democracy, for all those who value freedom. It is even more important now, when Russia is gathering forces for another escalation.

Together with our partners, we must do – and we are doing! – everything to make it clear to Russia's masters that no escalation will help them. The defeat of the Russian aggression must remain unalterable, no matter who and what Russia tries to throw into the battle.

I am grateful to the President of the European Council for understanding how important it is to maintain the unwavering support of Ukraine. In this confrontation, in which Russia is trying to exhaust all of us – Ukrainians, Europeans, other partners – there must be clarity of signals. Signals that we will go all the way to the defeat of Russian terror. We will go together and with the preservation of stability in Ukraine – financial and social. And that is why financial support was one of the main topics of my conversation with Charles Michel, as well as weapons and further European integration of Ukraine.

I thank the Prime Minister of Belgium for supporting our diplomatic efforts, in particular our Peace Formula, all its fundamental elements: restoration of security, restoration of our territorial integrity, restoration of justice.

I am confident that the leadership of Belgium will help us achieve a fair peace. And I am thankful for the willingness to really bring peace closer by increasing the armed support for our state. The already provided Belgian defense assistance has significantly strengthened our state, and we agreed today that our teams would work on a new supply.

I am grateful to the President of Estonia and all Estonians for new decisions to strengthen our defense. We have also discussed with Mr. President our further steps in the European and Euro-Atlantic integration. I thank Estonia for a very strong representation of Ukraine's interests in Europe. Even when someone doubts, Estonia finds arguments to support Ukraine and to increase sanction pressure on Russia.

I am grateful to the new Prime Minister of Ireland for the willingness to continue the course of Ireland's comprehensive support for Ukraine. We have agreed on a powerful energy support. And I thanked Ireland for freezing Russian assets – we will work together to ensure that these funds are used for the restoration of Ukraine.

In general, since my visit to Washington, I have already held about thirty talks with leaders and representatives of partner states. And I literally feel every day how the world's determination to overcome Russian aggression is growing.

I thank everyone who helps us defend Ukraine and freedom!

I thank everyone who fights for independence!

Today, I would like to pay special tribute to the warriors of the 46th separate airmobile brigade for their bravery and steadfastness in the defense of Soledar! Thank you, warriors!

I thank everyone who works to strengthen Ukraine!

And one more thing.

Based on the materials prepared by the Security Service of Ukraine and the State Migration Service of Ukraine, and in accordance with the Constitution of our state, I have decided to terminate the citizenship of four persons: Andriy Leonidovych Derkach, Taras Romanovych Kozak, Renat Raveliyovych Kuzmin and Viktor Volodymyrovych Medvedchuk.

If people's deputies choose to serve not the people of Ukraine, but the murderers who came to Ukraine, our actions will be appropriate.

And these are not the last such decisions. The services are working.

Glory to Ukraine!
You'll notice the call out to the Ukrainian forces fighting to hold Soledar. And I was really surprised to see those four terminations of citizenship. Not that they don't deserve what they've gotten.
Here's the latest British MOD assessment, which deals with the fighting in Soledar: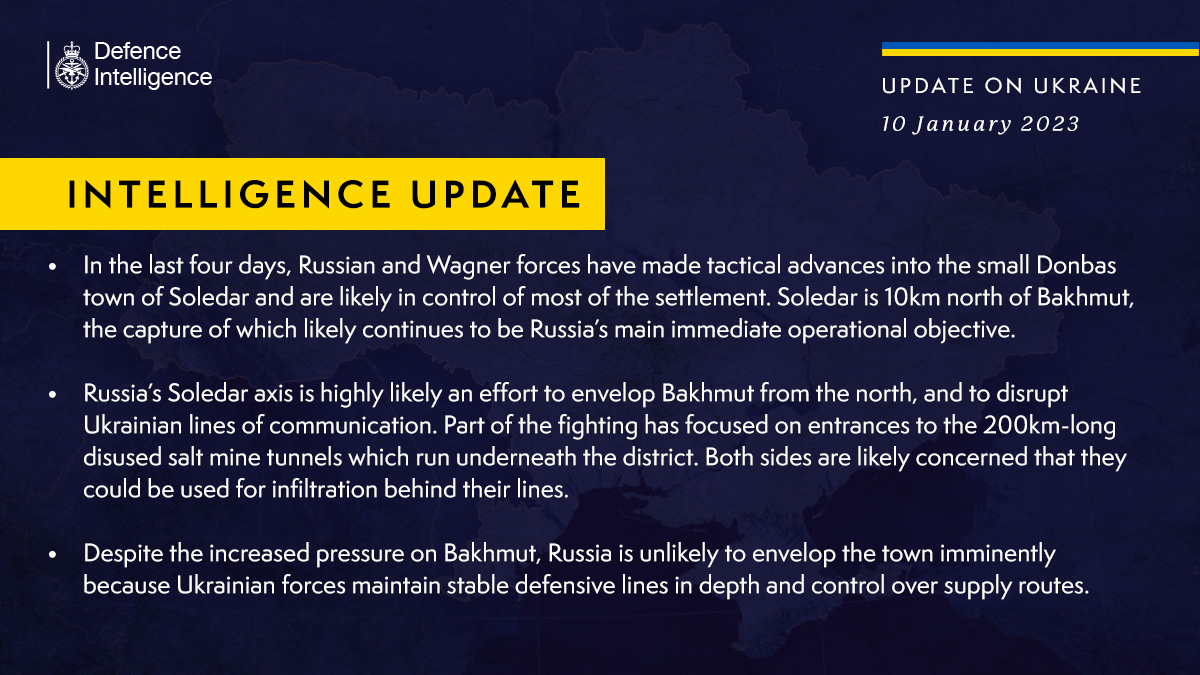 Here's what the BBC was reporting earlier today:
Russia's mercenary Wagner Group has claimed control over the town of Soledar in eastern Ukraine – but Kyiv says its soldiers are holding out.

Russia's media carried a statement purported to be by the Wagner head, Yevgeniy Prigozhin, who said Ukrainians were now encircled in the city centre.

Ukraine's Deputy Defence Minister Hanna Maliar earlier said that "heavy fighting is continuing".

The claims by both sides have not been independently verified.

In the reported statement late on Tuesday, Mr Prigozhin said: "Wagner units took control of the entire territory of Soledar. A cauldron has been formed in the centre of the city in which urban fighting is going on."

The statement stressed that only Wagner fighters – who are not part of the Russian armed forces – were taking part "in the storming" of Soledar.

Meanwhile, Ms Maliar said a few hours before that "the enemy does not pay attention to the large losses of its personnel and continues to actively storm".

"The approaches to our positions are simply strewn with the bodies of dead enemy fighters. Our fighters are defending bravely," she added.

The fall of Soledar – a small salt-mining town in the Donetsk region – could help Russian troops to encircle the nearby strategic city of Bakhmut.

The UK said earlier on Tuesday that Russian troops and the mercenary Wagner Group were "likely" to now be in control of the town.

The strategic importance of Soledar is debated, but its capture would be significant for two reasons.

First, it would allow Russian forces to inch closer to the regional city of Bakhmut. Russia could use access to Soledar's deep, city-like network of salt mine tunnels, dormant since April, to penetrate Ukrainian-controlled territory.

Secondly, invading forces would be able to give Ukraine a taste of its own medicine.

One thing that has helped Kyiv liberate territory has been its ability to target Russian supply lines.

Long-range missile strikes have often left thousands of invading troops unable to replenish personnel, ammunition, fuel, and rations, and stopped them freely moving military hardware.

The capturing of Soledar – which had a population of 10,000 before the war – would effectively cut Bakhmut off from a major supply line from nearby Sloviansk.

The UK said it believed Soledar was close to falling to Russia – but added that the Kremlin was "unlikely" to take Bakhmut immediately due to Ukraine's "stable defence lines".

A senior military official from the US Department of Defense said earlier on Monday there was a "good portion" of Soledar in Russian hands.

Fighting around Bakhmut has been going on for months, and the US official described the most recent exchanges as "savage".

Despite the long and intense battle, Oleh Zhdanov – a highly respected military analyst in Ukraine – believes that neither Soledar nor Bakhmut are especially important from an operational point of view.

Mr Zhdanov said in an interview on Monday with the Ukrainian newspaper Gazeta that Russia "is trying to prove to the whole world that its army is capable of winning".
More at the link!
Brig. Gen. Ryder, the Pentagon Press Secretary, gave a for attribution, on-camera press conference today. The transcript is at this link, but I want to highlight the Q&A regarding Soledar:
Q: And then operationally, can you give us an operational update on Soledar and Bakhmut? These reports there's (a street fight ?) against Soledar. Do you see either one of these cities falling to the Russians any time soon at all?

GEN. RYDER: Yes, thanks, Howard.

Well, I don't want to speculate. We definitely continue to see very intense fighting near Bakhmut and in the vicinity of Soledar. You know as you've seen it's been a lot of back and forth, particularly around the Soledar area. We'll continue to keep a close eye on it. But I don't want to speculate at this point what the outcome may be.

Our focus is going to continue to be on supporting Ukraine and providing them with the security assistance they need to defend their country.
And here's former NAVDEVGRU Squadron Leader Chuck Pfarrer's most recent full size imagery of the situations in Bakhmut and Soledar, as well as his most recent assessment of the situation in Kremenna: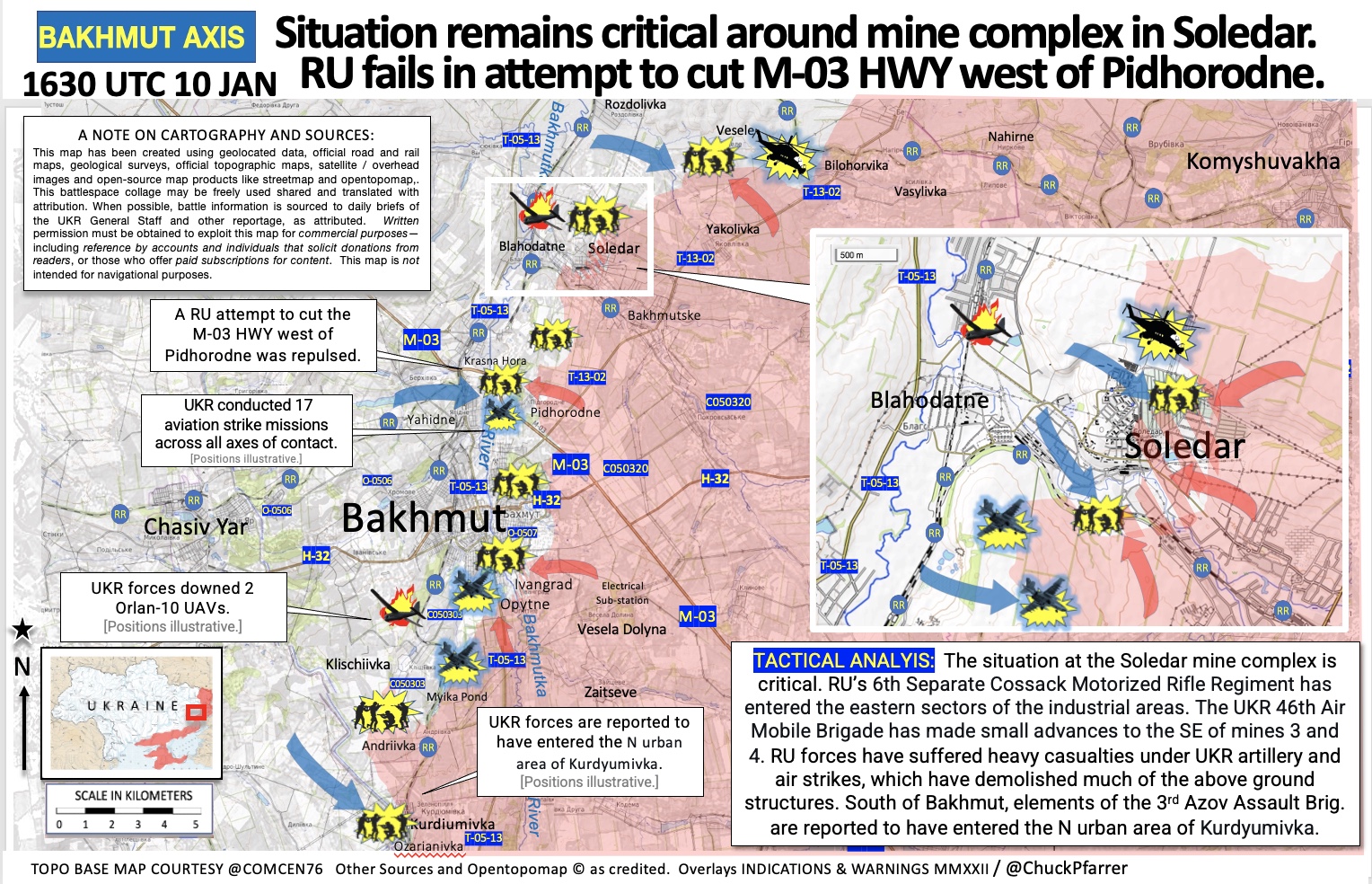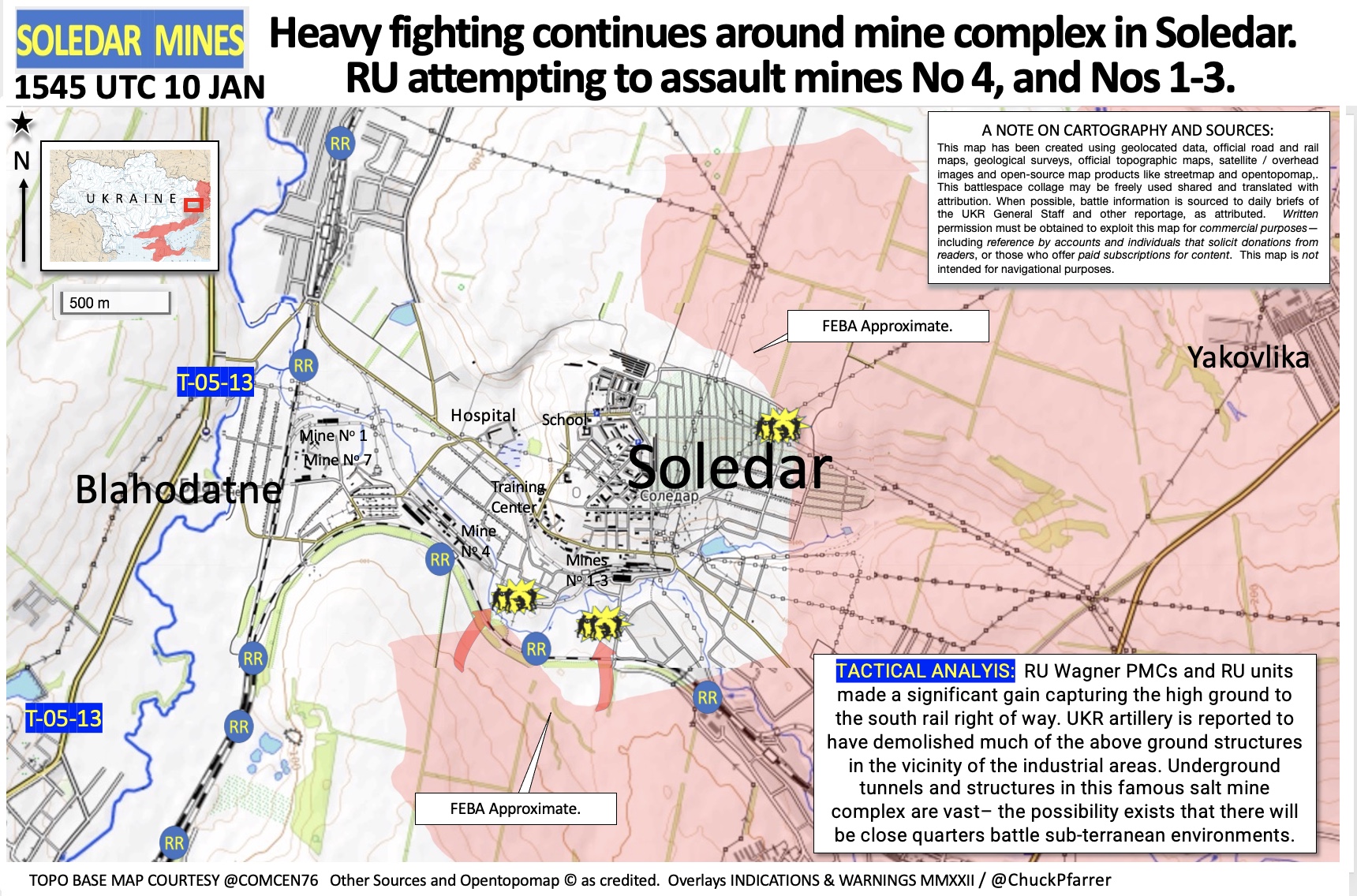 KREMINNA /2110 UTC 10 JAN/ UKR forces have consolidated gains to the east of Dibrova and are in contact with RU troops at Kuzmyne. A RU attack on Chervonopopivka is reported to have been repelled with heavy casualties suffered by RU forces. pic.twitter.com/Tyt9mIOMZd

— Chuck Pfarrer | Indications & Warnings | (@ChuckPfarrer) January 10, 2023
Here's some more recent reporting coming out of Soledar:
Ukrainian reporter Yuriy Butusov, from Soledar, 40 minutes ago: it's very difficult, heavy fights, but soldiers are motivated, there are significant forces in the area, which are under control.

Taken from his Facebook: https://t.co/GvMyP37Alz pic.twitter.com/GXKPDnqeDZ

— Dmitri (@wartranslated) January 10, 2023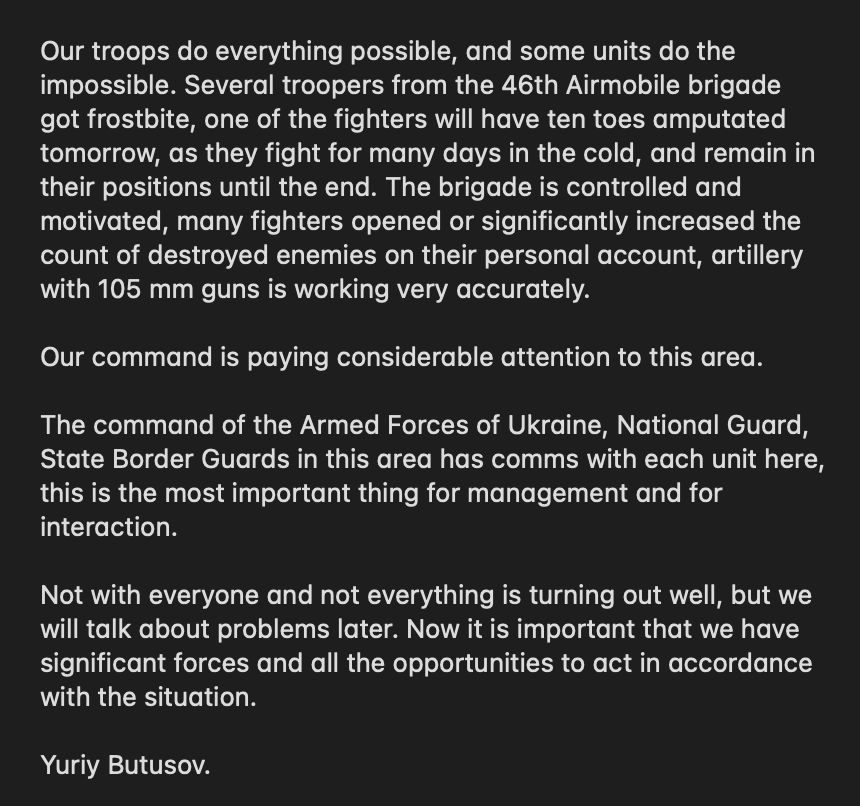 The reporter's name is Yuriy Butusov, sorry I failed to mention it.

— Dmitri (@wartranslated) January 10, 2023
Madyar, commander of the Ukrainian air reconnaissance group – "titanic efforts to hold Soledar; cold; encirclement is bullshit"https://t.co/GpE5IlUyGo pic.twitter.com/endzUCt5f6

— Dmitri (@wartranslated) January 10, 2023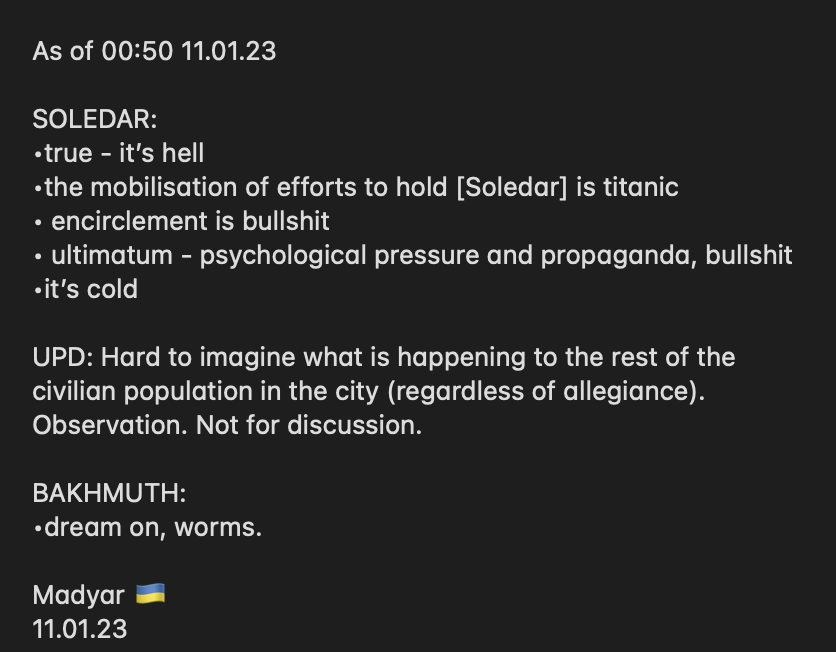 A country of masochists.
Even after suffering colossal losses, russia is still maniacally trying to seize Soledar – home to the largest salt mine in Europe.
Do they believe that salt will heal the wounds of the maimed occupiers?

— Defense of Ukraine (@DefenceU) January 10, 2023
Right now, to use Long Dead Carl's terminology, there's a lot of fog and friction in the news coming out of Soledar. So we'll keep watching to see whether subsequent reporting brings any clarity and clarification.
Bakhmut:
WARNING!! WARNING!! GRAPHIC IMAGERY AND CONTENT!! WARNING!! WARNING!!
Warning: Very explicit video.

Bakhmut, four soldiers of the Ukrainian SOF with the help of a night drone listen to the commander of the tactical group "Adam", throw grenades and finish off at point-blank range a whole unit of Russian soldiers – 15 killed and 6 prisoners. pic.twitter.com/niPh0m8WkN

— Dmitri (@wartranslated) January 10, 2023
The phrase "kill shot" at 03:46 could be interpreted as a "control shot" rather than a shot with a specific purpose to kill. The Russian is not moving at that point and the shot is made to ensure he does not present danger.

— Dmitri (@wartranslated) January 10, 2023
#StandWithUkraine #stopwarinukraine #Ukraine #StopPutin #russiaisaterroriststate #stoprussia #україна #warinukraine #prayforukraine #зсу #славаукраїні #saveukraine #neivanmade #posterart #Bakhmut #БАХМУТ #ЗБРОЙНІСИЛИУКРАЇНИ #war pic.twitter.com/i7hq3JqKz4

— NEIVANMADE (@neivanmade) January 8, 2023
The Ukrainians have sent some the Moskva some company!
Ukrainian artillery has successfully shot a russian war boat on the Dnipro River.
🔥🔥🔥

— Defense of Ukraine (@DefenceU) January 10, 2023
I think that's enough for tonight.
There are no new tweets at Patron's official Twitter account, nor video at Patron's official TikTok account, so we'll have to focus on some of the other animals of Ukraine.
OH MY G-D!!!! A real life Fella in Bakhmut with the Georgian Legion!
Never ask a woman her age
A man, his salary
A Bakhmut dog where he gets his food pic.twitter.com/amn4x4CNrb

— Georgian Legion (@georgian_legion) January 10, 2023
That is one solid unit!
Serious medic.#uaarmy #Ukraine️ #RussiaisATerroistState #RussiaUkraineWar #CatsOfTwitter #CatsOnTwitter #Bakhmut #Donetsk
#NewYork #Kyiv #StandWithUkraine pic.twitter.com/hGv3icOh62

— UkrARMY cats & dogs (@UAarmy_animals) January 10, 2023
This one below looks just like my Rosie, the older of the two dog lanterns, looked as a puppy:
Hello.#uaarmy #Ukraine️ #RussiaisATerroistState #RussiaUkraineWar #CatsOfTwitter #CatsOnTwitter #Bakhmut #Donetsk
#NewYork #Kyiv #StandWithUkraine pic.twitter.com/hDDKVAEj6h

— UkrARMY cats & dogs (@UAarmy_animals) January 10, 2023
Though Rosie is floofier. We refer to her as the Floofarina.
Fed the animals some more.
Thank you. pic.twitter.com/EMqIBUPzGL

— UkrARMY cats & dogs (@UAarmy_animals) November 2, 2022
Thank you my subscribers! pic.twitter.com/PoBRBDEyBd

— UkrARMY cats & dogs (@UAarmy_animals) January 10, 2023
You know what to do if you're so inclined.
Open thread!