This is going to be a bit geeky (even for me).
We have a generalizability problem for ACA research that is likely growing.
Researchers whose questions require individual level data have to go to State Based Marketplaces (SBM). Healthcare.gov is more than happy to release public use files and some limited data sets that are useful for some specific questions. However, any question that requires substantial micro-data requires researchers to use to one of a few state based marketplaces. I've used California and Colorado data to answer some recent questions. My co-authors and I have reached out to Washington State in the past but the institutional details of the state put them into the study exclusion criteria for that particular question. Plenty of people at Harvard routinely publish on Massachusetts data.  Some of my colleagues and I have reached out to other SBM states for other questions (we have our fingers crossed for either data access or the grant to score well…)
These studies from these states always have a substantial limitation that the data is from a single state and may not generalize well.
Establishing an SBM is one hell of a signal that a state's political alignment and values are different than the value and alignment of the states which rely on Healthcare.gov.
California is great about sharing their enrollment data as a public records request (cheaply available with fast turn-around times). But California has weird institutional features in what plan designs are allowed and how the state regulates the market. Colorado has been an awesome research partner. However they were a year late to Silverloading and now have a funky 1332 waiver as well as a public option program. Massachusetts is Massachusetts.  The Bay State has been pounding the drum on managed competition in the individual market for most of a decade longer than the rest of the country. Washington State has a non-Essential Health Benefit mandate as well as a public option program. All of these states expanded Medicaid.  Until recently, Idaho was the only SBM state that had not expanded Medicaid. Idaho has recently expanded Medicaid.
More importantly, there is not a ton of enrollment. Enrollment through January 11th is mostly on Healthcare.gov. Over half of Healthcare.gov enrollment is from four states.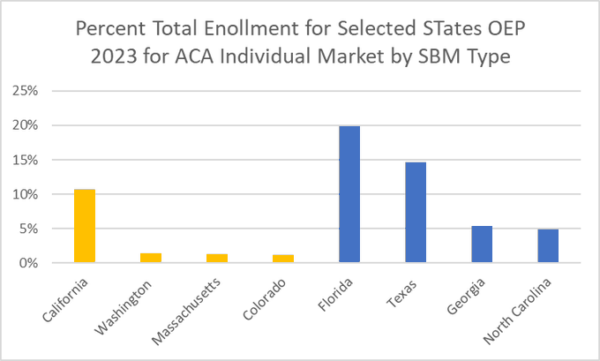 Enrollment on Healthcare.gov is mostly a Florida, Texas, Georgia and North Carolina story. Realistically, it is a Florida and Texas story.
Those four states have some commonalities. The biggest ones are Republican elite dominance and the lack of Medicaid Expansion.
The Medicaid expansion eligible population earning (or claiming to earn) over 100% FPL is a substantial component of enrollment in these states. These folks shape the market as more people earning under 138% FPL means the Silverload gap gets bigger and relative prices for not-Silver plans decline relative to Silver.
And we just don't see research on these states using administrative individual level data sets. This is problematic. I don't know what to do. My research agenda routinely requires individual level data.  Right now means I'm looking for data partners who are willing to share that type of data.  Those partners are a subset of SBMs who routinely share data.
We have an increasing generalizability challenge for ACA research.