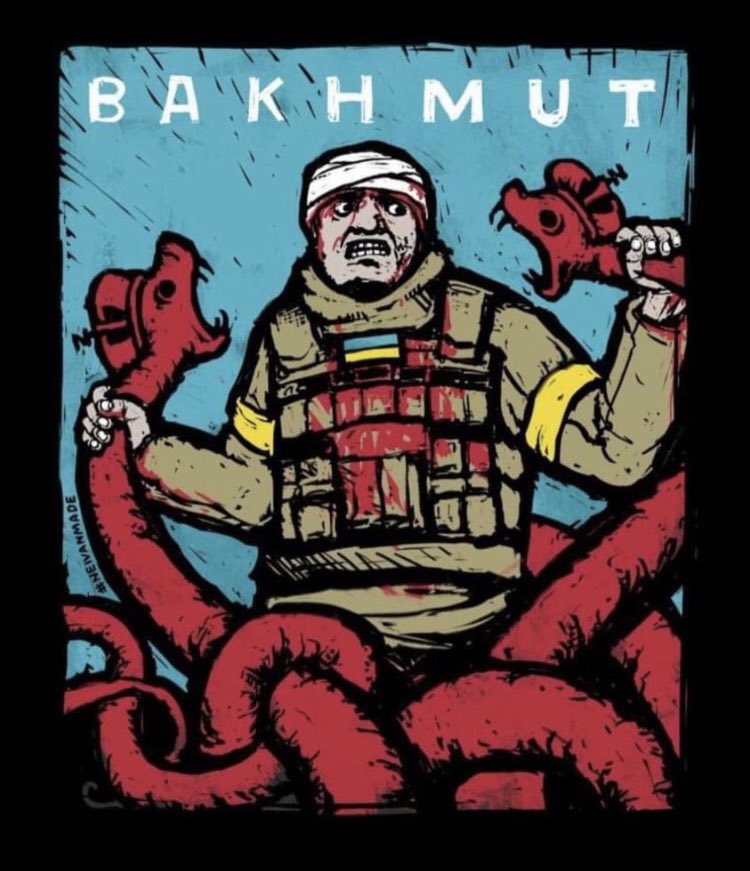 The news, as always, is initially muddled. What we do know is the Wagner mercs are still trying to move into Soledar and the Ukrainians are still resisting the push. Right now we have Ukrainian forces in contact with Wagner mercenaries and, possibly VDV paratroopers. Or, according to Wagner, just the mercs. Or, according to the Russian MOD, just the VDV paratroopers. Part of the reason the info coming out is so muddled is that both Prigozhin and the Russian MOD are using the fight for Soledar, as part of the fight for Bakhmut, as grist for their information warfare they're running against each other in regard to whether Wagner or the Russian military is the most effective Russian fighting force. Honestly, that's how stupid this effort is by Wagner and the Russian military. They're fighting for something not because it has real theater strategic value, nor because it would allow them to actually set the conditions for future successes, but so that either Wagner or the Russian military can claim to have taken a Ukrainian city while the other couldn't. Basically, the below is an excellent visual depiction of what Prigozhin and Shoigu and Gerasimov are doing:
I'll have full details after President Zelenskyy's address.
Speaking of, here is President Zelenskyy's address from earlier today. Video below, English transcript after the jump:
Good health to you, fellow Ukrainians!

Today, I held a regular meeting of the Staff. The meeting, which by its nature corresponded to the situation on the frontline, in the most important directions.

Of course, the top issue is Soledar, Bakhmut, the struggle for the Donetsk direction in general. We have analyzed in detail what decisions are needed, what reinforcements are needed, what steps should be taken by commanders in the coming days.

We also discussed the situation with the supply of weapons and ammunition to the troops, relevant interaction with our partners.

Today, I talked about the prospects of the coming weeks and months with the Speaker of the Latvian Saeima, who was on a visit to Kyiv. We discussed not only defense, but also political prospects. In particular, European and Euro-Atlantic integration of Ukraine.

I heard confidence that the day will definitely come when the Ukrainian flag will be absolutely on par with all flags of the EU member states. Latvia will help us in this.

By the way, Latvia is one of those countries whose support for Ukraine in terms of percentage of GDP is one of the largest over the past year. I think that this trend may continue this year.

Today, I continued phone talks with the leaders of the partner-states.

Two more European countries whose voice is extremely important for Ukraine are Cyprus and Luxembourg. We are also expanding the geography of the diplomatic marathon – I spoke today with Mr. President of Kenya.

All these negotiations are devoted to the security issues of both our state and our partners.

I am grateful for the support of the Ukrainian Peace Formula and for the willingness to work together with us to put an end to Russian aggression as soon as possible.

A very important initiative of Ukraine is the creation of food hubs in Africa. Our foreign policy should reach a new level with African partners.

They have already felt that the security of different nations directly depends on Ukrainian food exports. And we want to consolidate this at the level of specific institutions, specific objects – hubs, that is, specific guarantees of food stability that will be constantly in effect and will be one of the new foundations of relations between Ukraine and the states of the African continent.

Today we also opened a new direction in our state charity platform United24. This direction is the reconstruction of Ukraine. It is the generation of funds for the restoration, in particular, of housing for Ukrainians in the territories affected by Russian strikes and occupation.

As of this day, about half a billion hryvnias have already been raised through United24 from people from more than a hundred countries to restore housing. This is a tangible help to both local communities and the state.

In general, more than 10 billion hryvnias have already been raised due to the state fundraising platform. And I thank everyone who joined the United24 fundraising.

Thank you to everyone who helps Ukraine!

Thank you to each and everyone who fights for Ukraine!

And today, I want to especially mention the paratroopers of the 77th separate airmobile brigade, who together with the fighters of the 46th separate airmobile brigade in Soledar hold their positions and inflict significant losses on the enemy. Thank you, guys!

Glory to Ukraine!
Here is former NAVDEVGRU Squadron Leader Chuck Pfarrer's most recent assessments of the situations in Soledar and Bakhmut:
SOLEDAR / 2145 UTC 12 JAN/ After heavy fighting, night has fallen on the battle space; unconfirmed reports say that RU forces have taken the industrial center of Soledar. On 10 & 11 JAN, RU also falsely reported the city had fallen. Waiting for official confirmation.

— Chuck Pfarrer | Indications & Warnings | (@ChuckPfarrer) January 12, 2023
SOLEDAR MINES / 2015 UTC 12 JAN/ Wagner PMCs have advanced across the southern rail right-of-way into the vicinity of mine complexes 2, 3 and 4. Wagner elements that infiltrated the eastern residential areas are attempting consolidation of positions. pic.twitter.com/vrKmiX2QlT

— Chuck Pfarrer | Indications & Warnings | (@ChuckPfarrer) January 12, 2023
BAKHMUT /1350 UTC 12 JAN/ RU forces consolidated infiltration points in the eastern residential areas of Soledar and extended the southern salient around the industrial areas. At Bakhmut, RU Wagner PMCs are attempting to expand a rail crossing at Andriivka. pic.twitter.com/HIzHZSl4H4

— Chuck Pfarrer | Indications & Warnings | (@ChuckPfarrer) January 12, 2023
Bakhmut:
#SatelliteImagery from January 7, 2023, reveals thousands of bomb craters in fields and along roads in and around the town of #Bakhmut, #Ukraine. pic.twitter.com/iAwSLzvX4b

— Maxar Technologies (@Maxar) January 11, 2023
Soledar:
Before (Aug 1, 2022) & after (Jan 10, 2023) #satellite imagery showing the magnitude of the ongoing fighting between Russian & Ukrainian forces. Shown here is the town of #Soledar, #Ukraine (lat: 48.6796, long:8.0947) & the apartment buildings that have been completely destroyed. pic.twitter.com/X6rUbDoFXg

— Maxar Technologies (@Maxar) January 11, 2023
Additional before (August 1, 2022) and after (January 10, 2023) #satellite imagery of the town of #Soledar, #Ukraine (lat: 48.663700, long: 38.091763), showing homes, schools and buildings that have been destroyed from the month's long battle and artillery exchanges. pic.twitter.com/0JtVReyeBF

— Maxar Technologies (@Maxar) January 11, 2023
Here's a video update from Bakhmut with English subtitles by Dmitri:
Update from Bakhmut 12 January (Kiyanyn and Vedma [Witch]). This was uploaded about 9 hours ago. pic.twitter.com/2numCiI2vC

— Dmitri (@wartranslated) January 12, 2023
Ukrainski Pravda has an interview with Sergeant Oleksandr Pohrebyskyi who is with the 46th Brigade about the situation in Soledar and Bakhmut. Here are some excerpts:
Soledar, a city of 10,000 people in Donetsk Oblast, which last autumn was considered an impregnable site on the Bakhmut front has become the hottest spot on the front over the past two weeks.

Wagnerites [fighters of the Wagner Group, a Russian private military company] who are holding the front from the Russian side have broken through the city's defences and started street combat.

At one stage, the Armed Forces of Ukraine, including the 46th Separate Airmobile Brigade, was very close to being encircled.

Reports regarding the Ukrainian forces' response to such an enhanced offensive and potential encirclement vary.

The Ministry of Defence of Ukraine has been stating for a few days now that Russians will not manage to capture the city, whereas analysts of the Deep State Map project have detected Wagnerites in the downtown area of Soledar using open source data.

Ukrainska Pravda's sources among soldiers also diverge in the information they provide. Some of them report that the Ukrainian army has already left the city, others argue that a fierce battle to defend Soledar is still continuing on its outskirts.

The phrase "Heavy fighting is ongoing" is a compromise used by both official and unofficial sources.

The only question is at which front line it is ongoing.

Ukrainska Pravda asked Oleksandr Pohrebyskyi, a sergeant of the Air Assault Forces and a member of Kyiv City Council representing the European Solidarity party, about the situation in Soledar.

Pohrebyskyi was defending the city as a member of the 46th Brigade that is holding Soledar with great effort before he contracted a severe cough and hypothermia two days ago.

Operational situation in Soledar

– Mr Oleksandr, thank you for agreeing to talk. I will start with the main question: who is currently controlling Soledar?

– The Armed Forces of Ukraine have the situation completely under control [the conversation was recorded at 12:00 on 11 January – ed.]. It is inappropriate to reveal the current situation as the fighting is ongoing.

If you follow the enemy's statements, this is slightly ridiculous, as it sometimes happens that a group of Wagnerites enters a building in an industrial district and records a video for themselves before we "smoke them out". The next day, we find out that they are Cargo 200 [the military code for dead soldiers].

Combat actions and operations are ongoing there at the moment. If I tell in detail what and how, I will harm the guys. But the Armed Forces of Ukraine are in control of the situation.

– "Fighting is ongoing" – that is, the city is not occupied by Russians? 

– No.

– Can you say what percentage of the city is currently controlled by the Ukrainian army?

– It would be inappropriate. Moreover, the situation can change in half a day, the situation is fluid.

– Are you in Soledar now?

–I was evacuated two days ago with hypothermia (in some places of the Donetsk region it is -17° C, which is 1.4° F – Ukrainska Pravda) and a contusion (Oleksandr coughs severely) . There was a tubed artillery attack on us, but after that, I was still in charge of my people. Then I started shaking badly due to hypothermia, and I couldn't do anything about it.

– Is the 46th Brigade currently the only one mounting the defence of Soledar?

– No, there are neighbours [other units], but we have shown the highest efficiency.

Probability of encirclement and quality of Russian forces

– The potential encirclement of the city has been actively discussed for several days. As a person from inside these defences, can you tell me whether it is possible?

– It was, but we are fixing the situation. Our unit did not sit back and did not go anywhere. We were standing, and we stand.

Our brigade has very powerful battle management: all the commanders are in their places and we have well-organised logistics, surveillance, and intelligence. This allows us to maintain our positions around the clock. We even planned an assault, i.e. to regain positions.

But the situation was such that our neighbouring units on the right and left were not as effective as we were. Therefore, the enemy managed to bypass us on the flanks. That is, yes, it (potential encirclement – UP) was possible, but now the situation is changing.

– And, in your opinion, is the situation changing for the better?

– Yes, so far the dynamics are positive. Let's see what happens next. The Russians' tactics are to throw their own people – both "convicts" and mercenaries of the Wagner PMC – to their deaths. As far as I have seen their "Cargo 200", they did not even have any first-aid kits.

One of their cars broke through with ammunition, in a move that simply amounted to suicide… When we approached them, the dead, we saw that the driver was there, the other soldiers were without body armour, without helmets, each with one ammunition clip in the machine gun.

In very close infantry battles, we heard the Russian commanders shouting: "Don't take a step back, we'll shoot." We heard it and saw it with our own eyes.

The sounds of the wounded convicts could be heard by our guys through the walls – they said that they had been paid $400 for a "one-way ticket".

– There was also information that the Russians had transferred additional paratrooper units to the Bakhmut front. Have you faced them?

– No, we haven't seen any paratroopers. As for the assault groups, that is, the infantry, who engage in combat actions at close range (20-30 metres), we do not see any military personnel among them at all.

Perhaps somewhere on the second line they are arranging support for infantry groups, but the infantry groups themselves are exclusively "cannon fodder".

I don't know how many of them we have killed. Two days ago there was a powerful infantry attack… I don't know why they are doing it, but they ought to draw their conclusions. What's the point?

– Has the option of retreating from the city been discussed in order to avoid encirclement?

– I am the chief sergeant of the company, and such things are not discussed with me. The command probably had discussed it, and different options are being prepared.

– And is the Bakhmut-Siversk highway, which passes through Soledar, currently under fire control by the Russians?

– Minus [i.e "no" in military slang – ed.]. There was a period when that was the case, but as far as I know, the situation has stabilised.

– Does that mean the logistics are still working? Is there a way to transport ammunition and people?

– Everything, absolutely everything, is working on this front.

The reasons for the breach of Soledar's defences and the impact of its possible occupation on Bakhmut

– Since August, Soledar has been an almost impregnable fortress on the Bakhmut front, in particular, thanks to the efforts of the 93rd Brigade. At what point did the situation deteriorate sharply? What went wrong?

– As far as I know, the 93rd Brigade is a very powerful, mechanised unit with combat experience on the Donetsk front, Opytne, and the battle of Donetsk Airport [in 2014]. They have a lot of experience in both defensive and offensive actions. Therefore, when they hold their lines, it is no problem for them to restrain the enemy.

I understand that rotation with new rifle units and infantry brigades can often pose a problem with management and command. I cannot say that this is anyone's fault, because all these units are in a dynamic process of formation, and some commanders may not have combat experience.

But from what I see, the command is trying to combine experienced units and send experienced brigades quickly to places where there are problems.

– According to my information, it was a surprise for the Ukrainian military that the Russians broke through the flanks from Yakovlivka, which is located north of Soledar, and Pidhorodne, which is south of Soledar.

Do I understand correctly that the newly formed units were sent to these areas?

– Yes.

– So Soledar's defences were breached because soldiers deployed to some parts of the front have not been properly trained?

– This might be true, but I haven't visited those units and I don't know first-hand how well-trained they were.

In every military unit, effective communication, good management, competent commanders and people's emotional and psychological state are of utmost importance. All of these things have to be taken care of before the unit in question is deployed to hotspots.

– When did the escalation in Soledar begin? Around New Year's?

– Around then, because on 31 December we received an order to set out on 1 January and assume our positions. We couldn't even properly celebrate the New Year. [smiling – UP]

At the time, we'd literally just got back from Kurdiumivka [a village situated on a high point south of Bakhmut – ed.] where we successfully stormed enemy positions. We were right next to Kurdiumivka, to be precise: we regained control of the area and consolidated our positions; then we were replaced by infantry units.

– Since you mentioned Kurdiumivka, could you tell me about the situation to the south of Bakhmut? Is it true that Russian forces are deployed mostly along the Siverskyi Donets–Donbas canal and were able to cross it in several places?

– We're no longer there, but from what I see on the maps I can say that yes, that's true. But this hasn't yielded any great strategic results for them; if anything, it has depleted their infantry.

Strategically speaking, we have been winning ever since enemy forces withdrew from Kyiv Oblast.

I don't understand the Russians' actions on the Donetsk front from a strategic point of view. They seem only to yield political benefits for individuals such as [Yevgeny] Prigozhin, who wants to curry favour with Putin and prove that the Wagner Group is more effective than regular Russian forces. But it's an illusion.

I am certain that the Ukrainian Armed Forces will soon put an end to this narrative.

– Last question: if Russian forces manage to capture Soledar, how would this affect the defence of Bakhmut, which is currently seen as the fortress of the east?

– It would have no effect from a tactical perspective. I can't see how it could help them encircle Bakhmut or gain control of the [Bakmut–Siversk] road.

Olha Kyrylenko, Ukrainska Pravda

Translation: Myroslava Zavadska, Elina Beketova, Anton Strii, Olya Loza 

Editing: Monica Sandor
Believe it or not, there is more at the link!
A little something different:
Today is the birthday of great 🇺🇦 artist Maria Prymachenko (1909-1997). She was born and lived in Bolotnya, Kyiv region. She is considered a 'primitive' artist but genuinely a modernist. She is my favorite artist, and here is a big thread about her 🧵

'Our army, our protectors' pic.twitter.com/DjDWZzNdGb

— Ukrainian Art History (@ukr_arthistory) January 12, 2023
Prymachenko is best known for her fantastic animals. But many of these animals have a story behind them. Many of them were dedicated to family, relatives, or neighbors. She was a special name for every work. pic.twitter.com/5UdCMM8ne8

— Ukrainian Art History (@ukr_arthistory) January 12, 2023
One of the stereotypes about Maria Prymachenko is that she had absolutely no education. But in 1935, she was invited by Tetiana Flory to the Central Experimental Workshop at the Kyiv Museum of Ukrainian Art and studied/worked there for some time. pic.twitter.com/myftsbtIYK

— Ukrainian Art History (@ukr_arthistory) January 12, 2023
Since 1936 she has had exhibitions worldwide, from Warsaw to Paris. Soviets were using her works, even printing them for wallpapers. But she had no help from the government. They even refused to give her free treatment in health resort. The situation was typical for folk artist. pic.twitter.com/aPSUdmaSA3

— Ukrainian Art History (@ukr_arthistory) January 12, 2023
One of the most important series was her Chornobyl series. Village Bolotnya is situated only 30 km from Chornobyl. She refused to evacuate.
1.The fourth power unit
2.Сancer stings every Ukrainian
3. Dedication to the liquidators of the disaster pic.twitter.com/cAukklT077

— Ukrainian Art History (@ukr_arthistory) January 12, 2023
This spring, russian occupants destroyed The Ivankiv Museum, with the reported loss of 25 of Prymachenko's works. However, local people were able to save 14 of Prymachenko's works from the fire.

'Nuclear war is damned', 1976, and destroyed museum in Ivankiv. pic.twitter.com/uUSENkmLoT

— Ukrainian Art History (@ukr_arthistory) January 12, 2023
The Mighty Trowel sent me the link to a podcast on Ukrainian heritage and archeological sites. Here's her description:
Pulling together teaching materials for this year and tripped over this great podcast conversation with a great colleague who has excavated extensively in Ukraine. It's not war-related (though they touch on it briefly at the end), but it does give outsiders some insight into how significant the archaeological heritage in the region is – these are truly spectacular sites and Bisserka is by far one of the best people to talk to about them.
And here's the description at the link:
Archaeologist, Bisserka Gaydarska, discusses Ukranian Mega Sites with us this week. The Trypillia megasites of Ukraine are the largest known settlements in 4th millennium BC Europe and possibly the world. With the largest reaching 1.2 square miles in size, megasites raise questions about their origins and purpose. Current theories assume maximum occupation, with all houses occupied at the same time, and a military focus. But recent research suggests alternative views of megasites, suggesting smaller long-term occupations or seasonal assembly places, creating a sustainable settlement rather than military encampment. Listen to our fascinating discussion with Bisserka as we discuss new ideas and research diving into the understanding of these urban centers. Bisserka Gaydarska is an Honorary Research Fellow at Durham University in Durham, England.
I think that's enough for tonight.
Your daily Patron!
A new video from Patron's official TikTok:
@patron__dsns

Це лиш малесенька частинка приємних коментарів, і це безцінно! 🥹❤️
The caption machine translates as:
This is just a small part of the nice comments, and it's priceless! 🥹❤️
Open thread!