Biden administration extends COVID public health emergency https://t.co/NUbhecuw7E

— Herb Scribner (@HerbScribner) January 11, 2023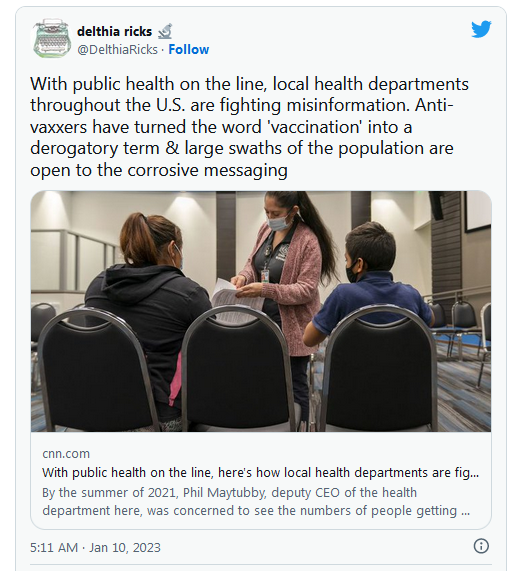 … Across the country, health officials have been trying to combat misinformation and restore trust within their communities these past few years, a period when many people haven't put full faith in their state and local health departments. Agencies are using Twitter, for example, to appeal to niche audiences, such as NFL fans in Kansas City and Star Wars enthusiasts in Alabama. They're collaborating with influencers and celebrities such as Stephen Colbert and Akbar Gbajabiamila to extend their reach.

Some of these efforts have paid off. By now, more than 80% of U.S. residents have received at least one shot of a covid vaccine.

But data suggests that the skepticism and misinformation surrounding covid vaccines now threatens other public health priorities. Flu vaccine coverage among children in mid-December was about the same as December 2021, but it was 3.7 percentage points lower compared with late 2020, according to the Centers for Disease Control and Prevention. The decrease in flu vaccination coverage among pregnant women was even more dramatic over the last two years: 18 percentage points lower.

Other common childhood vaccination rates are down, too, compared with pre-pandemic levels. Nationally, 35% of all American parents oppose requiring children to be vaccinated for measles, mumps, and rubella before entering school, up from 23% in 2019, according to a KFF survey released Dec. 16. Suspicion swirling around once-trusted vaccines, as well as fatigue from so many shots, is likely to blame.

Part of the problem comes down to a lack of investment that eroded the public health system before the pandemic began. An analysis conducted by KHN and The Associated Press found local health department spending dropped by 18% per capita between 2010 and 2020. State and local health agencies also lost nearly 40,000 jobs between the 2008 recession and the emergence of the pandemic…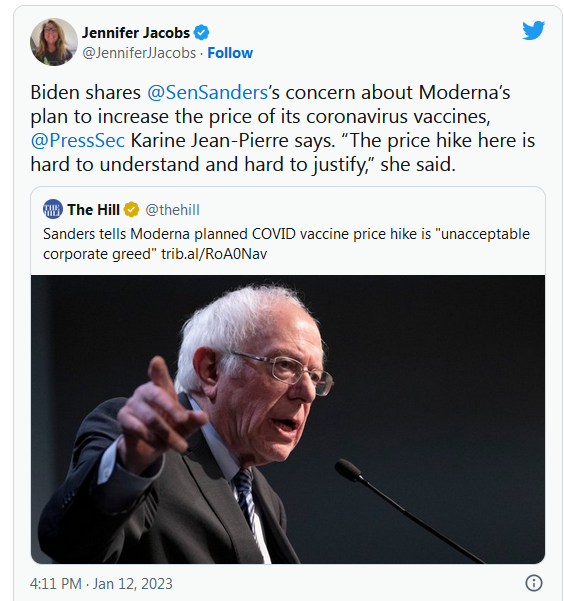 (link)
======
The World Health Organization said on Wednesday that the XBB.1.5 Omicron sub-variant of COVID-19 may be spurring more cases. https://t.co/jwgYhTYEeI

— Reuters Health (@Reuters_Health) January 12, 2023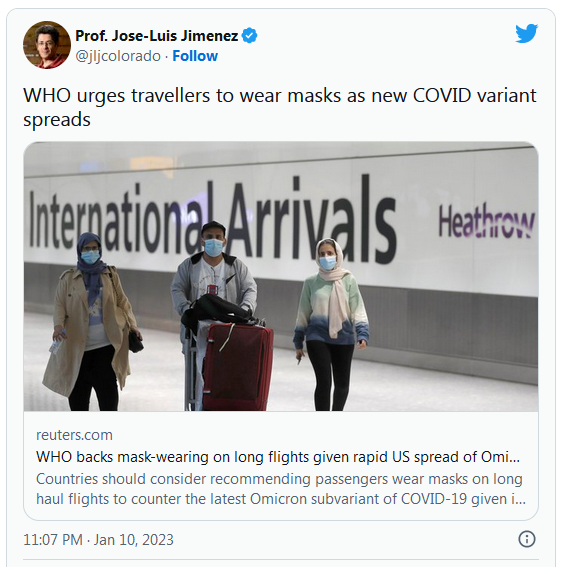 (link)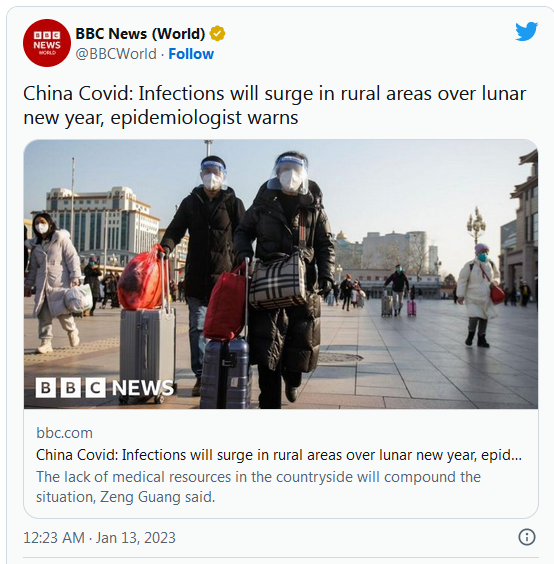 Some 900 million people in China have been infected with the coronavirus as of 11 January, according to a study by Peking University.

The report estimates that 64% of the country's population has the virus.

It ranks Gansu province, where 91% of the people are reported to be infected, at the top, followed by Yunnan, (84%) and and Qinghai (80%).

A top Chinese epidemiologist has also warned that cases will surge in rural China over the lunar new year.

The peak of China's Covid wave is expected to last two to three months, added Zeng Guang, ex-head of the Chinese Center for Disease Control…

Official data shows five or fewer deaths a day over the past month, numbers which are inconsistent with the long queues seen at funeral homes and reports of deaths on social media.

In December Chinese officials said they planned to issue monthly rather than daily updates on the Covid situation in the country.

The World Health Organisation (WHO) said China, which stopped reporting Covid fatalities from Tuesday, was heavily under-reporting Covid deaths.

In response, Foreign Ministry spokesman Wang Wenbin stressed again at a regular press briefing on Thursday that Beijing has been sharing Covid data in "a timely, open and transparent manner in accordance with the law", having held technical exchanges with the WHO over the past month.

International health experts have predicted at least a million Covid-related deaths in China this year. Beijing has officially reported just over 5,000 deaths since the pandemic began, one of the lowest death rates in the world.
3 billion journeys. That's how many trips were taken in China in 2019 before the pandemic began.

After the end of COVID restrictions, fears are growing over a surge of cases in China's vulnerable rural areas this Lunar New Year. https://t.co/ODHUYpoIG6 My piece in @torontostar

— Joanna Chiu (@joannachiu) January 11, 2023
Got my booster today- the new CanSinoBio inhaled vaccine. Super easy, basically comes in a milk tea cup, you inhale, hold it, exhale- done. No taste really. Should improve vaccine rates here, and the efficacy is supposed to be decent. pic.twitter.com/7GuWFZni3m

— Naomi Wu 机械妖姬 (@RealSexyCyborg) January 11, 2023
A furious argument is unfolding in China over the reversal of the government's strict "zero Covid" policies and the massive virus surge that followed. The online debate is challenging the Communist Party's efforts to control the narrative. https://t.co/ZQzXNpyl1u

— NYT Business (@nytimesbusiness) January 11, 2023
I strongly suspect the Instagram 'influencer effect' isn't limited to China…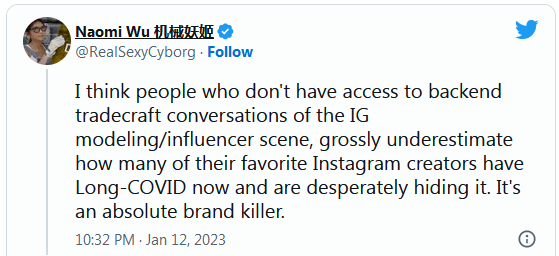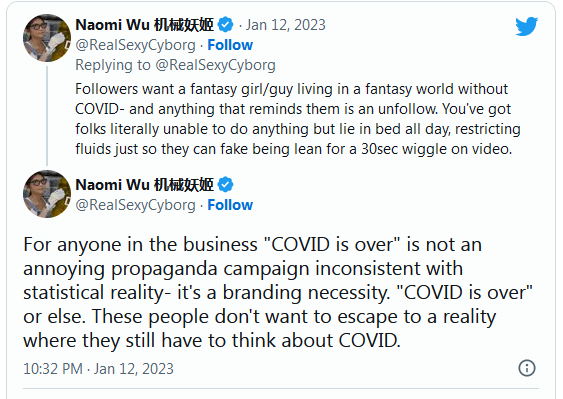 (link)
It's a business — for some people, it's a living — and pretending Covid is over will skew how their followers act, unfortunately.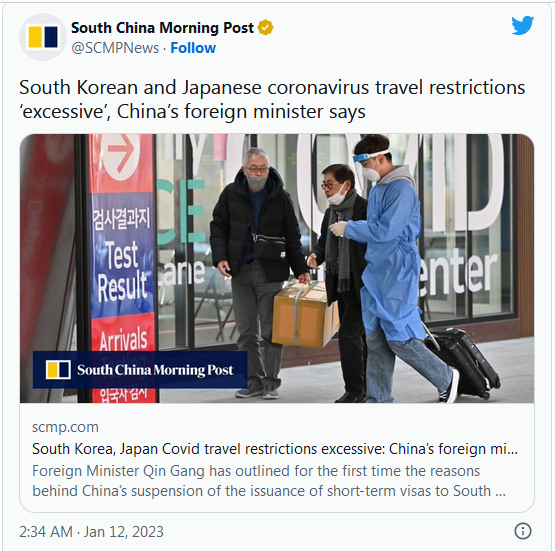 (link)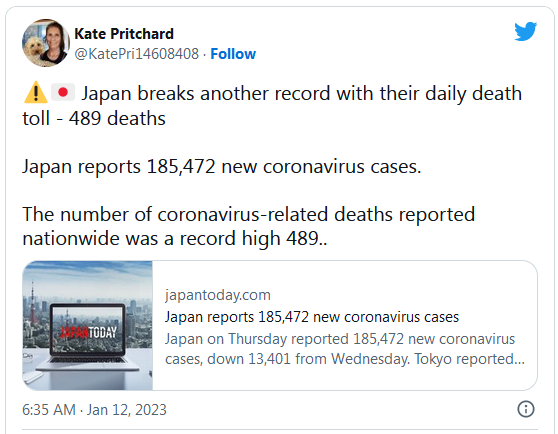 (link)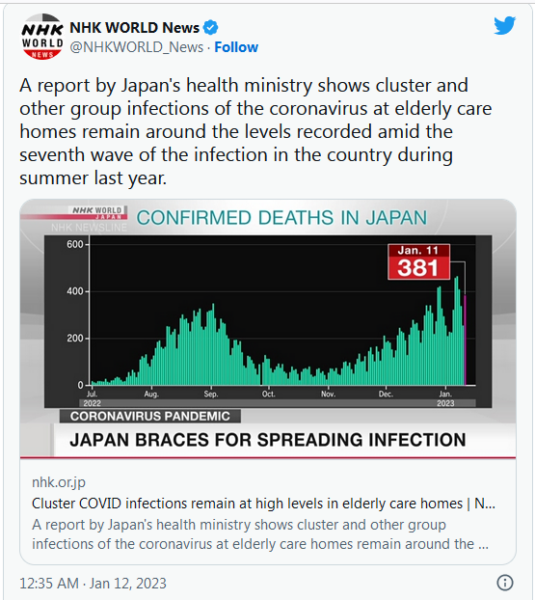 (link)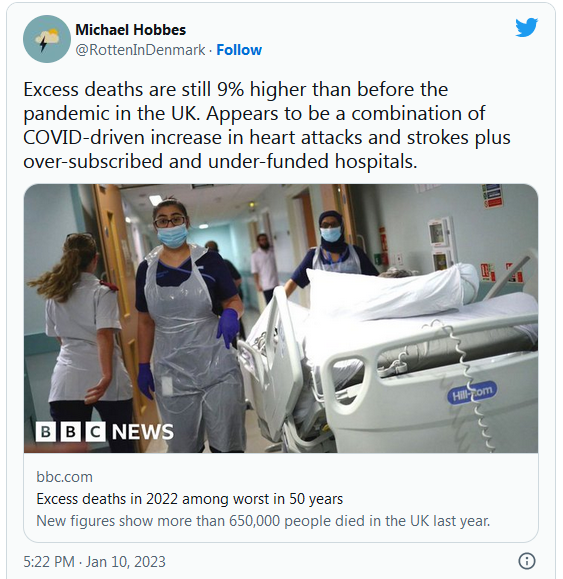 (link)
This policy — testing travelers coming from China to gather data on #Covid viruses circulating there — seems more productive than other approaches, ie requiring a negative test to travel. This provides a window into what's circulating in China. https://t.co/pDFfWiQXr4

— Helen Branswell 🇺🇦 (@HelenBranswell) January 10, 2023
======
Huh, look at this, research that was touted by the lab-leakers as dangerous helps us to understand more that might be done to protect against SARS-CoV-2.https://t.co/OwCfg6Eu3D

— Cheryl Rofer (@CherylRofer) January 12, 2023
From a longer thread:
What's keeping the US from relying on wastewater data instead of clinical case data for population-level Covid counts?

After all, testing is patchy and wastewater testing is comparatively cheap and simple, right?

My latest for @statnews: https://t.co/pbJ3gxiA3w

— Brittany Trang (@brittanytrang) January 11, 2023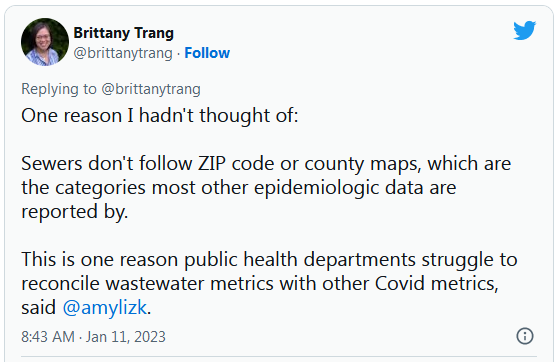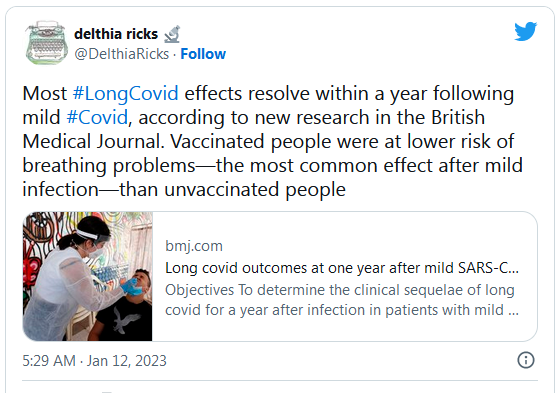 (link)
Of note, younger individuals may not be aware of clinical comorbidities that put them at increased risk of these serious outcomes, which makes vaccination all the more important in this population.

— Dr. Robert M. Califf (@DrCaliff_FDA) January 12, 2023
======
Good news: In the Northeast where the XBB.1.5 variant now accounts for >75% cases, hospital admissions among seniors have mostly started to declinehttps://t.co/MOQpgmNWGl pic.twitter.com/85pPdIa63q

— Eric Topol (@EricTopol) January 12, 2023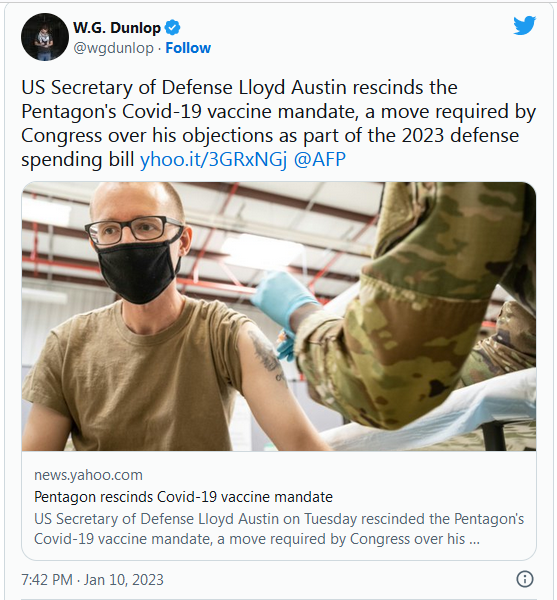 (link)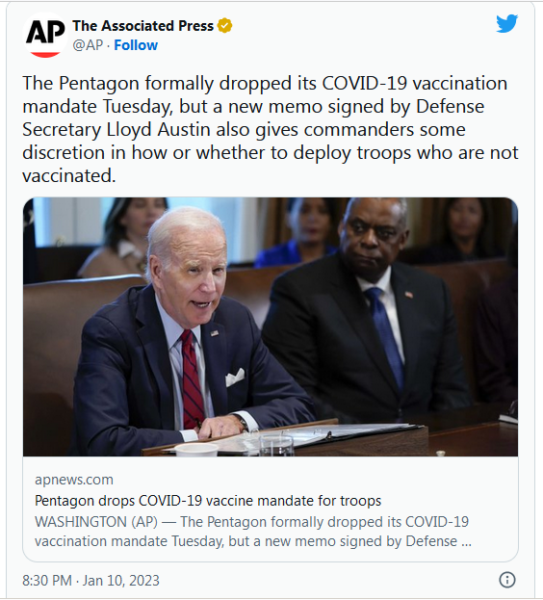 (link)
Many people don't realize that on April 1, 2020, Governor DeSantis issued an executive order to restrict activities within the state to those deemed as essential services … a lockdown. But a few months later, it went like this. pic.twitter.com/8AIWbtgkKk

— David Willson (@DavidWillson) January 13, 2023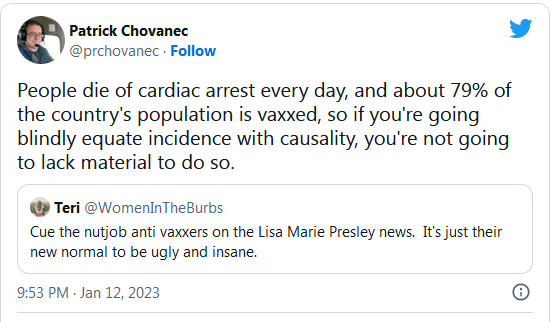 (link)
Reader Interactions