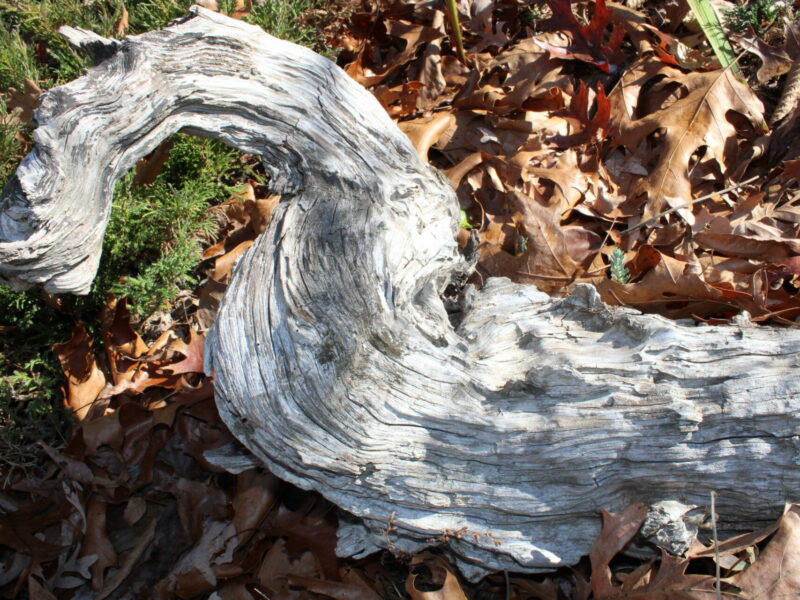 Thank you, carpentry / photography / gardening maven Ozark Hillbilly:
The cedar root is just an aged log with a swirl of root on the end. I stuck it in the garden just because I like its character.

When Raven made his wife a garden table I got a serious case of the envies and had to build one of my own.

When my neighbor Ron finally succumbed to lung cancer, his wife offered to me his collection of cedar logs, which he was saving for I know not what. Eventually I decided one day to build this side table with one of them for the Zen garden. Simple but effective.

Any fans of the 1st season of True Detective will recognize this bit of Voodoo. I just thought it was kind of cool.
A couple years ago I built this No Tell Motel for the bees and as one can see, they use it.

I found these steals of a deal late last winter at the local Lowes garden shop. Not really much of a steal, in that I never would have paid $73 for a pot. They are nice, the big ones are 2′ in diameter and almost a foot deep but even at $19 I had to talk myself into it. I had flowers and coleus planted in them last year but they really didn't fill them in so this year I'm thinking of ferns.
***********
I'm a big fan of pots & planters (the lazy gardener's friend), but experience has taught me to cram them with plants — otherwise, the poor starters just look forlorn & abandoned. Not to mention (did I mention lazy?) airborne weeds tend to crowd out the 'empty' space before my chosen seedlings & seeds can get their acts together. It means I have to water & fertilize more often at the height of the season, but that I can (usually) manage…
What's going on in your garden (planning / starting / retrospectives), this week?