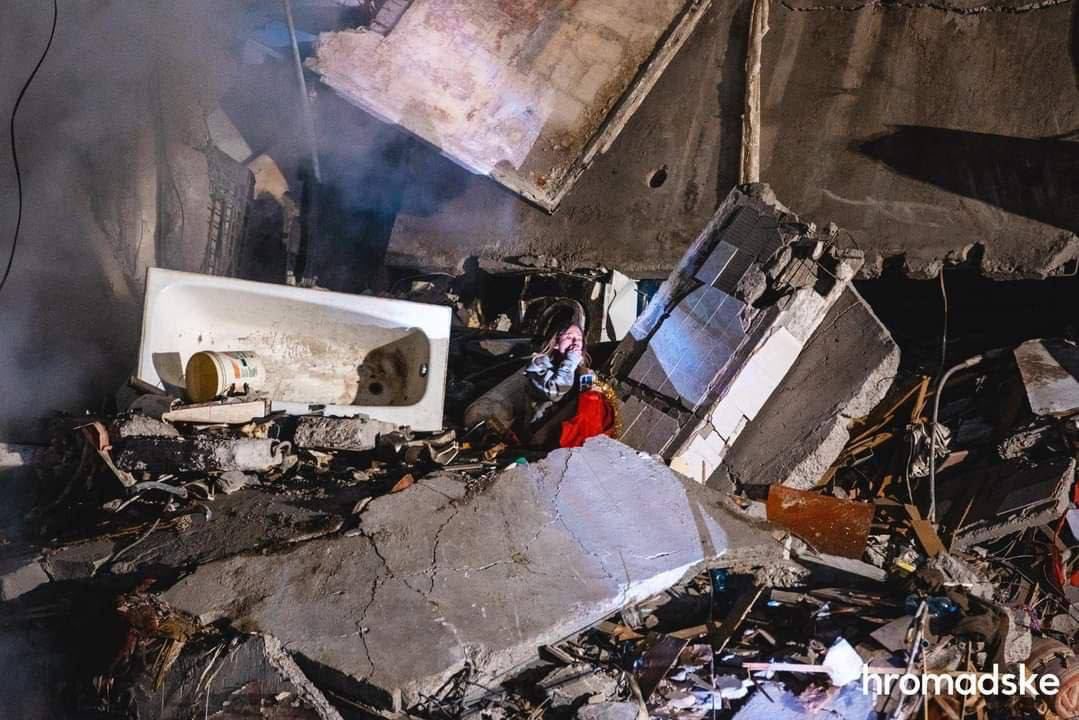 The young woman in the photo is 23 years old.
In September, she lost her loved one in the war. Today, she lost her home. She was rescued, but her parents are still under the rubble, their fate unknown. pic.twitter.com/KmrNNCG35T

— Defense of Ukraine (@DefenceU) January 14, 2023
I have no words, I have no emotions, I feel nothing but a great emptiness inside pic.twitter.com/A4teqJHq9s

— Sofia Ukraini (@SlavaUk30722777) January 15, 2023
.@ZelenskyyUa
Dnipro.
As of now, 39 people were rescued, including 6 children. 25 people died, including 1 child. 73 people were injured, including 13 children. 43 people are missing.
Preliminary 72 apartments were destroyed and more than 230 apartments were damaged. pic.twitter.com/EpjdpecVWV

— Defense of Ukraine (@DefenceU) January 15, 2023
We'll have more about the aftermath of the attack on Dnipro after President Zelenskyy's address from earlier today. The video is below, English transcript after the jump:
Fellow Ukrainians!

Today I have been receiving reports from Dnipro all day. The debris is being cleared there. All necessary services are involved. Thanks to everyone who is carrying out the rescue operation! I thank the State Emergency Service, the police and the National Guard. I want to thank the utility services, our doctors, all volunteers, ordinary citizens of Dnipro who are helping!

As of now, the fate of more than 30 people who could have been in the house at the time of the terrorists' missile hit remains unknown.

Dozens of people were rescued from the rubble, including six children. We are fighting for every person! The rescue operation will last as long as there is even the slightest chance to save lives.

Currently, the list of the dead includes 30 people, including one child – a girl, she was 15 years old.

There are reports that two children lost their parents. My condolences to all those who lost their loved ones…

Since the attack, Ukraine has heard words of condolences and support from many leaders, public figures, journalists and ordinary people from around the world. I thank everyone who did not remain indifferent! It is very important that normal people unite in response to terror.

But…

I want to say to all those in Russia – and from Russia – who even now could not utter even a few words of condemnation of this terror… Even though they see and know everything perfectly well…

Your cowardly silence, your attempt to "wait out" what is happening will only end with those same terrorists coming after you one day.

Evil is very sensitive to cowardice.

Evil always remembers those who fear it or try to bargain with it. And when it comes after you, there will be no one to protect you.

I think it is right that today there is a decision to expand our sanctions against Russian citizens and other persons who help terror.

Almost 200 – this list is carefully prepared, and behind each name there is a responsible motivation. Those who justify terror. Those who grease the Russian propaganda machine. Those who tried to sell Ukraine somewhere in Moscow. This public will face a full list of personal restrictions. We will do everything to make the sanctions work on the largest possible scale – in Europe, in the world.

Everyone will be held to account for terror: both those who kill and those who help to kill.

The work of the NSDC on the sanctions lists continues, and the next decisions will be made soon.

Today, as always, I want to thank our warriors. All those who heroically and steadfastly perform combat missions. Those who hold our positions. And especially in the most difficult areas of the front. The battle for Soledar, for Bakhmut, for the whole Donetsk region, for the Luhansk region continues without any respite, without any stop.

I am grateful to each of our fighters, each of our soldiers, sergeants, officers who understand how important it is to destroy the invaders in this direction. Russia has made the battle for the cities of our Donbas fundamental for itself. Our heroes make this battle fundamental for the destruction of the combat potential of the terrorist state.

Every day of Ukrainian resilience in Donbas and every success in our defense there are vital achievements for the protection of our entire state.

And one more thing.

Today a great friend of Ukraine, a legend – Vakhtang Kikabidze – passed away. We can talk a lot about him, and still there are not enough words to say all the good things that are worth saying about him.

It is an honor for us that he was our friend. May his memory be bright!

Glory to Ukraine!
Here is former NAVDEVGRU Squadron Leader Chuck Pfarrer's most recent assessment of the situation in Kremenna:
KREMINNA /1510 UTC 15 JAN/ UKR units are confirmed to be in contact within the city limits of Kreminna. Back and forth fighting continues in the south and central suburban areas as RU has conducted fire missions along the C-130514 road in the south liminal areas of the city. pic.twitter.com/Ja2MirFiRE

— Chuck Pfarrer | Indications & Warnings | (@ChuckPfarrer) January 15, 2023
And here's an update from The Kyiv Independent's Illia Ponomarenko on his charity's attempt to get financial aid to the woman in the picture at the top of the post:
Done! That was a bit difficult – Ukrainian bank automatically decided that such huge transfers could be suspicious, but there was a way to prove otherwise. A bit more than $5,000 sent to her. We wish her and her loved ones speedy recovery and lots of happiness in life.

— Illia Ponomarenko 🇺🇦 (@IAPonomarenko) January 15, 2023
I have not seen anything from the Ukrainian MOD or Ponomarenko or anyone else indicating if her parents have been found and whether they are alive or dead. If I see something about this, I'll post it in a subsequent update.
The Washington Post has a deep dive into Russia's crime against humanity attack on yesterday's civilian targets in Dnipro and other cities and towns in Ukraine.
It's hard to explain the horrors of what we witnessed tonight in Dnipro. Our story with the incredible @NastyaGalouchka and such powerful photos from Wojciech Grzedzinski https://t.co/6DxkLJsJFG

— Siobhán O'Grady (@siobhan_ogrady) January 14, 2023
Updated January 15, 2023 at 10:38 a.m. EST|Published January 14, 2023 at 6:38 p.m. EST

This article has been updated.

DNIPRO, Ukraine — Two hours after a Russian missile slammed into a Ukrainian apartment complex on Saturday, shocking the city that has served as a relatively safe haven for the war's displaced, rescue workers digging through rubble spotted a sudden movement from above.

On the eighth floor, they could see the arm of a bloodied elderly woman, so buried in debris she could barely move, waving a piece of red fabric. Below her, dozens of apartments had collapsed, swallowing residents into some 30 feet of rubble.

From inside the damaged building, she was somehow alive — and calling for help.

Russia's blatant attack on civilians here — the worst to strike this city since Russia invaded Ukraine last February — came just days after Russian President Vladimir Putin appointed his most senior military officer, Gen. Valery Gerasimov, as the new overseer of his relentless war in Ukraine.

The strike, which coincided with the Orthodox New Year, served as a grim message that Putin's close confidant is likely to continue the violent missile strikes on civilian targets that have become a hallmark of Russia's assault. The bombing, one of a wave of attacks Saturday across Ukraine, may have destroyed as many as 72 apartments, said Ukraine's President Volodymyr Zelensky, who shared a video of the destruction.

Residents were trapped as flames engulfed part of the structure, Kyrylo Tymoshenko, deputy head of the president's office, said on Telegram.

At least 25 people died in the apartment building, according to updated numbers provided Sunday by Zelensky. At least 73 people, including 13 children, were wounded, Zelensky said. Many more are believed to be buried in the ruins. Rescue efforts continued Sunday, with a digging machine hacking at the rubble in an attempt to access the collapsed apartments below.

As the city neared its midnight curfew Saturday, dogs wearing specialized shoes to protect them from injuries were scaling the mound of debris, sniffing for survivors. Off to the side, the dead lay on the ground in white bags, red and white tape wrapped around them.

The living, hundreds of them, appeared out of the darkness, as they do in so many Ukrainian towns on so many nights, to clean up and hand out food and hot drinks.

While Russian missiles struck other Ukrainian cities on Saturday, none caused anything close to the scale of damage in Dnipro. The attack came as an exceptional shock here because it's been something of a refuge. Many displaced people, from places such as the Russian-occupied city of Mariupol or the front line regions of Donetsk and Luhansk, have relocated here seeking safety and normalcy.

"We don't have any safe spaces in Ukraine anymore," said Maksym Chornyi, 32, who volunteered to help rescue people at the scene. "It needs to be clear to Europe as well, because these rockets can land there too."

He was at home on the other side of Dnipro on Saturday afternoon when he heard the attack — so powerful it sent a shock wave through much of the city.

He rushed to the scene, where he climbed through the wreckage to search for survivors with nothing more than a face mask to protect him from the smoke billowing through the air. After several hours, rescue workers asked him and other volunteers to move back so they could bring heavy machinery into the area to keep digging. He stepped away, his face dark with soot.

What he witnessed inside the wreckage was nightmarish.

At one point, he heard screaming and thought it was coming from below. Then he realized it was the woman trapped on the eighth floor, who told rescuers her name was Lyuba. Later, he looked up and realized a dead man was hanging off the other side of the building — his intestines ripped out of his body.

Just nearby, "there was blood streaked down the wall," Chornyi said. "I feel horrible."

Just before 8 p.m., rescue workers finally dug Lyuba out of the remains of her home and slowly lowered her to the ground in a yellow stretcher. She lay silently as they wrapped her in a foil blanket.

One of the workers who carried her down blew her a kiss and leaned over her. "I promised I was going to save you and I did," he said. "Everything is going to be okay."

Then they whisked her away in an ambulance.

One of the Ukrainian Red Cross medics who helped carry her to safety said she believed both her legs were broken. Her face was covered in blood.

When asked what message she would want to send the world after this attack, the medic, who identified herself only as Natalya, 36, didn't hesitate.

"Stop Russia," she said.

Nadya Yaroshenko's son Rostyslav, who is 12, was home alone in their third-floor apartment when the missile struck. He called his mom in a panic, asking how he could flee, she recalled.

"There are no stairs," he told her. With much of the building destroyed, he crawled toward the elevator and waited for help, she said.

Her friends pushed past first responders, screaming that there was a child trapped inside. Then one scaled the building and carried him out through a window, unharmed.

Hours later, the family was still waiting for any sign of their missing cat and dog.

Then a neighbor, Andriy Filkovich, called with good news. "Nadya, the dog is next to me with her savior. Where are you?" he said.

A firefighter handed the shaking dachshund, named Cola, back to Yaroshenko, who wrapped her in her arms. "You were so scared," she cooed. "Don't be scared."

Their cat, Bilyash, whose blue and yellow eyes match the Ukrainian flag, was still missing.
Despite the cold and the late hour, hundreds of Dnipro residents have joined the rescuers, sorting through the rubble of a high-rise building that was destroyed by a russian missile.
There are people under the rubble begging for help. pic.twitter.com/03fGHsUZsy

— Defense of Ukraine (@DefenceU) January 15, 2023
Two friends – doctors and volunteers Olha Usova, mother of a little son & Iryna Solomatenko, mother of two children.
Mykhailo Korenovskyi, a respected boxing coach, father of two children.
Yesterday,all three were killed by a russian Kh-22 missile launched by a kremlin assassin. pic.twitter.com/grpli6QFe8

— Defense of Ukraine (@DefenceU) January 15, 2023
I curse you to the seventh generation. pic.twitter.com/u1BjDN0KHO

— Defense of Ukraine (@DefenceU) January 14, 2023
Kherson:
Kherson. russians targeted the Red Cross office and the rehabilitation center for children with disabilities. A total of 7 people from Kherson were injured as a result of today's artillery shelling.
🎥 Kyrylo Tymoshenko pic.twitter.com/5cLK9LJKkp

— Defense of Ukraine (@DefenceU) January 15, 2023
Every single company still working with russia, every single dollar sent to russia, they all contributed to this hell on earth. pic.twitter.com/YeB0gmpp3j

— Inna Sovsun (@InnaSovsun) January 14, 2023
Imagine being a mother and father in Ukraine and knowing that the United States & NATO has the weapons to end this genocide. Every day those weapons are not sent, genocide continues. How many innocent must the Russians massacre? Is there a number? A Butcher's Bill to pay? https://t.co/sHbjxDkF8d

— stuart stevens (@stuartpstevens) January 15, 2023
There's a general sense that the US spends a great deal on military. What is less understood is just how much. We spend more than the next 9 countries combined. We are the only Super Power. Give Ukraine everything it needs to end this war of genocide. https://t.co/g38J3063qY pic.twitter.com/bfes9nC09T

— stuart stevens (@stuartpstevens) January 15, 2023
On January 14, a 🇷🇺 Х-22 missile hit a residential building in the city of Dnipro.
🇺🇦 does not have the means to shoot down such missiles.
To shoot down such missiles, we need such systems as Patriot PAC-3 and SAMP-T.
All those guilty of terror will be punished!

— Ukrainian Air Force (@KpsZSU) January 15, 2023
That's enough for tonight.
Your daily Patron!
Patriot PAC-3 or SAMP-T could intercept X22 missiles. But we don't have these systems yet.

— Patron (@PatronDsns) January 14, 2023
Ukrainian dogs are so… Ukrainian, you know🙂Brave and always ready to help.

— Patron (@PatronDsns) January 15, 2023
And the profile of the Antares https://t.co/yLtCOppFV8

— Patron (@PatronDsns) January 15, 2023
His badge says "searching for the dead"

— Mira of Kyiv (@reshetz) January 15, 2023
And a new video from Patron's official TikTok:
Open thread!